19 Jan

World's second-largest economy posts figures that add to fears of a slowdown that will affect financial markets across the world
The McGlynn: GOOD HEAVEN! This is startling news! Who would have thought, who could have imagined that as an economy grows larger, achieving 10% increase in size every single year would have become unfeasible!?
I was under the impression that the Chinese Economy was some sort of magic ship that could defy the laws, space, and time and grow at 10% to eternity!
It would indeed have defied assorted laws had it done so, but I believe that the figures have always been fabricated, and should never have been believed by economists due to assorted internal inconsistencies. I suspect the current rate is far below what the Chinese government pronounced.
The point, as the article says, is not the drop in growth rate, but the domestic difficulties that it creates for the Communists, and the effect its wild incompetent flailing about to solve its self-created problems has on the rest of the world.
The communist controlled consumption based society is fraying at the edges due to the high levels of corruption of the ruling families. The government is spending large amounts of money trying to control the flow of information to keep the majority of the population in the dark.
China's economy grew at its slowest rate in a quarter of a century in 2015, data released on Tuesday showed, increasing pressure on Beijing to address fears of a prolonged slowdown and ease the jitters affecting global markets.
The full-year growth of 6.9% was only just short of government expectations of 7% but by contrast, growth in 2014 stood at 7.3%.
The national bureau of statistics' bulletin showed GDP growth at 6.8% in the three months to December, easing from 6.9% in the previous quarter – the slowest quarterly rate since 2009, when growth slowed to 6.2%.
The slide from the previous quarter was expected, but will add to concerns about the health of the world's second-biggest economy as it confronts a range of challenges, including weak exports, high debt levels and slowing investment.
China's industrial output in December rose 5.9% from a year earlier, compared with forecasts for a 6.0% increase.
The lack of surprises did at least offer some respite to stock and currency markets.
MSCI's broadest index of Asia-Pacific shares outside Japan was up 0.2% on Tuesday after earlier touching its lowest level since October 2011. Australian shares added 0.8%, while Tokyo's Nikkei dropped 0.3%. In Shanghai, recent volatility gave way to a 0.2% rise, following a 13-month low on Monday.
The US dollar nudged up 0.2% to 117.55 yen after slipping last week to a four-and-a-half-month low of 116.51.
Analysts were cautiously optimistic about the China's fortunes following the tumult of the past few weeks……………
Five-lanes halted westbound for nearly an hour as passengers pass chains through car windows as part of protests for Martin Luther King Jr Day
Protesters from the Black Lives Matter movement block traffic on the westbound span of the San Francisco–Oakland Bay Bridge as part of a long weekend aimed at reclaiming Martin Luther King Jr's legacy of radicalism. Cars slow to a stop on the five-lane bridge as passengers in the first line of cars pass chains through their windows and chain themselves to the side of the bridge, bringing all westbound traffic to a stop.
Protesters with the Black Lives Matter movement blocked traffic on the westbound span of the Bay Bridge that connects Oakland and San Francisco as part of a long weekend of protests aimed at reclaiming Martin Luther King Jr's legacy of radicalism.
Shortly after 3.30pm, a caravan of cars slowed to a stop on the five-lane bridge. Passengers in the first line of cars passed chains through their windows and locked themselves to both sides of the bridge, bringing all westbound traffic to a stop.
"Today is the day when we reclaim MLK's radical legacy," said April Thomas, who was chained between two cars. "I'm out here for Tamir Rice, Rekia Boyd, for my mother, myself, for Harriet Tubman."
Dozens of protesters streamed out of cars and onto the roadway, chanting, singing, and erecting a banner reading "Black health matters". One activist erected a wooden shrine bearing the names of victims of police shootings.
In a statement, organizers of the protest said they were shutting down the bridge to "to demand investment in the wellbeing of black people".
While some angry commuters honked and, in a few cases, confronted the protesters, others leaned out their windows to take pictures of the spectacle……………..
EU foreign affairs council agrees common position on Israel and occupied Palestinian territories after Greece drops its opposition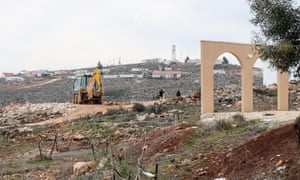 Construction activity and development in Israel's Esh Kodesh settlement in the West Bank. Photograph: Nir Alon/Zuma Press/Corbis
The European Union has unanimously adopted a tough resolution criticising Israeli settlement activity in the occupied Palestinian territories, despite fierce efforts by Israel to persuade some EU members to block it.
The resolution was agreed by the EU foreign affairs council on Monday after Greece, one of five countries Israel had hoped would block acceptance of the resolution, backed down following a weekend of wrangling and pressure from Palestinian officials and other European diplomats.
The resolution emphasised that EU agreements with Israel applied only to the State of Israel within the pre-1967 border, adding that the "EU must unequivocally and explicitly indicate their inapplicability to the territories occupied by Israel in 1967. This does not constitute a boycott of Israel, which the EU strongly opposes".
Hinting that further measures may be in the pipeline, it continued: "The EU will continue to closely monitor developments on the ground and their broader implications and will consider further action in order to protect the viability of the two-state solution, which is constantly eroded by new facts on the ground."
The resolution was drawn up amid mounting frustration from a number of European governments over the moribund state of the Israel-Palestine peace process, and is intended to increase pressure on the rightwing coalition government led by Binyamin Netanyahu………………..
Ocean water has absorbed more than 90% of the excess heat and nearly 30% of the carbon dioxide generated by human consumption of fossil fuels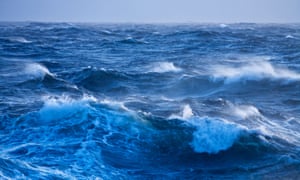 The vast Southern Ocean sucked up 1.2bn tonnes of carbon in 2011 alone – which is roughly equivalent to the European Union's annual carbon output. Photograph: Peter Barritt/Alamy
The world's oceans are warming at a quickening rate, with the past 20 years accounting for half of the increase in ocean heat content that has occurred since pre-industrial times, a new study has found.
US scientists discovered that much of the extra heat in the ocean is buried deep underwater, with 35% of the additional warmth found at depths below 700 meters. This means far more heat is present in the far reaches of the ocean than 20 years ago, when it contained just 20% of the extra heat produced from the release of greenhouse gases since the industrial revolution.
The paper, published in Nature Climate Change, sheds further light on the vast quantities of heat being absorbed by the world's oceans.
Ocean water, which has a much higher heat capacity than air, has absorbed more than 90% of the excess heat and nearly 30% of the carbon dioxide generated by human consumption of fossil fuels. The vast Southern Ocean sucked up 1.2bn tonnes of carbon in 2011 alone – which is roughly equivalent to the European Union's annual carbon output……………..
Amnesty International says it has traced cobalt used in batteries for household brands to mines in DRC, where children work in life-threatening conditions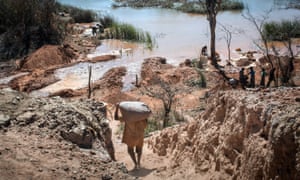 A cobalt mine between Lubumbashi and Kolwezi in the Democratic Republic of the Congo. Photograph: Federico Scoppa/AFP/Getty Images
Children as young as seven are working in perilous conditions in the Democratic Republic of the Congo to mine cobalt that ends up in smartphones, cars and computers sold to millions across the world, by household brands including Apple, Microsoft and Vodafone, according to a new investigation by Amnesty International.
The human rights group claims to have traced cobalt used in lithium batteries sold to 16 multinational brands to mines where young children and adults are being paid a dollar a day, working in life-threatening conditions and subjected to violence, extortion and intimidation.
In a joint-investigation with African Resources Watch (Afrewatch), an African NGO focusing on human rights in the minerals and extractive industries, Amnesty International says it interviewed 90 adults and children working in five artisanal cobalt mine sites. Workers spoke of labouring for 12 hours a day with no protective clothing, and with many experiencing significant health problems as a result.
The report says that child miners as young as seven carried back-breaking loads and worked in intense heat for between one or two dollars a day without face masks or gloves. Several children said they had been beaten by security guards employed by mining companies and forced to pay "fines" by unauthorised mines police sent by state officials to extort money and intimidate workers.
A snowy owl, beached whales and a majestic fan throated lizard are among this week's pick of images from the natural world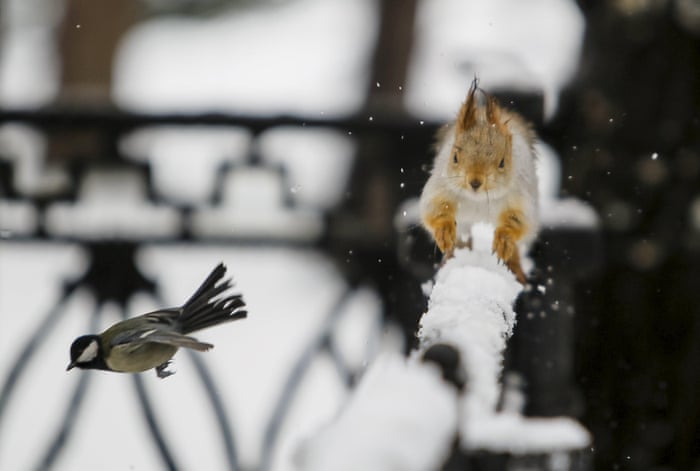 A tomtit bird flies past a squirrel running on a snowy fence in Almaty, Kazakhstan.
Photograph: Shamil Zhumatov/Reuters
Opinion
Pro forma elections have camouflaged the true state of our political system. Will that change this year?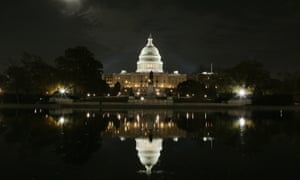 The calculus of the Deep State has been upset by Donald Trump and Bernie Sanders. Photograph: Jim Bourg/Reuters
E

ach new election year promises change. We will choose a new president and new representatives in Congress; fresh faces will make their appearances in Washington DC, while old ones disappear. But what about the people who stay in power, one election after another, less exposed to the public eye?
The concept of a 'Deep State' has been around for a while, but rarely to describe the United States. The term, used in Kemalist Turkey by the political class, referred to an informal grouping of oligarchs, senior military and intelligence operatives and organized crime, who ran the state along anti-democratic lines regardless of who was formally in power.
I define the American Deep State as a hybrid association of elements of government and top-level finance and industry that is able, through campaign financing of elected officials, influence networks and co-option via the promise of lucrative post-government careers, to govern the United States in spite of elections and without reference to the consent of the governed.
These operatives use their proximity to power and ability to offer high-paying jobs to government officials to achieve outcomes foreclosed to ordinary citizens. As professor Martin Gilens of Princeton, who studied the correlation between American popular opinion polls and public policy outcomes, concluded: "[T]he preferences of economic elites have far more independent impact upon policy change than the preferences of average citizens do … ordinary citizens have virtually no influence over what their government does in the United States."
America's growing income disparity is not the inevitable result of impersonal forces like globalization or automation. It is the outcome of hundreds of trade, tax and regulatory measures that achieved the preferred outcome – enrichment – of economic elites who contribute to politicians.
Since the 2010 Citizens United Supreme Court decision, big money dominance of politics has gone into overdrive. Over half the money given to presidential candidates in the 2016 campaign comes from just 158 families…………….