21 Jan

Inspector General Charles McCullough wrote that of 'several dozen' classified emails found, some contained highly sensitive 'special access programs' details
Hillary Clinton's campaign dismissed findings that suggested email server contained information that was designated more sensitive than top secret. Photograph: Brian Frank/Reuters
Associated Press
Some of the classified emails found on former secretary of state Hillary Clinton's home server were even more sensitive than top secret, according to an inspector general for the intelligence community.
Inspector general Charles McCullough sent a letter to lawmakers last Friday saying that several dozen additional classified emails have been found, including ones containing information from so-called "special access programs". Intelligence officials say special access programs have a higher classification than top secret because they are about highly sensitive programs and could reveal sources of information.
The finding was first reported on Tuesday by Fox News.
Federal investigators are looking into the Democratic presidential candidate's email set-up amid concerns that classified information may have passed through the system.
Clinton provided the server to the FBI in August. She has said she did not send or receive information that was classified at the time via her personal email account.
McCullough sent the letter in response to inquiries from congressional committees about the classification methods used to review the Clinton emails. In responding to the request, McCullough said he sought sworn declarations from those involved in reviewing the emails.
"These declarations cover several dozen emails containing classified information determined … to be at the confidential, secret and top secret/sap levels," according to the letter, which also was obtained by the Associated Press……………
Education minister says pupils should be taught that separation of church and state is there to protect them, accusing rightwing politicians of twisting principle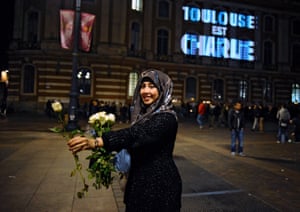 A woman holds out a white rose in Toulouse following the Charlie Hebdo attacks. Photograph: Remy Gabalda/AFP
The French principle of secularism has been twisted by politicians and so often wrongly used to attack Islam that schoolchildren have been left baffled, the French education minister has warned.
Najat Vallaud-Belkacem told the Guardian that after last year's devastating jihadi attacks in Paris, France was overhauling the teaching of secularism and civic values as part of the country's drive against terrorism and radicalisation.
"We have to reappropriate the concept of laïcité [secularism] so we can explain to our young pupils that whatever their faith, they belong to this idea and they're not excluded. Secularism is not something against them; it protects them," she said.
Since last January's attacks on the satirical weekly magazine Charlie Hebdo and a Paris kosher supermarket, when 17 people were killed, and November's attacks that killed 130, French schools have taken centre-ground in the nation's soul-searching on how young French men could take up guns against their fellow citizens………………
Burns residents shouted at leader Ammon Bundy to end occupation at Malheur wildlife refuge that began 2 January during angry and emotional public forum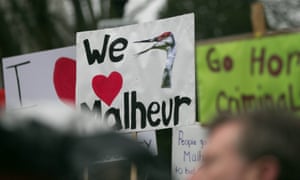 Nearly a thousand people gather in Portland on 19 January to protest occupation of Malheur wildlife refuge by an armed group of militants. Photograph: John Rudoff/Demotix/Corbis
The armed militiamen occupying a wildlife refuge in eastern Oregon have faced the most intense opposition yet at a community meeting where local residents shouted down protest leader Ammon Bundy in person.
Bundy and several other high-profile militia members left the Malheur national wildlife refuge to attend a public forum in the small town of Burns, located 30 miles away from the occupation. At the emotional meeting, residents one by one demanded that Bundy and his armed followers end their siege of the wildlife sanctuary and immediately leave town.
"It is time for you to go home," Harney County judge Steve Grasty, one of the most vocal critics of the militia, said directly to Bundy, who sat in the bleachers of a Burns high school gymnasium on Tuesday night and listened to a steady stream of angry comments.
"Go, go, go, go, go," the crowd shouted back, according to the Oregonian. "Get the hell out of my county," one woman yelled. Another screamed at Bundy: "Go to jail where you deserve to be!"
Bundy and a group of out-of-state militiamen stormed the wildlife sanctuary on 2 January to protest the US Bureau of Land Management's regulations of federal lands and the imprisonment of two local ranchers, Dwight Hammond and his son Steven………………..
Opinion
A BBC journalist and dual Iranian-British citizen was denied entry to the US on Tuesday. She is the first of many victims that a new law will create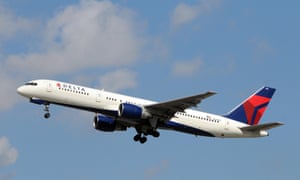 'These restrictions won't keep Americans safe.' Photograph: Alamy
S

ometimes, it doesn't take very long at all for the consequences of bad policies to be felt by innocent people. That was the case at London's Heathrow airport on Tuesday when Rana Rahimpour, a British-Iranian dual citizen, was denied entry into the US. As the Guardian reported, Rahimpour was on her way to visit her brother and attend a surprise birthday party. Despite being British, she was rejected because of her Iranian citizenship.
In December, the US Congress passed a new law seeking to stop terrorists from traveling freely to the US. With a mind to thwarting the frightening prospect of an attack in the US by a growing crop of radicalized Muslims from western countries, the law changed the rules of the visa waivers afforded to citizens of some 38 countries.
People from those countries used to be able to come to the US without obtaining a visa, but now if they hold dual citizenship from Syria, Iraq, Sudan or Iran or have visited any of those countries over the past five years, they must obtain a visa in advance through the normal processes, including an in-person interview.
Rahimpour, however, is no terrorist. She is a news presenter at BBC Persian, the Farsi-language outlet of the United Kingdom's state broadcaster. That carries with it a special irony: far from being radicalized in the vein of Iran's Islamic Republicans, BBC Persian instead serves as a bête noire of the Iranian government.
Now, thanks to the new visa waiver rules, BBC journalists of Iranian origin can add the US Congress to their list of antagonists, even if for the more minor offense of giving them an undue burden to travel to the US. That burden has been extended despite the Iranian government's hatred for these BBC reporters. It's hard to escape the conclusion that the US government hates Iran so much that they're willing to pour their hatred onto all Iranians.
That's evident in the extension of the new visa waiver restrictions to anyone who holds dual citizenship. That means that some of my great uncles living in Europe who served time in Iran's revolutionary prisons, even facing looming death sentences (that, thankfully, were never carried out), must now jump through extra hoops to visit family like me in the US………………..