24 Jan

Ammon Buddy plans to have a ceremony for ranchers to renounce federal ownership of public land and tear up their federal grazing contracts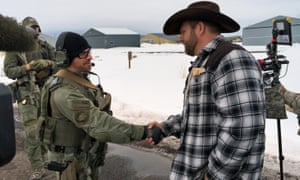 On Friday, Ammon Bundy shook hands with a federal agent as authorities attempt to resolve the three-week old standoff over federal land policies. Photograph: Keith Ridler/AP
Associated Press
The leader of an armed group occupying a national wildlife refuge in Oregon plans to have a ceremony Saturday for ranchers to renounce federal ownership of public land and tear up their federal grazing contracts.
On Friday, Ammon Bundy met briefly with a federal agent as authorities attempt to resolve the three-week old standoff over federal land policies, but Bundy left because the agent wouldn't talk with him in front of the media.
The short meeting occurred as Oregon officials are putting increased pressure on federal authorities to take action against Bundy's group.
On Thursday, Bundy went to the airport in Burns, where the FBI has set up a staging area, and spoke to an FBI negotiator over the phone. They agreed to speak again Friday, but Bundy left the airport shortly after he arrived because the FBI agent he spoke with said federal authorities wanted any conversation to be private.
Bundy wants face-to-face conversations in front of reporters. "I really don't think, at this point, even having another phone conversation here without him would be beneficial," Bundy said before leaving Friday.
He also questioned the FBI's authority. "If you haven't got sanction from the sheriff, there's no reason to be talking to you," Bundy said……………..
Kinder Morgan's Trans Mountain project to expand system's crude oil capacity is 'all risk and no reward' for tribes, who were not consulted, lawyer notes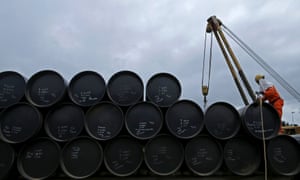 US tribes were not consulted about the proposed pipeline expansion project, lawyer Kristen Boyles says. Photograph: Edgar Su / Reuters/Reuters
Associated Press
A proposed pipeline-expansion project in Canada will put the fishing rights and cultural heritage of US tribes at risk, a lawyer representing several Washington state tribes told Canadian energy regulators.
Kinder Morgan's Trans Mountain project would nearly triple pipeline capacity from 300,000 to 890,000 barrels of crude oil a day. It would carry oil from Alberta's oil sands to the Vancouver area to be loaded on to barges and tankers for Asian and US markets. The project would dramatically increase the number of oil tankers that ply Washington state waters.
"This project will harm the cultures of the US tribes," said Kristen Boyles, an Earthjustice attorney who spoke against the project Friday on behalf of the Swinomish, Tulalip, Suquamish and Lummi tribes. She made final arguments to Canada's National Energy Board at a hearing in Burnaby, British Columbia, which was broadcast online.
Boyles told the three-member panel that project officials didn't consult with the US tribes and didn't consider the impacts to the tribes. "This project is all risk and no reward," she added.
The US tribes are among the municipalities, environmental groups, First Nations and residents along the pipeline route who are intervenors in the case. Many have raised concerns about risk of pipeline leaks, increased vessel traffic and potential oil spills.
Last month, a lawyer for Kinder Morgan Inc told the energy board that the $5.4bn expansion can be done in a way that minimizes impact on the environment, addresses social impacts and provides many economic benefits……………..
Mountain lion kittens, Japanese snow monkeys and a new species of frog are among this week's pick of images from the natural world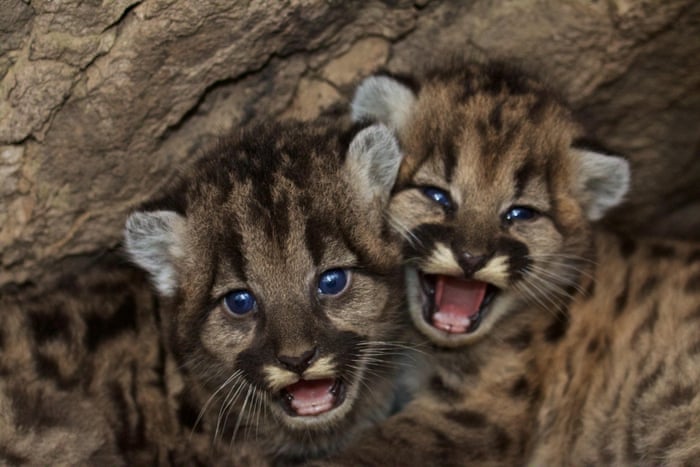 Mountain lion kittens, a male and a female, that scientists stumbled upon while doing research in the Santa Monica Mountains.
Photograph: US National Park Services