25 Jan

The McGlynn: What it's like to live in Flint, Michigan.
Elijah Waun-Baker, five, left, and Promise Ward, six, wash their faces using tap water. Photograph: Bryan Mitchell for the Guardian
All you have to do is look at your faucets and imagine that the water that comes out of the faucets (that you're directly or indirectly paying for) contains lead… even if the water looks OK and smells OK, whether you drink it or shower in it, or use it to 'clean' your home the faucets will introduce a neuro-toxic, persistent heavy-metal into your immediate environment every time you turn them on to draw water.
And why?
That's because you don't matter and can't do anything, because your democratic ability to elect people to keep your water safe and clean was over-ruled by the Governor of Michigan when he appointed an "emergency manager" to run your city's government, and balance its books by reducing its expenditure to match its revenue. Come hell or toxic water!
Folks, let us be honest, for once. This is genocide. There is no other word to describe it. It is the most cynical, depraved move the GOP has yet made in the name of "cost cutting". It was unnecessary, reckless, and criminally negligent of Snyder, his appointees, and the Council members who supported the decision.
WAKE UP, AMERICA. The GOP is run by psychopaths and their billionaire masters. They have no consciences; run around quoting an idiotic market-driven version of the "bible" that is unrecognizable.
Here is the peril of electing the GOP and the small government/no government crowd. It is no wonder to me a that problems like this ensue after electing a governor who had no public experience. Interesting, how after an 18 month failure of Snyder to respond, Bush (a presidential candidate!) speaks about Snyder "stepping up". He did no such thing. Snyder and his ilk live in a dangerous and delusional fantasy world that has now been brought upon our children in Flint.
Damn them to Hell!
City's residents, many of whom live in poverty, fear consequences to their children in Michigan town where life has changed immeasurably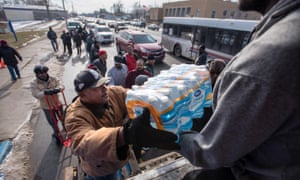 Volunteers unload gallons and cases of bottled water in front of a Flint, Michigan community center. Photograph: Bryan Mitchell for the Guardian
Annette Williams is careful to hold her granddaughter Sharell's head at bath time, to keep the two-year-old from taking a gulp of toxic water. Though most people no longer drink what flows through Flint's corroded pipes, many families have little choice but to bathe in it.
Williams, 48, is terrified of what might happen because the family bathes in the water. Inadequately treated water has coursed into Flint homes at least since April 2014, bringing toxins and poisonous lead that leached off the city's aging pipes. There are no safe levels of lead exposure: even low levels can cause lifelong developmental damage to young children.
"I know it's wrong to do it. We shouldn't be bathing in it, but what else can we do?" Williams said.
On Monday, all three children will head to hospital for blood tests for toxins . All of Flint's 8,657 children under the age of six should be considered exposed, according to a recent citywide public health directive………………
Rouhani will meet the pope and the French and Italian leaders on a trip that aims to re-establish economic ties after sanctions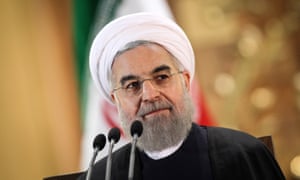 Hassan Rouhani was orginally due to visit Europe in November, but his trip was cancelled after the Paris attacks. Photograph: Xinhua/Barcroft Media
Hassan Rouhani is to make the first state visit to Europe by an Iranian president in almost two decades this week, following the lifting of sanctions against his country.
Europe was Iran's largest trading partner before sanctions, and has sent an unprecedented number of business delegations to the country since the landmark nuclear agreement with the west was sealed in July. The end of sanctions, including the removal of EU's embargo on Iranian oil imports, means that trade can begin again.
Rouhani is expected in Rome on Monday, where he will meet the Italian prime minister, Matteo Renzi. He will also meet Pope Francis at the Vatican. He will then travel to Paris on Wednesday and is scheduled to be welcomed by the French president, François Hollande, at the Elysée palace on Thursday.
Germany, Italy and France have been leading the pack as Europe aims to increase trade with Tehran from the current level of €7.6bn (£5.8bn) a year to the pre-sanctions figure of almost €28bn.
Iran's minister for roads and urban development, Abbas Akhondi, has been quoted as saying that the country is in talks with Airbus for the purchase of 114 new aircraft………………..
New calculations shows there is just a 0.01% chance that recent run of global heat records could have happened due to natural climate variations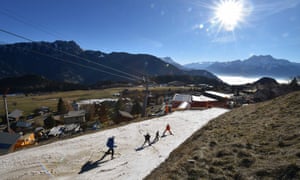 Tourists ski on a thin layer of snow towards the resort of Leysin in the Swiss Alps in one of the warmest Decembers on record. Photograph: Fabrice Coffrini/AFP/Getty Images
The world's run of record-breaking hottest years is extremely unlikely to have happened without the global warming caused by human activities, according to new calculations.
Thirteen of the 15 hottest years in the 150-year-long record occurred between 2000-14 and the researchers found there is a just a 0.01% chance that this happened due to natural variations in the planet's climate.
2015 was revealed to have smashed all earlier records on Wednesday, after the new study had been completed, meaning the odds that the record run of heat is a fluke are now even lower.
"Natural climate variations just can't explain the observed recent global heat records, but manmade global warming can," said Prof Stefan Rahmstorf, at the Potsdam Institute for Climate Impact Research in Germany and one of the research team.
He said the record heat brought substantial impacts: "It has led to unprecedented local heatwaves across the world, sadly resulting in loss of life and aggravating droughts and wildfires. The risk of heat extremes has been multiplied due to our interference with the Earth system, as our analysis shows."
The UN World Meteorological Organization (WMO) confirmed on Monday that the global average surface temperature in 2015 shattered all previous records and said 15 of the 16 hottest years on record have all occurred since 2000. "We have reached for the first time the threshold of 1C above pre-industrial temperatures. It is a sobering moment in the history of our planet," said WMO secretary-general Petteri Taalas………………
Opinion
To some, shattering the 'hardest glass ceiling' doesn't seem so revolutionary any more. Others, like Lena Dunham, aim to help bridge a generational divide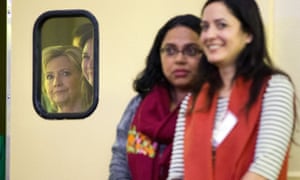 Clinton listens to her introduction at a pro-choice dinner on Friday in New Hampshire, where she pushed back on her latest 'establishment' fight with Bernie Sanders. 'The 'I'm a woman and it's OK to vote with your uterus' message is tired,' says a Harvard student. Photograph: Matt Rourke/AP
T

he other day in Manhattan, Hillary Clinton supporters met for lunch at the home of the media executive Geraldine Laybourne. A group of 50, mostly women, was determined to generate excitement for Clinton's campaign for president. They were frustrated to see her lagging again among younger voters, and their invited speaker was Kenyatta Cheese, a young Obama campaign veteran and internet impresario.
The debate sparring that night between Clinton and Bernie Sanders over who belongs to the establishment was another reflection of how perilous it is to be an insider this American political season. And it is galling for politically seasoned women to watch Sanders caricature Clinton as an establishmentarian worshipping at the altar of Goldman Sachs. "When you are in the White House, you're going to be connected to the establishment," says Sarah Kovner, who served in the Clinton administration and was at Laybourne's lunch. "That's just a fact."
Sanders put Hillary Clinton on notice last summer, when no one was paying him much heed. "All over this country," he declared, "ordinary people, working people, elderly people are moving in our direction because they do want a candidate to take on the establishment."
During that most recent Democratic debate in South Carolina, I read texts about Clinton by some students at Harvard, where I teach, and talked to some afterwards. Although Clinton's difficulties with young voters have been much written about, their comments revealed a more acute ennui.
"Hillary, can you excite us?" asks Osaremen Okolo, a 21-year-old African-American who supports Clinton but "misses feeling fired up" as she was for Barack Obama and as some of her friends feel about Sanders.
"Young people like Bernie because he sounds like a revolutionary," she says. But Okolo prefers Clinton's experience and positions on issues like equal pay for equal work and criminal justice reform. "Hillary sounds pragmatic, which can come across as stuffy to young people. Her experience can almost count against her." She adds: "Sanders seems bold, even if none of his ideas can happen."
Shattering "that highest, hardest glass ceiling", as Clinton so elegantly put it in her 2008 concession speech, doesn't seem revolutionary to some younger women. Income inequality is a bigger concern in what may turn out to be a post-gender election.
Kara Lessen is a 23-year-old in her final year at Harvard who has volunteered for Sanders but was excited by Clinton eight years ago. "The 'I'm a woman and it's OK to vote with your uterus' message is tired," she said. "Bernie really understands systemic oppression. Her neo-liberal politics is pretty tired."…………………