26 Jan

Opinion
Forget the poll leads: this socialist has a story to tell. And jokes! The latest debate showed that, one day at a time, the Sanders revolution is increasingly for real
When you come at Bernie Sanders on how old he is, you'd better, as they say in Brooklyn, come correct.
So when the CNN moderator sat down right next to the socialist turned real-life presidential frontrunner on Monday evening in Iowa and, after mistaking his age for 75, initially kind of half-joked – in that TV personality kind of way – that the 74-year-old senator was going on 75, well, the old man's picked up some campaign-trail charm, now hasn't he?
"I'm GOING on 75," came the legitimately endearing faux-exasperation. "So are you!"
Then the moderator followed him across the stage at CNN's faux-debate and purported to be tired. Sanders, as if inhabiting Larry David's Saturday Night Live caricature because he smelled the votes a yuk away, deadpanned: "If you followed me around today, you'd be a lot more tired."
Oh, yeah, the still-a-socialist candidate also lectured tirelessly about his hard-left agenda in first-in-the-nation flyover country. "We will raise taxes," Sanders declared. "Yes we will."
But meet the new Bernie Sanders: still lecturing, only now with a human course correction that could beat an increasingly robotic and vulnerable Hillary Clinton with less than a week to go before people actually – finally – start voting for a new American president.
This Bernie can ride the energy of a youthful, thousands-strong rally with the best of 'em. But this Bernie doesn't need the kids anymore. He's got himself a brand new bag of trail-earned tricks, and it apparently involves wearing his Brooklyn heart right there on his rumpled, oversize jacket sleeve.
Of course, he had a one-liner for that one, too: "My wife told me to button my coat, but I think I'm too fat, so …"
Two very clear choices emerged from Monday's Democratic forum – the last of at least 700 randomly-timed televised "debates", or town halls, or whatever you called them – between Clinton, Sanders and former governor Martin O'Malley, whose last hurrah even Rand Paul will no longer deign to live-tweet.
There was the softer, suddenly more endearing Old Man Sanders, and the sharp, energetic, Benghazi-proof Clinton. But with the polls and the momentum in both Iowa and New Hampshire on his side, this was a winning dichotomy for Sanders, who presented a side of himself that we haven't really seen before: intimate, surprising, dynamic and, yes, a real boy!………………….
President says practice causes long-term psychological damage, jeopardises inmates' ability to return to society and should only be used as a last resort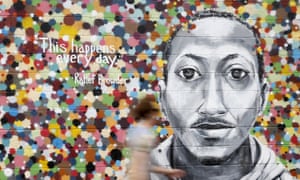 A mural in New York for Kalief Browder, who killed himself after three years in jail where he was subjected to solitary confinement. Photograph: Shannon Stapleton/Reuters
Barack Obama is banning the use of solitary confinement to punish juvenile offenders in US federal jails, saying the practice can cause long-term psychological damage, especially in young and mentally ill people.
Research suggested that isolating prisoners individually had the potential to lead to "devastating, lasting psychological consequences", the president wrote. "It has been linked to depression, alienation, withdrawal, a reduced ability to interact with others and the potential for violent behavior."
Some studies indicated it would worsen existing mental illnesses and even trigger new ones, he added, while prisoners in solitary were more prone to suicide, especially juveniles and people with mental illness.
"How can we subject prisoners to unnecessary solitary confinement, knowing its effects, and then expect them to return to our communities as whole people? It doesn't make us safer. It's an affront to our common humanity."
The changes would ensure solitary confinement was a practice of "last resort" used when prisoners presented a danger to themselves or others, the president said.
Obama said the reforms would affect roughly 10,000 inmates in the federal system. Around 100,000 people are in solitary confinement in the US, according to the White House. The Washington Post noted, however, that between September 2014 and September 2015 federal authorities were notified of just 13 juveniles who were put in solitary confinement………………..
Texas jury indicts activists who prompted their investigation into sting videos allegedly showing Planned Parenthood officials selling fetal tissue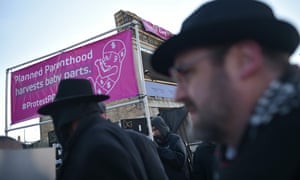 Anti-abortion activists take part in a protest outside of a Planned Parenthood center construction site in Washington DC last week. The allegations of fetal tissue sales have been disproved. Photograph: Mandel Ngan/AFP/Getty Images
In a surprise move, a Texas grand jury investigating Planned Parenthood wrapped up on Monday by issuing several indictments not to the women's healthcare provider, but to two of the anti-abortion activists who had prompted the investigation.
The grand jury, convened by the Harris County district attorney's office, indicted David Daleiden and Sandra Merritt for tampering with a governmental record, the DA's office announced. Daleiden received a second indictment under a law prohibiting the purchase and sale of human organs.
Daleiden is the founder of the group, the Center for Medical Progress, that filmed and released a series of sting videos edited so they appeared to show Planned Parenthood employees selling fetal tissue in violation of federal law…………………
Environment
Opinion
Video from the Smithsonian's National Zoo (also known as the National Zoological Park) shows Tian Tian the giant panda enjoying the new layer of snow in his habitat. The Smithsonian's National Zoo is home to four giant pandas and runs one of the world's leading panda conservation programs
A video of Tian Tian the giant panda rolling around in the snow has gone viral. Arms over his head, rubbing his face, revelling in the overnight fall, he looks nothing so much like a man in a bear suit. So of course a man dresses up as a panda and mimics the real creature. Humans just can't help it, can they?
Tian Tian is the child we all once were, rejoicing in the imaginary, benevolent snows of yesteryear. Those front-facing eyes – like primates, and even owls – dig into something deep in our psyche…………
The oil billionaire's departure was cheered by climate scientists who have campaigned for the natural history museum to cut ties with fossil fuel companies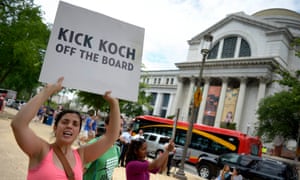 Protesters have also asked for David Koch to be removed from the board of the Smithsonian National Museum of Natural History in Washington DC. Photograph: Shawn Thew/EPA
The oil billionaire David Koch has stepped down from the board at the American Museum of Natural History, after 23 years and more than $20m in donations to the New York museum.
The conservative magnate's departure from one of the US's pre-eminent science museums was cheered by climate scientists and activists who have campaigned for the museum to cut ties with fossil fuel companies and those who head them…………………..