31 Jan

US defense secretary says former US military commander and CIA director will not be punished beyond a $100,000 fine and two year's probation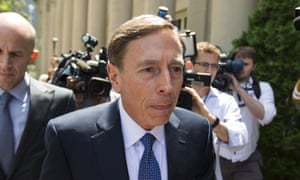 Former CIA director David Petraeus arriving at the Federal Courthouse in Charlotte in April 2015. Photograph: Chris Keane/Reuters
Reuters in Washington
The US defense secretary, Ash Carter, has decided not to impose further punishment on David Petraeus, a former US military commander and CIA director who admitted sharing classified information with his lover, according to a letter seen by Reuters.
The short letter was sent by Stephen Hedger, the assistant secretary of defense for legislative affairs, and the decision is in line with an army review.
Petraeus resigned as head of the CIA in 2012 after it was revealed that he was having an affair with his biographer, Army Reserve officer Paula Broadwell.
When he pleaded guilty to mishandling classified information, a court document signed by Petraeus and prosecutors said that in 2011 Petraeus illegally gave Broadwell access to official binders.
In April, the retired four-star general was sentenced to two years of probation and fined $100,000 but was spared prison time after pleading guilty to mishandling classified information.
The Pentagon could have sought to further reprimand Petraeus under military law.
Hedger's letter was addressed to the Senate armed service committee chairman, John McCain, and fellow senator Jack Reed, who had recently asked Carter not to take further action………………..
Southern Poverty Law Center says sweeps are targeting solely women and children as a 'family unit' brings in $600 for private owners of detention centers compared with $150 for housing a male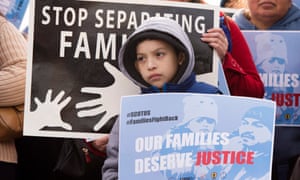 A child joins immigration advocates as they rally outside the supreme court in Washington earlier this month. Photograph: Michael Reynolds/EPA
Ana Gutiérrez and her family had faith in the American system.
When she fled the violence of Honduras and settled with relatives in Atlanta, Gutiérrez, 31, met regularly with immigration officials and wore an electronic ankle shackle, so they could track her.
And then officers showed up a few weeks ago at the family's home, claiming to look for a criminal. They flashed a picture of a black male, the family says, and the frightened family opened the door.
The officers weren't police, it turned out, but agents of Immigration and Customs Enforcement (ICE). They told Gutiérrez to gather what belonged to her – her clothes, her purse, her little boy – and come with them.
Gutiérrez was swept up in a 2 January operation that, according to the Southern Poverty Law Center, targeted solely women and children. Early that morning agents knocked on doors across southern states, including Texas, Georgia and North Carolina, and detained 121 undocumented immigrants.
Attorney Lisa Graybill, who co-authored an SPLC report called "Families in Fear" about the operation, said most of them have been deported to Honduras, El Salvador and Guatemala – Central America's infamous "Northern Triangle".
Each of those countries suffered civil wars during the 1980s, and the violence has never stopped. The Northern Triangle is now the most homicidal region in the world, and children are often targeted for forced gang initiation. So Graybill said Gutiérrez and others like her have more in common with refugees fleeing war than with migrant workers looking for better wages.
"Forty percent of Honduras is controlled by gangs," she said Friday. "That's reaching the level of state violence."………………….
Turkish coastguard says 37 killed, among them babies and young children, and 75 rescued after boat tips over en route to Greek island of Lesbos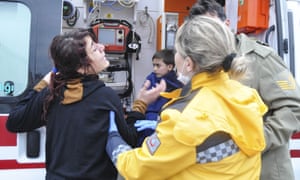 A woman and boy are attended to by a Turkish medical team after a boat sank in the Aegean. Photograph: Anadolu/Getty Images
Ten children were among at least 37 migrants who drowned in the Aegean Sea after their boat capsized as they attempted the crossing from Turkey to Greece.
Turkish coastguards rescued 75 others from the sea near the resort of Ayvacik on Saturday, according to the official Anadolou news agency. They had been trying to reach the Greek island of Lesbos.
Images of dead children on a beach on Saturday recalled the photo of three-year-old Alan Kurdi lying face down on a Turkish beach last year.
The agency has identified the survivors as natives of Afghanistan, Syria and Myanmar. "We are sad. At least 20 friends are still missing," one weeping survivor told an AFP photographer at the scene.
A private Turkish news agency, Dogan, reported that police had arrested a Turkish man suspected of being the smuggler who organised the ill-fated crossing.
Turkey, which is hosting at least 2.5 million refugees from Syria's civil war, has become the main launchpad for migrants fleeing war, persecution and poverty.
"January has been the deadliest month so far for drownings between Turkey and Greece," Peter Bouckaert, the emergencies director at Human Rights Watch, told Associated Press. "Almost every day, more drown on this dangerous journey.
"It is deeply disturbing that after all those solemn pledges when Aylan Kurdi drowned, these latest drownings were barely mentioned in the media.
"We have chosen to look away."………………….
In the last country in western Europe not to offer rights to gay couples, thousands gather to condemn – or support – a change in the law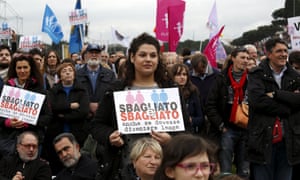 Protesters hold signs saying that same sex-marriage would be wrong even it was made legal in Italy. Photograph: Remo Casilli/Reuters
It has been 2,000 years since Romans gathered at the Circus Maximus to watch chariots roar around the racetrack, but a new battle was brought to the ancient site on Saturday .
Clutching banners reading "We defend our children" and "The family is founded on marriage between a man and a woman", hundreds of thousands of people gathered for a "Family Day" to protest against a proposed bill to legalise same-sex unions.
"We have a lot of grandchildren; their future is ruined if marriage is destroyed," said protester Ida. "Children have a right to have a mother and a father. To grow up healthy, they need a male and a female figure."
The law, currently facing fierce debate in the senate, is aimed at granting legal rights to same-sex couples for the first time in Italy. Among the provisions are civil partnerships, the right to inherit a partner's pension and a controversial "stepchild adoption" article which would allow a child legally to have same-sex parents in the case of a gay person adopting their partner's biological child.
There were both patriotic and religious overtones to the Rome rally. Italian flags were sold and religious banners waved while priests and nuns walked among the crowds. "I believe in Christian and family values. Our children are not for sale," said Gianluca, a participant.
Organisers estimated that two million people attended the protest, a figure which could not immediately be confirmed by Italian police. Young volunteers were on hand to help and numerous families laid out picnic blankets and rolled buggies on to the grass………………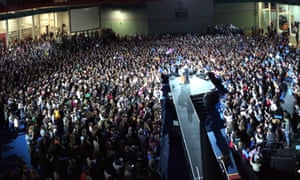 Bernie Sanders speaks to a massive crowd on Saturday night in Sioux City, Iowa. Photograph: Jamie-James Medina for the Guardian
Opinion
Mere acknowledgement that the environment is in peril without a plan to mitigate it is a huge oversight
Extreme sea level rise in Florida is one concrete result of climate change it's even hard for politicians with a history of denying it to ignore. Photograph: Joe Raedle/Getty Images
L

et's call it the non-denial denial. Some Republican presidential candidates are beginning to peer out from behind the wall of climate denial that has defined the party as long as Barack Obama has been in the White House. Finally, it seems, the most open expressions of climate denial – such as dismissing long-established scientific fact – may be seen as a bit retrograde, and possibly embarrassing, even by some who are looking for votes from an increasingly rightwing Republican party.
In response to a rare question about climate change in Thursday night's Republican debate, Marco Rubio offered up an answer that was rarer still in the 2016 campaign. He did not reduce climate change to a punchline or bash the science underlying climate change, as Ted Cruz and Donald Trump have been doing throughout the primary.
Rubio spoke instead about policies for fighting climate change – in his case his opposition to cap and trade in his home state of Florida.
"When I am president of the United States of America, there will never be any 'cap and trade' in the United States," the Florida senator said.
Jeb Bush, Rubio's fellow Floridian, also steered clear of open climate denial, telling a gathering in New Hampshire on Saturday that he opposed federal government policies to deal with global warming.
"The market will work faster. There's someone in a garage somewhere, parochially I hope it's in Miami, that's going to have a clue, to have an answer to this," Bush said.
The fact that both candidates were operating under the assumption that climate change even exists might seem like progress of a sort. As Obama noted last month, the Republican party is the only major party in the advanced world that denies climate change……………….