02 Feb

Opinion
The strength of the Vermont senator's 'radical' message propelled him to a near-tie in the first caucus. It will have repercussions on Democrats for years to come
As Iowa caucus results showed Bernie Sanders and Hillary Clinton in a tie late Monday night, Sanders spoke to his supporters about the 'political revolution' he feels in the state thanks to their strong support of his campaign
Bernie Sanders' path to the White House has been incredibly narrow but, after his near-draw in Iowa on Monday night, there's clearly open road ahead of him.
On Tuesday, the race in which pundits long-ago declared Hillary Clinton the presumptive victor will begin in earnest; sit tight, it's going to be a very long, bumpy ride.
The margin between Sanders and Clinton was razor thin all of Monday night – certainly thinner than anyone would have imagined possible last spring, when he was down by 42 points in a national poll. Coming in anywhere near close to Clinton in the Iowa caucus would've been a significant victory for Sanders; the near-tie showed the deep resonance of his message.
The actual results underscored what he and his supports have said all along: establishment Democrats have underestimated him and the power of his movement.
The chief argument against Sanders for his entire campaign is that he's unelectable in a national election and, by extension, ineffective as a candidate or a statesman. He's alternately been written off as a fringe candidate, an adorable elderly relative and more subtly, as a political tool for pushing Clinton the left.
But Monday night proved that he could win and, in proving it, he's weakened Clinton by exposing her as something other than the inevitable candidate we had all but assumed her to be. Some Sanders staffers have argued Sanders definitely did win if you count raw totals and not state delegates; given the geographical layout of Iowa, that claim is likely if unproven. (More than a quarter of Sanders' supporters come from just three counties – which awards only 12% of delegates; the caucus structure is thought to favor Clinton significantly)…………………

Click above picture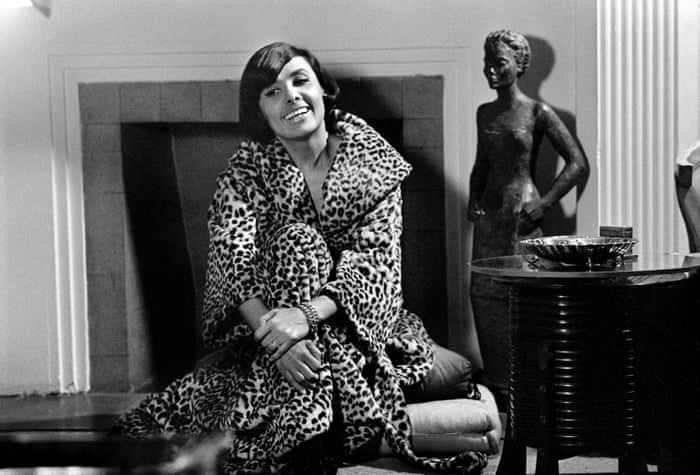 Lena Horne at her West End Avenue penthouse apartment in the Manhattan, New York, in 1964
Photograph: Sam Falk/New York Times / Redux / eyevine
For hundreds of thousands of refugees Greece was seen as just a transit point. Now, as walls go up across Europe they risk being trapped there
An Afghan woman arriving with her child in Athens' main port of Piraeus last week. Photograph: Petros Giannakouris/AP
W

alter Mugisha never meant to end up in Eleonas. When the computer technician left his native Uganda, Denmark was his goal, not a dusty camp in a former olive grove in the industrial moonscape of Athens.
For the 32-year-old, as for the vast majority of Syrian migrants and refugees making the perilous crossing from Turkey, Greece was a transit point, the route that would get him there. Athens was happy to oblige, waving through the estimated 850,000 men, women and children who have similarly landed on its shores, providing transport but never hosting the caravan of humanity that, over the course of a tumultuous 2015, wended its way from the Mediterranean, through the Balkan peninsula and further north into central Europe.
Mugisha, like so many, came with nothing. "Everything you see, the clothes I am wearing, I got here," he smiles, stocky and sparkly eyed. "I arrived with my Bible, my shield, the one thing I kept close to my chest. And now, because I am not a Syrian, because I am not a war refugee, I am praying every day that I will be granted political asylum, that I will get to Denmark, that I will live my dream."
With its numbered cabins and cavernous tents, basic amenities and sole basketball ring, Eleonas was only ever intended to be a stopgap solution for the migrant wave on the road through Greece. But bigger things – way beyond Greece's control – have put an end to that. Across Europe walls have come down; barriers have gone up and rhetoric has swelled as EU member states, one after another in the wave of the jihadi attacks on Paris, have reinforced frontiers and closed their doors…………….