06 Feb

Shift of one delegate from Bernie Sanders to Hillary Clinton raises questions about Iowa Democratic party's management of first-in-the-nation vote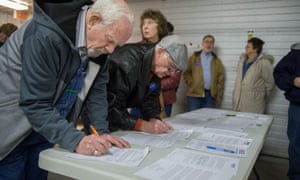 Caucus attendees sign in as they arrive at a Democratic party caucus at Jackson Township Fire Station in Iowa on Monday. Photograph: Michael B Thomas/AFP/Getty Images
Ben Jacobs in Manchester, New Hampshire
In the Iowa Democratic party's chaotic attempt to report caucus results on Monday night, the results in at least one precinct were unilaterally changed by the party as it attempted to deal with the culmination of a rushed and imperfect process overseeing the first-in-the-nation nominating contest.
In Grinnell Ward 1, the precinct where elite liberal arts college Grinnell College is located, 19 delegates were awarded to Bernie Sanders and seven were awarded to Hillary Clinton on caucus night. However, the Iowa Democratic party decided to shift one delegate from Sanders to Clinton on the night and did not notify precinct secretary J Pablo Silva that they had done so. Silva only discovered that this happened the next day, when checking the precinct results in other parts of the county.
The shift of one delegate at a county convention level would not have significantly affected the ultimate outcome of the caucus, but rather, it raises questions aboutthe Iowa Democratic party's management of caucus night.
The Iowa Democratic party had long been plagued with organizational issues around the caucus and failed to find hundreds of needed volunteers to oversee individual precinct caucuses just over a week before Monday. The result was a disorganized process that lent itself to chaos and conspiracy theories. Although Andy McGuire, the chair of the Iowa Democratic party, is a longtime Clinton supporter whose license plate once read HRC 2016, no one familiar with the issue has accused the error of being a partisan process. Instead, they have blamed simple mismanagement…………….
On Thursday, the Des Moines Register said in an editorial that "something smells in the Democratic party", lobbing an accusation of autocratic methods, for "the refusal to undergo scrutiny or allow for an appeal……………………

Analysis of footage highlights officers were prepared to use weapons well before making contact with Loren Simpson, who died after being shot at 24 times
Dashcam video shows the fatal shooting of the 28-year-old in Yellowstone County on 8 January 2015 as he attempted to steer his car around a police vehicle blocking the road. The two deputies, Jason Robinson and Christopher Rudolph, pursued Simpson down a snowy road on suspicion of burglary and car theft and as he tried to escape fired 24 times with a 12-gauge shotgun and an AR15 rifle
Disturbing footage has emerged of a fatal police shooting in Montana in 2015, which shows that an unarmed man attempted to steer his vehicle away from two officers before they opened fire 24 times with a 12-gauge shotgun and an AR15 rifle.
Loren Simpson, 28, was killed on 8 January 2015 after two Yellowstone County deputies pursued him on suspicion of burglary and car theft. The deputies, Jason Robinson and Christopher Rudolph, were stuck in the road and left their patrol car as a block, without leaving their siren lights blaring or deploying traffic spikes before they exited their vehicle and opened fire on Simpson's stolen Ford Explorer as he approached their position.
On Thursday a coroner's inquest found the two officers were justified in shooting Simpson, after dashcam footage from the deputies' patrol car was played to the jury. Both deputies told the inquest they feared for their lives before opening fire.
Simpson's case appeared in a 2015 Guardian investigation, which revealed 30 fatal incidents in which police officers around the US had fired into moving vehicles, despite federal guidelines against the practice. Yellowstone County's guidelines of use of force were identified in the investigation as the most lax.
A Guardian analysis of the dashcam video, which was played to the jury only once during the inquest, highlights how both officers appeared agitated and prepared to use their weapons well before making contact with Simpson…………..
Tens of thousands flee ongoing Russian airstrikes and pro-Assad ground assaults on Aleppo and surrounding towns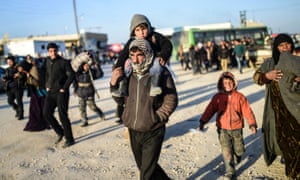 Syrians fleeing Aleppo approach the Turkish border crossing. Photograph: Bulent Kilic/AFP/Getty Images
Turkey's main border crossings with north-west Syria remain closed for a second day as tens of thousands of refugees flee a Russian bombardment and a ground offensive by pro-government groups that has all but besieged Aleppo.
Aid agencies in southern Turkey were scrambling to deliver food and shelter to whole communities that had fled the most sustained attack of the five-year war, with some arrivals claiming their towns and villages had been decimated by indiscriminate bombing.
The United Nations estimated that 20,000 people had gathered at the Bab al-Salam border crossing. Most are believed to be among the poorest residents of northern Syria, who had remained behind throughout a conflict that had emptied out the countryside between Aleppo and the border, and whittled away the rebel-held east of the city itself.
The regime push marks one of the most decisive phases of the war, and comes after three years of setbacks in the north, in which most of Aleppo and Idlib provinces had fallen from the grasp of Damascus……………….

Critics draw comparison with church view on Aids/HIV as proscription remains on artificial contraception and abortion despite virus's links with birth defects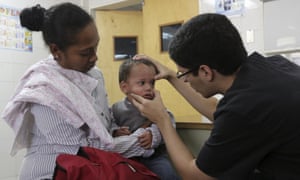 A doctor checks a child for Zika virus in a hospital at the Petare slum in Caracas, Venezuela. Photograph: Marco Bello/Reuters
The Catholic church has remained silent in the face of the mounting crisis caused by the Zika virus in Latin America, which has led at least four countries to urge women to avoid pregnancy for up to two years.
The church has not eased its proscription on artificial contraception and abortion despite strong indications that the virus spread by mosquitoes is the cause of devastating birth defects across the region. Thousands of babies have been born with unusually small brains and heads, a condition known as microcephaly.
The rights of women to make decisions about pregnancies must be at the forefront of the response to the Zika crisis, Tewodros Melesse, director general of the International Planned Parenthood Federation, said on Thursday.
"Despite opposition, in recent decades Latin America has made great strides in amplifying access to contraception. However much more needs to be done. In the face of the Zika virus, these gains need to be echoed throughout the region – especially for adolescents, poor women and those living in rural areas who are most likely to be exposed to the virus and least likely to have access to reproductive health services," Melesse said……………..

A judge in Tennessee jailed the boy until he is 19, saying in a judgment published by US media that a child murderer cannot be turned loose 'willy-nilly'
The McGlynn: Guns! Guns! NRA! Guns! Children!
An 11-year-old boy has been found guilty of murdering an eight-year-old girl after she and her sister refused to let him see their puppies.
WATE-TV reports that judge Dennis Roach this week found the boy guilty of first-degree murder and sentenced him to custody in Tennessee until he turns 19.
In his order, which WATE posted online, Roach said the state should use all reasonable resources to determine why the boy shot the girl, and he should be treated and rehabilitated so this never happens again.
"A child who commits first-degree murder cannot be willy-nilly turned loose into society," Roach wrote.
The boy, who has been identified by US media, was in detention and being evaluated as to where he should be placed, said Rob Johnson, a spokesman for Tennessee's department of children's services. "Like any other child who comes into custody, he would need a thorough assessment and evaluation to determine the best placement," Johnson said.
"At this time, it would likely be at an intensive treatment program at one of our private providers."……………

The oil industry targeted business-friendly Democrats in the legislature to kill parts of a bill mandating a 50% reduction in gasoline use in the state by 2030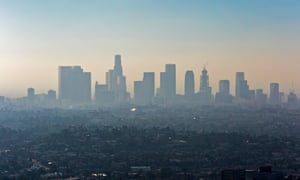 California's SB-350 would have mandated a 50% reduction in gasoline use in the state by 2030, in addition other to climate change initiatives. Photograph: Ted Soqui Photography/Corbis
The oil industry spent more than $10m lobbying state lawmakers in a massive push to kill California climate change legislation last year, new disclosures have revealed.
Much of the money spent by big oil was targeted at a specific piece of legislation, SB-350, that would have mandated a 50% reduction in gasoline use in the state by 2030 in addition other climate change initiatives.
The bill was a marquee piece of legislation for Governor Jerry Brown and Democratic state leaders in advance of the Paris climate talks.
The oil industry targeted business-friendly Democrats in the legislature to kill the gasoline-related portion of the bill, sparking a major intra-battle in the final weeks before the vote. Ultimately, the industry was successful and the oil-related part of the bill was removed in its allowing it to pass in a weakened state with no petroleum restrictions.
"Big oil might be on the right side of the shareholder reports, but we're on the right side of history," said Senate leader Kevin de León, one of the key authors of SB-350, on the defeat of the oil restrictions in the bill. "Ultimately, California is going to demand that an industry which represents most of the problem has an economic and moral duty to be part of the solution."……………