07 Feb

Guardian analysis of dozens of contracts revealed by hackers shows more than a third allow or require destruction of civilian complaint records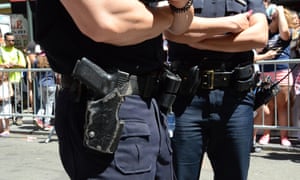 Files released following the hacking of the country's biggest police union show guarantees of secrecy over disciplinary records, a Guardian analysis finds. Photograph: Alamy
Contracts between police and city authorities, leaked after hackers breached the website of the country's biggest law enforcement union, contain guarantees that disciplinary records and complaints made against officers are kept secret or even destroyed.
A Guardian analysis of dozens of contracts obtained from the servers of the Fraternal Order of Police (FOP) found that more than a third featured clauses allowing – and often mandating – the destruction of records of civilian complaints, departmental investigations, or disciplinary actions after a negotiated period of time.
The review also found that 30% of the 67 leaked police contracts, which were struck between cities and police unions, included provisions barring public access to records of past civilian complaints, departmental investigations, and disciplinary actions.
Samuel Walker, a professor in criminology at the University of Nebraska, Omaha, said there was "no justification" for the cleansing of officers' records, which could contain details of their use of force against civilians.
"The public has a right to know," said Walker. "If there was a controversial beating, we ought to know what action was actually taken. Was it a reprimand? A suspension?"
Walker said that while an officer's whole personnel file should not be readily available to the public outside of court proceedings, records of disciplinary action should be.
The leaked contracts became publicly accessible last week, when hackers breached the Fraternal Order of Police's website and put around 2.5GB worth of its files online. These provide a glimpse into the influence of police unions, which Black Lives Matter activists have accused of impeding misconduct investigations, particularly after the death of 25-year-old Freddie Gray in Baltimore, Maryland in April…………….
Documents suggest leaders fast-tracked annulment of Angélica Rivera's previous marriage ahead of now husband Enrique Peña Nieto's presidential run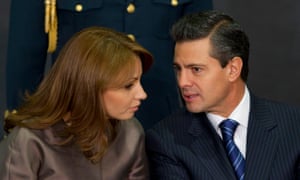 Mexican president Enrique Peña Nieto, right, speaks to his wife, Angélica Rivera, in a 2013 photo. Photograph: Eduardo Verdugo/AP
The Catholic church in Mexico has been accused of bending its own rules on marriage to allow Enrique Peña Nieto to enhance his image ahead of his successful run for president.
Documents obtained by investigative reporters appear to show that the church hierarchy fast-tracked a marriage annulment for the actor Angélica Rivera, who became Peña Nieto's wife 19 months before he was elected president.
The claims of ecclesiastical irregularities come days before Pope Francis makes a six-day trip to Mexico, in which he is expected to address touchy topics such as corruption, inequality and insecurity – matters on which the Mexican government has mostly stayed silent under Peña Nieto.
Reporters with the news weekly Proceso and online news organization Aristegui Noticias obtained the documents, which were shared with the Guardian.
Peña Nieto's first wife, Mónica Pretelini, died in January 2007 after suffering an epileptic seizure. His subsequent romance with Rivera, who had been hired as the public face of Mexico state, where Peña Nieto was governor, produced a steady stream of puff pieces and cover stories in the country's gossip magazines.
Rivera, a popular soap opera star, was married to TV producer José Alberto Castro from 2004 to 2008. They have three daughters together, including two who were born out of wedlock. The archdiocese of Mexico City annulled their marriage in May 2009, noting that the ceremony had taken place on a beach in Acapulco and exhibited "defects of canonical form".
But the newly revealed church documents cast doubt on the archdiocese's story that an improper wedding ceremony was sufficient grounds to annul the marriage.
A copy of Castro and Rivera's Catholic marriage certificate appears to show a proper church ceremony took place in a Mexico City parish on 2 December 2004 – before the Acapulco beach service and in contradiction of archdiocesan claims that it did not take place in an authorized house of worship.
Annulments are available to all Catholics, though the process is cumbersome and can take years to complete, according to a priest consulted by the Guardian. That is especially true for those lacking the cash or connections to people in prominent positions. Pope Francis has only recently attempted to make annulments more accessible…………….
Oncupinar border remained closed despite an estimated 70,000 people expected to head there in coming days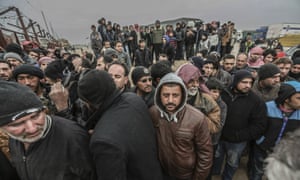 Syrians gather at the Bab al-Salam border gate with Turkey. Photograph: Bunyamin Aygun/AP
The European Union has urged Turkey to open its borders to thousands of Syrians fleeing an onslaught by government forces and intense Russian airstrikes.
Turkey kept its Oncupinar border crossing closed on Saturday despite a significant increase in the number of arrivals to the European gateway in the past 48 hours.
As many as 70,000 people are expected to head for the border in the coming days, said Suleyman Tapsiz, governor of Turkey's Kilis border province. There are already between 30,000 and 35,000 displaced Syrians on the Syrian side of the border being cared for by Turkey. Aid workers said the refugees were being directed to nearby camps.
Fifteen Syrians injured in bombings near Aleppo were allowed into Turkey through the crossing late on Friday night, but the Turkish government had not directly responded to the EU's comments on Saturday evening. "Our doors are not closed, but at the moment there is no need to host such people inside our borders," Tapsiz said.
Although the Oncupinar crossing remained closed, the Turkish foreign minister, Mevlüt Çavu?o?lu, said after a meeting with EU foreign ministers in Amsterdam that his country would maintain its open border policy. Approximately 2.5 million Syrians are now living in Turkey………………..

Peter Saunders, abused by two priests as a teenager, was a vocal critic of church's decision to appoint two men alleged to have covered up abuse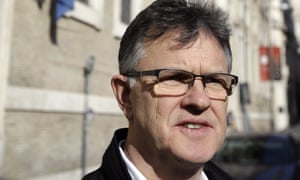 Saunders was appointed along with Marie Collins to join the commission in 2014. Photograph: Gregorio Borgia/AP
A vocal critic of the Catholic church's handling of clerical sex abuse has been dismissed from a Vatican commission examining the issue in a move that will fuel accusations that Pope Francis has done little to tackle paedophilia within the clergy.
Peter Saunders, a Briton who was abused by two priests as a teenager, was in Rome attending the advisory body's weekend meeting when it was announced that he was taking a leave of absence.
"It was decided that Mr Peter Saunders would take a leave of absence from his membership to consider how he might best support the commission's work," said the advisory board, officially known as the pontifical commission for the protection of minors.
But Saunders told reporters on Saturday afternoon that he had been blindsided by the news, which he called "outrageous".
"I was never told in advance of any such statement and I find it outrageous that I was not told, much less that the statement occurred before I had had any time to reflect on what I might do," he said.
"I have not left and I will not leave my position on the commission. I was appointed by His Holiness Pope Francis and I will only talk to him about my position."
Saunders told the Guardian in an earlier interview that he had no intention of resigning from the commission even though he was getting increasingly frustrated by its alleged lack of action on the abuse issue………………..

Officer Robert Rialmo's lawsuit provides the officer's first public account of how he says the shooting happened late last year
Associated Press in Chicago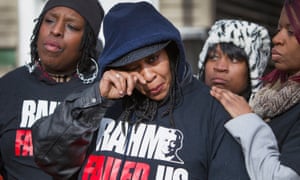 One day after Antonio LeGrier's death his mother, Janet Cooksey, said at a press conference her son, an honor roll student, did not have a history of aggressive behavior. Photograph: Scott Olson/Getty Images
A white Chicago police officer who fatally shot a black 19-year-old college student and accidentally killed a neighbor has filed a lawsuit against the teenager's estate, arguing the shooting left him traumatized.
The unusual lawsuit was filed on Friday amid Chicago city leaders' efforts to win back the public's trust after several cases of alleged police misconduct.
Officer Robert Rialmo's lawsuit provides the officer's first public account of how he says the shooting happened, on 26 December. It says Rialmo opened fire after the 19-year-old, Quintonio LeGrier, swung a bat at his head at close range.
……………."When is the mayor going to help us?" Cooksey said. "The police have failed us."………….


Opinion
Better judgment is what's needed, not candidates with 'experience' who are calling for more of the same policies in the Middle East that led to war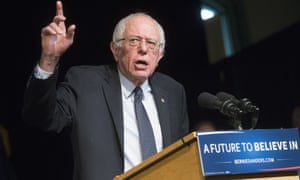 Everything Bernie Sanders warned in the lead-up to the Iraq war came to pass. Photograph: John Minchillo/AP
A

s Bernie Sanders has risen in the polls, he has been taking increasing heat for some of his apparently vague foreign policy positions and the fact that his campaign does not have a team of establishment foreign policy advisers, unlike typical front-running candidates.
Instead of just questioning Sanders' choice, we should really be questioning why any of the candidates of either party are employing the same old foreign policy advisers – many of whom not only supported the Iraq war but every disastrous military intervention since. These are the same people who now think that yet another regional war will somehow fix the chaos in the Middle East.
After a series of disastrous wars overseas, we should be looking for someone who has better "judgment" rather than candidates who have "experience" but are calling for more of the same policies in the Middle East that have led us into the mess we're in now in the first place.
Nothing exemplifies this more than Hillary Clinton seemingly bragging about her foreign policy credentials at Thursday's Democratic debate by citing her friendship with Henry Kissinger, who Christopher Hitchens called a war criminal. The former Nixon and Ford administration national security advisor and secretary of state is revered in DC foreign policy establishment circles but reviled just about everywhere else for his role in building or perpetuating multiple atrocities in east Asia during the late 1960s and 70s.
As Gawker editor Alex Pareene remarked during the debate: "Never say 'I was flattered when Henry Kissinger said I…' unless the end of that sentence is 'finally made him pay for his crimes.'"
But it's a far larger problem than the ubiquitousness of Kissinger, who still advises Republican candidates as well. The campaigns of Clinton, Ted Cruz and Marco Rubio have all been advised by the same foreign policy "consulting" group made up of former defense and intelligence officials who epitomize DC conventional wisdom. A gaggle of former Bush administration officials most known for their Iraq war and pro-torture advocacy advises virtually every Republican candidate outside Donald Trump.
And as you watch the candidates vie for who is the most "tough" when it comes to "destroying" Isis, it shows – there's little difference in Clinton's foreign policy versus the Republican candidates in the race besides a few rhetorical flourishes……………..