09 Feb

Waris Ahluwalia was en route to New York fashion week when Aeromexico staff refused to let him board the plane because of his religious headwear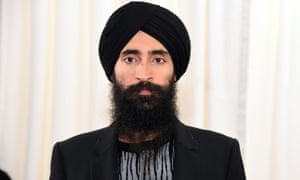 Waris Ahluwalia was prevented from boarding the Aeromexico flight because he would not remove his turban. Photograph: WWD/REX/Shutterstock
Agence France-Presse
A Indian-American actor and designer has been barred from boarding an Aeromexico flight from Mexico City to New York because he refused to remove his turban.
"This morning in Mexico City I was told I could not board my @aeromexico flight to NYC because of my turban," Waris Ahluwalia wrote on his Instagram account.
The 41-year-old actor posted a picture of himself holding up his boarding pass and another in front of an Aeromexico customer service desk. Ahluwalia, who runs the House of Waris, was heading to New York's fashion week.
"Dear NYC fashion week. I may be a little late as @aeromexico won't let me fly with a turban. Don't start the show without me," he added.
For Sikhs, wearing a turban symbolises commitment to the faith.
"[Taking the turban off] is not something that I would do in public," Ahluwalia told the New York Daily News. "That's akin to asking someone to take off their clothes."

Worst night of violence since 2014 as protesters mass for #fishballrevolution to support street food sellers facing eviction

Protesters clash with police on Monday night after a government decision to rule out night-time street markets in several Hong Kong neighbourhoods. At least 24 people were arrested with 44 police officers and reporters injured. it is not known how many demonstrators were hurt
Hong Kong was left reeling after a night of violence during which protesters and riot police clashed on the streets, resulting in bloodshed and mass arrests.
Police fired live warning shots into the air as demonstrators and activists set fire to rubbish bins and threw stones at officers in the worst episode of unrest since pro-democracy protests rocked the city in 2014.
The choatic scenes on first night of the lunar new year were prompted by a government decision to clear a central Hong Kong market of unlicensed food hawkers………………..

Proposed legislation to make leftwing NGOs declare funding from foreign governments passes first reading in Israeli parliament
An Israeli bill targeting groups that campaign largely on Palestinian human rights issues has overcome its first hurdle in the process to become law.
The proposed legislation, which would compel NGOs receiving most of their funding from foreign governments to declare it in official reports, passed its first reading in the Israeli parliament by 50 votes to 43 on Tuesday.
The legislation has been criticised as it would only affect leftwing Israeli organisations, many of which are funded by EU countries, and not rightwing NGOs, which are supported by private donations from wealthy supporters of Israel. MPs who oppose the legislation described it as "political persecution" and an erosion of Israeli democracy.
The opposition leader, Isaac Herzog, said the law would damage Israel's standing among its friends abroad. Last month the US ambassador to Israel, Dan Shapiro, said: "Governments must protect free expression and peaceful dissent and create an atmosphere where all voices can be heard."
The bill is being promoted by the rightwing justice minister, Ayelet Shaked, who says it will boost transparency as the government seeks to fight foreign interference and attempts to delegitimise the state of Israel.
Speaking in a parliamentary debate before the first of three votes on the bill, Shaked made clear the politically sectarian nature of the legislation. "After years in which the leftwing exploited the issue of transparency and used it as an administrative and political tool against the rightwing, you began to think that transparency was your inheritance and began to treat it like your own property. As if transparency were a property that was registered in your father's name," she said…………………

Search under way for nine remaining passengers after boat sinks while on the way to Greek island of Lesbos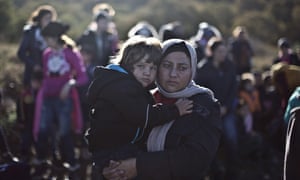 Refugees on Lesbos, near where a boat sank killing at least 27 people. Photograph: Muhammed Muheisen/AP
At least 27 refugees, including 11 children, drowned after a boat trying to reach the Greek island of Lesbos capsized two miles off the Turkish coast on Monday, the Turkish coastguard has said.
Three of the boat's passengers were rescued by the coastguard, while a fourth was rescued by a fisherman. A search operation was still underway for nine others.
The boat sank in the Aegean Sea near the Edremit area of the north-western province of Balikesir, about two miles off the Turkish coast.
More than 850,000 refugees arrived in Greece via the perilous sea route last year, making up the majority of the more than 1.1 million refugees who reached the EU.
While many expected numbers to drop over the winter, refugees have continued to make their way across the sea despite low temperatures and heavy storms. Last month marked the deadliest January on record, with more than 250 deaths……………..
Longest-running study to date analyses long-term mortality risks of Britons exposed to historic particulate pollution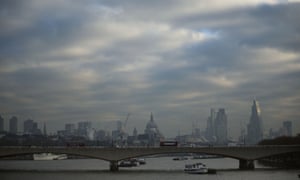 High pollution levels were recorded in London in late January. The new study shows that health impacts from air pollution persist for a long time. Photograph: Matt Dunham/AP
Air pollution raises the risk of death for many decades after exposure, according to the longest-running study to date.
The analysis of 368,000 British people over 38 years also showed that those living in the most polluted places have a 14% higher risk of dying than those in the least polluted areas. Those exposed to particulate air pollution were more likely to die from respiratory problems, like pneumonia, emphysema and bronchitis, and also from cardiovascular problems, like heart attacks.
"What this study shows is that the [health] effects of air pollution persist for a very long time," said Dr Anna Hansell, at Imperial College London, who led the new study. "There is an imperative that, because the effects are so long-lasting, we really ought to act on it. We have to think about what we are doing to the long-term health of the population."
Many Britons are currently exposed to illegal levels of air pollution, with 29,000 premature deaths a year – or 5% of all deaths – blamed on air pollution. The UK government lost a supreme court legal battle in 2015 and was forced to produce an action plan.

Opinion
The senator from Vermont is an idealistic truth teller who wants to rebuild our society's faulty foundations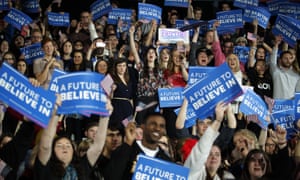 People are "feeling the Bern" across the United States. Photograph: Alex Wong/Getty Images
Steven W Thrasher: 'He is ready to critique capitalism'
Bernie Sanders offers the possibility of a better political future, the kind of world I've been contemplating since the Black Lives Matter movement began. That's appealing to me. I am not so naive as to think a Sanders presidency will solve everything or even much at all. But I am tired of being told I cannot imagine a better world.
You can't alleviate any of the systemic problems facing society today – like racism, sexism or income inequality, to name a few – without an honest and sustained critique of capitalism. My support for Sanders stems from his radical (in this country, anyway) willingness to reimagine how our financial system can work. His presidency could open a broader debate about it before the whole thing collapses.
I certainly wish Sanders had enough room in his capacious political imagination to consider the (UN recommended) concept of reparations for slavery. But he seems to get how our economic structure harms most of us, and he's gotten better at articulating the link between economics and racism since black women challenged him……………………
……Elizabeth Wurtzel: 'He wants to revive democracy'
Bernie Sanders speaks the truth. The extraordinarily wealthy, with all the power they deploy, make the laws of the land, and we just live here. Sanders knows that half-measures avail us nothing: we need a revolution. All of us need to participate. All of us need to vote and overwhelm the influence of the unaccountable rich. 99.9% is a lot more than .1%………………….
……..Daphne Wysham: 'He won't be bought by the fossil fuel lobby'
Bernie Sanders recognizes climate change as the "single greatest threat to our planet". That is why the "climate emergency caucus" in Iowa overwhelmingly voted to support Bernie Sanders, by 67%. His independence from corporate interests allows him to tackle other pressing issue of our time, like income inequality and taking on the 1% who profited from the bank bailouts. His courage, integrity and clarity of vision on critical issues like these make him a compelling candidate………………
………….Erika L Sánchez: 'You can be a feminist and support Bernie'
I think it's ignorant to believe that a woman would automatically have my best interests in mind. I'm a feminist, which is part of my overall belief in humanism. I feel we all have a responsibility to care for each other and capitalism very intentionally ignores or violates our humanity.
I certainly don't think that Bernie Sanders is some sort of messiah, but I do appreciate that he is pushing back against big business and I believe he's much more concerned about the average working American than any other candidate…………..
…..Roberto Lovato: 'He captures the political imagination of many'
As a journalist, I travel regularly and see firsthand the unprecedented dangers the world is facing, like climate change, extreme concentration of wealth and the widespread disillusion with democracy. To me, another Clinton presidency will literally be business as usual. Just consider Hillary Clinton's large Wall Street speaking fees and her previous support for deporting young children back to Central America, to their possible deaths. Sanders, however, sounds like he has at least some political imagination on these issues…………..