12 Feb

US and Russia among powers to agree on cessation of hostilities 'within a week' and delivery of humanitarian aid – but no end in sight to Russian airstrikes
The US secretary of state, John Kerry, says diplomats in Munich have agreed to a 'nationwide cessation of hostilities' in Syria, starting in a week. Kerry says the partial ceasefire 'will apply to any and all parties in Syria with the exception of the terrorist organisations Daesh and al-Nusra, and any other terrorist organisation designated by the security council'. Kerry says the US, Russia and other powers agreed to 'accelerate and expand' the delivery of humanitarian aid immediately, bringing aid to besieged areas
A cessation of hostilities is to come into force in Syria within a week and humanitarian aid is to be delivered to besieged areas across the country in the next few days, the US, Russia and other powers said late on Thursday night at talks in Munich. There was no clear commitment to end Russian airstrikes, however.
Galvanised by mounting international concern over the war, John Kerry, the US secretary of state, said progress had been made towards implementing a nationwide "cessation of hostilities", although it was not clear how this could happen unless Russia stops bombing civilians and mainstream rebels who are fighting the Syrian president, Bashar al-Assad. Action against Islamic State would continue.
Western diplomats confirmed that there had been no agreement by Moscow to immediately end airstrikes – a key demand of the Syrian opposition, who are likely to be highly sceptical about the results of the talks.
Kerry said a UN taskforce would "work to develop the modalities for a long term and durable cessation of violence".
Speaking after lengthy talks that included Russia and more than a dozen other countries, Kerry said that all involved agreed that Syrian peace negotiations should resume in Geneva as soon as possible.
Kerry, flanked by the Russian foreign minister, Sergei Lavrov, and UN envoy Staffan de Mistura, acknowledged that the Munich meeting produced commitments on paper only. He and Lavrov agreed that the "real test" would be whether all parties to the Syrian conflict honoured those commitments.
Germany's foreign minister, Frank-Walter Steinmeier, said: "We will only be able to see whether this was a breakthrough in a few days."…………….
The ever greater constraints placed on news reporting by Xi Jinping mean many Chinese journalists see no point in pursuing a media career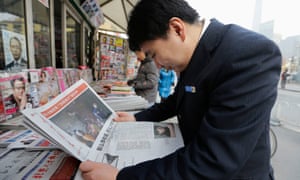 A man reads the Southern Weekly at a newsstand in Beijing. The once respected liberal broadsheet was forced to censor its content. Photograph: Jason Lee/Reuters
W

hen a 7.9-magnitude earthquake ripped through Sichuan province in May 2008, Lin Tianhong, a 29-year-old reporter at China Youth Daily, was one of the first to volunteer to head into the disaster zone.
"Everyone wanted to go," he recalled. "Otherwise, why be a journalist?"
Hours later the Beijing-based reporter was flying towards Sichuan's shattered countryside for what would be one of the most horrifying and defining moments of his short career in journalism.
For the next two weeks Lin trawled the disaster zone writing a series of devastating frontline dispatches. One article, Back Home, told the story of a couple who carried the corpse of their teenage son, Cheng Lei, home for burial after digging him from the rubble of his six-storey school.
"His mother wanted to put new clothes on him, but Cheng Lei's body had grown stiff," the journalist wrote. "The couple knelt before his corpse, stroking his hands and feet, calling out his name over and over again."………………


Opinion
Cleveland is suing Tamir Rice's family for emergency response costs, and the officer who shot Quintonio LeGrier filed for emotional damages. Really, now?
Tamir Rice was 12 and holding a toy gun when fatally shot by a Cleveland police officer in 2014. Photograph: AP
A

pparently, it wasn't enough for a Cleveland police officer to shoot 12-year-old Tamir Rice less than two seconds after arriving on-scene in 2014 and handcuff his sister when she tried to help him, nor for his mother to be left homeless in 2015 as she waited months for an investigation. It wasn't enough for Cleveland to actually blame the little boy for his own death, or to present multiple reports which found his killing to be "reasonable".
On Wednesday, in a letter submitted by the city's Director of Law Barbara Langhenry, the City of Cleveland actually sued Tamir's family for $500, which it claims is "past due – owing for emergency medical services rendered as the decedent's last dying expense", according to Cleveland Scene.
In the creditor's claim, the line item expenses coldly break down to $450 for "Advance Ambulance Life Support" – dispatched after Cleveland officers "waited minutes to give first aid" to the boy one of them had shot – and another $50 for "mileage".
In the coming days, we will likely hear that the city had no choice but to sue the Rice estate, that Cleveland is justified by the very economic and faux moral argument which scoundrels unleash in such scenarios (and which David Graeber tears apart in Debt: The First 5,000 Years): that "one has to pay one's debts".
But make no mistake: viewing Tamir as a debtor to a society which killed him is racial capitalism at its worst, which Nancy Leong calls "the process of deriving social or economic value from the racial identity of another person".
It is the second such grotesque lawsuit against a dead black boy in less than a week by a party charged with his death. Just a few days ago, Chicago Police Officer Robert Rialmo sued the estate of 19-year-old Quintonio LeGrier for $10m. According to CNN, the lawsuit alleges that "LeGrier's actions had forced Officer Rialmo to end LeGrier's life, and to accidentally take the innocent life of [bystander] Bettie Jones," which "has caused, and will continue to cause, Officer Rialmo to suffer extreme emotional trauma".
This again is vulgar racial capitalism: an attempt to extract as much value as possible from black lives, even by those which abuse or terminate them.
In between news of both of these lawsuits, the United States federal government announced that it is suing the city of Ferguson, which attorney General Loretta Lynch said came about after "painstaking negotiations [that] lasted more than 26 weeks as we sought to remedy literally years of systematic deficiencies". Racial capitalism was at work here, too, as Ferguson shamefully had paid its bills for years by arresting and fining black people and even throwing them in (supposedly unconstitutional) debtors' prisons. When Ferguson's "city council rejected the consent decree approved by their own negotiators", Lynch said, the federal government had no choice but to sue them to comply……………