14 Feb
For a change from the same old news stories from the same old news networks, here are links to English-edition online newspapers from other parts of the world. Nearly all of these are English-edition daily newspapers, with an emphasis on the Middle East and Asia. These sites have interesting editorials and essays, and many have links to other good news sources. We try to limit this list to those sites which are regularly updated, reliable, with a high percentage of "up" time. Click here to report broken links, or to suggest other sources.
We test these links every day, and report the results as follows:
Very reliable in the past ten days
Sometimes up
Mostly down during the past ten days
Unchecked for various reasons

Supreme court justice, 79, found dead at Texas ranch

Obama confirms he will nominate replacement
Antonin Scalia, the staunchly conservative supreme court justice, has died at the age of 79, prompting an immediate political struggle over the future direction of the United States, even as tributes were being paid to honor his service.
As the stars and stripes were lowered to half-staff outside the court, and the chief justice, John Roberts, confirmed Scalia's death, political leaders on both sides of the partisan divide staked out their positions in the fierce fight to come over the nomination of his replacement.
President Obama praised Scalia as a "brilliant legal mind" who was "one of the towering legal figures of our time" and "one of the most consequential judges and thinkers to serve on the supreme court".
But in a brief statement on Saturday night, he also responded to Republican threats to block Scalia's replacement by warning they risked undermining a cornerstone of US democracy.
"I plan to fulfill my constitutional responsibility to nominate a successor in due time," he said, during a weekend trip to Palm Springs. Obama, who is in the final year of his presidency, said: "There will be plenty of time for me to do so and for the Senate to to fulfill its responsibility to give that person a fair hearing and a timely vote."
"These are responsibilities that I take seriously, as should everyone, they are bigger than any one party; they are about our democracy. They are about the institution to which justice Scalia dedicated his professional life and making sure it continues to function as the beacon of justice that our founders envisaged."
Before Obama spoke, Senate majority leader Mitch McConnell said the next president should be the one to nominate a replacement to a court which is now evenly balanced between four liberal and four conservative justices…………….
At the peace talks in Munich and on the ground in Aleppo, two things became clear last week: Moscow was running the show and Assad's opponents felt abandoned by Washington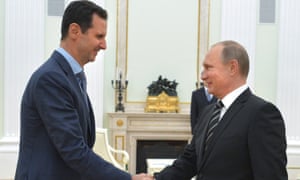 Vladimir Putin, who is now calling all the shots on the diplomatic stage, with Bashar al-Assad, Syria's president, in the Kremlin in October 2015. Photograph: Alexei Druzhinin/AP
R

ussia's economy may be stumbling as oil prices fall, but in a week of extraordinary military and diplomatic turmoil over the war in Syria, President Vladimir Putin has proved that his global influence and ambitions have only been sharpened by financial troubles.
For now he seems to be calling all the shots in Syria's civil war. Russian jets allowed Syrian government troops to break out of a stalemate in Aleppo, cutting supply routes into a city that has been a rebel stronghold for years…………….
Princeton University professor Jan Tomasz Gross faces losing Order of Merit over comments Polish villagers were complicit in massacre of Jews
Defeated Jewish families fleeing the Warsaw ghetto in 1943. Professor Jan Grosssaid Poles killed more 'Jews than Germans during the war'. Photograph: Hulton-Deutsch Collection
Academics have rallied to the defence of one of the world's leading Holocaust historians after reports that Poland intends to strip him of a national honour because he claimed that Poles were complicit in Nazi war crimes.
Princeton University professor Jan Tomasz Gross, 69, was awarded the Order of Merit of the Republic of Poland in 1996. He is best known for his 2001 book Neighbors, which describes in graphic detail the 1941 massacre by Polish villagers of up to 1,600 Jewish men, women and children. The book inspired Aftermath (Pok?osie), a 2012 film directed by W?adys?aw Pasikowski.
The move against the historian comes as the nationalist Law and Justice government, elected in 2015, comes under European scrutiny for law changes that, critics say, threaten democracy. President Andrzej Duda signed into law a controversial move bringing the attorney general under the control of the justice ministry. Critics say this will put political pressure on the judiciary.
Intellectuals who in the past few days have signed two open letters in Gross's defence say the Law and Justice government wants to rewrite history, expunging any suggestion of Polish complicity in past horrors.
"The government says Gross is unpatriotic. But he is a patriot who looks at both the darker and lighter periods in Polish history,'' said University of Ottawa history professor Jan Grabowski, who is among 30 signatories of the first letter, published last week.
Professor Jan Tomasz Gross, whose book "Neighbors" tells of the massacre of Jews in Jedwabne. Photograph: Czarek Soko?owski/AP
Gross was born in Poland but left the country in 1969 after an antisemitic purge on dissidents. Last September, in an article published in Germany's Die Welt newspaper, he lamented eastern European countries' reluctance to accept refugees and asserted that Poles killed more Jews than they did Nazis during the second world war. Prosecutors in Warsaw decided to investigate whether Gross had broken laws prohibiting the defamation of Poland…………….


Opinion
The gravitational waves theorist saw physics as no one else did, but if he was around today his time would be spent chasing grants or tenures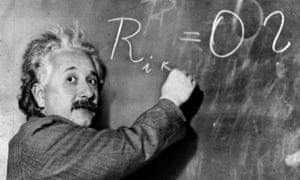 'Many physicists regard general relativity as a theory of exemplary beauty. But it's difficult too.' Photograph: AP
T

he discovery of gravitational waves has been hailed as yet another vindication of Albert Einstein's theory of general relativity, unveiled a century ago. Indeed it is: among the theory's predictions was that violent events in the universe involving immense masses – such as the collision and merging of two black holes – could set the fabric of spacetime ringing, the ripples spreading across the cosmos and stretching or squeezing space as they pass.
Experiments at the Advanced Laser Interferometer Gravitational-Wave Observatory facilities in Washington and Louisiana have detected these distortions, and it's a tremendous, exhilarating moment for science. But it's been barely noted what a deeply strange, perhaps unprecedented situation this is too. The initial detection event happened last September, in the centenary year of the publication of Einstein's theory. Yet the theory of general relativity itself is a great rarity in science: for this was not an idea motivated by any need to explain observations, but the result of Albert Einstein simply sitting down and thinking. It isn't easy to find another example of such a rich, fertile theory conjured, as it were, out of nothing.
No one was demanding a new theory of gravity in 1915. We already had one – devised by Isaac Newton more than two centuries earlier – and it seemed to work fine. Sure, there were a few little puzzles, such as the anomalous motion of the planet Mercury. But these weren't in any sense the stimulus for the new theory (even though it explained them). No, it arose because Einstein saw the world differently.
It began in 1907, when Einstein was 28 and still working as a patent clerk. "I was sitting in the patent office in Bern," he later wrote, "when all of a sudden a thought occurred to me: if a person falls freely, he won't feel his own weight. I was startled. This simple thought made a deep impression on me. It impelled me toward a theory of gravitation." This, Einstein attested, was "the happiest thought of my life"……………