15 Feb
For a change from the same old news stories from the same old news networks, here are links to English-edition online newspapers from other parts of the world. Nearly all of these are English-edition daily newspapers, with an emphasis on the Middle East and Asia. These sites have interesting editorials and essays, and many have links to other good news sources. We try to limit this list to those sites which are regularly updated, reliable, with a high percentage of "up" time. Click here to report broken links, or to suggest other sources.
We test these links every day, and report the results as follows:
Very reliable in the past ten days
Sometimes up
Mostly down during the past ten days
Unchecked for various reasons


Bombing threatens to derail fragile deal agreed in Munich calling for cessation of hostilities and humanitarian aid
Putin could end Syrian war with one phonecall, says Philip Hammond – video
Foreign secretary Philip Hammond says Russian president Vladimir Putin is the only man who could end Syria's civil war "with one phonecall". Speaking on BBC1's The Andrew Marr Show on Sunday, Hammond says that the political situation in Syria had not changed in the past year and that "whether or not Assad goes or stays" depends on Russia's influence
Violence raged across Syria on Sunday as Barack Obama urged Vladimir Putin to stop Russian bombing of mainstream rebels in an attempt to make diplomatic progress on a limited and temporary ceasefire that is supposed to come into effect this week.
Russian fighter jets continued to pound targets over the weekend and Turkey was drawn further into the conflict, shelling Kurdish positions in northern Syria for a second day amid growing alarm in Ankara that the Kurds are taking advantage of a political vacuum in the region.
The renewed violence threatens to end a fragile deal agreed by major powers in Munich last week which calls for a "cessation of hostilities" within a week and the delivery of humanitarian aid to besieged areas. The deal excludes military operations against the Islamic State terror group and al-Qaida's wing in Syria, Jabhat al-Nusra.
An aerial campaign by Moscow launched last autumn and intensified in recent weeks has driven the most significant gains by the regime of Bashar al-Assad since the start of the war, having primarily targeted mainstream rebels bent on overthrowing him.
The Kremlin said on Sunday that Obama and Putin had discussed the crisis in a telephone call, agreeing that the deal reached in Munich was a positive step and pledging to implement the ceasefire and the delivery of aid………….

Yang Jisheng has been honoured by Harvard for his 'fearless reporting' on China's 1958-61 famine that left at least 36 million people dead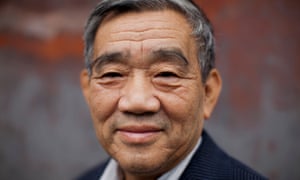 Author Yang Jisheng had hoped to travel to Massachusetts to collect the award for his 2008 book Tombstone. Photograph: Adam Dean/Panos
A pioneering journalist who fought to expose the deaths of tens of millions of his fellow citizens in China's Great Famine has been banned from leaving the country to accept a prize for his work in the United States.
Yang Jisheng, a retired correspondent from Beijing's official news service Xinhua, was awarded Harvard University's prestigious Louis M Lyons Award in December for his "ambitious and fearless reporting" on one of the 20th century's deadliest man-made catastrophes.
The prize, which Yang had hoped to collect at a ceremony in Massachusetts next month, was in recognition of his 2008 book Tombstone.
The 1,200-page work – considered the most authoritative account of a tragedy China's Communist leaders still attempt to conceal – meticulously documents the horrific toll of the 1958-1961 famine in which the author estimates at least 36 million lives were lost, including that of his own father.
Announcing its decision to honour Yang last year, Harvard said it hoped to recognise courageous and dedicated journalists who were battling to "document the dark and difficult struggles of humankind".
However, the Guardian understands that Xinhua, the state-run news agency for which Yang worked, has forbidden the 75-year-old author from travelling to the US to collect the award……………

Liberal opposition and human rights groups targeted ahead of march to commemorate Boris Nemtsov's murder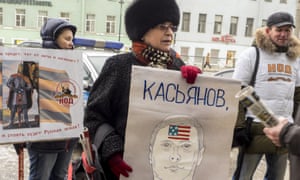 Activist of the Russian National Liberation Movement accuse Mikhail Kasyanov of supporting America. Photograph: Ruslan Shamukov/TASS
Pro-Kremlin protesters have thrown eggs at opposition leader Mikhail Kasyanov in the Russian city of Vladimir just days after a cake was thrown in his face in Moscow, stepping up an intimidation campaign ahead of the anniversary of the murder of his ally Boris Nemtsov.
Chanting "Kasyanov is a traitor", demonstrators targeted the politician, who was prime minister of Russia until 2004 and now heads the liberal Parnas party, as he arrived for a meeting with journalists.
Kasyanov was co-chairman of the party with Nemtsov before the latter's assassination, and will lead it into parliamentary elections in September………….


Opinion
A staggering 10% of Detroit's people risk losing their homes this year alone, but the art and photography we see of urban decay do not tell their story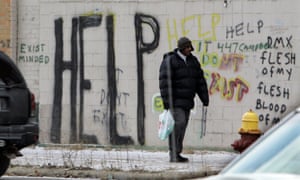 Ruin porn does little to challenge us to think differently about the people in Detroit and their struggle for dignity and safety. Photograph: Carlos Osorio/AP
Brian Doucet
O

n the surface, Detroit can be summed up in one image: an abandoned and gutted home. Detroit is one of the most photographed cities in the world and the general narrative is of ruin, abandonment and decay.
Such shocking photographs amount to "ruin porn" and only serve to obscure the humanity and the complexity behind the city's long struggle and reduce Detroit to its ruins.
I believe that Detroit's experiences with capitalism, racism and political fragmentation make it an important place to study and understand. Art can play a role in this. But the challenge for those who have an interest in Detroit is to turn curiosity into something which contributes to both the people of the city and a sophisticated understanding of its history and challenges.
A recent art project by Berlin and Naples-based artist Ryan Mendoza contributes to this simplistic story of the city. With the help of crowdfunding, Mendoza has purchased an empty Detroit house, shipped it across the Atlantic and reassembled it as part of the Rotterdam Art Fair. It will eventually find a permanent home at the Verbeke Foundation in Belgium. With such visually powerful images, the message is clear: Detroit is an empty city.
Once one of the most prosperous places in the world, Detroit is now a city in crisis. But it is not empty. If it was transported to the UK, it would be the country's fourth most populous city, after London and Birmingham and between Leeds and Glasgow.
More than 60,000 properties are set for tax-foreclosure and eviction within Detroit and 40,000 of these are occupied, the vast majority by black families. A staggering 10% of Detroit's population are at risk of losing their homes this year alone. This is a crisis of refugee proportions.
Detroit is one of the poorest cities in the US, yet is surrounded by some of the wealthiest zip codes in the country. In the suburb of Bloomfield Hills, the household income is more than $125,000 (£110,485) per year. In Detroit, 40% of residents live below the poverty line, the highest percentage of any major city in the country………………..