17 Feb
For a change from the same old news stories from the same old news networks, here are links to English-edition online newspapers from other parts of the world. Nearly all of these are English-edition daily newspapers, with an emphasis on the Middle East and Asia. These sites have interesting editorials and essays, and many have links to other good news sources. We try to limit this list to those sites which are regularly updated, reliable, with a high percentage of "up" time. Click here to report broken links, or to suggest other sources.
We test these links every day, and report the results as follows:
Very reliable in the past ten days
Sometimes up
Mostly down during the past ten days
Unchecked for various reasons


The Vermont senator's success so far demonstrates the end of the politico-ideological cycle opened by the victory of Ronald Reagan at the 1980 elections
The McGlynn: Hillary tried pulling the old feminism trick out of the hat, had Albright insult a good many of her potential voters and channeling Kissinger certainly worried the hell out of many potential voters. And it should.
It is comical how Hillary paints Bernie Sanders as a "single issue candidate", when it is precisely the multiplicity of pertinent, worthy ideas spearheaded by Sanders which have indelibly shaped Hillary's entire campaign, dragging it from the ineffectual, anti-human center to where it now stands, a facade of progressiveness,
She now is, suddenly,
1.) big on corrupt campaign finance reform (though she participates in it),
2.) affordable education (a euphemism for remaining the exact same price),
3.) maternal leave (did she ever mention that before Sanders said it?),
4.) marriage equality (HRC was always against before),
5.) raising the minimum wage (but it can not be 15$, no, has to be 12$,
6.) On and on………….
Senator Sanders has the measure of what is causing the US to self-destruct. Though viewed by the right as a socialist or communist, he does hark on the very issues that impacts everyday Americans – loss of earnings, jobs and a prosperous future – moving society to be more inclusive than divided.
Folks, let us recall Lincoln's words:
…that we here highly resolve that these dead shall not have died in vain– that this nation, under God, shall have a new birth of freedom—and that government of the people, by the people, for the people, shall not perish from the earth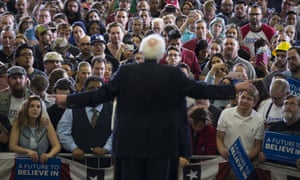 Bernie Sanders makes clear he wants to restore progressive taxation and a higher minimum wage. Photograph: Evan Vucci/AP
H

ow can we interpret the incredible success of the "socialist" candidate Bernie Sanders in the US primaries? The Vermont senator is now ahead of Hillary Clinton among Democratic-leaning voters below the age of 50, and it's only thanks to the older generation that Clinton has managed to stay ahead in the polls.
Because he is facing the Clinton machine, as well as the conservatism of mainstream media, Sanders might not win the race. But it has now been demonstrated that another Sanders – possibly younger and less white – could one day soon win the US presidential elections and change the face of the country. In many respects, we are witnessing the end of the politico-ideological cycle opened by the victory of Ronald Reagan at the 1980 elections.
Let's glance back for an instant. From the 1930s until the 1970s, the US were at the forefront of an ambitious set of policies aiming to reduce social inequalities. Partly to avoid any resemblance with Old Europe, seen then as extremely unequal and contrary to the American democratic spirit, in the inter-war years the country invented a highly progressive income and estate tax and set up levels of fiscal progressiveness never used on our side of the Atlantic. From 1930 to 1980 – for half a century – the rate for the highest US income (over $1m per year) was on average 82%, with peaks of 91% from the 1940s to 1960s (from Roosevelt to Kennedy), and still as high as 70% during Reagan's election in 1980.
This policy in no way affected the strong growth of the post-war American economy, doubtless because there is not much point in paying super-managers $10m when $1m will do. The estate tax, which was equally progressive with rates applicable to the largest fortunes in the range of 70% to 80% for decades (the rate has almost never exceeded 30% to 40% in Germany or France), greatly reduced the concentration of American capital, without the destruction and wars which Europe had to face………………..

The US cavalry killed more than 200 Native Americans at Wounded Knee in 1890. British photographer Kalpesh Lathigra met the tribal leaders, teenagers and activists living there today – and found a landscape still haunted by death
T

here are two touchstones for Kalpesh Lathigra's Lost in the Wilderness: Dee Brown's epic alternative history of the American west, Bury My Heart at Wounded Knee, and Alec Soth's evocative photobook, Sleeping By the Mississippi. The first recounted that history from the Native American point of view and, in the process, highlighted the full extent of the long genocide of America's native people. The second shows how documentary photography can be so aesthetically and formally beautiful as to blur the boundaries between deep observation and art.
"I was a full-on news journalist, who knew nothing about American colour – Stephen Shore, William Eggleston and the rest – until I walked into an exhibition of Soth's work in 2004," says Lathigra, who was born and raised in east London. "It was like my eyes just opened. I immediately started thinking of new ways to tell stories with images. Around the same time a friend gave me a copy of Dee Brown's book, and that was another eye-opener. The idea for Lost in the Wilderness came soon afterwards, and I've been working on it ever since."
The book revisits the scene of the Wounded Knee massacre, the pivotal moment when, in 1890, the US Calvary killed more than 200 men, women and children at a camp on the Lakota Pine Ridge Indian Reservation in South Dakota. Lathigra spent several months travelling through the region and meeting local people – tribal elders, teenagers, activists. "I used a medium-format camera, which makes you work more slowly. I wanted the images to be ambiguous and yet have a lingering power, not least because that's the effect the place had on me."
Deliberately low-key … the grave of a child who survived the Wounded Knee massacre in a picture from Kalpesh Lathigra's Lost in the Wilderness
Throughout, certain images draw you back: a portrait of an elder called Vincent Brings Plenty, standing alone on what looks like a suburban chalet park; the stark functionalism of St John's Church, Oglala, where the few survivors of Wounded Knee were taken by Christian missionaries; the grave of Lost Bird, who, as a child, survived the massacre, protected by her mother's fallen body, and whose remains were returned there a century later……………

Ireland goes to the polls an increasingly liberal country – yet religion's place in state education is staving off the decline of the Catholic church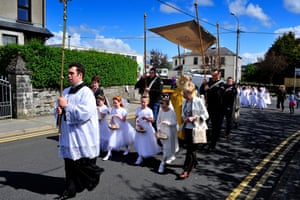 Catholic priests lead a procession through Buncrana in County Donegal, Ireland on the feast of Corpus Christi. The archdiocese of Dublin commissioned research showing attendance at mass is to fall by a third by 2030. Photograph: Alamy
M

ike McKillen was delighted to have his granddaughter's help in digging the garden. But as a small creature wriggled out of the damp earth, the retired science professor was less pleased to be told by five-year-old Cara: "God made this worm."
"She has been in school for a few months only, and already she is imbibing the idea that God created everything. This worries me a lot," said McKillen, 72, who still teaches bio-chemistry part-time at Trinity College Dublin. "I don't want her to be indoctrinated."
Cara and thousands of other Irish children have little choice but to be educated by the Catholic church, which runs more than 90% of Ireland's primary schools. But with an increasingly liberal and secular population, the church's control over such huge parts of Irish society is weakening……………….

Supporters of the three news broadcasters say prime minister had private dinners with top media executives before the departures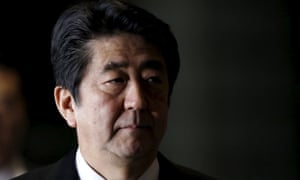 Japan's prime minister, Shinzo Abe, was said to be angered by criticism of his government. Photograph: Yuya Shino/Reuters
Many British politicians would doubtless rejoice at the news that Andrew Marr, Emily Maitlis and Andrew Neil were to leave their jobs almost simultaneously.
That is the fate that has befallen what could loosely be described as their counterparts in Japan – Ichiro Furutachi, Hiroko Kuniya and Shigetada Kishii – three respected broadcasters with a reputation for asking tough questions.
Their imminent departure from evening news programmes is not just a loss to their profession; critics say they were forced out as part of a crackdown on media dissent by an increasingly intolerant prime minister, Shinzo Abe, and his supporters.
Only last week, the internal affairs minister, Sanae Takaichi, sent a clear message to media organisations. Broadcasters that repeatedly failed to show "fairness" in their political coverage, despite official warnings, could be taken off the air, she told MPs…………………

Opinion
…………..Changing what the Democratic party stands for may ultimately require nothing less than what a certain Vermonter is calling a "political revolution"………………
The Democratic party rejected the New Deal and its stress on working-class Americans in favour of a technocratic elite – is it time for a political revolution?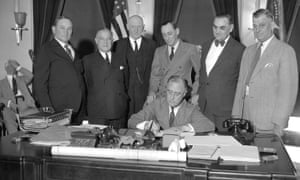 President Franklin D Roosevelt signs the Industrial Control-Public Works Act at the White House in 1933. The Democratic party has struggled with the legacy of the New Deal for decades. Photograph: Associated Press
Stunned by the rise of Bernie Sanders, Hillary Clinton has been at pains to assure the Democratic rank and file that she too understands their concerns; that just like her rival, she is capable of denouncing wealthy interests, of promising to break up big banks and even of hinting that she might prosecute powerful financiers.
After her landslide defeat in New Hampshire last week, she conceded that "the way too many things were going just wasn't right". There was a difference between her and the senator from Vermont, however: she was the candidate who would get things done, who could "actually make the changes that make your lives better".
These are noble sentiments. Unfortunately, what voters are rejecting is not Hillary the Capable; it is the party whose leadership faction she represents as well as the direction in which our modern Democrats have been travelling for decades.
In my younger days, the Democratic party seemed always to be grappling with its identity, arguing over who they were and what they stood for all through the 1970s, the 1980s and into the 1990s. What Democrats had to turn away from, reformers of all stripes said in those days, was the supposedly obsolete legacy of the New Deal, with its fixation on working-class people. What had to be embraced, the party's reformers agreed, was the emerging post-industrial economy and in particular the winners of this new order: the highly educated professionals who populated its clean and innovative knowledge industries.
The figure that brought triumphant closure to that last internecine war was President Bill Clinton, who installed a new kind of Democratic administration in Washington. Rather than paying homage to the politics of Franklin Roosevelt, Clinton passed trade deals that defied and even injured the labor movement, once his party's leading constituency; he signed off on a measure that basically ended the federal welfare program; and he………………….