19 Feb
For a change from the same old news stories from the same old news networks, here are links to English-edition online newspapers from other parts of the world. Nearly all of these are English-edition daily newspapers, with an emphasis on the Middle East and Asia. These sites have interesting editorials and essays, and many have links to other good news sources. We try to limit this list to those sites which are regularly updated, reliable, with a high percentage of "up" time. Click here to report broken links, or to suggest other sources.
We test these links every day, and report the results as follows:
Very reliable in the past ten days
Sometimes up
Mostly down during the past ten days
Unchecked for various reasons

All cases are held up after the jury couldn't reach a decision in the first trial
Delay could set back high-profile cases of alleged police brutality for months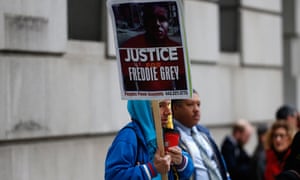 The six officers facing trials over the death of Freddie Gray after a spinal injury in the back of a police van in Baltimore were due in court this winter. Photograph: Rob Carr/Getty Images
The trials of all the Baltimore officers charged in the death of Freddie Gray have been put on hold by Maryland's highest court, in a delay that could set back the high-profile cases of alleged police brutality for months.
The six officers facing trials over the death of Gray after a spinal injury in the back of a police van were due in court this winter. But after a jury couldn't reach a decision in the first case, that of officer William Porter, every other trial has been held up over whether Porter can be compelled to testify in each of these other cases without risking self-incrimination.
Prosecutors have appealed rulings on whether Porter must testify, and the Maryland court of appeals said late Thursday that it would hear all the appeals together on 3 March. After the hearing, the court could take months to issue a written decision………..

Federal judge weighs whether to postpone civil lawsuit until after the criminal matter is resolved – but tells defendants to let family see footage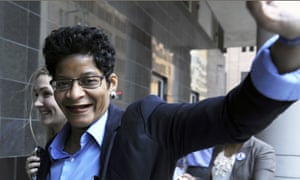 Geneva Reed-Veal, mother of Sandra Bland, waves to supporters as she enters the federal courthouse in Houston on Thursday. Photograph: Pat Sullivan/AP
Lawyers clashed over the release of details regarding Sandra Bland's death and detention, as a federal judge in Houston weighed on Thursday whether her family's wrongful death lawsuit should be delayed.
Brian Encinia, the Texas trooper who arrested Bland last July, faces a criminal perjury charge as well as a civil suit brought by her mother, Geneva Reed-Veal. At a hearing in the civil case, the state's attorney argued for a stay until after the criminal matter is resolved. Texas assistant attorney general Seth Dennis told the court that a delay would ensure Encinia has a fair trial, because it would be unreasonable for him to have to defend himself in two cases at once.
Encinia's arraignment is scheduled for next month, and he reportedly intends to plead not guilty. The civil trial is set for next January. Attorneys for Bland's family are strongly opposed to any postponement, and the sides have accused each other of a failure to cooperate as they seek evidence for their respective cases.
Bland's family wants to view original copies of videos of her arrest and time inside the jail where she died in what was ruled a suicide. Family attorney Cannon Lambert said after the hearing that he wants to be certain authorities have not abridged or doctored the videos, given that they appeared to contain glitches and were lapses when they were made public last summer…………..

Trump responds after the pope suggests presidential candidate is 'not a Christian' because of his plan to build a border wall between the US and Mexico
Ben Jacobs in Kiawah Island, South Carolina
Pope Francis says that Republican presidential candidate Donald Trump is 'not Christian' due to his plans for a wall between the US and Mexico to stop illegal immigrants entering America. The pope says that, while he would not presume to tell people how they should vote, anyone who thinks about 'building walls … and not building bridges, is not a Christian'
Flying back to Rome from a trip to Mexico, the pope said: "A person who thinks only about building walls, wherever they may be, and not building bridges, is not Christian."
Trump responded swiftly at a campaign event in South Carolina, saying: "For a religious leader to question a person's faith is disgraceful."
"No leader, especially a religious leader, has the right to question another man's religion or faith," he told a packed room at a golf course resort. Trump then accused the Mexican government of "using the pope as a pawn".
"They should be ashamed of themselves, especially when so many lives are involved and illegal immigration is rampant and bad for the United States."
During his in-flight press conference, the pope insisted he did not mean to sway any Americans with his comments. "As far as what you said about whether I would advise to vote or not to vote, I am not going to get involved in that," he said……………..

In a departure from previous Catholic teaching, Pope Francis suggests women exposed to the Zika virus could use artificial contraception

Pope Francis indicates that women exposed to the Zika virus may be permitted to use contraception to avoid pregnancy. Speaking to reporters on the papal plane on Thursday, Francis says: 'Avoiding pregnancy is not an absolute evil' and in certain circumstances it may be permitted – he referred to the exceptional dispensation issued by Pope Paul VI, who allowed Catholic nuns in Africa to take birth control pills in the face of the risk of being raped
Source: AP

Next week the French government plan to demolish the southern section of the Jungle refugee camp, threatening the temporary homes of over 3,000 people. The most vulnerable are the unaccompanied minors, whose sense of family and security is already broken. Amy Lawrence and Max Whittle went to meet some of them. The Guardian travelled to Calais on behalf of Help Refugees, the largest current giver of humanitarian aid in Calais. Please visit www.helprefugees.org.uk to donate.

Opinion
In the US lower courts, there are an unprecedented number of vacancies that are the result of ideological differences and political point-scoring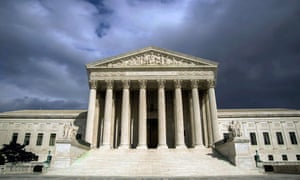 The empty seat in the supreme court is just one of many across the US. Photograph: Karen Bleier/AFP/Getty Images
The Republican obstructionism over Obama nominating a replacement for supreme court justice Antonin Scalia should be no surprise. It follows logically from their treatment of judicial appointments throughout the Obama administration, which has led to an unprecedented judicial vacancy crisis.
Once the Republicans recaptured a Senate majority in 2014, the party's leadership allowed the fewest lower court appointments in one year since Dwight Eisenhower's presidency, all the while incessantly trumpeting how the party had returned the Senate to "regular order". Earlier in Obama's tenure, their obstruction caused 90 vacancies to remain unfilled for a whopping half decade.
This obstructionism seems motivated by ideology and a concern that the president will fill the bench with 'liberal activists' – even though the vast majority of Obama appointees have been well qualified, mainstream judges.
The effect of the judicial vacancy crisis has been hugely detrimental. It has left the lower courts with 75 vacancies, which means that the remaining judges are overworked, while litigants must wait interminably for their cases to be resolved, thus delaying and sometimes denying justice.
This politicization of the appointments process has also meant that nominees place their careers and lives on hold awaiting protracted confirmation, while many exceptional candidates are dissuaded from even considering judicial service.
While the mounting number of unfilled seats in the lower courts has been bad, a prolonged vacancy in the supreme court would be much worse……………