25 Feb
For a change from the same old news stories from the same old news networks, here are links to English-edition online newspapers from other parts of the world. Nearly all of these are English-edition daily newspapers, with an emphasis on the Middle East and Asia. These sites have interesting editorials and essays, and many have links to other good news sources. We try to limit this list to those sites which are regularly updated, reliable, with a high percentage of "up" time.
Some of the available newspapers:
| | | |
| --- | --- | --- |
| Asia & CIS | | |
| | | |
| --- | --- | --- |
| China | | |
| | | |
| --- | --- | --- |
| China & Hong Kong | | |
| | | |
| --- | --- | --- |
| France | | |
| | | |
| --- | --- | --- |
| Israel | | |
| | | |
| --- | --- | --- |
| Norway | | |
| | | |
| --- | --- | --- |
| Palestine | | |
| | | |
| --- | --- | --- |
| Russia | | |
| | | |
| --- | --- | --- |
| Ukraine | | |

Trying to build public support as it prepares to do legal battle with the FBI, Apple's boss has said the debate needs to be conducted openly and fairly
Apple CEO Tim Cook explained to ABC News anchor David Muir why he refused to create software that would help the FBI break into an iPhone used by one of the San Bernardino, California, shooters. "I think safety of the public is incredibly important — safety of our kids, safety of our family is very important," Cook said. "The protection of people's data is incredibly important, and so the trade-off here is we know
Apple chief executive

Tim Cook

accused the US government of asking his firm to engineer the "software equivalent of cancer" to help investigators unlock a terrorist's iPhone.
"This is not about one phone," Cook

told ABC

multiple times in an interview, which aired 24 February. "This case is about the future. Can the government compel Apple to write software that we believe would make hundreds of millions of customers vulnerable around the world?"
The remarks come as Apple is taking an increasingly firm stance against Washington in a battle over consumer privacy. On 16 February a federal magistrate

ordered Apple

to write a program that would weaken some of the iPhone's security countermeasures. Since then the company's engineers have held discussions with digital security experts on possible ways to make it technically impossible to field such requests in the future, three people familiar with the talks said.
The discussions, first

reported by the New York Times

, amount to "rumors and speculation," Apple said……………..
With Hassan Rouhani as president, reformists feel there is an opportunity to improve the lives of ordinary Iranians – if they can be convinced to take part in Friday's election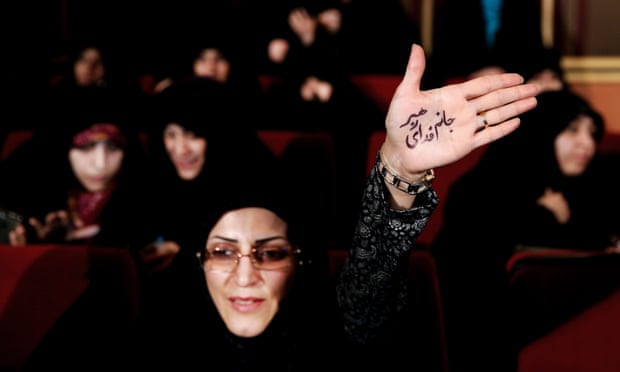 An Iranian raises her palm with writing in Persian that reads: 'I'm ready to sacrifice myself for the supreme leader'. Photograph: Ebrahim Noroozi/AP
Ayatollah Ali Khamenei

, Iran's supreme leader, looks meaningfully into the camera as he holds a piece of paper poised over a plastic ballot box. "Elections are the bulwark of our nation," proclaims the Farsi caption. "People at the polling stations will protect the destiny of our nation and prevent our enemies taking over our land."
Khamenei is looking down from a giant poster in the courtyard of the Shahid Motaheri mosque in south Tehran, a poor area where support for his ultra-conservative leadership is strong. Only a few hundred people have come to this rally but there is a flurry of excitement at the arrival of Gholamali Haddad-Adel, the first candidate on the main list of hardline "principalists" contesting Friday's parliamentary poll.
Haddad-Adel is followed by a media gaggle – including a few of the foreign journalists who have been given rare visas to report from

Iran

– as well as an officer of the Revolutionary Guards with a clenched fist and Kalashnikov badge gleaming on his dark green uniform. Speeches follow afternoon prayers in the Islamic Republic's classic combination of faith and power……………
As opinion polls suggest a hung parliament, Fine Gael minister rules out coalition with main rivals after Friday's general election
Leo Varadkar said last year's referendum on same-sex marriage reaffirmed his confidence in the Irish people. Photograph: Clodagh Kilcoyne/Getty Images
I

reland's first openly gay cabinet minister, tipped by some as a future prime minister, has ruled out any "grand coalition" between his Fine Gael party and rivals Fianna Fáil after Friday's general election.
With opinion polls suggesting a hung parliament, Leo Varadkar said his party could not trust Fianna Fáil after its stewardship of the economy in the run-up to Ireland's financial crisis.
The bitterness between the two parties has its origins in the Irish civil war, which was triggered by a majority in the then IRA-Sinn Féin movement accepting the 1921 treaty that partitioned

Ireland

into two states. Fine Gael's predecessors' accepted the treaty, while those who founded Fianna Fáil fought against it.
The prospect of an end to the divide, on the centenary of the 1916 rising against British rule, was dismissed by Varadkar.
The minister and doctor, who has mixed Irish and Indian heritage, also said going into coalition with Fianna Fáil would open the door for modern Sinn Féin, led by Gerry Adams, to become the main opposition force in Irish politics……………

Weeks after an anti-government militia's takeover of an Oregon wildlife refuge, legislators are presenting bills to loosen federal authority over public land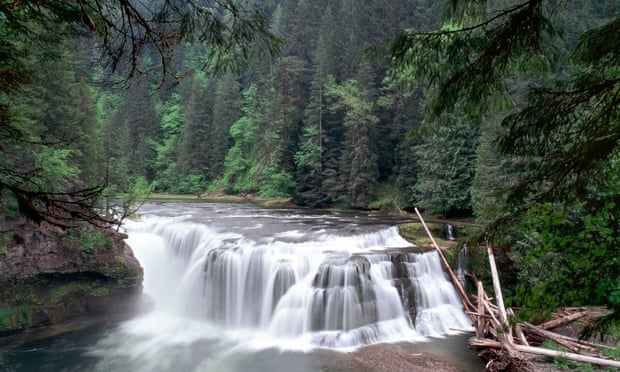 Federal land, such as the Lewis River Gifford Pinchot national forest in Washington state, could be opened up for logging, mining and other commercial activities if House Republicans have their way. Photograph: Alamy
Congress is to consider two bills that would allow states to hand over vast tracts of federal land for mining, logging or other commercial activities – just weeks after the arrest of an armed militia that

took over a wildlife refuge

in Oregon in protest at federal oversight of public land.
The legislation,

which will be presented

to the House committee on natural resources on Thursday, would loosen federal authority over parts of the 600m acres (240m hectares), nearly one-third of the land mass of the US, it administers.
A bill put forward by Republican Don Young would allow any state to assume control of up to 2m acres of the national forest system to be "managed primarily for timber production" in order to address what Young claims is a decline in national logging rates.
A further bill, written by Republican Raúl Labrador, would allow state governors to assign up to 4m acres of land as "forest demonstration areas", which would allow logging free from any federal water, air or endangered species restrictions.
The bills, which will be heard by a Republican-dominated committee, come just two weeks after the

dramatic end to the armed militia occupation

of the Malheur national wildlife refuge in Oregon. The 41-day occupation, which resulted in the fatal shooting of the militia's spokesman before the arrest of the rest of the group, was sparked by the group's anger at federal land use regulations.
The heavily armed militia, led by Ammon and Ryan Bundy, said the occupation could last for "

several years

", with some saying they were willing to die for the cause. Republican presidential contender Ted Cruz

recently aligned himself

with sentiments expressed by the group, releasing an advertisement in Nevada that criticized federal control of public land………………
Bernie Sanders: US should have a national database for police killings – video
A major new study includes some scary implications about how rapidly humans are changing the Earth's climate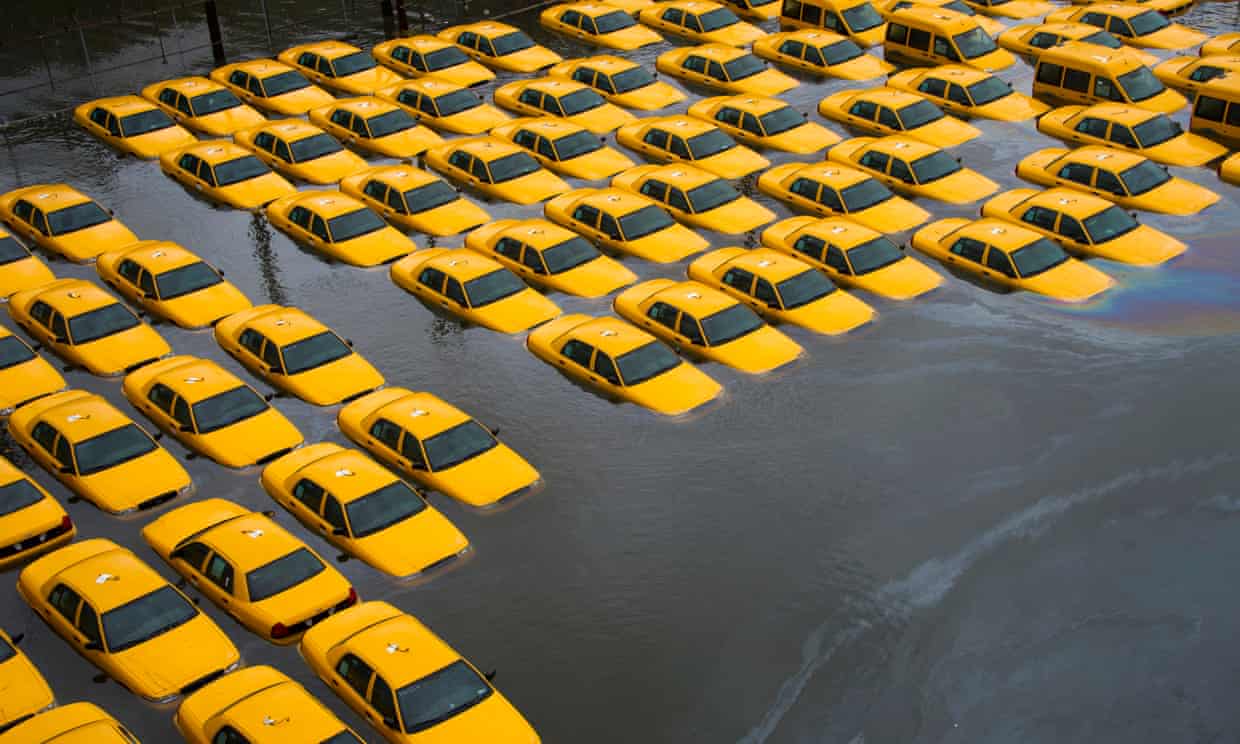 A parking lot full of yellow cabs is flooded as a result of Superstorm Sandy in Hoboken, NJ. So far we're already committed to about 1.7 meters (5.5 feet) of eventual sea level rise. Photograph: Charles Sykes/AP
20% of the world's population will eventually have to migrate away from coasts swamped by rising oceans. Cities including New York, London, Rio de Janeiro, Cairo, Calcutta, Jakarta and Shanghai would all be submerged.
The authors looked at past climate change events and model simulations of the future. They found a clear, strong relationship between the total amount of carbon pollution humans emit, and how far global sea levels will rise. The issue is that ice sheets melt quite slowly, but because carbon dioxide stays in the atmosphere for a long time, the eventual melting and associated sea level rise are effectively locked in.
As a result, the study authors found that due to the carbon pollution humans have emitted so far, we've committed the planet to an eventual sea level rise of 1.7 meters (5.5 feet). If we manage to stay within

the 1 trillion ton carbon budget

, which we hope will keep the planet below 2°C warming above pre-industrial levels, sea levels will nevertheless rise a total of about 9 meters (30 feet). If we continue on a fossil fuel-heavy path, we could trigger a staggering eventual 50 meters (165 feet) of sea level rise.
Predicting how quickly sea levels will rise is a challenge. However, two other studies just published in the Proceedings of the National Academy of Sciences found that the

Antarctic ice sheet could melt more quickly than previously thought

, and thus contribute to relatively rapid sea level rise. Over the past century,

global sea level has risen faster than at any time in the past two millennia

, and most of the recent sea level rise is due to human-caused global warming. Several feet of sea level rise this century is likely, with a possibility of 5 feet or more………………..
 Sea level change during each of the twenty centuries of the Common Era. Illustration: Climate Central, based on Kopp et al. (2016), published in the Proceedings of the National Academy of Sciences.