01 Apr
For a change from the same old news stories from the same old news networks, here are links to English-edition online newspapers from other parts of the world. Nearly all of these are English-edition daily newspapers, with an emphasis on the Middle East and Asia. These sites have interesting editorials and essays, and many have links to other good news sources. We try to limit this list to those sites which are regularly updated, reliable, with a high percentage of "up" time.
Some of the available newspapers:
| | | |
| --- | --- | --- |
| Asia & CIS | | |
| | | |
| --- | --- | --- |
| China | | |
| | | |
| --- | --- | --- |
| China & Hong Kong | | |
| | | |
| --- | --- | --- |
| France | | |
| | | |
| --- | --- | --- |
| Israel | | |
| | | |
| --- | --- | --- |
| Norway | | |
| | | |
| --- | --- | --- |
| Palestine | | |
| | | |
| --- | --- | --- |
| Russia | | |
| | | |
| --- | --- | --- |
| Ukraine | | |


The messages, which reignite calls of bias in San Francisco's police department, were discovered during an investigation involving allegations of sexual assault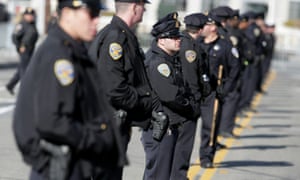 The evidence of bias by law enforcement officers in an earlier case forced the city's district attorney to re-examine thousands of criminal cases in which the officers had been involved. Photograph: Simon Hayter/Getty Images
Several more San Francisco police officers are under investigation for exchanging racist and homophobic text messages, the district attorney's office revealed on Thursday, reigniting allegations of widespread bias in the department.
Previous racist and homophobic text messages exchanged by a group of 14 San Francisco police officers in 2011 and 2012 were revealed in 2015 in court filings from a federal corruption case.
The evidence of bias by law enforcement officers forced district attorney George Gascón to re-examine thousands of criminal cases in which the officers had been involved.
The new batch of messages were discovered by prosecutors during the course of a criminal investigation, the district attorney's office said, which involved allegations of sexual assault by a police officer, Jason Lai, according to the San Francisco police department.
Prosecutors reviewing thousands of pages of text messages found dozens of "very concerning conversations with very racist and homophobic language", including "use of the n-word", Gascón said………..


An anonymous, online call for the president to quit has sparked a furious manhunt for its author, betraying paranoia at the top of the Communist party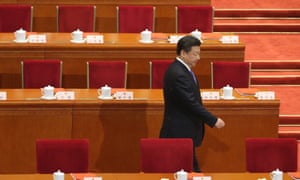 Xi Jinping at the 12th National People's Congress. An anonymous letter calling for his resignation has caused authorities to move against dissidents. Photograph: Wu Hong/EPA
It wasn't a very long letter – the equivalent of about 920 words in English and it appeared only briefly on a Chinese website.
Many China watchers initially dismissed it as a prank, as opposed to a sign of real dissension within the ruling Communist party.
But only a few weeks later, the mysterious letter has taken on a life of its own – largely because of the government's outsized reaction to it.
State security agents have detained more than two dozen people thought linked to the letter's distribution. They scrubbed the Chinese internet of all search terms related to it. They have also detained and harassed family members of exiled Chinese journalist who have commented on the letter, and even tried to get one of those commentaries retracted by a German newspaper………….
Bill to appoint Nobel laureate as powerful state counsellor, bypassing ban on her becoming president, passes upper house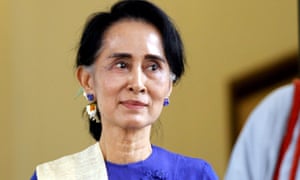 Aung San Suu Kyi is blocked from becoming president as she has children with foreign nationality. Photograph: Hein Htet/EPA
Aung San Suu Kyi plans to create a role for herself that will give her similar powers to that of a prime minister in the new Myanmar government, further circumventing a constitutional ban on her serving as president.
The bill to form a state counsellor role, with specific reference to the 70-year-old Nobel laureate in the text, was the first piece of legislation put to parliament on the first day of office for the democratically-elected National League for Democracy (NLD) government.
It passed the upper house on Friday but needs lower house approval and a presidential sign-off before becoming law, conditions that are likely to be met with an NLD majority in both chambers and an NLD-appointed president.
Blocked from the presidency under a junta-drafted 2008 constitution, Aung San Suu Kyi is to head four cabinet posts including foreign affairs, president's office, education, and energy ministries.
As state counsellor, the longtime democracy campaigner would also work with political parties and organisations, effectively giving her influence in the executive and the legislative arms of government…………….
Court rules ban is unconstitutional, in the wake of recent US supreme court decision legalizing gay marriage and increased benefits for gay couples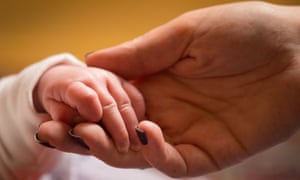 The couples say the ban is a discriminatory exception to a framework putting child welfare first. Photograph: Dominic Lipinski/PA
Associated Press in Jackson, Mississippi
A federal judge has overturned Mississippi's ban on allowing same-sex couples to adopt.
US district judge Daniel Jordan, in a preliminary injunction issued Thursday, ruled for four couples who had sued, saying the ban is unconstitutional after recent US supreme court decisions legalizing gay marriage and benefits for gay couples.
The couples were backed by the Campaign for Southern Equality and the Family Equality Council.
Mississippi lawmakers banned adoptions by same-sex couples in 2000. Then-governor Ronnie Musgrove signed the ban but now says he regrets doing so.
The couples say the ban is a discriminatory exception to a framework putting child welfare first. They say gay parents face legal risks because both parents don't have legal status…………
Opinion
In saying that woman should face 'punishment' for illegal abortion, Trump unwittingly exposed the hypocrisy of the right's claim to care about us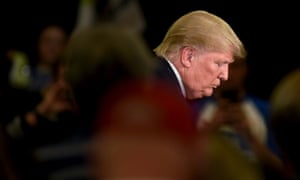 'Apparently Trump wasn't aware of the fantastical but common Republican refrain that while abortion should be illegal, women themselves shouldn't be punished.' Photograph: Mark Kauzlarich/Reuters
D

onald Trump, the man who has said he wants to kill the wives and children of terrorists, deport millions of undocumented people, and build a wall to keep "rapist" Mexicans out, has now turned his punitive eye towards women who get abortions. On Wednesday, the presumptive Republican nominee for president told MSNBC's Chris Matthews that women who illegally end their pregnancies should face "some sort of punishment".
Apparently Trump wasn't aware of the fantastical but common Republican refrain that while abortion should be illegal, women themselves shouldn't be punished – a diplomatic but wholly dishonest response in a country where women have already been jailed for ending their pregnancies. Trump also acknowledged that if abortion were banned, women would seek out the procedure in "illegal places," once again stepping in the anti-choice party line that insists pre-Roe back alley abortions are a myth.
That's why Trump's comments not only angered pro-choice activists, but those on the right who have spent an awful lot of time trying to convince Americans that overturning Roe v Wade isn't anti-woman. Talking about "punishment" reminds voters exactly what outlawing abortion would mean for the one out of three American women who end a pregnancy. They don't want us to think about the more than 100,000 women in Texas who have already attempted to self-abort, or the woman in Tennessee who was arrested after trying to end her pregnancy with a coat hanger.
Instead, those who would see abortion made illegal drape their dangerous policies in flowery language – being careful to paint women as ignorant victims, not criminals. After Trump's comments, Jeanne Mancini, president of the March for Life Education and Defense Fund, says that women shouldn't be punished for getting abortions but offered "paths for healing". Marjorie Dannenfelser, president of the Susan B Anthony List, insisted that women who get abortions are……….