05 Mar
For a change from the same old news stories from the same old news networks, here are links to English-edition online newspapers from other parts of the world. Nearly all of these are English-edition daily newspapers, with an emphasis on the Middle East and Asia. These sites have interesting editorials and essays, and many have links to other good news sources. We try to limit this list to those sites which are regularly updated, reliable, with a high percentage of "up" time.
Some of the available newspapers:
| | | |
| --- | --- | --- |
| Asia & CIS | | |
| | | |
| --- | --- | --- |
| China | | |
| | | |
| --- | --- | --- |
| China & Hong Kong | | |
| | | |
| --- | --- | --- |
| France | | |
| | | |
| --- | --- | --- |
| Israel | | |
| | | |
| --- | --- | --- |
| Norway | | |
| | | |
| --- | --- | --- |
| Palestine | | |
| | | |
| --- | --- | --- |
| Russia | | |
| | | |
| --- | --- | --- |
| Ukraine | | |


If Donald Trump has a counterpart in China, that person has to be Ren Zhiqiang, a property tycoon who recently retired from a leading real estate company owned by the Beijing municipal government.
Like Trump, Ren is loud, outspoken, and controversial. He appears to enjoy provoking debate by offering sarcastic and contrarian comments on mainland politics, economic policies and social issues. As a veteran Communist Party member, he is supposed to be part of the elite group who have benefited greatly from the party's policies but he has made his mark as a maverick, offering snide comments, particularly on handling of the mainland's chaotic property market. For instance, whenever the central government tried to rein in runaway property prices in the last few years, he would counter that the policies were doomed to failure and the poor should feel ashamed if they could not afford a home. His views have earned him the nickname "Big Cannon Ren" and about 38 million followers on his microblogs.

Need to maintain truce in war-torn country reaffirmed in conference call between European leaders as Merkel highlights Russia's continued commitment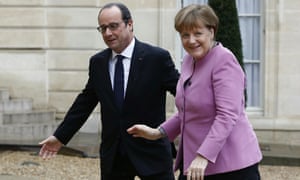 Angela Merkel said during a news conference with François Hollande on Friday that Vladimir Putin had confirmed his commitment to the ceasefire. Photograph: Xinhua / Barcroft Media
The Syrian ceasefire, and its continued backing from Russia, will help build a momentum behind peace talks in the war-torn country, European leaders have said.
The truce, which is broadly holding, began last weekend. The leaders of Russia, Germany, France, Italy and the UK held a conference call on Friday in which they agreed to use the "positive dynamic" to restart peace talks, a spokesperson for David Cameron said.
"The main point that the European leaders made on the call to [Russian president Vladimir] Putin was that we welcome the fact that this fragile truce appears to be holding," the spokesman said.
"We have got to use this as a positive dynamic now to create some momentum behind the talks … so we can move from a truce into a more lasting, durable peace with a political transition away from Assad."
In the phone conference, Vladimir Putin told the others that Moscow is fully committed to the truce, German chancellor Angela Merkel said during a news conference with French president François Hollande.
Merkel said: "I would like to stress one more time that the commitment to hold the ceasefire was confirmed as a key message by the Russian president."………….

Booker prize winner Richard Flanagan visits Lebanon, Greece and Serbia to report on the plight of the 5 million Syrians fleeing their country. 'Forced to choose between life and death,' he writes, 'they choose life'
"Yesterday was the funeral," Ramadan says. "It was very cold. We make sure Yasmin always has family around her."
Yasmin wears a red scarf, maroon jumper and blue jeans. She is small and slight. Her face seems unable to assemble itself into any form of meaning. Nothing shapes it. Her eyes are terrible to behold. Blank and pitiless. Yet, in the bare backstreet apartment in Mytilini on the Greek island of Lesbos in which we meet on a sub-zero winter's night, she is the centre of the room, physically, emotionally, spiritually. The large extended family gathered around Yasmin – a dozen or more brothers, sisters, cousins, nephews, nieces, her mother and her father, Ramadan, an aged carpenter – seem to spin around her.
And in this strange vortex nothing holds.
Yasmin's family has come from Bassouta, an ancient Kurdish town in Afrin, near Aleppo, and joined the great exodus of our age, that of 5 million Syrians fleeing their country to anywhere they can find sanctuary. Old Testament in its stories, epic in scale, inconceivable until you witness it, that great river of refugees spills into neighbouring countries such as Lebanon, Jordan and Turkey, and the overflow – to date more than a million people – washes into Europe across the fatal waters of the Aegean Sea.
"We were three hours in a black rubber boat," Ramadan says. "There were 50 people. We were all on top of each other."
The family show me. They entwine limbs and contort torsos in strange and terrible poses. Yasmin's nine months pregnant sister, Hanna, says that people were lying on top of her…………….

Students clashed with riot police Thursday night amid anger over failure to protect a high-profile campaigner who had repeatedly received threats on her life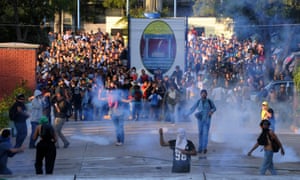 Students clash with riot police Thursday during a protest in Tegucigalpa against the murder of indigenous activist Berta Cáceres. Photograph: Orlando Sierra/AFP/Getty Images
Rock-throwing students clashed with riot police firing tear gas in the University of Honduras on Thursday night amid anger over the authorities' failure to protect a high-profile campaigner who had repeatedly received threats on her life.
International NGOs called for foreign investors and engineering companies to withdraw from the Agua Zarca hydropower project that Cáceres had been opposing at the time of her death.
The US government also came under fire for supporting a government that came to power in a coup and has since pushed forward with the controversial cascade of dams and failed to prevent Honduras from becoming the most murderous country in the world for environmental campaigners.
Amid growing criticism, President Hernández said local investigators were working with officials from the US and other countries to find the culprits and he promised the full force of the law would come down on the killers.
"Our commitment is to the truth of the facts and to serve justice, no matter who it might involve. No one is above the law. This death will not go unpunished," he said in a televised speech………………


Camera-shy gorillas, the world's biggest owl and grey-shanked doucs are among this week's pick of images from the natural world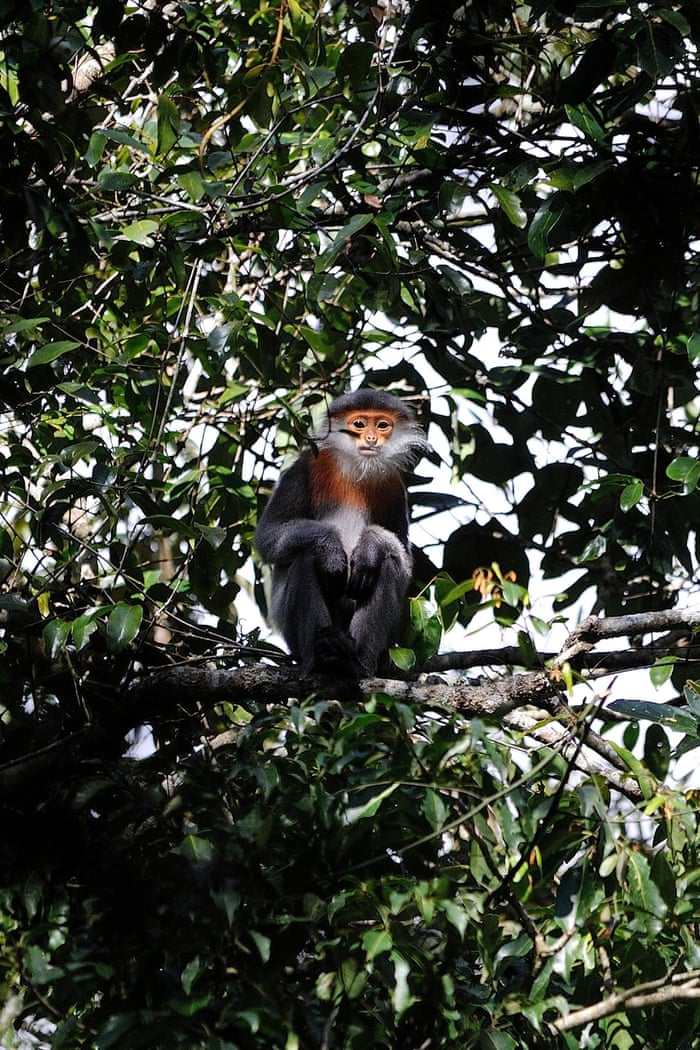 A population of at least 500 grey-shanked doucs has been uncovered by Fauna & Flora International (FFI) during a recent field survey in Kon Tum, Vietnam. This almost doubles the known global population of one of the 25 most endangered primates in the world.
Restricted to the forests of central Vietnam, the main threats to the grey-shanked douc are deforestation, habitat fragmentation and hunting.
Photograph: Nguyen Van Truong/FF