06 Mar
For a change from the same old news stories from the same old news networks, here are links to English-edition online newspapers from other parts of the world. Nearly all of these are English-edition daily newspapers, with an emphasis on the Middle East and Asia. These sites have interesting editorials and essays, and many have links to other good news sources. We try to limit this list to those sites which are regularly updated, reliable, with a high percentage of "up" time.
Some of the available newspapers:
| | | |
| --- | --- | --- |
| Asia & CIS | | |
| | | |
| --- | --- | --- |
| China | | |
| | | |
| --- | --- | --- |
| China & Hong Kong | | |
| | | |
| --- | --- | --- |
| France | | |
| | | |
| --- | --- | --- |
| Israel | | |
| | | |
| --- | --- | --- |
| Norway | | |
| | | |
| --- | --- | --- |
| Palestine | | |
| | | |
| --- | --- | --- |
| Russia | | |
| | | |
| --- | --- | --- |
| Ukraine | | |


At least 50 UK youngsters are growing up in the Isis 'caliphate', where education means watching videos of murders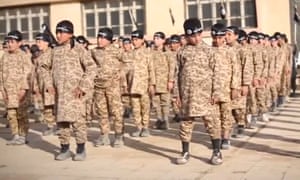 An Isis video apparently depicting children in a training camp in 2015. Photograph: Isis
A new generation of Isis recruits is being developed in the Islamic State's "caliphate", indoctrinated with religious concepts from birth, and viewed by its fighters as better and purer than themselves, according to the first study of the exploitation and abuse of children as a means of securing the group's future.
Researchers for Quilliam, a London counter-extremism thinktank, have investigated the way Isis recruits children and indoctrinates and trains them for jihad. As many as 50 children from the UK are growing up in Islamic State-controlled territory, with an estimated 30,000 foreign recruits, including more than 800 Britons, believed to have gone to Syria to fight.
The report, Children of Islamic State, has been endorsed by the UN and will be published on Wednesday in parliament. It was compiled through a study of propaganda released by Isis featuring children and liaising with trusted sources within the caliphate. The portrait painted is of a terrorist group eager to enlist children to help safeguard its future. Many are being trained as spies, preachers, soldiers, "executioners" and suicide bombers………………

Italian activists object against scrapping of clause in civil unions bill which would have allowed gay person to adopt partner's child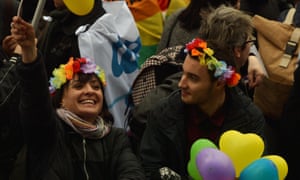 Gay rights activists in central Rome on Saturday. Photograph: Tiziana Fabi/AFP/Getty Images
Agence France-Presse
Thousands of gay rights activists and LGBT families rallied in Rome to protest against the watering down of Italy's civil unions bill, which no longer envisages adoption rights for homosexual couples.
Protesters carried banners that read "We want equality" and sported the gay pride rainbow on their faces, with one man naked apart from a cardboard fig leaf with the words "civil unions" on it.
Activists say the bill, which had to be cut back to the bare bones to pass in the senate and is now being examined in the lower house, is only a small step towards securing rights for homosexual families.
They are particularly angry over the scrapping of a clause which would have allowed gay people to adopt their partners' biological children – a proposal the prime minister, Matteo Renzi, was forced to dump under Catholic pressure.
"Today in Italy, in 2016, we still have to beg for charity, for crumbs, in terms of rights. We want equal weddings, adoptions and full rights. Full rights," Alessia Avellino, a 21-year old sociology student, told AFP……………

Protesters and counter-protesters trade insults and invective at site of biggest battle of American civil war as controversy over symbol continues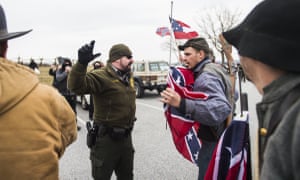 Park Rangers with Gettysburg National Military Park prevent Confederate flag supporters from getting near a group of counter-protesters. Photograph: Shane Dunlap/AP
Associated Press in Gettysburg, Pennsylvania
Supporters and opponents of use of the Confederate flag clashed verbally in opposing demonstrations at Gettysburg national military park on Saturday, with tensions high at times.
The Evening Sun newspaper in Hanover reported that Cumberland Township police and park officers had to separate a few people, before disagreements became physical.
The use and display of the Confederate battle flag has become a hotly contested issue since last June, when the suspect in a Charleston, South Carolina mass shooting in which nine African American churchgoers were killed was shown with the flag in pictures published online, alongside a racist manifesto.
South Carolina removed the flag from a monument on the grounds of the state capitol building, in Columbia. Debate has continued in other southern states.
The battle of Gettysburg, which took place from 1 to 3 July 1863, was the biggest of the American civil war and the "high tide" of the southern Confederacy, which lost to Union forces and never again threatened to win the four-year war.
Abraham Lincoln delivered the Gettysburg Address, a founding text of the modern United States, the following November at the dedication of a cemetery for those who died in the battle. The battlefield is now a carefully maintained national site…………….

Data via Associated Press. Last checked 7:27
Explore coverage of the 2016 presidential election
Opinion
Only a true leader can restore US stature
t was a week when the 2016 American presidential election appeared to boil down to a contest between two individuals: Donald Trump and Hillary Clinton. Both candidates achieved sweeping victories across the Super Tuesday states. Both immediately began to adjust their campaign rhetoric to better suit November's national election, with an emphasis on inclusiveness and unity. In Trump's case, however, this feigned switch towards moderation and bonhomie was short lived. By the week's end, he was again insulting his rivals and almost unbelievably, given what is at stake, bragging about the size of his penis.
It is true that forthcoming primaries in Florida, Ohio and elsewhere could upset projections of a Trump-Clinton showdown. It is still theoretically possible that Marco Rubio or Ted Cruz could somehow deny Trump the Republican nomination, even though they lag far behind in party polls. It would take a miracle for Bernie Sanders, the fireside socialist from what Time columnist Joe Klein calls New England's "latte lands", to overhaul Clinton, but miracles do sometimes happen. And such is the hostility to Trump within the Republican hierarchy, an old-fashioned brokered (meaning manipulated) convention in Cleveland in July, fixed to deny him his party's crown, cannot be ruled out.
But these are all implausible scenarios. Barring accidents or other unforeseen events, American voters seem stuck with a choice few foresaw a year ago. Whereas Clinton was always hot favourite to succeed Barack Obama and lead her party in the autumn, Trump, a rank outsider who has never held political office, has come from nowhere to seize the spotlight, headlines and votes. Yet is this really as unusual as some commentators believe? US elections have a long history of producing unconventional, sometimes unpleasant anti-establishment candidates whose allure eclipses the professional political class……………..