07 Mar
For a change from the same old news stories from the same old news networks, here are links to English-edition online newspapers from other parts of the world. Nearly all of these are English-edition daily newspapers, with an emphasis on the Middle East and Asia. These sites have interesting editorials and essays, and many have links to other good news sources. We try to limit this list to those sites which are regularly updated, reliable, with a high percentage of "up" time.
Some of the available newspapers:
| | | |
| --- | --- | --- |
| Asia & CIS | | |
| | | |
| --- | --- | --- |
| China | | |
| | | |
| --- | --- | --- |
| China & Hong Kong | | |
| | | |
| --- | --- | --- |
| France | | |
| | | |
| --- | --- | --- |
| Israel | | |
| | | |
| --- | --- | --- |
| Norway | | |
| | | |
| --- | --- | --- |
| Palestine | | |
| | | |
| --- | --- | --- |
| Russia | | |
| | | |
| --- | --- | --- |
| Ukraine | | |


Film star's appeal to US first lady, an old friend, was rejected because Aids was seen as gay disease, say critics of administration's record
The McGlynn: I remember this well.
Nancy Reagan wouldn't help her old friend on the grounds this might lead to her having to help other people later on. What kind of gross inhumanity was that! We knew she was quite daffy, consulting fortune-tellers on the fate of the nation, and we experienced her vileness.
The nobility of Elizabeth Taylor, Doris Day and many others is fondly remembered.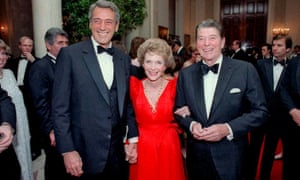 President Reagan and his wife Nancy with Rock Hudson (left) at the White House in 1984, a year before he died. Photograph: Courtesy Everett Collection/Rex
Nancy Reagan refused to help Rock Hudson, one of the leading Hollywood stars of the 1950s and 1960s, as he sought treatment for Aids from a pioneering doctor in Paris, it has been revealed.
Hudson, who kept his homosexuality secret while starring in a string of box-office hits with actors such as Elizabeth Taylor and Doris Day, flew to France in July 1985, during the last months of his life, to seek experimental treatment with the drug HPA-23 that was unavailable in the US.
But he collapsed at the Ritz hotel, and was taken to the American hospital in the French capital. His publicist contacted the White House – the Reagans were old friends – in an attempt to speed up a transfer to a military hospital to be seen by Dr Dominique Dormant, a French army doctor who had previously treated Hudson in secret.
But the commanding officer of the Percy military hospital in Clamart initially refused to admit Hudson because he was not a French citizen. According to documents published by BuzzFeed on Wednesday, Nancy Reagan, the US first lady, declined to help.
Hudson was eventually admitted to the hospital, but died in October 1985. He was the first high-profile celebrity whose death from complications relating to the illness was openly acknowledged, and the revelation that such a big star had Aids helped to raise awareness about the disease in the US and other western countries.
Original documents from the time, obtained from the Reagan Presidential Library by the Mattachine Society, a gay rights group, reveal that Hudson's US publicist, Dale Olson, sent a telegram to the Reagans at the White House pleading for help on 24 July. It stated: "Only one hospital in the world can offer necessary medical treatment to save life of Rock Hudson or at least alleviate his illness."……………..

Pyongyang has issued its latest belligerent threat, warning of an indiscriminate 'pre-emptive nuclear strike of justice'
Associated Press
During a television broadcast, North Korea has strongly denounced annual military drills between the US and South Korea, which are scheduled to begin on Monday. The newsreader said the US would be held accountable for 'mobilising their massive strategic means and war hardware'.
North Korea has threatened to turn Washington and Seoul into "flames and ashes", warning of an indiscriminate "pre-emptive nuclear strike of justice" in reaction to the start of US-South Korean military drills.
Such threats have been a staple of the North Korean leader, Kim Jong-un, since he took power after his father's death in December 2011. But they tend to increase when Washington and Seoul stage what they describe as annual defensive springtime war games.
Pyongyang says the drills, which were set to start on Monday and run to the end of April, are rehearsals for invading.
North Korea's powerful National Defence Commission threatened strikes against targets in South Korea, US bases in the Pacific and the US mainland, saying its enemies "are working with bloodshot eyes to infringe upon the dignity, sovereignty and vital rights" of the country.
"If we push the buttons to annihilate the enemies even right now, all bases of provocations will be reduced to seas in flames and ashes in a moment," the statement said……………

The 2006 winter Olympics was a symbol of Turin's regeneration – but since then, many buildings have been left to crumble. Now migrants and refugees occupy the deserted athletes' village, turning it into a 'symbol of their protests'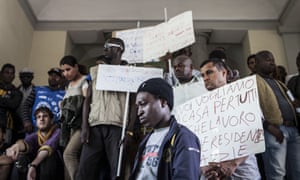 The Olympic village in Turin is home to the largest number of refugees in Italy. Photograph: NurPhoto/Rex/Shutterstock
Ten years ago the sprawling Olympic Village in Turin housed figure skaters, hockey players and other athletes from dozens of countries during the 2006 Olympic Winter Games. Built specifically for the event, the village includes a series of large, modern concrete buildings painted blue, orange and grey, lined up alongside the train tracks on the border with Lingotto – a former industrial area in the southern part of the city.
Today, it is the site of one of the largest housing occupations Turin has ever seen. Once again it is home to dozens of nationalities, but now the village's residents include more than 1,000 refugees and migrants from Libya to Somalia who are squatting four of its buildings. On the side of one orange seven-storey block of flats, the words "humanity is not for sale" are painted on the wall in turquoise, along with the declaration, in black capital letters, that "there won't be a country that is distant as long as there is a friend nearby".
"It's a bit of a famous place," Adamo says, standing outside the occupation. Originally from Mali, the 25-year-old says he doesn't have a fixed place to stay and moves across the country on his bicycle, working on farms from Puglia to Piedmont, picking apples, pears and kiwis. He arrived at the occupation two days ago, and is staying temporarily with a friend who lives here while he looks for his next job……………..

Hillary Clinton and Bernie Sanders debated in Flint, Michigan, where lead poisoning in the local water caused an outcry. The candidates talked about how they would approach the water crisis, whether gun manufacturers should be held accountable for mass shootings and who would fare better against Donald Trump.