09 Mar
For a change from the same old news stories from the same old news networks, here are links to English-edition online newspapers from other parts of the world. Nearly all of these are English-edition daily newspapers, with an emphasis on the Middle East and Asia. These sites have interesting editorials and essays, and many have links to other good news sources. We try to limit this list to those sites which are regularly updated, reliable, with a high percentage of "up" time.
Some of the available newspapers:
| | | |
| --- | --- | --- |
| Asia & CIS | | |
| | | |
| --- | --- | --- |
| China | | |
| | | |
| --- | --- | --- |
| China & Hong Kong | | |
| | | |
| --- | --- | --- |
| France | | |
| | | |
| --- | --- | --- |
| Israel | | |
| | | |
| --- | --- | --- |
| Norway | | |
| | | |
| --- | --- | --- |
| Palestine | | |
| | | |
| --- | --- | --- |
| Russia | | |
| | | |
| --- | --- | --- |
| Ukraine | | |


Vermont senator had trailed in polls by more than 20 points but opposition to free trade and growing African American support won votes in rust-belt state
Democratic presidential candidate Bernie Sanders says on Tuesday that his victory over Hillary Clinton in the critical Michigan primary shows the people's revolution is strong throughout the United States. Sanders thanked his supporters and said that his success repudiates the negative punditry surrounding his campaign

Bernie Sanders pulled off his biggest win of the Democratic presidential race on Tuesday, defeating Hillary Clinton in the Michigan primary on a night which also confirmed strong anti-establishment support for Donald Trump in the battle for the Republican nomination.
In an industrial state hit hard by the decline of manufacturing, the Vermont senator's consistent opposition to free trade deals appears to have been a decisive factor, but he also showed signs of weakening Clinton's dominance among African American voters.
The shock victory – 49.9%-48.2% with 99.3% reporting – comes despite Sanders trailing the former secretary of state by an average of 21 points in recent opinion polling.
"What tonight means is that the Bernie Sanders campaign, the people's revolution that we are talking about, is strong in every part of the country, and frankly we believe that our strongest areas are yet to happen," said the senator at a hastily arranged press conference in Miami.
"I want to thank the people of Michigan who repudiated the polls which had us down 20-25 points and repudiated the pundits who said Bernie Sanders wasn't going anywhere," he added.
With 130 delegates, Michigan was the second-largest prize of the election so far, but the proportional system used throughout the presidential primary by Democrats means Clinton will still end the night ahead thanks to her decisive win in Mississippi……………

NSA whistleblower rubbishes claims that only Apple can unlock killer's iPhone 5C, indicating FBI has the means itself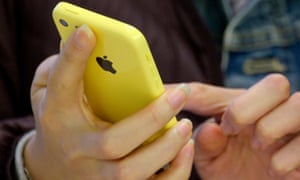 Snowden backs Apple in case against FBI, saying law enforcement has the capability to unlock the San Bernardino iPhone 5C without the manufacturer's help. Photograph: Justin Lane/EPA
Edward Snowden, the whistleblower whose NSA revelations sparked a debate on mass surveillance, has waded into the arguments over the FBI's attempt to force Apple to help it unlock the iPhone 5C of one of the San Bernardino shooters.
The FBI says that only Apple can deactivate certain passcode protections on the iPhone, which will allow law enforcement to guess the passcode by using brute-force.
Talking via video link from Moscow to the Common Cause Blueprint for a Great Democracy conference, Snowden said: "The FBI says Apple has the 'exclusive technical means' to unlock the phone. Respectfully, that's bullshit."
Snowden then went on to tweet his support for an American Civil Liberties Union report saying that the FBI's claims in the case are fraudulent…….

City clears bags, tarps and other items, but not people, from sidewalks
'Unsafe, unhealthy, unsanitary and inhuman situation must be addressed'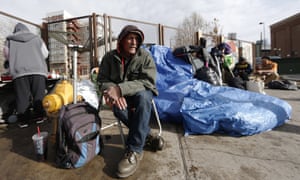 Salvatore Garofalo sits in makeshift homeless camp across from the Denver Rescue Mission in downtown Denver on Monday, the day before city workers started dismantling shelters. Photograph: David Zalubowski/AP
Associated Press in Denver
People camping near Denver's homeless shelters packed up their belongings on Tuesday as city workers started removing bags, tarps, shopping carts and other items left on sidewalks.
The Mile High City is another fast-growing metropolis struggling with what to do about homeless camps as affordable housing becomes scarcer. Construction cranes dot the skyline, but people drawn to Denver's outdoor yet urban lifestyle are willing to pay rising rents…………..

One of Pyongyang's few remaining allies says country is in danger of creating legal grounds for international military intervention. NK News reports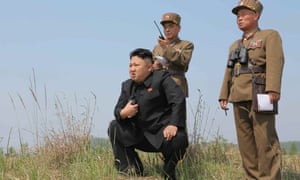 North Korean leader Kim Jong-un has ordered nuclear weapons to be readied. Photograph: Rodong Sinmun/EPA
Chad O'Carroll for NK News, part of the North Korea network
Russia has warned North Korea that threats to deliver "preventive nuclear strikes" could create a legal basis for the use of military force against the country, suggesting that even Pyongyang's few remaining friends are growing concerned about its increasingly confrontational stance.
The Russian foreign ministry statement, which follows a North Korean threat to "annihilate" the US and South Korea, also criticises Washington and Seoul for launching the largest joint military drills yet to be held on the peninsula.
"We consider it to be absolutely impermissible to make public statements containing threats to deliver some 'preventive nuclear strikes' against opponents," the Russian foreign ministry said in response to North Korea's threats.
"Pyongyang should be aware of the fact that in this way the DPRK will become fully opposed to the international community and will create international legal grounds for using military force against itself in accordance with the right of a state to self-defense enshrined in the United Nations Charter," continued the statement, translated by Itar Tass news agency.
Washington and Seoul launched their annual joint military exercises on the peninsula on Monday, stepping up the manoeuvres in response to North Korea's fourth nuclear test in January and rocket launch in February…………..