15 Mar
For a change from the same old news stories from the same old news networks, here are links to English-edition online newspapers from other parts of the world. Nearly all of these are English-edition daily newspapers, with an emphasis on the Middle East and Asia. These sites have interesting editorials and essays, and many have links to other good news sources. We try to limit this list to those sites which are regularly updated, reliable, with a high percentage of "up" time.
Some of the available newspapers:
| | | |
| --- | --- | --- |
| Asia & CIS | | |
| | | |
| --- | --- | --- |
| China | | |
| | | |
| --- | --- | --- |
| China & Hong Kong | | |
| | | |
| --- | --- | --- |
| France | | |
| | | |
| --- | --- | --- |
| Israel | | |
| | | |
| --- | --- | --- |
| Norway | | |
| | | |
| --- | --- | --- |
| Palestine | | |
| | | |
| --- | --- | --- |
| Russia | | |
| | | |
| --- | --- | --- |
| Ukraine | | |

Source: Pravda.Ru photo archive
Vladimir Putin has ordered to withdraw the Russian troops from Syria. The Russian president discussed the decision to withdraw the troops from the territory of Syria only with Syrian President Bashar Assad. The withdrawal of Russia's basic troops from the Arab Republic is to start on March 15, RBC reports.
Putin discussed the decision to withdrawal the Russian military group from Syria only with Bashar Assad, the official spokesman for the Russian president, Dmitry Peskov told reporters.
On Monday evening, at a meeting with Russian Foreign Minister Sergey Lavrov and Defense Minister Sergei Shoigu, President Putin ordered to start withdrawing Russian forces from Syria.  The operation is expected to begin tomorrow, March 15. Giving adequate orders, Putin stressed out that "in general, the tasks assigned to the Ministry of Defense, have been accomplished."
A message posted on the official website of the Kremlin later said that Putin called his Syrian counterpart Assad and informed the Syrian president of the decision.
According to Peskov, it goes about the start of the withdrawal of the Russian military group. However, the air base in Hmeymim and the naval base in Tartus will remain. Putin ordered to ensure full security of these two objects from air, land and sea, said Peskov. He added that the military facilities would be used to monitor the implementation of the ceasefire.


The McGlynn: Because air pollution and global warming, in particular, are so severe, a rapid and large-scale conversion is needed. The main barriers are not technical, resource based, or even economic. Instead, they are social and political. "
The following is a list of recommended readings:
~ Mark Z. Jacobson, "Air Pollution and Global Warming: History, Science, and Solutions," Cambridge University Press, Cambridge, 2012. [2nd Ed] https://web.stanford.edu/group/efmh/jacobson/POLbook2/index.html
Stanford Professor Mark Jacobson at Pathways to 100% Renewable Energy Conference
last 100 years, 100 million died too soon!
http://www.youtube.com/watch?v=_XCYlCF3QuQ 13mins
Powering the World With Wind, Water, and Sunlight: Mark Jacobson at TEDxPaloAltoHighSchool —— less than 17 minutes
https://www.youtube.com/watch?v=NnrdvWz6BIQ
Military loading equipment and materiel on cargo planes ready for withdrawal, ministry says, after Putin ordered pullout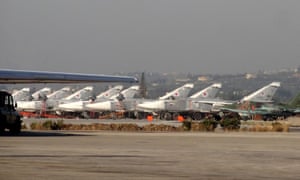 Russian fighter jets on the tarmac at the Russian Hmeymim military base in Syria's Latakia province. Photograph: AFP/Getty Images
Associated Press in Moscow
Russia is preparing to withdraw some of its planes and fighter jets from Syria following an order to pull out from President Vladimir Putin, according to the defence ministry.
The statement came a day after Putin announced the withdrawal of most Russian forces from Syria, timing his move to coincide with the resumption of peace talks in Geneva.
The start of negotiations in Switzerland on Monday offered Putin an opportune moment to declare an official end to the five-and-a-half-month Russian air campaign that has allowed the Syrian regime's army to regain key ground and strengthen its positions ahead of the talks.
With Russia's main goals in Syria achieved, the pullback will allow Putin to pose as a peacemaker and help ease tensions with Nato member Turkey and the Gulf monarchies vexed by Moscow's military action.
At the same time, Putin made it clear that Russia would maintain its air base and a naval facility in Syria and keep some troops there. Syria's state news agency also quoted Assad as saying that the Russian military would draw down its air force contingent but will not leave the country altogether………….
President also expected to protect large areas of Atlantic coast after backlash from communities that fear Gulf of Mexico rig disaster could happen again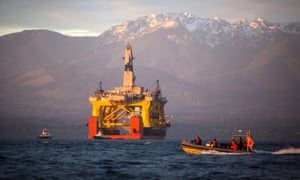 The Transocean Polar Pioneer in April 2015 on its way to Alaska, where it was to drill for oil on behalf of Shell before the company scrapped the operation. Photograph: Daniella Beccaria/AP
The Obama administration is expected to put virtually all of the Arctic and much of the Atlantic off limits for oil and gas drilling until 2022 in a decision that could be announced as early as Tuesday.
The decision reverses Barack Obama's move just last year to open up a vast swathe of the Atlantic coast to drilling – and consolidates the president's efforts to protect the Arctic and fight climate change during his final months in the White House.
The five-year drilling plan, which will be formally announced by the interior department, was expected to block immediate prospects of hunting for oil in the Arctic, according to those familiar with the proposals.
The move was widely anticipated after Obama and Justin Trudeau, the Canadian prime minister, declared last week they would follow "science-based standards" when it came to sanctioning new oil and gas drilling in the Arctic.
But the plan was also expected to seal off large areas of the Atlantic coast from future exploration, following protests from coastal communities in the Carolinas and Georgia – and that could cause reverberations in the presidential elections……………

In historic parliamentary vote, Aung San Suu Kyi's party uses its majority to appoint her 69-year-old key aide as head of state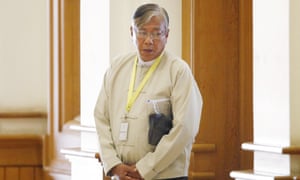 Htin Kyaw at Myanmar's parliament where he has been appointed as the country's president by a parliamentary majority. Photograph: Aung Shine Oo/AP
Myanmar's parliament has elected Htin Kyaw as the country's first non-military president since the army took power in a 1962 coup.
A close adviser and loyal friend to Aung San Suu Kyi, the 69-year-old was nominated by the National League for Democracy party last week and voted into the presidency by parliament on Tuesday.
Suu Kyi, who is barred from the presidency under an army-drafted constitution, has made clear she will be "above the president" and Htin Kyaw is expected to act as a proxy.
Reporters in the capital, Naypyidaw, were not allowed to enter the parliament chamber when the voting took place.
A final tally giving Htin Kyaw 360 out of 652 votes was met with applause. The two runners up, military nominee Myint Swe and ethnic minority Chin candidate Henry Van Thio, will become first and second vice-presidents respectively.
Aung San Suu Kyi, herself a member of parliament, cast her vote and later smiled broadly and clapped when the results were announced………….

Police said to have investigated whether to prosecute Republican front runner after African American protester was hit in the face
Donald Trump briefly faced the threat of criminal charges on Monday night, as efforts grew across the political spectrum to check his increasingly violent rise on the eve of key US primary elections.
Police in North Carolina were reportedly investigating whether the Republican frontrunner should be prosecuted for incitement after an African American protester was hit in the face as he was escorted out of a rally in Fayetteville last week.
Trump has previously said he would like to punch protesters "in the face" himself, expressing nostalgia for a time when those causing disruption would be "carried out on a stretcher". In common with other recent incidents, he offered to pay the legal fees of the assailant involved on Thursday.
A Cumberland county sheriff spokesman said late on Monday that they would not charge Trump over the incident……..

 Opinion
The US president has had harsh words for his Nato allies. With luck they will galvanise Britain, France and Germany into action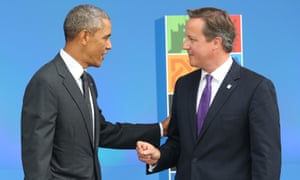 Barack Obama has accused David Cameron of being 'distracted' and not giving Libya the attention it deserved. Photograph: Chris Ratcliffe/PA
S

o to the settling of scores. One year from leaving office Barack Obama has, in an epochal interview with the Atlantic, spelt out what he thinks of his European allies. The terms are not generous.
Much has been made of Obama's comments about David Cameron having been "distracted" away from the focus Libya deserved, post-intervention; and of his remark about Nicolas Sarkozy wanting to "trumpet" French military action over the skies of Benghazi in 2011. But these are small twists, minute irritants – expect PR officers to smooth them over. The key message was elsewhere, and it was much more powerful. It came when Obama spoke of Europeans as "free riders" of the global order and of American might.
The president describes his European allies as powers unable or unwilling to match fine words with resources; prone to asking the US to act but incapable of committing themselves to the efforts required for a sustainable outcome. The lesson is clear: an era has passed, and Europe must now become an effective autonomous actor on major security issues if it is to survive as a stable, liberal, democratic, rules-based entity.
That is not to say that the US role within Nato, as a security guarantor to Europe, will altogether disappear. Obama has never wanted that and neither, one suspects, would his successor. But a page has been turned and the US can no longer be relied upon to address the chaos that is spilling out of the Arab world, and weakening the central tenets of Europe's liberal order…………..