16 Mar
For a change from the same old news stories from the same old news networks, here are links to English-edition online newspapers from other parts of the world. Nearly all of these are English-edition daily newspapers, with an emphasis on the Middle East and Asia. These sites have interesting editorials and essays, and many have links to other good news sources. We try to limit this list to those sites which are regularly updated, reliable, with a high percentage of "up" time.
Some of the available newspapers:
| | | |
| --- | --- | --- |
| Asia & CIS | | |
| | | |
| --- | --- | --- |
| China | | |
| | | |
| --- | --- | --- |
| China & Hong Kong | | |
| | | |
| --- | --- | --- |
| France | | |
| | | |
| --- | --- | --- |
| Israel | | |
| | | |
| --- | --- | --- |
| Norway | | |
| | | |
| --- | --- | --- |
| Palestine | | |
| | | |
| --- | --- | --- |
| Russia | | |
| | | |
| --- | --- | --- |
| Ukraine | | |


French Prime Minister Manuel Valls on Tuesday urged a cardinal, accused of covering up the sexual abuse of young boys by a priest, to "take responsibility" in a case which has deeply embarrassed the French Church.
Cardinal Philippe Barbarin hit back, insisting at a press conference: "I have never covered up paedophilia."
The latest abuse scandal to hit the Catholic Church erupted when priest Bernard Preynat was charged in January, after victims came forward with claims he had sexually abused Scouts between 1986 and 1991.
Prosecutors say he has admitted the charges.
The victims have filed complaints against several senior officials in the Lyon diocese in eastern France, including Lyon archbishop Barbarin, accusing them of being aware of the abuse but failing to report the priest.
Valls told BFM TV that without seeking to take the place of the Church or judges looking at the case, "The only message I have… is that (Barbarin) must take responsibility, speak and act."
Barbarin has argued he was not archbishop at the time when the first complaints emerged against Preynat — who was briefly suspended and then moved to another parish.
Accusations were made against Preynat only when a victim who was allegedly abused in the 1980s realised in 2015 that the priest was still in service. Other victims have since come forward.
The case recalls the recent Oscar-winning film "Spotlight", which highlighted how the Church transferred deviant priests between parishes in Boston in the United States.
While this practice is no longer commonplace, the French case raises the question of how deep Church authorities should dig into abuse cases lurking in their past.
'Yes, I believed him'
Barbarin has said he learned of Preynat's "behaviours" in 2007 or 2008, and met with him "to ask if, since 1991, anything had happened; he assured me there had been absolutely nothing.
"Some blame me for believing him… Yes, I believed him," Barbarin said in an interview with Catholic newspaper La Croix.
The diocese removed Preynat from service in May 2015.
The Vatican has backed the cardinal, saying he had shown "a great deal of responsibility" in dealing with the matter.
But as the scandal took centre-stage at a meeting of France's 120 bishops in Lourdes, southwestern France, new accusations emerged against Barbarin………..


Fort Yukon has recorded Alaska's coldest ever temperatures but this winter temperatures have been much warmer than usual, leading to dangerously thin ice

A lack of snow in south central Alaska forced race organisers to move the Iditarod dog sled race north. Photograph: Loren Holmes/AP
This year's record-breaking temperatures have robbed the Arctic of its winter, sending snowmobilers plunging through thin ice into freezing rivers and forcing deliveries of snow to the starting line of Alaska's legendary Iditarod dogsledding race.
Last month's high temperatures – up to 16C (29F) above normal in some parts of the Arctic – flummoxed scientists, and are redefining life in the Arctic, especially for the indigenous people who live close to the land.
In Fort Yukon, an indigenous Gwich'in community eight miles inside the Arctic Circle, the freakishly warm weather is forcing people off the rivers that are their main transport corridors in the winter time.
"You can't trust the ice," said Ed Alexander, Yukon Flats centre coordinator for the University of Alaska at Fairbanks. "This is the warmest winter that we have ever seen up here. We have had less snow. We have had real thin ice. We have had an explosion of growth in the brush clogging up trails and that kind of thing. It makes everything dangerous."
Other communities downriver lost a number of people this winter when their snowmobiles fell through soft ice – and these were experienced hunters and trappers, he said………

Otto Warmbier, 21, was arrested for removing a political banner from a hotel and had begged the regime for mercy in a recent press conference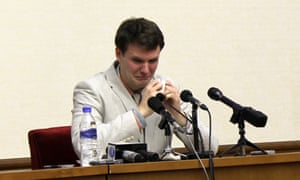 US student Otto Warmbier was detained in North Korea in January. Photograph: TASS / Barcroft Media
North Korea has sentenced an American college student to 15 years' hard labour after finding him guilty of "crimes against the state", in a ruling that is certain to increase tensions with Washington.
Otto Warmbier, a 21-year-old economics student at the University of Virginia, was found guilty of committing "severe crimes" against the North Korean state after he was held for allegedly attempting to steal a political banner from a restricted area of the hotel where he was staying in the capital Pyongyang.
Warmbier's conviction by the North's supreme court, announced on Wednesday by China's Xinhua news agency, comes soon after the UN security council agreed a new round of sanctions in response to the regime's recent nuclear test and rocket launch.
There was no immediate confirmation of the trial, which reportedly lasted less than an hour, by the North Korean state media.
Tensions on the Korean peninsula have risen in recent weeks following the start of the largest-ever joint military exercises involving South Korea and the US. In response, Pyongyang has kept up a daily barrage of threats to carry out nuclear strikes against Seoul and Washington over the drills, which the North regards as a rehearsal for an invasion…………..


 Opinion
After another night of major primaries, Hillary Clinton and Donald Trump are still on track to win their party's nominations – for better or worse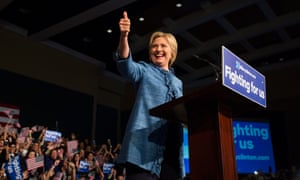 "To be great, we can't be small," she said, making no mention of Trump's little hands. Photograph: Jim Lo Scalzo/EPA
We are now barreling towards a general election between a former secretary of state and a former judge of Celebrity Apprentice.
In the blue corner, a candidate who started her career at the Children's Defense Fund. In the red corner, a candidate whose legal defense fund is fighting claims of a fake university.
One candidate dotes on her granddaughter. The other says he would date his daughter.
One watched the Osama bin Laden raid unfold in the White House situation room. The other has watched Wolf Blitzer's Situation Room on CNN.
It's time for political realism to meet reality TV.
"Our commander-in-chief has to be able to defend our country, not embarrass it," Hillary Clinton said in her victory speech on Tuesday night, as she turned decisively towards the general election. "Engage our allies, not alienate them. Deter our adversaries, not embolden them."
She railed against Donald Trump's plans to deport 12 million undocumented immigrants and ban Muslims from traveling to the US.
"To be great, we can't be small," she said, making no mention of Trump's fingers.
Her leading GOP rival has not yet got his child-sized hands on the nomination and the self-destruct button of the Republican party. There is a slender chance he could be denied a first-round win at the party's nominating convention in Cleveland in July. If that happens, he could happily deny the GOP any chance of victory and unity by urging his supporters to stay at home in November.
"The fact is that we have to bring our party together," Trump said, after revealing he had recently talked to the House speaker Paul Ryan and Senate majority leader Mitch McConnell. "We have to bring it together."
In the meantime, he could take plenty of comfort in denying the dreams of the candidate he respectfully referred to as Little Marco…………