21 Mar
For a change from the same old news stories from the same old news networks, here are links to English-edition online newspapers from other parts of the world. Nearly all of these are English-edition daily newspapers, with an emphasis on the Middle East and Asia. These sites have interesting editorials and essays, and many have links to other good news sources. We try to limit this list to those sites which are regularly updated, reliable, with a high percentage of "up" time.
Some of the available newspapers:
| | | |
| --- | --- | --- |
| Asia & CIS | | |
| | | |
| --- | --- | --- |
| China | | |
| | | |
| --- | --- | --- |
| China & Hong Kong | | |
| | | |
| --- | --- | --- |
| France | | |
| | | |
| --- | --- | --- |
| Israel | | |
| | | |
| --- | --- | --- |
| Norway | | |
| | | |
| --- | --- | --- |
| Palestine | | |
| | | |
| --- | --- | --- |
| Russia | | |
| | | |
| --- | --- | --- |
| Ukraine | | |

 By
Ashgabat, 17 March 2016 (nCa) — President Berdymuhamedov of Turkmenistan, accompanied by a powerful delegation, visited Pakistan, 16-17 March 2016.
He had separate talks with the president, the prime minister and the speaker of the parliament of Pakistan. TAPI (Turkmenistan-Afghanistan-Pakistan-India gas pipeline project) was at the top of the agenda in all of these meetings, where Pakistan assured full support for speeding up the implementation of the project and reducing the project costs
The Quaid-e-Azam University Islamabad, one of the top 500 universities in the world, conferred honourary PhD on the Turkmen leader.
The joint business forum brought the business communities of the two countries together, paving the way for direct interaction based on mutual preferences and market demands.
The joint communiqué, issued in Islamabad on 16 March 2016, neatly sums up the outcome of the visit, highlighting the regional outlook underpinning the dialogue. This was further strengthened when the president of Turkmenistan and prime minister of Pakistan met again in Murree hill resort on 17 March 2016 and attended the authoritative briefing on the regional projects of Pakistan including the CPEC (China-Pakistan Economic Corridor) and the Gawadar deep sea port. Pakistan emphasized that both CPEC and Gawadar seaport would be of immense benefit for Central Asia including Turkmenistan.
During the visit, the leaders of Turkmenistan and Pakistan saw yet again that their vision fully resonates with each other at all levels; this augers well for the entire region.
In the initial round of talks Nawaz Sharif said that Pakistan doesn't look at TAPI merely a gas pipeline. It is part of the corridor that also contains a road link and electricity transmission and fiber optics connections, said the Pak PM………..


First presidential trip to Havana since Calvin Coolidge in 1928

Obama tweets: '¿Que bolá? Looking forward to meeting Cuban people'
Barack Obama arrives in Havana on Sunday, marking the start of an historic trip to Cuba, the first by a US president in 88 years. In a meeting with US embassy staff and their families, Obama says 'it's a historic opportunity to engage directly with the Cuban people'. The three-day trip is the culmination of a diplomatic thaw announced by Obama and Cuban president Raúl Castro in December 2014, ending a cold war-era estrangement that began in 1959
Barack Obama descended on Cuba with a pomp unmatched by the Pope on Sunday, becoming the first American president to visit Cuba in nearly a century, and the first since a revolution led by Fidel Castro toppled a US-backed strongman in 1959.
As he arrived, Obama used a Cuban phrase meaning "what's up?" when he tweeted: "¿Que bolá Cuba? Just touched down here, looking forward to meeting and hearing directly from the Cuban people."
"This is a historic visit," Obama said as he greeted US Embassy staff and their families at a Havana hotel. "It's an historic opportunity to engage with the Cuban people."
A giant American delegation, estimated at somewhere between 800 and 1,200, swept into Havana this weekend, intent on closing a final chapter in cold war history and sealing the diplomatic legacy of Obama's presidency…………
A Washington judge has ordered the Christian Prayer Center to pay $7m in restitution as attorney general calls for more victims to come forward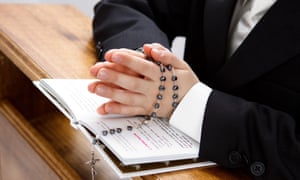 A dying child's parents who made the investigation possible have requested anonymity and do not want their 2014 letter released. Photograph: Alamy
The first complaints about the Christian Prayer Center were short and cryptic – but not enough for the Washington state attorney general's office to investigate. These people bilked me.
But then, a lengthy letter landed, from a family whose members were both heartbroken and furious.
"They had a child with a rare terminal illness," said assistant attorney general Daniel Davies. "They were looking for hope anywhere they could get it. One of the places they turned to was the Christian Prayer Center.
"When they are going through incredibly difficult situations, often times people turn to prayer," Davies continued. "They see a website touting that thousands of people will pray for you. They have a pastor, testimonials on the website of people whose prayers were answered.
"The pastor was a sham," he said. "The testimonials were fictitious as well."
The child is still dying.
And the family paid and paid. The first $35 they gave to the Christian Prayer Center to help their ailing daughter was one kind of fraud. No one was praying. There was no one there to help………….
Lack of mental health care and community support leaves nearly 19,000 Indonesians vulnerable to outlawed practice, finds Human Rights Watch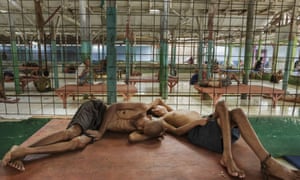 Residents at a rehabilitation centre for mentally ill people in Galuh, Indonesia. Shackling was banned in the country in 1977, but the practice remains widespread. Photograph: Andreas Star Reese/Human Rights Watch
Almost 40 years after Indonesia banned the practice of shackling people with mental health conditions, nearly 19,000 are still living in chains, or are locked up in institutions where they are vulnerable to abuse, according to a new report from Human Rights Watch (HRW).
The study says that although pasung – shackling or confining people with psychosocial disabilities – was banned in 1977, enduring stigma and a chronic lack of mental health care and community support services mean its use remains widespread.
People subjected to pasung can have their ankles bound with chains or wooden stocks for hours, days, months or even years. They are often kept outside, naked and unable to wash………….
Assad regime refuses to engage in detailed talks as it continues to starve Syrians into submission, opposition negotiator says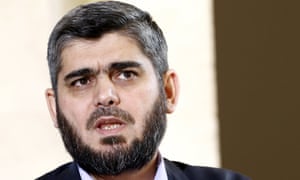 Mohammed Alloush, leader of the Syrian opposition delegation at the Geneva peace talks. Photograph: Denis Balibouse/Reuters
The Syrian opposition will assess at the end of this week whether to continue indirect peace talks with a Syrian government that it says is so far refusing to engage in detailed negotiations and instead continuing to starve Syrians into submission, its chief negotiator has said.
Mohammed Alloush, the leader of the Syrian opposition delegation at the peace talks, suggested in a joint interview with the Guardian, Le Monde and Frankfurter Allgemeine Zeitung that little progress has been made in the first week of negotiations and many pitfalls lie ahead.
Staffan de Mistura, the UN Syrian special envoy, is due to pause the talks on Thursday but is struggling to persuade the Syrian government to engage in detailed discussions about plans for a transitional body to run Syria over the next 18 months and the role of Bashar al-Assad in such a government.
De Mistura is shuttling between the two main delegations in search of common ground but has admitted there are large gaps……………
Opinion
The National Insider Threat Task Force subjects officials to surveillance and fear, and uses me as an example. Those with legitimate concerns should be empowered to speak out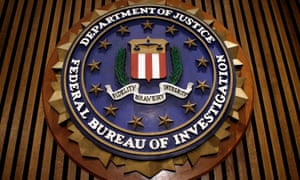 'The broad sweep of the program means officials have been given a blank check for surveillance.' Photograph: Chip Somodevilla/Getty Images
The US government is heavily invested in an internal surveillance program that is unsustainable, ineffective, morally reprehensible, inherently dangerous and ultimately counterproductive.
In the months following the US government's initial charges against me over the release of government records in 2010, the current administration formed the National Insider Threat Task Force under the authority of the Office of the Director of National Intelligence (ODNI), the Department of Justice, the Federal Bureau of Investigation and several other US government agencies.
The mission of this taskforce is breathtakingly broad. It aims at deterring threats to national security by anyone "who misuses or betrays, wittingly or unwittingly, his or her authorized access to any US Government resource". Unfortunately, the methods it outlines amount to thousands of government personnel being effectively under total surveillance.
These kinds of operations usually result in doing more harm than good. As articulated by James Detert and Ethan Burris in a recent Harvard Business Review article, such training and surveillance programs greatly diminish productive and innovative capabilities within organizations. They have a tendency to "promote fear of embarrassment, isolation, low performance ratings, lost promotions, and even firing". When your employer is the US government, that fear – of surveillance, public humiliation, warrants, arrest, trial, exorbitant legal fees and imprisonment – is orders of magnitude higher………..