26 Mar
For a change from the same old news stories from the same old news networks, here are links to English-edition online newspapers from other parts of the world. Nearly all of these are English-edition daily newspapers, with an emphasis on the Middle East and Asia. These sites have interesting editorials and essays, and many have links to other good news sources. We try to limit this list to those sites which are regularly updated, reliable, with a high percentage of "up" time.
Some of the available newspapers:
| | | |
| --- | --- | --- |
| Asia & CIS | | |
| | | |
| --- | --- | --- |
| China | | |
| | | |
| --- | --- | --- |
| China & Hong Kong | | |
| | | |
| --- | --- | --- |
| France | | |
| | | |
| --- | --- | --- |
| Israel | | |
| | | |
| --- | --- | --- |
| Norway | | |
| | | |
| --- | --- | --- |
| Palestine | | |
| | | |
| --- | --- | --- |
| Russia | | |
| | | |
| --- | --- | --- |
| Ukraine | | |


A tiny bird lands on the podium at Bernie Sanders' rally in Portland, Oregon on Friday afternoon. The crowd cheers and claps as the presidential candidate says: "I think there may be some symbolism here. I know it doesn't look like it, but that bird is really a dove asking us for world peace."
Ahead of the Washington state Democratic caucus, hostility toward Clinton has grown as her campaign claims she has long championed progressive causes
A woman holds a sign with an illustration of Washington during a Bernie Sanders rally. Photograph: Jason Redmond/AFP/Getty Images
In the heart of Sanders country, the struggle is not so much for votes now as votes later.
Bernie Sanders' supporters are confident of victory in the Washington state Democratic caucus on Saturday driven by substantial support in Seattle, the first major city to pass a $15-an-hour minimum wage and home to the only socialist council member in the US. Seattle, which accounts for about one third of the vote in the state, has donated more money per capita to the Sanders campaign than any other large city.
But Hillary Clinton, who lost Washington state to Barack Obama in the 2008 primary, is edging ever closer to the Democratic nomination. And with the latest Bloomberg News poll showing Sanders in a virtual tie with Clinton across the US, her campaign has been treading the challenging path of taking on Sanders without alienating his supporters as she looks to the presidential election. It's proving a difficult task in Seattle, where hostility toward Clinton has grown as her campaign pushed claims she has long been a champion of progressive causes.
The US's only elected socialist council member, Kshama Sawant, who was instrumental in passing a law instituting a $15-an-hour minimum wage in Seattle, has thrown her support behind Sanders while accusing Clinton of being a front for corporate interests. Sawant – who credits her re-election late last year in part to Sanders' campaign creating "enormous momentum" for change that has helped engage young people and alienated workers in politics – protested inside a Clinton rally this week with a sign: "I'm not with her".
The Clinton camp, sensing the nomination is all but won, has been urging her supporters in Washington to reach out to those who back Sanders to ensure they vote for her in the general election. That's proving a tough sell with some of those campaigning for the former secretary of state………….
Poverty is rife, thousands have died and children have joined the fighting – Yemen's year of civil war has been a catastrophe

A Yemeni boy runs past buildings damaged by Saudi-led airstrikes. Riyadh has been attacking Houthi rebels in the country for a year. Photograph: Mohammed Huwais/AFP/Getty
The basement has become the only refuge for the people of Sana'a.
A loud sound in the street, even the bang of a teacup on the table, is enough to send the children scurrying to that place they know all too well, after a year of airstrikes and destruction.
"You sit down for lunch and you put a cup on the table and it makes a sound and they flinch as if they expect it's a bomb," said Hisham al-Omeisy, a father of two children and political analyst based in the Yemeni capital.
"You now see a six-year-old saying, 'When I grow up I want to be a pilot and bomb the Saudis because of what they're doing to us'," he added. "The social fabric has been ripped apart."
One year of war has left Yemen – already the Arab world's poorest country – torn apart, with faltering peace prospects and fading hope that the country could one day be put back together.
Since then, the cities of Aden and Taiz have been reduced to rubble, militias reign supreme, militants from al-Qaida in the Arabian Peninsula have seized control of strategic towns and Islamic State has established a foothold in the country…………
The Guardian attempted to travel to Sana'a for the anniversary of the conflict, but repeated attempts to secure permission from the Saudi-backed government were not granted. Flights into Sana'a are stopped and searched in Saudi Arabia…………….
Nickolay Mladenov enters row over death of Abed al Fatah a-Sharif, who died after stabbing attack on Israel soldier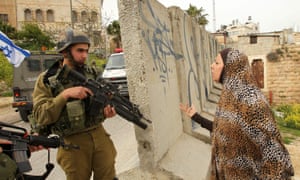 A Palestinian woman speaks with an Israeli soldier at the scene of the attack in the West Bank town of Hebron. Photograph: Hazem Bader/AFP/Getty Images
Nickolay Mladenov's intervention in the dispute over the killing of the severely wounded Abed al Fatah a-Sharif – who had already been shot and incapacitated during a stabbing attack on an Israeli soldier – followed the release on Thursday of a video of the shooting.
In a statement, Mladenov, who reports to the UN security council, said: "I strongly condemn yesterday's apparent extrajudicial execution of a Palestinian assailant in Hebron in the occupied West Bank. This was a gruesome, immoral and unjust act that can only fuel more violence and escalate an already volatile situation."………..
A rare Sumatran rhino, Arctic foxes at play and a 'flying rainbow' painted bunting bird are among this week's pick of images from the natural world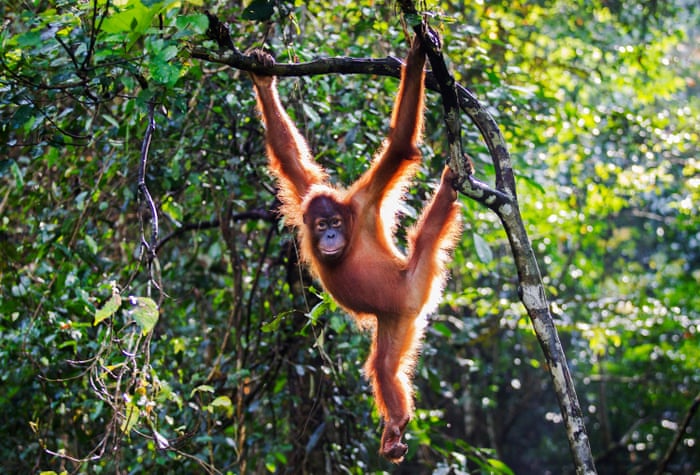 A critically endangered Sumatran orangutan named Chocolate is released back into the wild after four years in rehabilitation.
Photograph: Paul Hilton/WildLife Asia
Opinion
The islamophobia demonstrated by Donald Trump and Ted Cruz in the wake of the Brussels attacks say more about them than about terrorism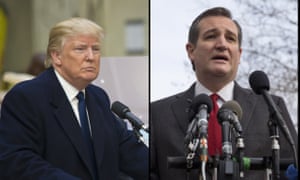 Composite: Getty
W

hat do the attacks in Brussels on Tuesday portend for America? The Republican party, so far, has rendered its verdict: the United States must crack down on Muslims – all Muslims.
This posturing isn't spurred only by this week's attacks themselves. Rather, the tragic deaths of more than 30 people in a terrorist attack became just the latest propaganda point for a party that has gone completely off the rails. One of America's two major political parties is, sadly, completely dedicated to overt bigotry.
So low has the GOP sunk that there is an argument to be made that not even Nixon's Southern Strategy – the tack undertaken by political operatives to bring racist White Democrats into the Republican fold – was as bold in its pronouncements of bigotry. As nasty as it was, the elite partisans behind the Southern Strategy relied on dog whistles, winks and nods.
Yet Donald Trump, today's Republican presidential frontrunner, has made direct affront after direct affront against Muslims, even American Muslims. "I think Islam hates us," he said on CNN. He made one of his biggest splashes by calling for a ban on Muslim travel to the US. Before that, he called for a registry of Muslims here.
After the Brussels bombings, Trump was quick to spot the problem: it was ordinary European Muslims who "are absolutely not reporting [radicalization and terrorist inclinations], and that is a big problem" – a point that, in addition to being scurrilous, is not true.
Trump's only feasible remaining rival for the Republican nomination, Senator Ted Cruz of Texas, isn't any better. After the Brussels bombings, Cruz led an all-out offensive to promulgate a policy idea that, insofar as it's scrutable at all, would be as impractical as it was counterproductive: "We need to empower law enforcement to patrol and secure Muslim neighborhoods before they become radicalized," he said in a statement. What are "Muslim neighborhoods"? What does it mean to "patrol and secure" them? These questions have gone unanswered……………..