30 Mar
For a change from the same old news stories from the same old news networks, here are links to English-edition online newspapers from other parts of the world. Nearly all of these are English-edition daily newspapers, with an emphasis on the Middle East and Asia. These sites have interesting editorials and essays, and many have links to other good news sources. We try to limit this list to those sites which are regularly updated, reliable, with a high percentage of "up" time.
Some of the available newspapers:
| | | |
| --- | --- | --- |
| Asia & CIS | | |
| | | |
| --- | --- | --- |
| China | | |
| | | |
| --- | --- | --- |
| China & Hong Kong | | |
| | | |
| --- | --- | --- |
| France | | |
| | | |
| --- | --- | --- |
| Israel | | |
| | | |
| --- | --- | --- |
| Norway | | |
| | | |
| --- | --- | --- |
| Palestine | | |
| | | |
| --- | --- | --- |
| Russia | | |
| | | |
| --- | --- | --- |
| Ukraine | | |


German historian shows how news agency retained access in 1930s by promising not to undermine strength of Hitler regime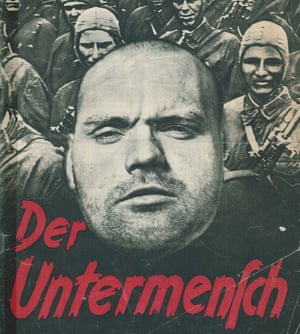 SS pamphlet 'The Sub-Human', using photographs by Associated Press. Photograph: AP
The Associated Press news agency entered a formal cooperation with the Hitler regime in the 1930s, supplying American newspapers with material directly produced and selected by the Nazi propaganda ministry, archive material unearthed by a German historian has revealed.
When the Nazi party seized power in Germany in 1933, one of its first objectives was to bring into line not just the national press, but international media too. The Guardian was banned within a year, and by 1935 even bigger British-American agencies such as Keystone and Wide World Photos were forced to close their bureaus after coming under attack for employing Jewish journalists.
Associated Press, which has described itself as the "marine corps of journalism" ("always the first in and the last out") was the only western news agency able to stay open in Hitler's Germany, continuing to operate until the US entered the war in 1941. It thus found itself in the presumably profitable situation of being the prime channel for news reports and pictures out of the totalitarian state.
In an article published in academic journal Studies in Contemporary History , historian Harriet Scharnberg shows that AP was only able retain its access by entering into a mutually beneficial two-way cooperation with the Nazi regime.
The New York-based agency ceded control of its output by signing up to the so-called Schriftleitergesetz (editor's law), promising not to publish any material "calculated to weaken the strength of the Reich abroad or at home"………….
Father Amer Saka of Chaldean Catholic church allegedly told bishop
Police investigate as much as C$500,000 earmarked to help refugees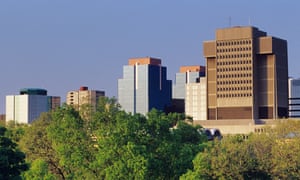 Police in London, Ontario, confirmed that an investigation had been launched into the missing funds. Photograph: Mike Grandmaison//All Canada Photos/ Getty Images
Police in Canada have launched an investigation after a Catholic priest in southern Ontario claimed he had gambled away hundreds of thousands of dollars earmarked for refugees fleeing violence and persecution in Iraq.
Church officials went to police after Father Amer Saka, a priest at the St Joseph Chaldean Catholic church in London, Ontario, allegedly told his bishop in late February that as much as C$500,000 ($380,000) meant for refugees coming to Canada had disappeared.
"I said 'How?'" Bishop Emanuel Shaleta told the Toronto Star. "He said 'Gambling'."
The priest was suspended immediately, said Shaleta. "We believe that Father Saka has a serious gambling problem and that these funds may have been used for that purpose."
Police in London, a city of 300,000 people in south-western Ontario, confirmed that an investigation had been launched over the missing funds. No charges have been laid and the allegations have not been proven in court.
The Chaldean Catholic church represents Catholics from Iraq as well as parts of Syria, Turkey and Iran and is overseen by the Vatican……………
'Movses cried, sang and kissed his hands when he saw this picture of the village he fled a century ago'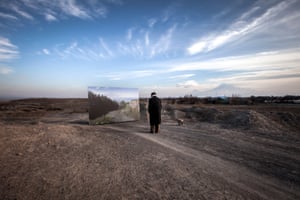 'Half the road was covered with dead people' … genocide survivor Movses Haneshyan looking at a picture of his former home in Armenia. Photograph: Diana Markosian
T

his is a photo of Movses Haneshyan, seeing a picture of his former home for the first time in a century. He started to cry and then sing: "My home. My Armenia." He touched the image as he sang, then kissed his hands, as if it might take him back.
Movses last saw his home in 1915, when he was five. When soldiers entered his village, he escaped with his father holding his hand. "Half the road was covered with dead people," he told me. This marked the beginning of what Armenians refer to as the "great crime" – the genocide of the Armenian people in their homeland, now part of modern-day Turkey.
During the first world war, the Ottoman empire initiated a policy of deportations, mass murder and rape to destroy the Armenian presence within its borders. By the war's end, more than one million people had been killed. To date, 29 countries have officially recognised the killings as genocide, but the Ottomans' heirs in the Turkish government don't fully acknowledge it…………
Army presence in Europe to return to three armored brigades
Move aims to reassure European allies of US commitment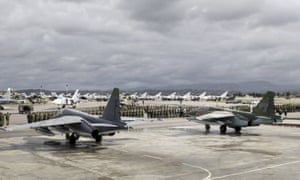 The Russian deployment in Syria is one of the factors that have led the US to see the Russian military as 'the greatest array of threats to US interests'. Photograph: Handout/Reuters
The US military will keep three heavy army brigades in Europe on a continuous basis, reversing Barack Obama's reduction of forces after concluding that Russian aggression poses an enduring threat to continental stability.
The shift in course is the latest in a series of small restorations of the military status quo before Obama, suggesting that senior officers have already begun to look past his presidency.
Shortly after Obama leaves office in 2017, the army presence in Europe will return to three armored brigades, with associated vehicles and artillery set for immediate restoration.
In 2012, the Obama administration removed two of the four army brigades long stationed in Europe, though after Vladimir Putin's 2014 invasion and occupation of eastern and southern Ukraine, the military began bolstering its presence, particularly in eastern Europe.
Gen Phil Breedlove, the outgoing Nato military chief, announced the additional force presence as a critical step in reassuring European allies of a US military commitment that some have called into question………….
Bowl appears to be a promotional item for ousted former prime ministers and political enemies of the junta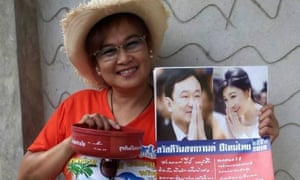 Theerawan Charoensuk, who has been charged with sedition in Thailand because the bowl she is holding bears a greeting from the former prime minister, Thaksin Shinawatra. Photograph: Theerawan Charoensuk/Facebook
A Thai woman could be jailed for seven years on charges of sedition after she posted a photo of herself holding a red bowl that had a Thai New Year greeting from siblings and ousted prime ministers Thaksin and Yingluck Shinawatra.
Police ordered Theerawan Charoensuk, 57 and from Chiang Mai in Thailand's north, to report to a military court on Tuesday to hear a charge for the photos she posted on Facebook, human rights lawyer Anond Nampa told the local Khaosod news website………….
 Opinion
Trump has survived – even thrived – after supposedly damaging comments about immigrants, women and Muslims. Will this be any different?
T

onight, the remaining three Republican candidates for president – Donald Trump, Ted Cruz and John Kasich – took the stage in Milwaukee, Wisconsin for a CNN-run town hall. The real star of the night, however, might have been a man who wasn't even physically on the stage – Corey Lewandowski, the campaign manager for Donald Trump.
Earlier in the day, Lewandowski was charged with the battery of Michelle Fields, a former Breitbart News reporter, at a Trump event in Florida earlier in March. Lewandowski has vigorously denied that an assault took place, at one point apparently claiming that he never touched Fields and had ever even met her before. Despite the charges, and footage that appears to show Lewandowski grabbing her arm, Trump has stood behind his campaign manager.
The Lewandowski assault charges dominated cable news coverage, so it shouldn't come as a surprise that the very first question Anderson Cooper asked Ted Cruz wasn't about the endorsement he received from Wisconsin Governor Scott Walker – it was about Lewandowski. In response to the question about whether or not Cruz would ask Lewandowski to resign in light of the charges, the Texas Senator replied, "of course, it's not complicated – members of the campaign shouldn't be assaulting the press".
Cruz went further, clearly sensing an opportunity in his effort to derail Trump, echoing a statement from his campaign earlier in the day, saying that Lewandowski's behavior was "consistent with a pattern of the [Trump] campaign… it's been insults, personal attacks, and going to the gutter."
It wasn't just Ted Cruz who started off with a question about Lewandowski – Kasich was asked whether he would fire him. While Kasich said he hadn't seen the video he said he would "absolutely" fire him.
Trump then got the same first question as Cruz and Kasich.
Asked whether his campaign manager would continue, Trump emphatically stated, "yes, he will, I looked at the tape"…………..