08 Apr
For a change from the same old news stories from the same old news networks, here are links to English-edition online newspapers from other parts of the world. Nearly all of these are English-edition daily newspapers, with an emphasis on the Middle East and Asia. These sites have interesting editorials and essays, and many have links to other good news sources. We try to limit this list to those sites which are regularly updated, reliable, with a high percentage of "up" time.
Some of the available newspapers:
| | | |
| --- | --- | --- |
| Asia & CIS | | |
| | | |
| --- | --- | --- |
| China | | |
| | | |
| --- | --- | --- |
| China & Hong Kong | | |
| | | |
| --- | --- | --- |
| France | | |
| | | |
| --- | --- | --- |
| Israel | | |
| | | |
| --- | --- | --- |
| Norway | | |
| | | |
| --- | --- | --- |
| Palestine | | |
| | | |
| --- | --- | --- |
| Russia | | |
| | | |
| --- | --- | --- |
| Ukraine | | |


Opposition says PM still has questions to answer after he finally admitted benefitting from late father's offshore fund
David Cameron is facing mounting pressure to be fully transparent about his previous finances after finally admitting he benefited from a Panama-based offshore company set up by his late father.
After three days of stalling and four partial statements issued by Downing Street, on Thursday night the prime minister confessed that he owned shares in a tax haven fund, which he sold for £31,500 just before he became prime minister in 2010.
Opposition parties said the admission had failed to draw a line under the matter and demanded full disclosure on what other financial arrangements Cameron benefited from as an MP and leader of the opposition.
Owen Smith, the shadow work and pensions secretary, said Cameron still had questions to answer.
"Why didn't he register his interest in this offshore [fund] back in 2005 when he first became an MP?" he said on BBC Radio 4's Today programme. "He [Cameron] says he's going to publish his tax return. I think he will need to go further and be clear about what his investments have been in the past."
Labour, the Scottish National party and the Greens are demanding that Cameron make a statement in the Commons about his finances……….
Opinion
Clinton's conviction that she can get the fossil fuel companies on board is mistaken: this can't be solved by convincing the ultra-rich to do the right thing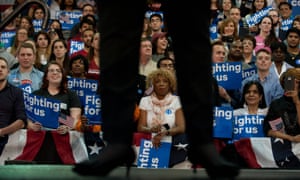 'Clinton's campaign platform does include some very good climate policies that surely do not please these donors … still, the whole funding mess stinks.' Photograph: Jeff Swensen/Getty Images
T

here aren't a lot of certainties left in the US presidential race, but here's one thing about which we can be absolutely sure: the Clinton camp really doesn't like talking about fossil-fuel money. Last week, when a young Greenpeace campaigner challenged Hillary Clinton about taking money from fossil-fuel companies, the candidate accused the Bernie Sanders campaign of "lying" and declared herself "so sick" of it. As the exchange went viral, a succession of high-powered Clinton supporters pronounced that there was nothing to see here and that everyone should move along.
The very suggestion that taking this money could impact Clinton's actions is "baseless and should stop," according to California senator Barbara Boxer. It's "flat-out false," "inappropriate," and doesn't "hold water," declared New York mayor Bill de Blasio. New York Times columnist Paul Krugman went so far as to issue "guidelines for good and bad behaviour" for the Sanders camp. The first guideline? Cut out the "innuendo suggesting, without evidence, that Clinton is corrupt."
That's a whole lot of firepower to slap down a non-issue. So is it an issue or not? First, some facts. Clinton's campaign, including her Super Pac, has received a lot of money from the employees and registered lobbyists of fossil-fuel companies. There's the much-cited $4.5m that Greenpeace calculated, which includes bundling by lobbyists.
But that's not all. There is also a lot more money from sources not included in those calculations. For instance, one of Clinton's most prominent and active financial backers is Warren Buffett. While he owns a large mix of assets, Buffett is up to his eyeballs in coal, including coal transportation and some of the dirtiest coal-fired power plants in the country.
Then there's all the cash that fossil-fuel companies have directly pumped into the Clinton Foundation. In recent years,Exxon, Shell, ConocoPhillips and Chevron have all contributed to the foundation. An investigation in the International Business Times just revealed that at least two of these oil companies were part of an effort to lobby Clinton's State Department about the Alberta tar sands, a massive deposit of extra-dirty oil. Leading climate scientists like James Hansen have explained that if we don't keep the vast majority of that carbon in the ground, we will unleash catastrophic levels of warming.
Did these donations have anything to do with the investigation found, Clinton's State Department approving the Alberta Clipper, a controversial pipeline carrying large amounts of tar-sands bitumen from Alberta to Wisconsin? "According to federal lobbying records reviewed by the IBT," write David Sirota and Ned Resnikoff, "Chevron and ConocoPhillips both lobbied the State Department specifically on the issue of 'oil sands' in the immediate months prior to the department's approval, as did a trade association funded by ExxonMobil."
Did they make Hillary Clinton more disposed to seeing tar-sands pipelines as environmentally benign, as early State Department reviews of Keystone XL seemed to conclude, despite the many scientific warnings? There is no proof – no smoking gun, as Clinton defenders like to say. Just as there is no proof that the money her campaign took from gas lobbyists and fracking financiers has shaped Clinton's current (and dangerous) view that fracking can be made safe……………..A president willing to inflict these losses on fossil-fuel companies and their allies needs to be more than just not actively corrupt. That president needs to be up for the fight of the century – and absolutely clear about which side must win. Looking at the Democratic primary, there can be no doubt about who is best suited to rise to this historic moment. The good news? He just won Wisconsin. And he isn't following anyone's guidelines for good behaviour…………..