12 Apr
For a change from the same old news stories from the same old news networks, here are links to English-edition online newspapers from other parts of the world. Nearly all of these are English-edition daily newspapers, with an emphasis on the Middle East and Asia. These sites have interesting editorials and essays, and many have links to other good news sources. We try to limit this list to those sites which are regularly updated, reliable, with a high percentage of "up" time.
Some of the available newspapers:
| | | |
| --- | --- | --- |
| Asia & CIS | | |
| | | |
| --- | --- | --- |
| China | | |
| | | |
| --- | --- | --- |
| China & Hong Kong | | |
| | | |
| --- | --- | --- |
| France | | |
| | | |
| --- | --- | --- |
| Israel | | |
| | | |
| --- | --- | --- |
| Norway | | |
| | | |
| --- | --- | --- |
| Palestine | | |
| | | |
| --- | --- | --- |
| Russia | | |
| | | |
| --- | --- | --- |
| Ukraine | | |


'Failing to plan' for the aftermath of Muammar Gaddafi's downfall is the US president's biggest regret from his time in office
The McGlynn: Obama was intensely urged on by Hillary Clinton.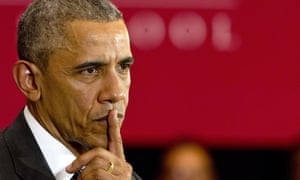 Obama has been reflecting on his time in office as November, and the end of his presidency, looms. Photograph: Jacquelyn Martin/AP
Staff and agencies
Barack Obama has said the biggest mistake of his presidency was the lack of planning for the aftermath of Muammar Gaddafi's ouster in Libya that left the country spiralling into chaos and coming under threat from violent extremists.
Reflecting on his legacy in a Fox News interview aired on Sunday, Obama said his "worst mistake" was "probably failing to plan for the day after what I think was the right thing to do in intervening in Libya".
Obama has conceded that the intervention "didn't work".
White House spokesman Josh Earnest on Monday said Obama's regrets extended to what "the United States and the rest of the members of our coalition didn't do".
"The president has tried to apply this lesson in considering the use of military and other circumstances," Earnest said.
"That asking the question about what situation will prevail and what sort of commitments from the international community will be required after that military intervention has been ordered by the commander in chief."
In March, Obama made a searing critique of the British prime minister, David Cameron, and the former French leader, Nicolas Sarkozy, for their roles in the bombing campaign they led in Libya.
Cameron had become "distracted" and Sarkozy wanted to promote his country during the 2011 Nato-led military intervention, Obama said in an interview with The Atlantic magazine……………
New complaints filed by two graduate students and emotional protests mark major developments in the controversy, as critics demand change
UC Berkeley sociology professor Michael Burawoy said: 'The university is concerned with its reputation. There is a temptation to try and push things under the carpet.' Photograph: Alamy
Sam Levin in Berkeley, California
A sexual harassment scandal at the prestigious University of California Berkeley expanded on Monday with the filing of multiple high-profile legal complaints and emotional protests on campus demanding that the administration stop protecting professors found guilty of misconduct against students.
Graduate students Kathleen Gutierrez and Erin Bennett filed discrimination complaints with California's department of fair employment and housing against the university and assistant professor Blake Wentworth, marking a significant development in a controversy that has roiled the renowned public university for months.
Their planned complaint was first reported by the Guardian on Sunday. The women say that Wentworth repeatedly harassed them, frequently making offensive sexual remarks and inappropriately touching them on multiple occasions.
Although the university concluded that the tenure-track professor violated harassment policies more than six months ago, he has not faced any discipline and his case is still pending. Wentworth has strongly denied the allegations.
The complaints – which allege that the school has failed to protect the women from discrimination, sexual harassment and a hostile and intimidating work environment – shed light on a process that critics say protects faculty harassers, is ineffective and unnecessarily lengthy and at times is traumatizing for victims.
The packed press conference and attendant protests occurred on Monday on a busy plaza outside of Dwinelle Hall, where Wentworth's office is located. They constitute perhaps the most intense public pressure the university has faced in the wake of multiple high-profile harassment controversies. The rally took place as students prepared to meet with Carla Hesse, the school's interim lead for sexual harassment response on campus, to demand reforms to procedures and disciplinary policies surrounding faculty misconduct……………..
Officials believe public outcry over Panama Papers has given fresh impetus to a crackdown on all tax avoidance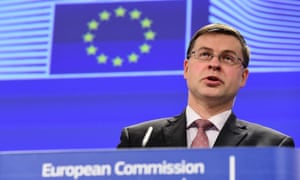 Valdis Dombrovskis, European commission vice-president for the euro and social dialogue, argues that tax transparency has 'rocketed up the agenda'. Photograph: Emmanuel Dunand/AFP/Getty Images
Tax avoidance by multinational corporations will be forced into the open under proposals to be unveiled by European regulators on Tuesday following the Panama Papers revelations.
The European commission will put forward legislation requiring large multinationals operating in Europe to disclose profits earned and taxes paid in each of the EU's 28 member states, as well as fiscal havens.
All large companies trading in Europe, including subsidiaries of non-European businesses, would have to publish how much tax they pay outside the EU, including detailed country-by-country information on their finances in tax havens.
The commission was already working on measures to force international companies to disclose their earnings and tax bills in the EU. Following the leak of 11.5m files exposing the tax secrets of the global elite, officials have toughened up their plans to include tax havens.
Lord Hill, the European commissioner in charge of financial services, confirmed on Monday that the proposals were being extended to tax havens, in response to the public outcry over the revelations in the Panama papers…………..
Areas established for geopolitical goals may put refugees in danger, aid workers and rights groups warn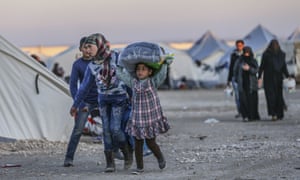 Syrian refugees in a camp on the Turkey-Syria border near Aleppo last month. Photograph: Anadolu Agency/Getty Images
Setting up refugee "safe zones" on the Syrian side of the Turkey-Syria border and refusing to allow those fleeing the conflict to seek international protection could be a violation of international law and put vulnerable people at risk, human rights groups and aid workers have warned.
While Turkey long maintained an open-border policy with Syria, the country has recently adopted a restrictive stance, militarising the border and allowing only authorised traders, aid organisations, and those with life-threatening injuries to cross, leaving Syrians stranded in a conflict zone.
The UN puts the current number of displaced people trapped in the region around Azaz, a city four miles from the Turkish border, at around 250,000, more than half of whom live in nine refugee camps. The camps have been raided for provisions by armed groups and at times been less than two miles from Isis positions.
EU member states could also become complicit, the rights groups and aid workers said, if the number of such camps grows. Under the highly controversial EU-Turkey migration deal, EU member states offered to "work with Turkey in any joint endeavour to improve humanitarian conditions inside Syria, in particular in certain areas near the Turkish border which would allow for the local population and refugees to live in areas which will be more safe"…………
Jaime Galvan is the second person known to have died at the secret interrogation site. Family and friends contend that the official autopsy and police report don't add up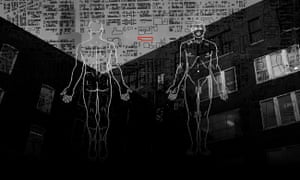 An official autopsy report concluded that Galvan had died after ingesting narcotics. His family and friends, backed by independent forensic evidence, tell a different story. Illustration: Jan Diehm for the Guardian
J

aime Galvan's family made no sound on the frigid morning when they visited his grave. There were no bereaved memorials, no whispers, no audible prayers. They stood in silence, holding each other as a mix of tears and snow ran down their faces, out of respect for the father and husband they believe Chicago police killed at the Homan Square warehouse.
They come every year to Mt Olive Cemetery on the 10th of February, the anniversary of Galvan's death and the birthday of his youngest daughter, Victoria, wiping the snow off the granite slab engraved with Jaime's face. Celebration of Victoria's birthday has been muted since police told the family Galvan died by drug overdose at the west side warehouse, which the Guardian has exposed as a site for incommunicado detentions and interrogations without access to legal counsel.
It has been a decade since Galvan's mysterious death in custody at Homan Square. His family feels frozen in time. An official autopsy report concluded that Galvin, who had been arrested for selling cocaine, had died after ingesting narcotics. Both family and friends arrested alongside Galvan, backed by independent forensic evidence, tell a different story.
Galvan's official autopsy contrasts in significant ways with an independent one the family ordered as part of a failed police brutality lawsuit. Chicago police even gave the media the wrong place of his death.
But a Guardian transparency lawsuit has revealed Galvan as the second person known to have died in police custody at Homan Square.
Internal police records show that between late 2004 and mid 2015, Chicago police detained more than 7,351 people at Homan Square, more than 6,000 of whom are black, but only permitted lawyers access 86 times. The records are still……………
Homan Square: a mysterious death and a family's search for answers – video
It's been more than 10 years since Jaime Galvan died in police custody, at Chicago's Homan Square detention centre. And still, his family are no closer to knowing the truth about how he died. The official autopsy report states Galvan, who had been arrested for selling cocaine, had died after ingesting narcotics, but a separate, independent, autopsy found differing results
Opinion
The war was one of the worst foreign policy decisions ever, and its repercussions are still felt. So why do so many claim Bernie is harping on old news?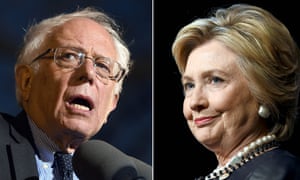 Bernie Sanders – and everyone else – should be speaking more about the legacy of the war in Iraq. Photograph: Photo Desk/AFP/Getty Images
I

f there is one thing Bernie Sanders never fails to reference in the Democratic primary, it's Hillary Clinton's vote in favor of the Iraq war. He brought it up after answering a question about gun control, he continually references the vote during Democratic debates and he's made his opposition to the war a cornerstone of his foreign policy. Last week he said, "I don't think you are qualified if you have voted for the disastrous war in Iraq," and on Sunday, he again questioned Clinton's judgment based on her vote.
The response from some journalists and Clinton supporters has been to derisively question whether he has any other notes, with a tone of: when is he going to stop complaining about something that happened over a decade ago?
He shouldn't stop. If anything, more politicians should be bringing up the Iraq war at every opportunity. The dismissive tone Clinton supporters have taken to the issue belies a callous indifference to the most disastrous foreign policy calamity in our lifetime – a decision that continues to directly affect US foreign policy across the entire Middle East. It is dangerously shortsighted and an insult to the countless people who died as a result. If anything, we should be talking about the Iraq war more, not less.
Four thousand five hundred members of the US military died in the Iraq, tens of thousands of Americans were injured or maimed, and at least a half million Iraqis died as a result of the decision to declare war (some estimates put it as high as one million), for starters. Should we stop talking about those unspeakably tragic deaths because most happened 10 years ago, or because the majority of them weren't American?
But beyond the direct destruction caused by Congress and the Bush administration committing more than a $1tn of blood and treasure, it is beyond debate that the current chaos Isis is sowing across the Middle East can be directly attributed to the Iraq invasion, something that even the most hardcore Iraq war architects, like former British prime minister Tony Blair, readily admit…………..