13 Apr
For a change from the same old news stories from the same old news networks, here are links to English-edition online newspapers from other parts of the world. Nearly all of these are English-edition daily newspapers, with an emphasis on the Middle East and Asia. These sites have interesting editorials and essays, and many have links to other good news sources. We try to limit this list to those sites which are regularly updated, reliable, with a high percentage of "up" time.
Some of the available newspapers:
| | | |
| --- | --- | --- |
| Asia & CIS | | |
| | | |
| --- | --- | --- |
| China | | |
| | | |
| --- | --- | --- |
| China & Hong Kong | | |
| | | |
| --- | --- | --- |
| France | | |
| | | |
| --- | --- | --- |
| Israel | | |
| | | |
| --- | --- | --- |
| Norway | | |
| | | |
| --- | --- | --- |
| Palestine | | |
| | | |
| --- | --- | --- |
| Russia | | |
| | | |
| --- | --- | --- |
| Ukraine | | |


Police search Panama offices to 'establish the use of illicit activities' including money laundering and financing terrorism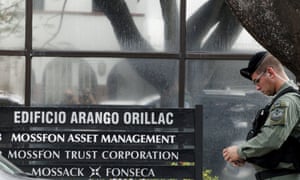 A police officer stands guard outside the Mossack Fonseca office in Panama City. Photograph: Carlos Jasso/Reuters
The offices of the firm at the centre of the Panama Papers revelations were raided by police officers on Tuesday as investigators prepared to meet in Paris to launch an unprecedented inquiry into global tax evasion.
Panama's attorney general ordered the raid on the Panamanian offices of Mossack Fonseca in an attempt to "establish the use of the firm for illicit activities".
Police entered the company's building under the command of the prosecutor Javier Caravallo, who specialises in organised crime and money laundering.
The raid comes after the leak of Mossack Fonseca's huge database provoked international concern about the offshore industry. It occurred on the eve of a meeting in Paris of senior officials from the world's tax authorities, who are intent on analysing the documents as part of new global strategy to crack down on offenders.
The aggressive new approach is being led by the Joint International Tax Shelter Information and Collaboration (Jitsic) network, of which the UK is a leading member.
A spokesman for Her Majesty's Revenue and Customs (HMRC) confirmed that it would be sending delegates to the Paris conference……….


Commission rejected claim that the officer shot Brendon Glenn because he grabbed a pistol, putting more pressure on district attorney to charge the officer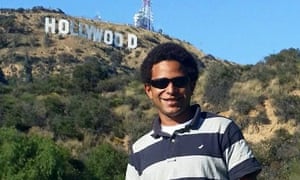 The killing of Brendon Glenn on 5 May 2015 triggered protests in Venice and intensified scrutiny of city police police amid a sharp spike in fatal shootings. Photograph: Facebook
The Los Angeles police department's civilian oversight board has called the shooting of a homeless man in Venice last year unjustified, increasing pressure on prosecutors to charge the officer.
The police commission rejected a claim by officer Clifford Proctor that he shot Brendon Glenn, a boardwalk skateboarder, because Glenn had grabbed his partner's holster, according to records made public on Tuesday.
Video from a bar's security camera contradicted Proctor's version and prompted the commission – and LAPD chief Charlie Beck – to conclude that the officer violated department policy.
The revelation put more pressure on LA county district attorney Jackie Lacey, who is still reviewing the case, to charge Proctor. Prosecutors in LA have not charged a law enforcement officer with an on-duty shooting in 15 years.
The killing on 5 May 2015 triggered protests in Venice and intensified scrutiny of city police police amid a sharp spike in fatal shootings.
Beck's report to the commission, which was made public on Tuesday, gave fresh details about the incident on the boardwalk, a bohemian mecca where homeless people mingle with tourists………….
Panama leaks have passed with little fanfare in a country where corruption is seen as part of the fabric of life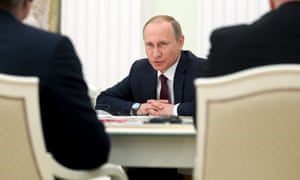 Vladimir Putin meets businessmen in Moscow. According to a recent poll, nearly half of Russians believe their president would stamp out corruption, if it were possible. Photograph: POOL/Reuters
I

n Russia, corruption is considered in much the same way as the climate: something that makes life harder and causes constant grumbling, but is an unchangeable part of the fabric of life.
"Of course all politicians are corrupt, we'll never be able to do anything about it," says Nadezdha, a 47-year-old housewife in the town of Kimry, about 100 miles from Moscow. She had not heard of the allegations in the Panama Papers, which suggested members of Vladimir Putin's family, and those close to him, had benefited from dubious cash flows. Instead, she insists the Russian president is part of the solution, not the problem.
"Poor Putin is trying to fight these bloodsucking bureaucrats, but he can't clean up everything on his own."
Save for limited online discussion among the politically active classes – one video compares the $2bn (£1.4bn) that passed through a company controlled by Putin's friend, the cellist Sergei Roldugin, to state spending on healthcare, roads and pensions – for the most part the leaks have passed by with little fanfare. The allegations, published in Russia by the small independent paper Novaya Gazeta, were dismissed by Putin, and state TV, as a western plot………….
I am a pavement dweller from Chennai. Today, on International Day for Street Children, I want governments to ensure all children have an ID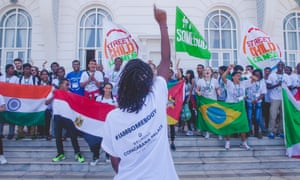 Young people celebrate after the UN-style 'general assembly' for street children in Rio de Janeiro, in March, where Usha Elumalai addressed the congress. Photograph: Malachy McCrudden/Street Child
Usha Elumalai in Chennai
M

ost people ostracise and stigmatise those of us who live on the street. They treat us like lesser human beings and blame us for the way we are forced to live. But, because we lack any form of legal identification, we can't get the support we need to improve our situation.
I am a third generation pavement dweller – my grandparents lived with us on the street in Chennai, on the Bay of Bengal in eastern India, until they passed away two years ago. Now, I live with my parents and one of my two sisters. We live on Barracks Street, in an area called Mint. We don't have a real roof over our heads. We live in dread, all day, every day. We never know what might happen to us when night comes.
The police are supposed to support us and safeguard us, but this is not our experience. There is a lot of brutality towards us. They discriminate – or worse – against people living on the street because of the situation we were born into, or were forced into. Not having a legal identity gives the police an excuse to harass us.
To protect street children from violence at the hands of the police, we need to be invited to speak at police training sessions so they might understand and empathise…………

New York and New Orleans are among cities to receive between $1.5m and $3.5m in grant funding toward diversion programs, training and intervention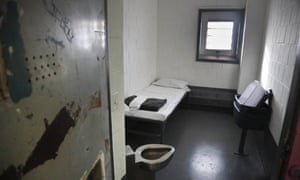 A cell at New York City's Rikers Island jail, which has been the subject of a series of horrific exposes and calls for reform. Photograph: Bebeto Matthews/AP
New York, St Louis and New Orleans are among 11 jurisdictions pledging to slash their jail populations by as much as a third, in exchange for grant funding aimed at curbing mass incarceration.
The Safety and Justice Challenge selected the cities to receive between $1.5 and $3.5 million each towards diversion programs, training and other interventions meant to curb over-reliance on pretrial incarceration. The initiative, if successful, would cut thousands from the jail rolls of the participating cities and jurisdictions.
The US jail population has more than tripled since the 1980s, mirroring the attendant increase in prison population, although public attention on the phenomenon of mass incarceration has largely overlooked jails in favor of prisons. Both disproportionately affect black Americans and Latinos, who make up 51% of the jail population, 58% of the prison population and roughly 30% of the general population.
"The way we misuse and overuse jails in this country takes an enormous toll on our social fabric and undermines the credibility of government action, with particularly dire consequences for communities of color," said Julia Stasch, the president of the MacArthur Foundation, which is funding the program. "The thoughtful plans and demonstrable political will give us confidence that these jurisdictions will show that change is possible in even the most intractable justice-related challenges in cities, counties, and states across the country."………….
Opinion
Eleven people tried taking their own lives on Saturday. This is a catastrophe that Canada should have seen coming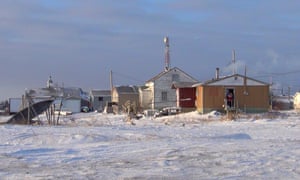 'First Nations are broke and broken people with little to no opportunities.' Photograph: Spencer Wynn/Toronto Star via Getty Images
T

he Attawapiskat First Nation, or the people of the parting rocks, as they are known in their indigenous Swampy Cree language, number roughly 2,000 souls. They live on a small Indian reserve 600 miles north of the Canadian capital of Ottawa, at the mouth of James Bay's Attawapiskat River. This subarctic First Nation declared a state of emergency after 11 community members tried to take their own lives Saturday night.
Since last September, more than 100 Attawapiskat people have attempted suicide in what local MP Charlie Angus has described as a "rolling nightmare" of a winter. The ghastly toll reveals a grim reality with which a nation in the midst of a process of truth and reconciliation now must reckon.
Suicide does not merely roll in like a hurricane to uproot homes and families, and drown out neighborhoods before receding from where it came. No, this has been an emergency generations in the making, tacitly supported by a Canada fully willing to mine natural resources, proselytize and brutalize generations of children in residential schools, and then leave with basic housing, education systems and healthcare in a state of disrepair.
In 2011, Attawapiskat declared a state of emergency due to a "severe housing shortage". In 2014, the community opened the first proper elementary school to serve Attawapiskat's children in 14 years. At the same time, the De Beers mining company pulled $392m worth of diamonds out of their Victor Lake mine on lands taken from the Attawapiskat First Nation through an extension of Treaty 9 in 1930.
This is how First Nations live in the Bantustans of Canada's north. Broke and broken people with little to no opportunities live in cold, run-down homes and suffer from generations of sexual, physical and psychological abuse. They look on as hundreds of millions of dollars worth of resources are mined from their ancestral homelands. This is not an emergency – a catastrophe for which Canada was unprepared and never saw coming. No, this is and always has been part of the design and devastation that colonization wrought.
In order to take the land, Canadian settlers needed to eliminate First Nations and their prior and legitimate political claims to territories. In the late 19th and early 20th centuries, infectious diseases and state-supported starvation gave way to the institutional violence of Indian reserves and residential schools, where more than 150,000 First Nations children were taken from 1876 to 1996. More than 6,000 children died in the residential schools and untold thousands suffered from abuse, creating nation-wide trauma that has enduring impacts on current generations………..