19 Apr
For a change from the same old news stories from the same old news networks, here are links to English-edition online newspapers from other parts of the world. Nearly all of these are English-edition daily newspapers, with an emphasis on the Middle East and Asia. These sites have interesting editorials and essays, and many have links to other good news sources. We try to limit this list to those sites which are regularly updated, reliable, with a high percentage of "up" time.
Some of the available newspapers:
| | | |
| --- | --- | --- |
| Asia & CIS | | |
| | | |
| --- | --- | --- |
| China | | |
| | | |
| --- | --- | --- |
| China & Hong Kong | | |
| | | |
| --- | --- | --- |
| France | | |
| | | |
| --- | --- | --- |
| Israel | | |
| | | |
| --- | --- | --- |
| Norway | | |
| | | |
| --- | --- | --- |
| Palestine | | |
| | | |
| --- | --- | --- |
| Russia | | |
| | | |
| --- | --- | --- |
| Ukraine | | |


Vice-president's public remarks show continued strain between the countries in the wake of Iranian nuclear deal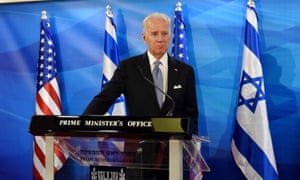 US vice-president Joe Biden during his visit to Jerusalem in March. Photograph: Sipa/Rex/Shutterstock
The US vice-president, Joe Biden, has delivered an unusually sharp critique of the government of Binyamin Netanyahu, saying the Israeli prime minister is leading Israel in the wrong direction through his policies, including settlement building.
Biden described the Obama administration's "overwhelming frustration" with Israel, adding that "profound questions" existed about how the country could remain both Jewish and democratic.
Although Biden's comments, made in a speech to the Jewish American group J-Street, also criticised Palestinians for the failure of the last round of Middle East peace talks, his remarks about the Netanyahu government were particularly pointed.
"I firmly believe that the actions that Israel's government has taken over the past several years – the steady and systematic expansion of settlements, the legalisation of outposts, land seizures – they're moving us and more importantly they're moving Israel in the wrong direction," Biden said.
His remarks appear to have scotched the notion that relations between Israel and its most significant backer – which have been unusually strained – were returning to normal after the deep frictions over the Iran nuclear deal.
Biden insisted, however, that the US remained committed to Israel's security.
"No matter what political disagreements we have with Israel – and we do have political disagreements now – there is never any question about our commitment to Israel's security."………….


Shaun Young, 27, was among those who protested against police brutality in the wake of Gray's death in custody. His assessment of what has changed: 'Now you get in the paddy wagon they're gonna buckle you up'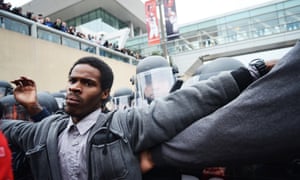 Shaun Young being arrested during recent protests. 'They're still going to do whatever the fuck they want to you but when you get in the paddy wagon you're going to have a buckle.' Photograph: JM Giordano for the Guardian
A

t the busy intersection of Pennsylvania and North avenues, police cars blocked several lanes of traffic on the afternoon of 12 April. Nearly a dozen Baltimore police officers herded a growing and increasingly angry crowd onto the sidewalk, as three men stood by the open doors of a police transport van of the same kind that carried Freddie Gray a year earlier, in handcuffs.
The man being arrested was Shaun Young, 27, who last spring became emblematic of Baltimore's outrage over Gray's death when he grabbed the microphone from a CNN correspondent during a sprawling protest and declared: "Fuck CNN".
Behind Young, the pharmacy that was burned to the ground in the ensuing riot had been rebuilt, a "now open" sign hanging on the new brick wall.
But to Young, many of the circumstances that spurred the riot are much the same as when Gray died a year ago, on 19 April 2015. Gray's arrest for an alleged illegal switchblade, and his death a week later, spurred escalating protests that cast an international spotlight on police and race relations in Baltimore.
"It's the same politics, the same policies being enforced, it's a different enforcer. What policies have changed? Now you get in the paddy wagon they're gonna buckle you up," he said. (Gray was not wearing a seatbelt while he was transported in shackles to the police station. He allegedly died of spine injuries sustained while he was in the van.)
"They're still going to do whatever the fuck they want to you but when you get in the paddy wagon you're going to have a buckle."…………….

'F*ck You! F*ck That! F*ck CNN!' Baltimore Protester Grabs Mic Live on CNN | VIDEO
Car bomb attack and gun battle in Afghan capital leaves at least 28 dead and scores injured
Witnesses describe the scene after a suicide car bomb exploded during Tuesday morning's rush hour in Kabul, killing several people and injuring dozens. Smoke is seen rising near state buildings which include the country's intelligence offices. The Taliban has claimed responsibility for the attack, which was followed by gunfire. Photograph: Reuters/Omar Sobhani
At least 28 people have been killed and scores injured after a Taliban car bomb exploded in a crowded area of Kabul near ministries and government offices, and a gun battle ensued between attackers and security forces.
The heavily laden car exploded shortly before 9am local time outside the office of a security detail responsible for protecting Afghan government VIPs and officials, according to police sources.
The blast ripped through the city, rattling windows several miles away, and was followed by gunfire as attackers took cover in nearby buildings. A Taliban spokesman claimed responsibility for the attack, which came a week after the insurgents launched their annual spring offensive……………..
.
Opinion
Clinton enjoys the support of older black women, and she's seeking the votes of younger ones. But a tone deafness to the issues we face can't be ignored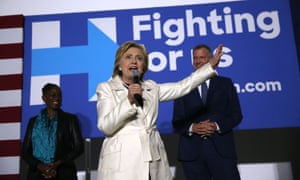 Hillary Clinton campaigns with New York mayor Bill DeBlasio and first lady Chirlane McCray. Photograph: Justin Sullivan/Getty Images
W

hen Democratic presidential candidate Hillary Clinton walked onto the stage during BET's annual Black Girls Rock award show earlier this month, I winced – hard. The Black Girls Rock organization presents one evening every year to exclusively honor black girls and women, not to facilitate white female presidential candidates seeking to campaign for votes under the guise of ally-ship.
Because frankly, if her ally-ship were credible to begin with, someone in her black girl magic squad surely would have let her know that she should sit this one out. It also made me wonder, though, beyond pondering the seemingly infinite right of entry into any space at any time provided by whiteness: what is it with Hillary Clinton and black women?
I get it. As Kirsten West Savali, my friend and fellow journalist, pointed out in conversation: "Proximity to power and privilege feels like liberation, or at least advancement [for some black women]." In this context, it means access to that beautifully uncomplicated world of unshucked, pearl-filled oysters that awaits every white man or woman who is willing to fight for it, or to at least game the system.
In my all-white regional high school in rural New Hampshire, there were the rich, preppy kids in the front hall and the smokers, druggies and poor kids in the back hall. I was unequivocal about my central aim and allegiance: the most popular kids of all. My white adoptive parents were artists; we were poor and I was black. In the popular thoroughbreds, I saw a way out.
And although I endured their micro-aggression racism on a fairly regular basis – the unsolicited hair touching, the axiomatic standard of white beauty, the litany of "colorblind" comments: "We don't really think of you as black"; "You're so pretty even though you are black" – I saw an open seat on their privilege bus and I took it, even if it was all the way in the back. To be fair, they were not bad kids. They just wielded the most power.
I was not concerned with the arty theater kids (even though I worked with a regional company during summers), or the readers and intellectuals (despite my love of books and conversation), not even the one black kid from inner-city New York who, as I recall, attended our school for a couple of brief stretches after spending summers with a local family through a not-for-profit organization. All of whom are now probably voting for Bernie Sanders.
I was ambitious. And though I do regret the betrayal of the boy from New York City, I also knew even at 15 years old that any form of solidarity with him would compromise the social capital I had earned through my investment with the wealthy white kids……………….But she has also been frighteningly tone deaf regarding race, with the Black Girls Rock appearance among the examples – and this month's "CP time" joke with New York City Mayor Bill de Blasio among the more egregious………………