21 Apr
For a change from the same old news stories from the same old news networks, here are links to English-edition online newspapers from other parts of the world. Nearly all of these are English-edition daily newspapers, with an emphasis on the Middle East and Asia. These sites have interesting editorials and essays, and many have links to other good news sources. We try to limit this list to those sites which are regularly updated, reliable, with a high percentage of "up" time.
Some of the available newspapers:
| | | |
| --- | --- | --- |
| Asia & CIS | | |
| | | |
| --- | --- | --- |
| China | | |
| | | |
| --- | --- | --- |
| China & Hong Kong | | |
| | | |
| --- | --- | --- |
| France | | |
| | | |
| --- | --- | --- |
| Israel | | |
| | | |
| --- | --- | --- |
| Norway | | |
| | | |
| --- | --- | --- |
| Palestine | | |
| | | |
| --- | --- | --- |
| Russia | | |
| | | |
| --- | --- | --- |
| Ukraine | | |


The strikes last a moment, but the consequences last forever. Six families explain how Obama's secret drone war has left them struggling for answers after loved ones were wiped out without warning
What happens in a drone attack? 'Suddenly there were explosions'
Nabila Rehman, now 13, remembers the 2012 drone strike in North Waziristan, Pakistan that killed her grandmother and injured her
Nabila's favorite memories of her grandmother come from weddings. It didn't matter who was getting married – relative or neighbor – her grandmother, Mamana, was an active participant, owing to her matriarchal perch above their village.
Mamana was as responsible as she was festive. An uneducated woman, she was the local midwife, and served as an impromptu primary care physician, even a veterinarian, when the need arose.
On a fall afternoon in 2012, Mamana called Nabila and a squad of her siblings and cousins outside to the family's okra fields, part of their sprawling garden in tribal Pakistan. It was about to be the Eid festival and the Rehman family needed to gather and prepare vegetables. Nabila, nine years old, had set to work when the drone fired its missiles.
A dark plume of dust rose from the garden and mixed with acrid smoke. It spared Nabila and the other children the sight of their grandmother's mutilated corpse.
Her older cousins, all male, ran to help the screaming children. Nabila's hand and her arm were injured with burns and shrapnel. Her three-year-old brother, Safdar, who was watching the harvest from the roof of their home, had fallen to the ground, breaking bones in his chest and shoulders. The teenagers had gotten Nabila and some of the others out of the way when the second round of missiles hit, in what the CIA refers to as a "double-tap", to make sure it kills its targets.
Timely surgeries saved them. Then began the struggles that would characterize their lives thereafter.
Because US drone strikes are cloaked in secrecy, occur in remote or dangerous locales and target people presumed to be terrorists, Americans rarely hear from survivors or their relatives. But a theme emerges in interviews the Guardian has conducted with more than half a dozen drone survivors: the pain from the strike never ends, as the apparatus of secrecy renders closure unobtainable.
According to six people in Pakistan and Yemen who have lost their brothers, sons and grandparents to drone strikes, the strike lasts a moment and the consequences last a lifetime. Most of them have never told their stories to an American reporter. Some of them have theories about whom the US was targeting, while others are left guessing. The interviews were facilitated by the human rights group Reprieve and the Foundation for Fundamental Rights and conducted in translation.
The people are left impoverished, anguished and infuriated. Justice, let alone apologies, never arrives, even as a modest amount of blood money flows from the local governments. The United States, which styles itself a force for justice in the world, is to them the remote force that introduced death into their lives and treats them like they are subhuman, fit only to be targeted. At any moment, they fear, another drone could come for them…………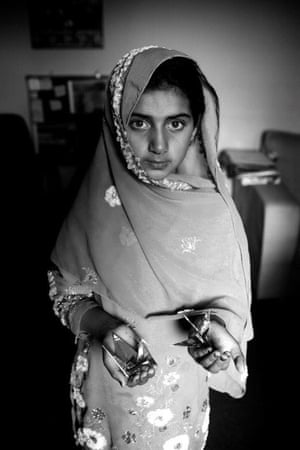 Nabila holds peace cranes. Photograph: Reprieve
UK updates travel advice after states impose new laws condemned by campaigners as 'anti-gay'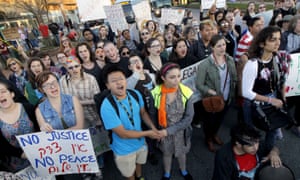 People protest against state law restricting LGBT protections in North Carolina. Photograph: Raleigh News/Rex Shutterstock
The Foreign Office has changed its travel advice for North Carolina and Mississippi to warn LGBT tourists of the dangers of visiting the two states after both introduced laws described by campaigners as "anti-gay".
Posted on the official government website on Tuesday, the updated travel advice states: "The US is an extremely diverse society and attitudes towards LGBT people differ hugely across the country.
"LGBT travellers may be affected by legislation passed recently in the states of North Carolina and Mississippi. Before travelling please read our general travel advice for the LGBT community. You can find more detail on LGBT issues in the US on the website of the Human Rights Campaign."
Ty Cobb, director of US-based Human Rights Campaign Global, said it was "frightening and embarrassing" that the UK has warned its citizens of the risks of travelling to two southern states.
House Bill 2 (HB2) was passed by North Carolina's government in March, overturning a city ordinance that sought to extend rights to the LGBT community, including allowing transgender residents to use the bathroom of the sex they identified with.
HB2, signed into law by the governor Pat McCrory, blocks local governments from enacting laws with anti-discrimination protections for LGBT people, and requires transgender people to use bathrooms that match with their biological sex, even if doing so violates their gender identity. The American Civil Liberties Union, ACLU of North Carolina, Lambda Legal and Equality North Carolina have brought a legal challenge in federal court against the law…………
Letters
Marcus Moench and Elisabeth Caspari
Boulder, Colorado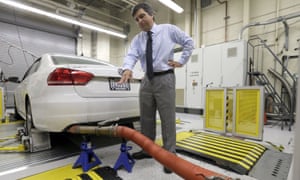 John Swanton, spokesman for the California Air Resources Board, explaining how a Volkswagen Passat is evaluated at an emissions test lab. Picture taken September 2015. Photograph: Nick Ut/AP
21 April is the deadline that Judge Breyer has set for VW to respond to the scandal caused by installing "defeat devices" to evade emissions regulations on 567,000 "clean diesel" cars sold in the US (VW emissions cheat software came from Audi – report, 20 April).
As owners of a diesel Jetta, we have been waiting for VW to respond for seven months since the scandal broke. The defeat device eliminates the reason we purchased the car: low-emission "clean transport". In buying it we relied on VW's compliance with regulations and the company's "clean diesel" advertising.
By deceiving consumers and regulators, VW has shown a deep disregard for the individuals who purchased its vehicles and for the wellbeing of current and future generations. Governments pass emission regulations to protect society from pollution and climate change. Any company that evades regulation places its own interests over those of society. Unless companies comply, progress will never be made toward an environmentally sustainable future. With the exception of one trip attempting to return our car to VW America, we haven't driven it since the scandal broke…………..
A Russian lizard, a rescued seal, royal elephants, and spring blossom are among this week's pick of images from the natural world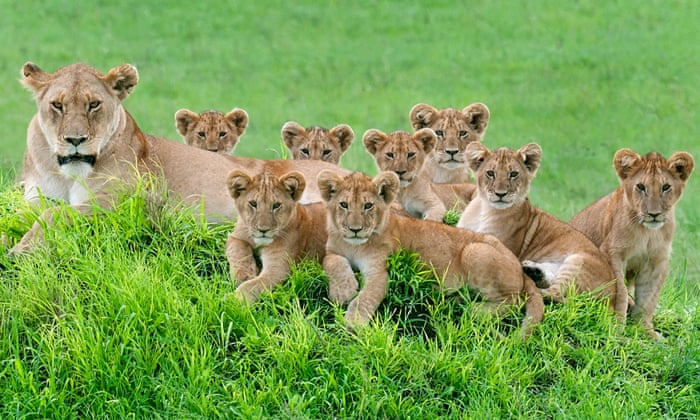 A female lion and cubs rest in the Serengeti Loliondo conservation area in Tanzania.
Photograph: Barbara Fleming/Barcroft Media
Opinion
I get joy from knowing that people have to look at Harriet Tubman's proud and defiant black face every time they reach in their wallet. But it's not enough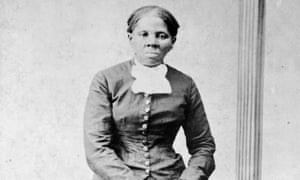 'Tubman's life was offered up for 5 of the $20 bills that will now bear her image.' Photograph: HB Lindsley/AP
Update, 4.30pm EDT: According to reports, Andrew Jackson will still appear on the back of the $20 bill, with Harriet Tubman on the front
Today the US Treasury has made their long-awaited announcement of the change to our nation's currency. We have known for months that a woman was going to replace one of the old white dudes on one of our bills (originally discussed as the $10 bill) but we now have confirmation: Harriet Tubman will be replacing Andrew Jackson on the $20 bill. Much of social media is filled with celebratory posts and memes, but I for one, am not celebrating.
Yes, I do get some joy from knowing that white people have to look at Harriet Tubman's proud and defiant black face every time they reach in their wallet. But the image of Tubman on our currency as some sort of corrective action for centuries of oppression and subjugation, or as a symbol of how far we've come in ending racism, is more symbolic of our fundamental misunderstanding of race in America.
Slavery in America was, at its core, an economic system. Slavery was about free labor to quickly grow and cheaply maintain white wealth. Racism was born, not of intrinsic hatred or bigotry, but as a moral justification for the immoral means of production that this nation relied upon to prosper. After the abolishment of slavery, institutional racism continued to be motivated by profit from cheap labor. From sharecropping to our prison industrial complex – it's always been money.
Our economic system has always required winners and losers. It has always required that a select few occupy the top tiers, while the rest are forced into their respective rungs lower on the ladder. Race has always been one of the easier identifiers for those who need to designate an "other" for exploitation.
Our refusal to see the economic drivers of racism in America prevents us from enacting any real change that would improve the lives of people of color here. Our insistence that winning the war on racism is about winning the hearts and minds of individual racists keeps the fight against racism abstract and ineffective. The way we fund our education, the way we've zoned residential property, where we build jobs, how our court system operates – they are all built to maintain the hierarchy that keeps rich white (mostly male) people on top and the rest down below…………