25 Apr
For a change from the same old news stories from the same old news networks, here are links to English-edition online newspapers from other parts of the world. Nearly all of these are English-edition daily newspapers, with an emphasis on the Middle East and Asia. These sites have interesting editorials and essays, and many have links to other good news sources. We try to limit this list to those sites which are regularly updated, reliable, with a high percentage of "up" time.
Some of the available newspapers:
| | | |
| --- | --- | --- |
| Asia & CIS | | |
| | | |
| --- | --- | --- |
| China | | |
| | | |
| --- | --- | --- |
| China & Hong Kong | | |
| | | |
| --- | --- | --- |
| France | | |
| | | |
| --- | --- | --- |
| Israel | | |
| | | |
| --- | --- | --- |
| Norway | | |
| | | |
| --- | --- | --- |
| Palestine | | |
| | | |
| --- | --- | --- |
| Russia | | |
| | | |
| --- | --- | --- |
| Ukraine | | |


1209 North Orange Street in Wilmington is a nondescript two-storey building yet is home to Apple, American Airlines, Walmart and presidential candidates
The McGlynn: Align this rotten news up against Bernie Sanders. You will never find him taking advantage of tax havens. Never ————Ever.  For decades, this dedicated public servant has walked the talk. He's devoted himself to public service, not self-enrichment.
For the future. Wake up, America!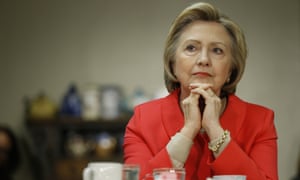 Eight days after stepping down as secretary of state in 2013, Hillary Clinton set up ZFS Holdings at CTC's offices in Wilmington. A spokesman said it was to manage her book and speaking income. Photograph: Matt Rourke/AP
There aren't many things upon which Hillary Clinton and Donald Trump agree, especially as they court very different Delaware voters ahead of a primary on Tuesday. But the candidates for president share an affinity for the same nondescript two-storey office building in Wilmington. A building that has become famous for helping tens of thousands of companies avoid hundreds of millions of dollars in tax through the so-called "Delaware loophole".
The receptionist at 1209 North Orange Street isn't surprised that a journalist has turned up unannounced on a sunny weekday afternoon.
"You know I can't speak to you," she says. A yellow post-it note on her computer screen reads "MEDIA: Chuck Miller" with the phone number of the company's director of corporate communications. Miller can't answer many questions either, except to say that the company does not advise clients on their tax affairs.
The Guardian is not the first media organising to turn up at the offices of Corporation Trust Centre, and it's unlikely to be the last.
This squat, yellow brick office building just north of Wilmington's rundown downtown is the registered address of more than 285,000 companies. That's more than any other known address in the world, and 15 times more than the 18,000 registered in Ugland House, a five-storey building in the Cayman Islands that President Obama called "either the biggest building in the world, or the biggest tax scam on record".
Officially, 1209 North Orange is home to Apple, American Airlines, Coca-Cola, Walmart and dozens of other companies in the Fortune 500 list of America's biggest companies. Being registered in Delaware lets companies take advantage of strict corporate secrecy rules, business-friendly courts and the "Delaware loophole", which can allow companies to legally shift earnings from other states to Delaware, where they are not taxed on non-physical incomes generated outside of the state.
The loophole is said to have cost other states more than $9bn in lost taxes over the past decade and led to Delaware to be described as "one of the world's biggest havens for tax avoidance and evasion".
But it's not just big corporations that have chosen to make 1209 North Orange their official home.
Both the leading candidates for president – Hillary Clinton and Donald Trump – have companies registered at 1209 North Orange, and have refused to explain why.
Clinton, who has repeatedly promised that as president she will crack down on "outrageous tax havens and loopholes that super-rich people across the world are exploiting in Panama and elsewhere", collected more than $16m in public speaking fees and book royalties in 2014 through the doors of 1209, according to the Clintons' tax return.
Just eight days after stepping down as secretary of state in February 2013, Clinton registered ZFS Holdings LLC at CTC's offices. Bill Clinton set up WJC LLC, a vehicle to collect his consultation fees, at the same address in 2008.
A spokesman for Clinton said: "ZFS was set up when Secretary Clinton left the State Department as an entity to manage her book and speaking income. No federal, state, or local taxes were saved by the Clintons as a result of this structure."
The Clintons' companies share the office with several of Trump's companies. They include Trump International Management Corp and several companies that form part of Hudson Waterfront Associates, a Trump partnership to develop more than $1bn worth of luxury condos on the west side of Manhattan………
US president expected to give details of new deployment during visit to Hanover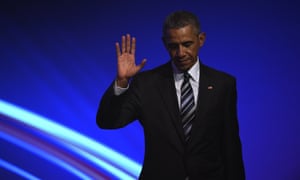 Barack Obama at the opening evening of a Hanover trade fair. Photograph: Alexander Koerner/Getty Images
Barack Obama is expected to announce a plan to send another 250 US soldiers to Syria to help local forces fight Islamic State militants, it has been reported.
Officials said the president would outline the plan, which would take the American deployment to 300 personnel, in a speech in Hanover, Germany on Monday. He will later have talks with German chancellor Angela Merkel and other European leaders.
Obama was reportedly convinced by military advisers that increasing the US strength in the region would help exploit recent victories over Isis.
The US sent 50 special forces troops to Syria last year and, according to the Wall Street Journal, a contingent of the new force would also be special forces. It was unclear, however, how large that contingent would be and how many of the personnel might be involved in support activities, such as medical and intelligence, Reuters and the Associated Press (AP) reported.
The move comes a day after Obama ruled out sending ground troops to Syria. He told the BBC: "It would be a mistake for the United States, or Great Britain … to send in ground troops and overthrow the Assad regime."
The president said he did not believe that Islamic State could be defeated in his remaining time in office, saying that he would seek instead to "slowly shrink the environment in which they operate"…………
A year after the young man's death in police custody spurred protests, the city's voters are energized amid races for mayor, senator and president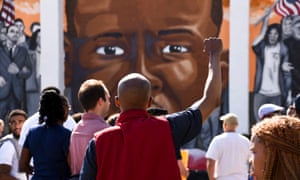 A marcher stops at a Freddie Gray mural in Sandtown. Photograph: JM Giordano
S

tanding at the edge of a roof three stories above Baltimore, church elder CW Harris looked out over the Sandtown-Winchester neighborhood, as the sounds of music and electioneering rose up from a block party in the park below.
Harris had been on the roof with safety wire and a portable toilet since two days after the start of the state's early voting, and pledged not to come down until more than 500 people from the neighborhood had voted.
"We have about 12 to 14K population in a 72-square-block area of Sandtown," he said of the neighborhood where Freddie Gray was arrested. "To have only 257 people that voted in our last election … I really feel bad about that."
With an open mayor's seat and senate seat – and a hotly contested presidential race in play – this year's primary on 26 April, a day before the anniversary of Gray's funeral and the riot that followed, is among the most important in the 66-year-old Harris' long life. Everyone else may be talking about Donald Trump, but for Baltimore, this is the Freddie Gray election.
Gray, a 25-year-old African American man, died a week later from injuries he sustained in police custody, setting off weeks of protest, followed by a riot, a state of emergency, and a curfew that brought the nation's attention to the generally neglected neighborhood where Harris has spent his life…………..
Sabrina De Sousa was arrested in Portugal in October after being convicted over Egyptian cleric's extraordinary rendition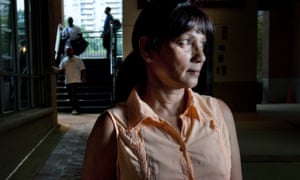 Sabrina De Sousa is facing extradition to Italy in May. Photograph: Nikki Kahn/AP
A former undercover CIA officer is to be extradited to Italy following her conviction over the 2003 extraordinary rendition of a terror suspect to Egypt.
Sabrina De Sousa, a dual US and Portuguese citizen, was arrested in Portugal last October and has since lost three appeals against being handed over to Italian authorities. Her extradition is scheduled for 4 May.
At the heart of the case lies the kidnapping of an Egyptian cleric, Hassan Mustafa Osama Nasr – known as Abu Omar – who was snatched off the streets of Milan by the CIA, allegedly with the help of Italian officials, and sent to Egypt, where he was allegedly tortured.
The case was investigated by an independent prosecutor in Italy, leading to the conviction in absentia of De Sousa and 21 other CIA operatives and high-ranking officials. At the time, the case was seen as the only exhaustive investigation of the illegal counter-terrorism practice known as extraordinary rendition, and exposed US allies' role in helping to execute the strategy.
Convictions of members of the Italian military intelligence agency Sismi were later overturned by Italy's high court on the grounds of "state secrecy".
De Sousa told the Guardian she would voluntarily meet Italian authorities and said she was "encouraged" her case might get a second look by Italy's president, Sergio Mattarella, who can pardon her………………
On the complex regional chess board, Iran wants better relations with Moscow even as the Russians have extended their intelligence co-operation with Israel in Syria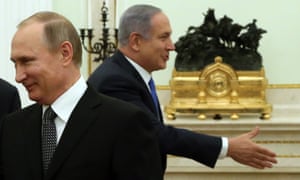 Russian President Putin Meets Israeli Prime Minister Netanyahu at the Kremlin on 21 April 2016. Photograph: Mikhail Svetlov/Getty Images
Gareth Smyth for Tehran Bureau
Ali Larijani, Iran's parliamentary speaker, has long been an advocate of better relations with Russia and his recent interview with TASS, in which he spoke of Iran's "eastern orientation, first of all towards Russia…[as] the country's strategic choice", is no surprise.
But Iran's relationships with all international powers are becoming more nuanced as the result of changes in the region. Last July's nuclear agreement with world powers, including the 'Great Satan', has helped produce a diplomatic palate with many shades of grey. There are few steadfast allies or implacable enemies.
For Iran, Russia is a strategic ally in supporting Syria's president Bashar al-Assad, and Russia is also a potential partner in shaping the global gas market as the two countries with the largest reserves. But there are still important differences between Moscow and Tehran.
Even though Russia is contracted to Iran over nuclear energy – the provider of Bushehr, Iran's only operating station, and in talks over eight more – it blocked neither Iran's referral to the UN security council in 2006 nor the subsequent sanctions.
In 2005 Larijani began his first of two years as secretary of the Supreme National Security Council pursuing a 'tilt to Moscow' that he believed could stop both referral and UN sanctions…………..
Sometimes, the best way to understand what's happening on the other side of the world is to see it for yourself. Here are some of our favorite Instagrammers who focus on capturing our changing planet
Sean Gallagher (@sean_gallagher_photo) covers environmental issues in Asia. Here, a man walks past a river covered with litter in a Jakarta slum. "The city has increasingly suffered from floods caused by extreme weather each year," he says. "When the floods come, they often wash large amounts of refuse into communities, completely blocking the flow of water."
Opinion
In the past, wealth came with responsibility. Today's rich avoid taxes, military service, and charitable giving. No wonder we're seeing a populist backlash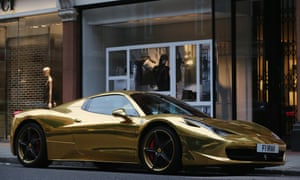 'Despite their soaring share of the nation's wealth, the rich go to enormous lengths to avoid paying taxes.' Photograph: Dan Kitwood/Getty Images
The author F Scott Fitzgerald once wrote that the "rich are different than you and me".
Fitzgerald's observation rings especially true today. The growing divide between the wealthy and everyone else is one of the pre-eminent issues of the 2016 presidential election. A tidal wave of public anger over income inequality and the decline of the middle class has made the rich a popular target on the campaign trail. The best example is the remarkable success of Bernie Sanders, who has tapped into the populist spirit of the electorate by calling for a "political revolution" against the "billionaire class".
Republicans routinely condemn such rhetoric as the reckless promotion of "class warfare" by irresponsible populists, but the reality is class conflict is a two-way street.
Sanders and other populists did not create the class tensions in American society. Instead, wealthy Americans themselves played a central role in creating the conditions that gave rise to the angry and populist mood of the 2016 election.
The economic data make clear why populism is the dominant theme of the 2016 campaign.
Although America has the largest economy in the world, real wages have not gone up since 1972 because most workers have experienced stagnating incomes for decades. Across the country middle-income Americans face a precarious economic future. Median income has fallen in over 80% of America's counties since 2000, a trend that is accelerating. Even mortality rates reflect growing income inequality. Poor and rural Americans now die at rates well above that of wealthy and urban Americans.
Meanwhile the rich just keep getting richer. A study by the Pew Research Center found that the median net worth of upper-income families is now 70 times greater than that of lower-income families. As of 2015, the 400 richest Americans had a combined wealth of $2.3tn. Over 75% of the nation's wealth is held by 10% of the population, and the gap between the rich and the middle class in the US is the highest ever measured…………..