26 Apr
For a change from the same old news stories from the same old news networks, here are links to English-edition online newspapers from other parts of the world. Nearly all of these are English-edition daily newspapers, with an emphasis on the Middle East and Asia. These sites have interesting editorials and essays, and many have links to other good news sources. We try to limit this list to those sites which are regularly updated, reliable, with a high percentage of "up" time.
Some of the available newspapers:
| | | |
| --- | --- | --- |
| Asia & CIS | | |
| | | |
| --- | --- | --- |
| China | | |
| | | |
| --- | --- | --- |
| China & Hong Kong | | |
| | | |
| --- | --- | --- |
| France | | |
| | | |
| --- | --- | --- |
| Israel | | |
| | | |
| --- | --- | --- |
| Norway | | |
| | | |
| --- | --- | --- |
| Palestine | | |
| | | |
| --- | --- | --- |
| Russia | | |
| | | |
| --- | --- | --- |
| Ukraine | | |


What some call 'Hate Bill 2' blocks protections for lesbian, gay, bisexual and transgender people and directs which restrooms transgender people can use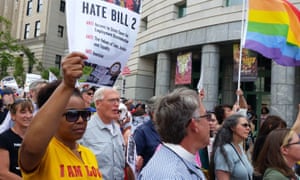 Demonstrations encircled North Carolina's statehouse, where protesters marched to show their opposition to the law. Photograph: STRINGER/Reuters
Associated Press
Demonstrations encircled North Carolina's statehouse on Monday, for and against a Republican-backed law curtailing protections for LGBT people and limiting public bathroom access for transgender people, with dozens opposing the law arrested.
Three dozen were arrested after protesters failed to leave the legislative building after it closed for the night. That brings to 54 the number of opponents of the law who were arrested or carried away on the general assembly's opening day of its annual work session.
On the other side of the debate, thousands of Christian conservatives and other supporters of the law known as House Bill 2 gathered on a grassy mall behind the legislative building on the opening day of the legislature to praise the mostly Republican legislators and GOP governor Pat McCrory for passing the restrictions during a special session last month.
"It took great courage for them to establish this bill," said Doug Woods, 82, of Raleigh, a rally attendee. "They need to stand firm."…………..


The lawsuits challenged changes to the state's election law to require photo ID, claiming it hampered poor and minority voters from exercise political power
The law's most public feature is that it requires that voters who appear in person to vote show an accepted form of photo identification like a driver's license, a passport or a military ID. Photograph: Chris Keane/REUTERS
Associated Press
Lawsuits challenging changes to North Carolina's election law failed to show it hampered the ability of minority voters to exercise political power, a federal judge ruled Monday in dismissing the cases.
US district judge Thomas Schroeder ruled against the US Justice Department, the North Carolina NAACP chapter and named voters, who claimed the law was passed to discriminate against poor and minority voters in violation of the Constitution and Voting Rights Act.
While North Carolina had a sordid history of freezing black voters out of the political process, Schroeder said, the plaintiffs did not show that the law hampered the ability of minority voters to exercise electoral politics.
The plaintiffs "failed to show that such disparities will have materially adverse effects on the ability of minority voters to cast a ballot and effectively exercise the electoral franchise" as a result of the 2013 state law, the judge wrote. That argument was made more difficult after black voter turnout increased in 2014, he added……..
We meet the people most affected by the nuclear catastrophe, from the Pripyat evacuee to the daughter of a KGB first responder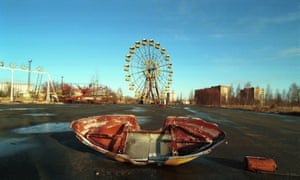 This big wheel is one of Dmitrij Sribnyj's only memories of Pripyat, the town his family was forced to flee when he was just five. Photograph: Martin Godwin for the Guardian
O

n 26 April 1986 one of four nuclear reactors at the Chernobyl nuclear plant exploded, triggering the biggest nuclear catastrophe in history.
Some living nearby found their lives changed almost immediately, for others across Europe it would be weeks or months until the full scale of the human and environmental disaster was realised.
From the evacuee living in the nearby town of Pripyat to the daughter of a first responder who saw many colleagues die and a farmer from the Netherlands whose business was ruined, these are their stories……………..
Evacuee Dmitrij Sribnyj, 35, Peterborough, UK. Then, Pripyat
I was born in Pripyat, 2km away from the power plant, and lived there with my grandparents. I was five years old when the disaster hit.
One of my earliest memories is the morning after the explosion. My grandparents were talking about a very loud bang they had heard during the night, it was on the radio too, but nobody seemed clear what was actually going on.
I'm not sure why, but that day we went to our summer garden, close to the power plant.
I could see a lot of smoke surrounding the tower and helicopters circling. I remember seeing one land on the riverside, where I used to go fishing with my grandfather, and fly to the power plant to drop sand on the burning reactor……..
City settled case with family, averting federal civil rights lawsuit following 12-year-old's death in November 2014 shooting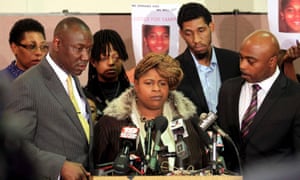 Samaria Rice, the mother of Tamir Rice, speaks during a news conference at the Olivet Baptist church in Cleveland in December. Photograph: Aaron Josefczyk/Reuters
The city of Cleveland, Ohio, has agreed to pay $6m to the family of Tamir Rice to settle a lawsuit over the 12-year-old's fatal shooting by a police officer.
The payment will avert a federal civil rights case brought against city authorities by Tamir's relatives over the death of "a young boy with his entire life ahead of him, full of potential and promise", their attorneys said on Monday.
"Although historic in financial terms, no amount of money can adequately compensate for the loss of a life," said a statement issued by the firm of Jonathan Abady, Earl Ward and Zoe Salzman, their lead counsel. "Nothing will bring Tamir back. His unnecessary and premature death leaves a gaping hole for those who knew and loved him that can never be filled."…………….
Cheetah cubs learning to hunt, cherry blossom and a prairie rattlesnake are among this week's pick of images from the natural world
A bald eagle feeds two eaglets a fish in a nest over the Raccoon River at Gray's Lake Park in Des Moines, Iowa, US.
Photograph: Charlie Neibergall/AP
Opinion
We weren't supposed to have boots on the ground in Syria. There's no telling where or when this will end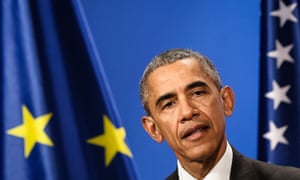 Will America be in Libya next? Photograph: Xinhua/Barcroft Images
W

hen it comes to Syria, "no boots on the ground" was something of a mantra for Barack Obama. He has repeated it dozens of times, but not anymore. On Monday, he told the world at least 250 US troops would soon be fighting inside the country. With American military members now slowly streaming into multiple countries in the Middle East, we're entrenched in yet another war and it's unclear how we'll get out of it.
To much less fanfare last week, the White House also reportedly loosened the military engagement rules in Syria, so that US servicemen are allowed more leeway to kill civilians as collateral damage in pursuit of Isis. Rightwing Republicans have been clamoring for this policy change for months, despite the risk of it completely backfiring on the US and creating many more terrorists than it kills. At the time, Democrats criticized the likes of Ted Cruz for demanding such a policy. Now there is near silence as the Obama administration has made it a reality.
As he's broken his promise involving ground troops in Syria, can we expect the same about-face in Libya? "There's no plan for ground troops in Libya," Obama said at a press conference in London during his European tour last week. He added: "I don't think that's necessary. I don't think it would be welcomed by this new government. It would send the wrong signal."
One can imagine it's only a matter of time before that statement is proven false. Libya is now engulfed in chaos and the number of Isis members is skyrocketing, largely thanks to the US and allies bombing the country and overthrowing Muammar Gaddafi five years ago. There are already drones flying over the country and special forces have already been in and out in the past year to conduct special forces missions. You can picture administration members soon arguing: we must invade the country to save it from the last time we bombed it.
It's more or less the same story everywhere. The Iraq war was supposed to be over at the end of 2011, yet US troops have been steadily streaming back into the country for over a year. According to the Obama administration, the Afghanistan war ended in December 2014. Yet airstrikes are still prevalent, thousands of US troops remain and the Taliban is as strong as ever.
We weren't supposed to have boots on the ground in Syria. Now hundreds are headed to the country, with no telling how many more will be there by year's end or what other countries they'll be in next. In fact, US troops were already on the ground in Syria long before this week. The Pentagon quietly sent a "specialized expeditionary targeting force" that has been conducting ground operations against Isis in Iraq and Syria for months. There was no presidential announcement when this Orwellian-sounding force was launched, just as there was no congressional debate when the Isis war started almost a year and a half ago now……………..