27 Apr
For a change from the same old news stories from the same old news networks, here are links to English-edition online newspapers from other parts of the world. Nearly all of these are English-edition daily newspapers, with an emphasis on the Middle East and Asia. These sites have interesting editorials and essays, and many have links to other good news sources. We try to limit this list to those sites which are regularly updated, reliable, with a high percentage of "up" time.
Some of the available newspapers:
| | | |
| --- | --- | --- |
| Asia & CIS | | |
| | | |
| --- | --- | --- |
| China | | |
| | | |
| --- | --- | --- |
| China & Hong Kong | | |
| | | |
| --- | --- | --- |
| France | | |
| | | |
| --- | --- | --- |
| Israel | | |
| | | |
| --- | --- | --- |
| Norway | | |
| | | |
| --- | --- | --- |
| Palestine | | |
| | | |
| --- | --- | --- |
| Russia | | |
| | | |
| --- | --- | --- |
| Ukraine | | |


Exclusive: University provost who resigned amid scandal expresses 'regrets' over handling of Tyann Sorrell's case, who says she was denied basic protections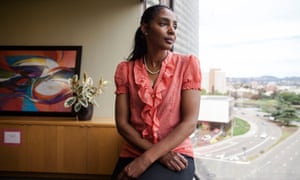 Tyann Sorrell, who is suing Sujit Choudry, the former UC Berkeley law school dean, said of the school's initial reaction to her allegations: 'It was all on me to try to figure out my relief and my protection.' Photograph: Ramin Talaie for the Guardian
Sam Levin in Oakland, California
In 2015, Tyann Sorrell's physical and mental health slowly deteriorated in response to what she describes as frequent inappropriate touching by her boss, the dean of the prestigious law school at the University of California at Berkeley. Sorrell, then the executive assistant to dean Sujit Choudhry, had trouble sleeping, started losing her hair, and began suffering from severe anxiety and depression.
She formally accused him of sexual harassment in March that year, but the university failed to put Choudhry on leave and forced Sorrell to use her personal sick days to avoid contact with him. Sorrell fell apart.
"My whole body went into shock," the 41-year-old mother of five said during a recent wide-ranging interview at her attorney's office in Oakland. "I was suicidal. I was done … It was all on me to try to figure out my relief and my protection."
Although she said it was not her intention, Sorrell's case brought national scrutiny to the elite northern California university, damaged the reputations and careers of numerous high-profile academics and sparked widespread debate about faculty misconduct and gender discrimination on US college campuses.
But she has reluctantly accepted her position at the center of the sexual harassment scandal with a case that has paved the way for other victims to come forward. As she explains it, she was left with no choice but to file a lawsuit against the school, which failed to protect her from her harasser and went to great lengths to shield Choudhry after he was found guilty of misconduct.
Emails that Sorrell and her attorney shared exclusively with the Guardian shed new light on the ways in which UC Berkeley officials failed to support her during the investigation, backing her claims that she was effectively punished for reporting harassment. And in a lengthy interview on Monday, Claude Steele, who resigned this month as UC Berkeley's executive vice chancellor and provost in the wake of the harassment scandals, admitted that he had "regrets" about the handling of Sorrell's case – his first remarks on the controversy since stepping down……………

Officials to reevaluate evidence presented in 207 criminal cases after three officers repeatedly used racist, homophobic and transphobic slurs in messages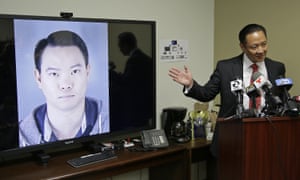 In the more than 100 new text messages made public on Tuesday, one of the former officers, Jason Lai (left), repeatedly used racist, homophobic and transphobic slurs to refer to San Francisco residents. Photograph: Eric Risberg/AP
Widening a scandal that has marred San Francisco's reputation as one of America's most liberal cities, the city's public defender said Tuesday that a newly released series of text messages exchanged by three police officers in 2014 and 2015 will force city officials to take a second look at more than 200 criminal cases, including three murders.
In the more than 100 new text messages made public on Tuesday, one of the former officers, Jason Lai, repeatedly used racist, homophobic and transphobic slurs like "nigga", "fag" and "tranny" to refer to San Francisco residents. He also makes offensive remarks about president Barack Obama and NBA player LeBron James.
"Do you know what Obama coffee is?" Lai wrote in an apparent joke. "Black and weak!"
n one message, Lai wrote: "Indian people are disgusting." In another, he said of black people: "They are like a pack of animals on the loose."
In addition to Lai, two other officers, Curtis Liu and Keith Ybarreta, are also named in the scandal, which will now force officials to reevaluate the evidence presented in a total of 207 criminal cases, ranging from misdemeanor drug possession to murder.
The revelation of the contents of the text messages is just the latest blow for the embattled police department, which has faced ongoing protests since the fatal police shooting of Mario Woods last winter.
Jeff Adachi, San Francisco's public defender, made the announcement after the district attorney's office sent him Lai's text messages last Friday as part of the discovery process for a robbery case that Lai had been called to investigate.
"It would be naive to believe these officers' bigotry was reserved solely for text messages," Adachi said in a statement. "It is a window into the biases they harbored. It likely influenced who they stopped, who they searched, who they arrested, and how they testified in criminal trials."…………..
Brazil has lurched from one controversy to the next of late, undermining confidence that Rio is ready for the Olympic Games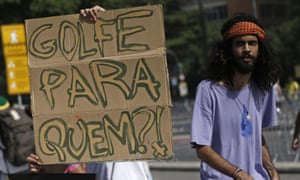 A protester next to a sign reading 'Golf for whom?' during a protest on Copacabana beach against the Olympics last August. Photograph: Silvia Izquierdo/AP
T

he Olympic torch is lit, the stadiums are mostly complete and the athletes are in the final stages of their training, but instead of celebrating Wednesday's 100-day countdown to the Games, many people in Rio de Janeiro are wondering: "What more could possibly go wrong?"
Initially seen as a blessing that prompted jubilation on Copacabana beach when it was first announced in 2009, South America's first Olympics is threatening to become a curse for the shell-shocked host city.
From political turmoil to economic recession, Rio has been hit by a series of national and local calamities that have overshadowed preparations, undermined confidence and prompted questions about who stands to benefit from the mega-event.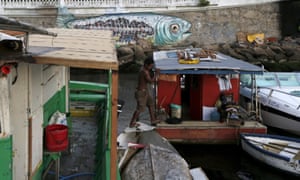 Recent headlines only add to the sense of dismay. On Monday, an ombudsman reported that 11 workers have died so far working on Olympic projects, compared with eight for the 2014 World Cup and zero for the London Games in 2012. Last week, at least two people were killed when a new cycle path collapsed into the Atlantic Ocean just four months after it was opened. Earlier in the month, tourists and shoppers in upmarket Leblon were shocked by grenade explosions and machine gun fire during the latest outbreak of gang violence…………..
Supporters and opponents of Donald Trump clash at a rally in Anaheim, California on Tuesday, with pepper spray being used against each other. Police say five people, including two little girls, were pepper sprayed by a demonstrator during the heated confrontation
A clash between Donald Trump supporters and opponents turned ugly when a demonstrator pepper sprayed five people, including two young girls
No serious injuries and no arrests were reported in the clash Tuesday afternoon as about 50 people confronted each other outside city hall, before the city council was to discuss a proposed resolution to condemn what it calls Trump's divisive rhetoric.
One man unleashed pepper spray into the pro-Trump crowd.
Police sergeant Daron Wyatt says five people, including an 11-year-old girl and an 8-year-old girl, were exposed to the eye-stinging spray. Three were treated at the scene by paramedics.
Wyatt said the man fled and police were looking for him.
One woman wearing a red "Make America Great Again" hat comforted the girls, whose faces were streaked with tears. The girls complained that their eyes and mouths hurt.
"I can feel it now, it's pungent," the woman, Lilia Zapatos, told KNBC-TV minutes after she was sprayed…………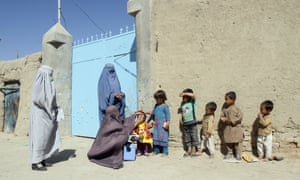 A health worker gives a vaccination to a child during a polio campaign in Kandahar, Afghanistan, April 2016. In the past five years, global immunisation rates have increased by only 1%. Photograph: Allauddin Khan/AP
Amy Whalley
I

n the seemingly endless list of targets and goals in global health and development, one goal in particular should be a priority for leaders around the world. World immunisation week, which began on 24 April, offers an opportune moment to shine light on the progress being made to reach all children with vaccines through the global vaccine action plan (Gvap).
Endorsed by 194 member states at the 2012 world health assembly, the plan is a product of the decade of vaccines initiative (2010-20), an unprecedented collaborative effort to address the hurdles on the road to universal immunisation coverage. It's an ambitious roadmap but, in reality, it is failing, with millions of children still dying from preventable diseases………..
Americans line up behind Democrats and Republicans so the race doesn't end up decided by Congress. With a few policy tweaks, we could have a lot more options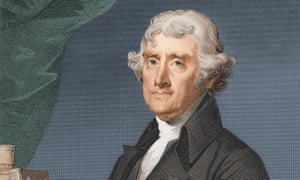 Awkward: Thomas Jefferson had to serve as John Adams's veep after losing to him in the presidential race of 1796. Photograph: Stock Montage/Getty Images
A

constant refrain this election season has been a call for the end of "politics as usual" – the idea that our system is broken is the only thing that Bernie Sanders and Donald Trump supporters seem to agree on.
Yet no matter who wins today's presidential primaries, the field, which started with six Democratic contenders and an incredible 17 Republicans, will soon be narrowed to two names for the November election.
This isn't a preordained norm everywhere, though. If America were a European country, the candidates wouldn't be trying to shoehorn themselves into two pre-formed molds. Bernie Sanders would surely be the Socialist candidate, and Hillary Clinton the Democratic one. John Kasich would be the Republican standard bearer, Ted Cruz would represent the Tea Party and Donald Trump would be the head of his own, independent party, the Trump Party, spelled out in large gold letters. And they'd all have a viable chance of winning.
This more egalitarian alternative won't work here, thanks to our specific political history.
When the US constitution was being written in the late 1780s, a number of proposals were put forward for selecting the president, including a lottery. Some stakeholders advocated having the chief executive chosen either by the members of congress or by individual state legislatures.
These ideas were rejected for fear that it would concentrate too much electoral power in the hands of too few. But the alternate idea – the direct election of the president by the people – was also rejected as being too unwieldy and to prevent voters from only choosing candidates from their home states or who had national name recognition.
The compromise position was to form an electoral college where the number of electors for each state would be equal to the size of its congressional delegation. Each elector was given two votes to cast; the candidate receiving the most votes would become president and the runner-up would become vice president.
George Washington was elected unanimously, so the first real presidential election contest took place in 1796 between John Adams and former secretary of state Thomas Jefferson. The mostly northern Federalists aligned with Adams against Jefferson's anti-Federalists, centered in the south, who became known as Democratic-Republicans. When Jefferson lost, the Constitution mandated he become vice president, despite the fact that Adams had his own running mate, Thomas Pickney…………….