01 May
For a change from the same old news stories from the same old news networks, here are links to English-edition online newspapers from other parts of the world. Nearly all of these are English-edition daily newspapers, with an emphasis on the Middle East and Asia. These sites have interesting editorials and essays, and many have links to other good news sources. We try to limit this list to those sites which are regularly updated, reliable, with a high percentage of "up" time.
Some of the available newspapers:
| | | |
| --- | --- | --- |
| Asia & CIS | | |
| | | |
| --- | --- | --- |
| China | | |
| | | |
| --- | --- | --- |
| China & Hong Kong | | |
| | | |
| --- | --- | --- |
| France | | |
| | | |
| --- | --- | --- |
| Israel | | |
| | | |
| --- | --- | --- |
| Norway | | |
| | | |
| --- | --- | --- |
| Palestine | | |
| | | |
| --- | --- | --- |
| Russia | | |
| | | |
| --- | --- | --- |
| Ukraine | | |

Tens of thousands of South Koreans on Sunday joined May Day protests against labour reforms pushed by the government, and called for a higher minimum wage.
Labour activists say a bill being pushed by President Park Geun-hye and her conservative Saenuri Party will make it easier for companies to sack workers.
"Let's fight together against the evil bill!" activists and unionised workers chanted in unison during a protest in Seoul Plaza in front of City Hall.
About 30,000 unionised workers took part, according to the Federation of Korean Trade Unions.
Elections last month saw Park's party lose its parliamentary majority for the first time in 16 years, as voters registered their dissatisfaction with the president's economic record and soaring youth unemployment……


Berrigan and his younger brother, Philip Berrigan, emerged as leaders of the radical anti-war movement in the 1960s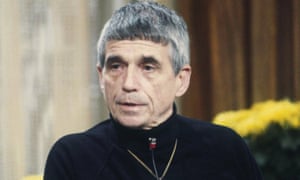 Roman Catholic priest and Vietnam war protester, Berrigan died at a Jesuit infirmary at Fordham University. Photograph: Dave Pickoff/AP
Associated Press
Daniel Berrigan, a Roman Catholic priest and peace activist who was imprisoned for burning draft files in a protest against the Vietnam war, has died aged 94.
Berrigan died at Murray-Weigel Hall, a Jesuit health care community in New York City after a "long illness," according to Michael Benigno, a Jesuits spokesman.
"He died peacefully," Benigno said.
Berrigan and his younger brother, Philip, emerged as leaders of the radical anti-war movement in the 1960s.
The Berrigan brothers entered a draft board in Catonsville, Maryland, in May 1968 with seven other activists and removed records of young men about to be shipped off to Vietnam. The group took the files outside and burned them in garbage cans.
The Catonsville Nine, as they came to be known, were convicted on federal charges accusing them of destroying US property and interfering with the Selective Service Act of 1967. All were sentenced to prison terms ranging from two to three and a half years.
When asked in 2009 by America, a national Catholic magazine, whether he had any regrets, Berrigan replied: "I could have done sooner the things I did, like Catonsville."
Berrigan, a writer and poet, wrote about the courtroom experience in 1970 in a one-act play, The Trial of the Catonsville Nine, which was later made into a movie……………

Even those familiar with the worst of the Syrian conflict are shaken by the scale of the latest assault, as bombs and guns seek out civilian targets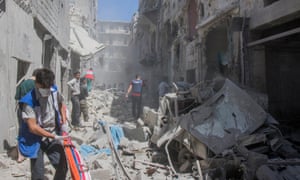 Emergency workers after an airstrike hit a civilian neighbourhood in eastern Aleppo, wounding three. Photograph: Khaled-Al-Essa
The president of Aleppo city council, Brita Haji Hasan, had a picture on his phone. It showed the corpse of Hasan Amory, 29, a father of two and council engineer who that morning had been killed by a Syrian air force missile as he headed into work in the opposition stronghold.
"We have had massacres on a daily basis for six or seven days," Haji Hasan told the Observer, during an interview in the Turkish city of Gaziantep, 30 miles from the Syrian border.
"They are destroying schools and civilian targets using barrel bombs, airstrikes and machine guns. Another colleague of mine was killed yesterday while I spoke to him on Skype."
As the most senior civic leader in Aleppo, Haji Hasan has been trying to make life livable in the most impossible and dangerous of circumstances. "It is a terrible situation," he said. "But we are trying to live."…………..

Source: Reuters
At least 400 people protesting outside a meeting held by far-right German political party Alternative für Deutschland are arrested by riot police. Demonstrators attempt to block the entrance to the event on Saturday, where up to 2,000 AfD members are expected to pass an anti-Islam manifesto. AfD made substantial gains in German regional elections last month, entering state parliaments for the first time in three regions

Internal documents appear to show British Museum, National Portrait Gallery and others accommodating oil firm's demands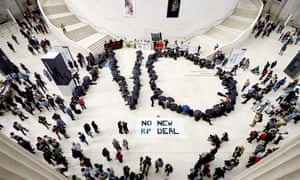 Protesters against BP sponsorship at the British Museum last year. Photograph: Niklas Halle'N/AFP/Getty Images
The Museums Association is investigating claims that some of Britain's most revered cultural institutions have broken its code of ethics in the way they dealt with one of their commercial sponsors, BP.
The move follows the release of internal documents seen by the Guardian that appear to show the British Museum, National Portrait Gallery and other institutions bending to accommodate the demands of the oil company.
The Art Not Oil alliance of campaign groups argues that BP influenced curatorial decision-making, shaped cultural institutions' security strategies and used museums to further its political interests in the UK and abroad.
Alistair Brown, policy officer at the Museums Association, said its code of ethics encouraged museums to act transparently and to only seek support from organisations whose values were consistent with their own.
Police at a protest against BP sponsorship outside the National Portrait Gallery. Photograph: Akira Suemori/AP
"The Museum Association's ethics committee will consider Art Not Oil's claims if they wish to seek further guidance on this matter and will contact all parties involved to seek their views," he added.
The documents obtained through the Freedom of Information Act by the Art Not Oil alliance show:
The British Museum apparently gave BP the last word on the inclusion of an artwork in an exhibition of aboriginal art at a time when the company was trying to progress the controversial offshore Great Australian Bight project.

BP worked with cultural institutions to manage legitimate protests and successfully urged the British Museum and National Portrait Gallery to send staff to a counter-terrorism training programme it had set up.

The oil company requested information about the involvement of trade unions at the different arts institutions amid worry that their members might be opponents of fossil fuel arts sponsorship.
One email shows Pim Baxter, director of communications at the National Portrait Gallery, fighting off an attempt by BP to put its logo on the front of an NPG book about commissioning. BP responds: "OK to go on this occasion but one to discuss in our catch ups."……..

Flying fish, nesting birds and a new species of lizard are among this week's pick of images from the natural world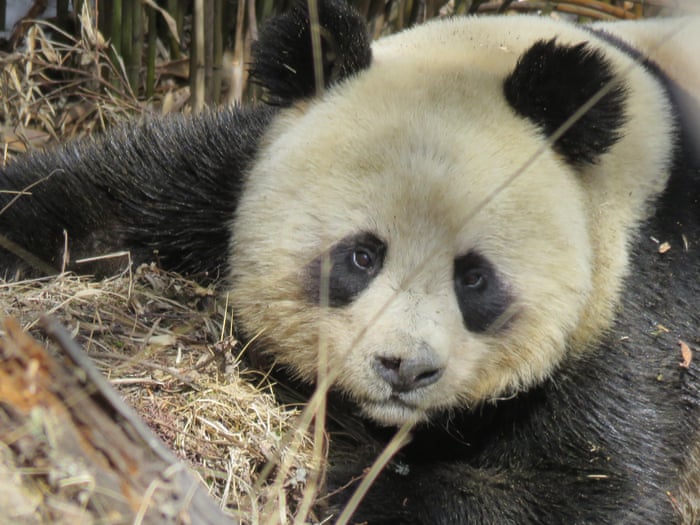 A female panda resting in a tree in the wild, Changqing national nature reserve in China.
Photograph: WWF
Opinion
The association has a nonprofit status based around funding journalism scholarships, but it pays far more to its executive director than in awards

The Guardian looks back at the president's best lines, bits and burns from the past seven dinners in Washington before his final schtick on Saturday night
From the dais at Saturday's White House Correspondents' Association annual dinner, there will likely be tough talk from White House reporters in support of the association's core mission: improving access and transparency for reporters covering the White House.
It's a laudable cause; the Obama administration has continued (and in many cases exacerbated) the ongoing trend of the White House making the Fourth Estate's job incredibly difficult.
But there will be a great irony to those impassioned speeches on Saturday: while the association and White House reporters routinely push White House officials to clean up their act, the association itself is a nonprofit in major need of reform.
When I recently directed a documentary about the White House Correspondents' Association's annual dinner and what it's evolved into – five days of over two dozen parties and a top spot on Washington's annual social calendar – I drove up to Glen Rock, New Jersey to meet with the nation's leading nonprofit watchdog, Charity Navigator. The group doesn't analyze charities with an annual revenue of less than $1m (the WHCA currently hovers around $500,000) but they were good enough to review its tax filings for my film.
What they found disturbed them.
Ken Berger, then Charity Navigator's CEO, said that the association wasn't adhering to some of the basic practices standard amongst upstanding nonprofits: it lacked an independent audit committee, as well as whistleblower, conflict of interest and CEO compensation policies. That meant there were no checks in place to stop the WHCA from paying its executive director more than it pays out in the scholarships that allow it nonprofit status.
Further, the association seems to do little to bolster its scholarships, which are awarded to aspiring journalists in high school and college. I once asked its executive director, Julie Whiston, if she'd ever asked the various organizations throwing lavish parties around her dinner for contributions to the scholarship program; she noted that she never had. And I've heard several accounts from individuals who sought to donate to the scholarship program but were either rebuffed or never had their emails returned. There is no mention of how to donate on the WHCA website and gala dinner attendees are not even told that contributing to the scholarship program is something that is both welcome and possible………….