05 May
For a change from the same old news stories from the same old news networks, here are links to English-edition online newspapers from other parts of the world. Nearly all of these are English-edition daily newspapers, with an emphasis on the Middle East and Asia. These sites have interesting editorials and essays, and many have links to other good news sources. We try to limit this list to those sites which are regularly updated, reliable, with a high percentage of "up" time.
Some of the available newspapers:
| | | |
| --- | --- | --- |
| Asia & CIS | | |
| | | |
| --- | --- | --- |
| China | | |
| | | |
| --- | --- | --- |
| China & Hong Kong | | |
| | | |
| --- | --- | --- |
| France | | |
| | | |
| --- | --- | --- |
| Israel | | |
| | | |
| --- | --- | --- |
| Norway | | |
| | | |
| --- | --- | --- |
| Palestine | | |
| | | |
| --- | --- | --- |
| Russia | | |
| | | |
| --- | --- | --- |
| Ukraine | | |


IDF deputy chief says he did not intend to compare Israel to Nazi Germany in Holocaust memorial day speech citing 'nauseating trends'
Maj Gen Yair Golan's original remarks were praised by Israel's opposition leader Isaac Herzog: 'This is what morality and responsibility sound like'. Photograph: Fema Photo Library
In a hard-hitting Holocaust memorial day speech on Wednesday evening, the Israel Defence Forces (IDF) deputy chief of staff, Maj Gen Yair Golan, made remarks that he felt compelled to clarify overnight on Thursday, insisting he had not "intended to compare Israel to Nazi Germany".
Both the timing – on the day that marks the murder of 6 million Jews by the Nazis – and the perceived comparison, touch on the most sensitive of issues in Israel.
Golan told an audience including a government minister and survivors of the Holocaust: "The Holocaust must lead us to think about our public lives, and even more than that, it must guide anyone who has the ability, not only those who wish to bear public responsibility.
"Because if there is anything that frightens me in the remembrance of the Holocaust, it is discerning nauseating trends that took place in Europe in general, and in Germany specifically back then, 70, 80 and 90 years ago, and seeing evidence of them here among us in the year 2016.
"After all, there is nothing simpler and easier than hating the foreigner, there is nothing easier and simpler than arousing fears and intimidating, there is nothing easier and simpler than becoming bestial, forgoing principles and becoming smug."………..

Seven women allege they were told to leave Urth Caffe in Laguna Beach for wearing headscarves but business claims they violated limited seating policy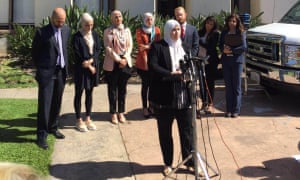 Soondus Ahmed and other plantiffs and attorneys representing the women hold a press conference in Laguna Beach. Photograph: Hadsell Stormer & Renick LLP
Seven Muslim women who were kicked out of a southern California restaurant are suing the business for discrimination, alleging that they were singled out for wearing headscarves in an area that advocates say has seen an increase in hate crimes.
The women, six of whom were wearing hijabs, say they were ordered to leave Urth Caffe in Laguna Beach on 22 April, ostensibly because they were violating a policy limiting seating to 45 minutes – even though video they took as they were exiting shows that there were open tables throughout the restaurant.
Muslim women were kicked out of a Orange county Laguna Beach cafe
The business, which is located near the beach in Orange County, was half empty at the time, and other non-Muslim women seated far longer than the Muslim women were not asked to leave, according to the lawsuit filed this week.
After the women protested, management at the restaurant, which boasts "organic coffees and fine teas", allegedly called its security guard and eventually local police to force the women to leave.
"I cried the whole way home," Sara Farsakh, 29, said in an interview. "I was just so shocked and hurt by what happened."
Farsakh posted a Facebook video showing many empty tables, along with footage of the police who showed up to escort them out……………..

Kawkeb Hassan has started sucking her thumb again. It's a comfort thing. The nine-year-old wakes in the night crying and misses school a lot. Her brother Rassim, who helped her escape the perils of Damascus for the uncertainties of a future in Vogtei, central Germany, is worried.
"She watches cartoons, but if there's a scene where children are having meals with their parents she bursts into tears and switches off the TV," he says. She eats little. "She keeps asking me to take her back to her parents in Lebanon."
Things are little better for 11-year-old Ali AlShafa'i, who is trying to settle in Gothenburg after an epic 2,000-mile journey across Europe from Syria. His uncle and chaperone bought him a bird – a curlew, to be precise. But when they were out one day, the neighbour's cat ate it. Ali was inconsolable.
"I was so upset I can hardly restrain myself whenever I see the cat," he says, "but I couldn't touch it because I like cats too."
More than 370,000 child refugees arrived in Europe last year, almost 90,000 of them unaccompanied, the vast majority from Afghanistan, Syria, Eritrea and Iraq. But after treacherous sea journeys, monumental hikes and the dangers of the road, the hardest bit may yet be ahead: settling in.
Insomnia, homesickness, separation anxiety and culture shock unsettle all but the most robust souls, according to interviews conducted with child refugees by the Guardian in recent weeks. And though they may have left the bombs and militias behind, there are new threats.
Many are intimidated by local hostilities, while others wrestle with cultural challenges: new school subjects, strange cuisine and even stranger linguistic quirks. The wait for asylum is oppressive, the shortage of clothing humiliating. A large number complain of insomnia, but psychiatric help – and even physical healthcare – are hard to find for those yet to be approved for asylum……….
Former head of Turing Pharmaceuticals, known for hiking price of Daraprim, could see charges related to another drug company he ran, attorneys say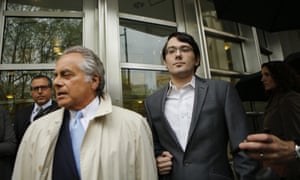 Martin Shkreli exits federal court with his attorney Benjamin Brafman on Tuesday. Photograph: Eduardo Munoz Alvarez/Getty Images
Martin Shkreli, the reviled former drug company entrepreneur, may face yet more charges in a securities fraud investigation, his defense attorneys revealed at a hearing on Tuesday in New York City.
Shkreli became infamous when his former drug company Turing purchased the patent for Daraprim, a drug that can make the difference between life and death for some patients with HIV, and boosted the price to $750 a pill.
In December, he was ousted from his own company after being arrested on charges of securities fraud and insider trading. The charges – which he denies – are unrelated to the Daraprim controversy. The new charges may relate to another drug company the 33-year-old ran.
On Tuesday, Shkreli attended a hearing before US district judge Kiyo Matsumoto where his attorneys asked that he be given further time in case additional charges were filed, according to Bloomberg News. The government may prosecute Shkreli for defrauding shareholders over the distribution of shares in another pharmaceutical company Shkreli ran, Retrophin.
Shkreli's social media presence has been defiant throughout his public disgrace, and on Tuesday, his Twitter feed was no exception: "How much spaghetti can you throw at a wall in an attempt to see what sticks? Asking for a friend…"…………
Opinion
Convinced that the country's ongoing demographic shifts will bring victory for years to come, the party establishment acts like its candidates need do nothing differently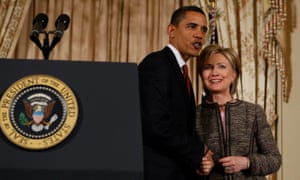 'What the Democrats have in mind for 2016 is what we might call a campaign of militant complacency. They are dissociated from the mood of the nation, and they do not care.' Photograph: Charles Dharapak/ASSOCIATED PRESS
The year of our discontent rolls on, and now it is Indiana that hands victory to the insurgent senator Bernie Sanders and the protectionist demagogue Donald Trump.
Seven years have passed now since the last recession officially ended, and yet the country's fury has scarcely cooled. To this day we remain angry at Wall Street; we rage against career politicians; and we are incandescent that the economic system seems to have been permanently "rigged" against working people. Median household income has still not recovered the levels of 2007. Wages are going nowhere. Elite bankers are probably never going to be held accountable for what they did. America is burning.
Listening to the leading figures of the Democratic party establishment, however, you'd never know it. Cool contentment is the governing emotion in these circles. What they have in mind for 2016 is what we might call a campaign of militant complacency. They are dissociated from the mood of the nation, and they do not care.
I mean this in ways both great and small. The party's leadership is largely drawn from a satisfied cohort that has done quite well in the aftermath of the Great Recession. They've got a good thing going. Convinced that the country's ongoing demographic shifts will bring Democratic victory for years to come, they seem to believe the party's candidates need do nothing differently to harvest future electoral bumper crops. The seeds are already planted. All that is required is patience.
Hillary Clinton is more or less openly offering herself as the complacency candidate. The least inspiring frontrunner in many years, she is a dynastic heir who stands to receive the Democratic nomination largely because it's her turn – the logic that made Bob Dole the GOP leader in 1996. Clinton has scolded her rival for wanting to break up Wall Street banks since such a policy, by itself, would not also end racism and sexism. (In point of fact, the black middle class was disproportionately damaged by the detonation of the housing bubble.) Clinton's unofficial slogan, "America never stopped being great" — supposedly a searing riposte to Trump's "make America great again" – sounds like the kind of thing you'd see inscribed in a country club logo. In her words, we can hear the call of contentment, a would-be catchphrase for a generation of satisfied people.
Barack Obama offered his own variation on the complacency theme during a meeting in March, in which he announced: "America's pretty darn great right now." Unemployment was down from the awful heights of a few years prior, the president reported, and businesses were hiring. Any residual economic complaints, he suggested, arose from "an alternative reality . . . that America's down in the dumps"…………………
This, in turn, frees the Democratic leadership to do whatever they want, to cast themselves in any role they choose. They do not need to move to "the center" this time. They do not need to come up with some ingenious way to get Wall Street off the hook. They do not need to beat up on working people's organizations.
That they seem to want to do all these things anyway tells us everything we need to know about who they really are: a party of the high-achieving professional class that is always looking for a way to dismiss the economic concerns of ordinary people…………….