06 May
For a change from the same old news stories from the same old news networks, here are links to English-edition online newspapers from other parts of the world. Nearly all of these are English-edition daily newspapers, with an emphasis on the Middle East and Asia. These sites have interesting editorials and essays, and many have links to other good news sources. We try to limit this list to those sites which are regularly updated, reliable, with a high percentage of "up" time.
Some of the available newspapers:
| | | |
| --- | --- | --- |
| Asia & CIS | | |
| | | |
| --- | --- | --- |
| China | | |
| | | |
| --- | --- | --- |
| China & Hong Kong | | |
| | | |
| --- | --- | --- |
| France | | |
| | | |
| --- | --- | --- |
| Israel | | |
| | | |
| --- | --- | --- |
| Norway | | |
| | | |
| --- | --- | --- |
| Palestine | | |
| | | |
| --- | --- | --- |
| Russia | | |
| | | |
| --- | --- | --- |
| Ukraine | | |


Barack Obama is taking executive action to close loopholes used by foreigners in US, White House announces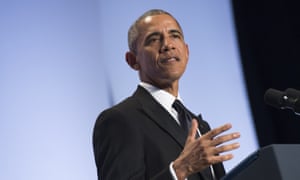 Barack Obama: 'There is no doubt that the problem of global tax avoidance generally is a huge problem.' Photograph: UPI / Barcroft Images
Barack Obama is launching a crackdown on international tax evasion in response to recent disclosures in the Panama Papers revealing the scale of offshore financial activity.
In a series of initiatives announced by the White House on Thursday night, the president will take executive action to close loopholes used by foreigners in the US and call on Congress to pass legislation
Though the later steps may hit political obstacles in an election year, the package of measures are among the most comprehensive response yet to the Panama Papers revelations, disclosed by a consortium of international journalists including The Guardian.
"In recent weeks, the disclosure of the so-called 'Panama Papers' – millions of leaked documents reportedly revealing the use of anonymous offshore shell companies – has brought the issues of illicit financial activity and tax evasion into the spotlight," said the White House in a statement.
"The Panama Papers underscore the importance of the efforts the United States has taken domestically, and the efforts we have undertaken with our international partners, to address these shared challenges."
Earlier Obama, who is also under pressure to limit the flow of corporate money out of the US, was one of the first world leaders to respond to the record-breaking leak last month……………

US president urged Congress to take action to stop US companies from taking advantage of tax loopholes that allow them to avoid paying sufficient taxes. Obama told reporters at the White House that many of the loopholes come at the expense of middle-class families

Vast numbers of young Syrians in Turkey and beyond are having to work instead of going to school
13-year-old Hamza is a Syrian refugee in southern Turkey. He and his brothers have no school to go to and no father. So they work 12-hour days, six days a week, to support their family, or risk becoming desperate enough to return home to join the civil war
H

amza sits at a sewing machine in a gloomy warehouse in southern Turkey, where he works 12 hours a day, six days a week. The Syrian can perform most of the roles on the assembly line: he knows how to mould leather into the shape of a shoe, or attach its sole with glue. Today Hamza threads its different parts together with the machine, and his boss looks on approvingly.
"He can make 400 shoes a day," says the factory manager. "He's a real man."
Only he's not. Aged just 13, Hamza is in fact a child. And so are more than a third of the workers in this sweatshop.
This is no anomaly. According to Unicef, more than half of Turkey's 2.7 million registered Syrian refugees are children – and nearly 80% of them are not in school. Across the wider region, Unicef estimates that half of school-age Syrians – 2.8 million children – have no means of accessing education.
A small boy makes shoes in the factory. Photograph: Ahmed Deeb
Campaigners believe that many of the rest are in work, for salaries far below the minimum wage. In the southern city where Hamza lives, extensive surveys by local aid groups suggest that the city's Syrian schools have capacity for just 21,000 school-age Syrians, well under a third of the local total…………….

Unions call for day of action after 300 officers injured and others accused of misconduct in clashes with demonstrators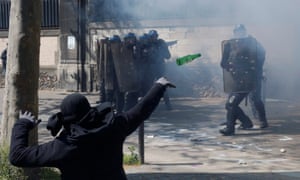 A protester throws a bottle towards police during clashes in Paris. Photograph: Philippe Wojazer/Reuters
French police are to take to the streets in a national protest against "anti-cop hatred" this month, after clashes with demonstrators at rallies against labour reforms sparked accusations of police violence and several investigations into alleged misconduct.
The Alliance police union, backed by several other groups representing officers, called for demonstrations on 18 May, saying it was "outraged by the irresponsible and relentless drive to make out that police officers are savage brutes who blindly beat youths".
Since protests began two months ago against François Hollande's contested labour reforms, tension between police and demonstrators has been growing. The Nuit Debout (Up All Night) protest movement has occupied city squares across France, and there have been clashes at heavily policed rallies.
More than 1,000 people have been arrested and more than 300 police and gendarmes have been injured during the demonstrations, according to the French authorities. On one protest day last week, police fired teargas and masked youths threw bottles and cobblestones, leaving 24 police injured, three of them seriously, according to the interior minister, Bernard Cazeneuve.
The government has blamed an "irresponsible minority" of troublemakers on the fringes of the demonstrations for attacking police. But demonstrators and unions have accused the police of poor tactics and using disproportionate force and violence. Videos and photographs have been circulated of alleged police brutality. "Film a cop, save lives" read graffiti in Paris during May Day demonstrations last weekend……………

Bare-chested women are using iconography from the past while campaigning against misogyny in exciting new ways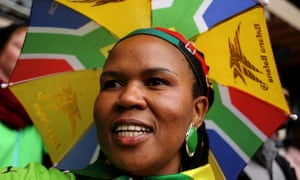 'In choosing to be naked, these young women are harking back to historical protests across the African continent' Photograph: Siphiwe Sibeko/REUTERS
O

n a cold and wet morning, a large group of protesters – many of them bare- breasted – gathered to protest on the Rhodes university campus in Grahamstown, South Africa.
Clad in jeans and head-wraps, some had written "Enough!" across their chests. They marched defiantly, having just published a controversial list naming alleged campus rapists in order to highlight their concerns that the university was too slow in addressing the complaints of survivors.
A few days later, a solidarity protest took place at the University of the Witswatersrand in Johannesburg. Many wore purple – the colour that has become the global symbol of women's resistance to sexism.
Their nakedness grabbed national headlines and forced the country to pay attention. It became clear that this was the beginning of a new wave of activism seeking to confront homophobia, misogyny and racism in ways that mimic the iconography of the past while operating in ways that are exciting and new…………..

The latest wave brings to 306 the total number of inmates whose sentences Obama has shortened, the vast majority for drug crimes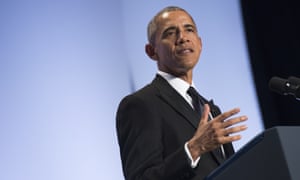 The pace of commutations is expected to increase as the end of Barack Obama's presidency nears. Photograph: Rex/Shutterstock
The Obama administration on Thursday commuted the prison sentences of 58 federal convicts, part of a broader push to revamp the criminal justice system and ease punishments for non-violent drug offenders.
The people whose prison terms were cut short include 18 who were given life sentences. Most who received clemency are now due for release on 2 September, though others will be released over the next two years.
The latest wave – which includes defendants convicted of dealing cocaine, crack and methamphetamine – brings to 306 the total number of inmates whose sentences Obama has commuted, the vast majority for drug crimes. The pace of commutations – along with pardons, which are less common – is expected to increase as the end of Obama's presidency nears…………….

Sophie Cruz captured headlines in September when she delivered a letter to the pontiff, calling on him to help prevent her parents from being deported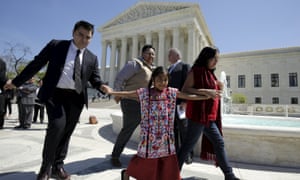 Sophie Cruz, walks with her father, Raul Cruz, in Washington last month. Photograph: Joshua Roberts/Reuters
The spirit of Pope Francis's politically charged US visit returned to Washington on Thursday, as the White House invited back the little girl who became a symbol of Vatican intervention in the immigration debate.
Sophie Cruz captured headlines around the world in September, when the California-born six-year-old ran from behind barriers on the National Mall to deliver a letter to the pontiff, calling on him to help prevent her parents from being deported.
"I want to tell you that my heart is sad," Sophie told him, reciting to the Guardian from memory the letter she had memorized in Spanish and English, just before she met the pope.
"I would like to ask you to speak with the president and the Congress in legalizing my parents because every day I am scared that one day they will take them away from me."
Back then, she travelled with her father Raúl and other immigration activists lobbying to save Dapa (Deferred Action for Parents of Americans) – a program to defer deportation for the undocumented parents of US citizens that has been held up in court.
But just as her parents were left behind the crowd barrier in September, when a security guard hoisted her up to hug the pope, Cruz was expected to attend the White House Cinco de Mayo celebrations on Thursday without them.
Raúl and Zoyla Cruz were unable to pass background checks needed to enter the White House, according to the Washington Post, because they do not have social security numbers…………..

Opinion
Right now, his name is unspeakable to most in the party, who just call him the 'nominee'. That kind of tiptoeing around him can't last for much longer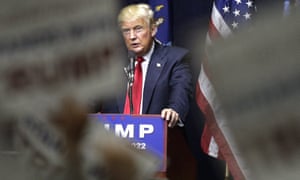 'This is an epic moment in American politics.' Photograph: Julie Jacobson/AP
He is the party leader who must not be named. A figure so ruinous, yet so powerful, that merely uttering his moniker could spell electoral doom for any Republican running for election this year.
And yet, how can you avoid Donald Trump, the most influential person in your own party: the candidate at the top of the ticket, whose popularity – or unpopularity – will seal your own fate?
For that matter, how can anyone with a pulse and a phone avoid Donald Trump?
Pity the poor Republican politicians who must now decide whether to hang separately, or hang together with the dark lord who believes he could shoot a supporter on Fifth Avenue and still line up more fans behind the corpse.
In any case, Donald Trump cannot be named. In statement after statement, Republicans have adopted the fetal position while muttering something about a nameless nominee.
Take Kelly Ayotte in New Hampshire. A spokeswoman for the senator explained that she "plans to support the nominee". But she delicately added later that the senator "isn't planning to endorse anyone in this cycle".
Huh? Is it possible to support a nominee without endorsing him? Ayotte's position makes about as much sense as a foreign policy speech by the nominee himself. We can at least credit Donald Trump with unleashing a new wave of creativity in the dark arts of political pretzel-making.
In case you hadn't guessed already, Ayotte (elected in the Tea Party wave of 2010) is running dead even in the polls with her Democratic challenger, Governor Maggie Hassan. At least, she was before Trump became the party leader she supports but refuses to name or endorse.
Is it possible to escape the shadow of a nominee who wishes he could date his own daughter? At the same time, is it credible to pretend you don't belong to the same party?
This is the exquisite torture Republican voters have now inflicted on their own elected officials. After years of supposed betrayal – either economic or through purported compromises with the enemy known as Obama – the Republican party's voters have turned on their own. The result is surely going to destroy the reputations of an entire swath of Republican officials………