10 May
For a change from the same old news stories from the same old news networks, here are links to English-edition online newspapers from other parts of the world. Nearly all of these are English-edition daily newspapers. These sites have interesting editorials and essays, and many have links to other good news sources. We try to limit this list to those sites which are regularly updated, reliable, with a high percentage of "up" time.
Some of the available newspapers:
| | | |
| --- | --- | --- |
| Asia & CIS | | |
| | | |
| --- | --- | --- |
| China | | |
| | | |
| --- | --- | --- |
| China & Hong Kong | | |
| | | |
| --- | --- | --- |
| France | | |
| | | |
| --- | --- | --- |
| Israel | | |
| | | |
| --- | --- | --- |
| Norway | | |
| | | |
| --- | --- | --- |
| Palestine | | |
| | | |
| --- | --- | --- |
| Russia | | |
| | | |
| --- | --- | --- |
| Ukraine | | |


Six more islands have large swaths of land, and villages, washed into sea as coastline of Solomon Islands eroded and overwhelmed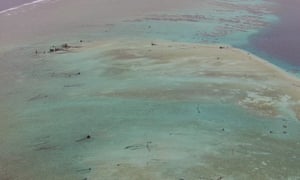 The remains of one of six partially eroded islands in the Solomons. Photograph: HANDOUT/Reuters
Reuters
Five tiny Pacific islands have disappeared due to rising seas and erosion, a discovery thought to be the first scientific confirmation of the impact of climate change on coastlines in the Pacific, according to Australian researchers.
The submerged islands were part of the Solomon Islands, an archipelago that over the last two decades has seen annual sea levels rise as much as 10mm (0.4in), according to research published in the May issue of the online journal Environmental Research Letters.
The missing islands, ranging in size from 1 (2.5 acres) to 5 hectares (12.4 acres) were not inhabited by humans.
But six other islands had large swathes of land washed into the sea and on two of those, entire villages were destroyed and people forced to relocate, the researchers found.
One was Nuatambu Island, home to 25 families, which has lost 11 houses and half its inhabitable area since 2011, the research said…………

Attorney general Loretta Lynch announces lawsuit against 'state-sponsored discrimination' of House Bill 2 as governor accuses Barack Obama of overreach
Digging in on Monday in his fight with the federal government, North Carolina governor Pat McCrory sued the US justice department to preserve the state's new law restricting the use of public bathrooms by transgender people. Chris Sgro, executive director of Equality NC, says McCrory is stalling
North Carolina and the federal government mustered for a legal showdown on Monday, in the battle over bathrooms and civil rights for LGBT people in the state.
The state filed a lawsuit in the morning, claiming federal intervention was a "baseless and blatant overreach" of its power, and disputed the federal interpretation of civil rights laws.
The suit came hours before a US justice department deadline for North Carolina's Republican governor, Pat McCrory, to scrap the law, which bans transgender people from using bathrooms that do not match the gender on their birth certificates.
Monday afternoon as the deadline passed, the US attorney general, Loretta Lynch, announced the justice department had filed suit against North Carolina over the law. Lynch said the law amounts to "state-sponsored discrimination" and has caused transgender people to suffer "emotional harm, mental anguish, distress, humiliation and indignity".
The US attorney general, Loretta Lynch, says North Carolina's law requiring transgender people to use public restrooms that only correspond to the gender on their birth certificate is 'state-sponsored discrimination'. The Justice Department seeks a court order to declare the law discriminatory and unenforceable
Vanita Gupta, head of the justice department's civil rights division, said "calling the law a 'bathroom bill' trivializes what this is really about".
"HB 2 translates into discrimination in the real world. The complaint we filed today speaks to public employees who feel afraid and stigmatized on the job. It speaks to students who feel like their campus treats them differently because of who they are. It speaks to sports fans who feel forced to choose between their gender identity and their identity as a Tar Heel. And it speaks to all of us who have ever been made to feel inferior – like somehow we just don't belong in our community, like somehow we just don't fit in."………….

The escalating fight over LGBT rights has turned the historically sophisticated, inclusive southern state into a battleground of intolerance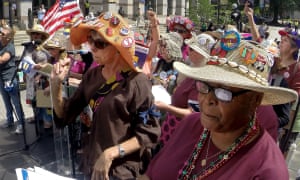 Protesters rally against House Bill 2 in Raleigh. Since its days as a mere colony, North Carolina has never had a law dictating which bathrooms are for whom. Photograph: Chuck Liddy/AP
In the family of southern states, North Carolina has long been the cousin who made it.
It enjoyed excellent universities, world-class industries, smooth roads and political stability. A whole class of people arose called "halfbacks": people who retired from the north-east states to Florida, only to realize North Carolina was better and moved halfway back.
Now, with the state squaring off against the federal government about who can use which bathrooms, the state finds itself at the pointy end of jokes, and lumped in with more strident southern states like Mississippi and – most bitterly – South Carolina.
It's unfamiliar for North Carolinians. It's uncomfortable. And many are asking: how did we get here? How did the high-achieving, well-educated cousin end up with a black eye and busted knuckles, reeling over a public toilet?……………

Greece faces its toughest austerity measures yet, with €5.4bn of budget cuts backed by the leftist government of Alexis Tsipras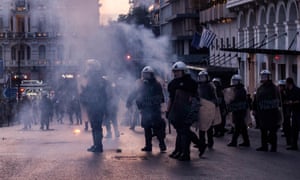 Police used teargas during Sunday's anti-austerity demonstration in Athens. Photograph: Pacific Pres/Rex/Shutterstock
I

n his tiny shop in downtown Athens, Kostis Nakos sits behind a wooden counter hunched over his German calculator. The 71-year-old might have retired had he been able to make ends meets but that is now simply impossible. "All day I've been sitting here doing the maths," he sighs, surrounded by the undergarments and socks he has sold for the past four decades.
"My income tax has just gone up to 29%, my social security payments have gone up 20%, my pension has been cut by 50 euros; they are taxing coffee, fuel, the internet, tavernas, ferries, everything they can, and then there's Enfia [the country's much-loathed property levy]. Now that makes me mad. They said they would take that away!"
A mild man in milder times, Nakos finds himself becoming increasingly angry. So, too, do the vast majority of Greeks who walked through his door on Monday. "Everyone's outraged, they've been swearing, insulting the government, calling [prime minister] Alexis Tsipras a liar," he exclaims after parliament's decision on Sunday night to pass yet more austerity measures. "And they're right. Everything he said, everything he promised, was a fairy tale."…………

Like Trump, the Patriot Movement's surge is due partly to fear and the perceived indifference of political leaders to places that didn't recover from the 2008 crash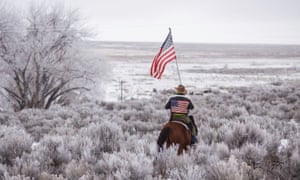 Duane Ehmer rides his horse Hellboy at the Malheur national refuge on the sixth day of the occupation. Photograph: Rob Kerr/AFP/Getty Image
J

oseph Rice's manner is a long way from militia stereotypes. The Patriot Movement leader does not present as a crazed gun nut, nor as a blowhard white supremacist. He's genial, folksy, and matter-of-fact in laying out his views. But talk to him for long enough, and time and again the Patriot Movement leader returns to what really drives him: land.
Rice is running for Josephine county commissioner in south-west Oregon, and believes that the federal government's current role in land management is illegitimate and even tyrannical.
His campaign is well-advertised around the county and appears well-organised. His growing experience in organising Patriot groups and community watch organisations has polished his skills in retail politics. He's clearly done a lot of work to make himself politically palatable to conservative rural voters.
He has positions on education (kids should finish high school), legalised marijuana (it presents an economic opportunity) and Donald Trump ("people are tired of career politicians, and they know the country's in trouble").
But county supremacy is what really drives him…………..
Opinion
The US is helping Yemen fight a conflict that its ongoing support of Saudi Arabia helped cause. Yet there's little public disclosure or debate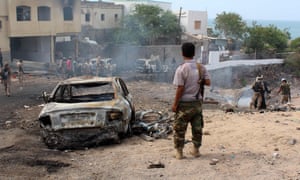 The Saudi offensive in Yemen has created a power vacuum that al-Qaida was only too happy to fill. Photograph: Saleh Al-Obeidi/AFP/Getty Images
T

he Pentagon quietly announced on Friday that US military troops are on the ground in yet another Middle Eastern country – this time in Yemen – and have been there for the last two weeks. That's how US wars get started these days: no public debate, no congressional authorization, no presidential address; just an after-the-fact pre-weekend news dump.
This time, instead of Isis, the US military "advisers" (don't call them "boots on the ground"!) are supposedly assisting Yemeni forces fighting a resurgent al-Qaida organization, the same terrorist group that the US has helped strengthen over the past year by giving Saudi Arabia all sorts of support for their appalling and destructive war against Yemen.
The US has sold the Saudis billions of dollars worth of weapons, handed them surveillance data from drones for picking targets and given military assistance with other logistics in their fight with Iran-linked Houthi rebels who stormed the presidential palace last year. As the Intercept reported on Sunday, the Saudis have "used US-produced aircraft, laser-guided bombs, and internationally banned cluster bombs to target and destroy schools, markets, power plants, and a hospital, resulting in thousands of civilian deaths."
While the Saudi's bombing campaign hasn't defeated the Houthi rebels or solidified the Yemeni government's grip on power, it has been a boon to al-Qaida, which has quietly grown in stature and size inside the country as the US media has stayed mostly focused on Isis.
Reuters published an important investigation last month in which its journalists detailed how the US-backed war "has helped al-Qaida in the Arabian Peninsula (AQAP) to become stronger than at any time since it first emerged almost 20 years ago." But the investigation wasn't picked up at all by US television media. As Reuters reported:
Once driven to near irrelevance by the rise of Islamic State abroad and security crackdowns at home, al-Qaida in Yemen now openly rules a mini-state with a war chest swollen by an estimated $100m in looted bank deposits and revenue from running the country's third largest port.
This should have been entirely predictable: since the bloodshed in Yemen started, it has been obvious to experts in the region that the Saudi bombing campaign would only turn the Yemeni population against the United States, create sympathy for al-Qaida and a breeding ground for terrorists. So now the US apparently has to – or at least is choosing to – help fight a separate military campaign within the country's civil war, in an attempt to tamp down the terrorist organization that the initial Saudi bombing campaign helped bolster………..