11 May
For a change from the same old news stories from the same old news networks, here are links to English-edition online newspapers from other parts of the world. Nearly all of these are English-edition daily newspapers. These sites have interesting editorials and essays, and many have links to other good news sources. We try to limit this list to those sites which are regularly updated, reliable, with a high percentage of "up" time.
Some of the available newspapers:
| | | |
| --- | --- | --- |
| Asia & CIS | | |
| | | |
| --- | --- | --- |
| China | | |
| | | |
| --- | --- | --- |
| China & Hong Kong | | |
| | | |
| --- | --- | --- |
| France | | |
| | | |
| --- | --- | --- |
| Israel | | |
| | | |
| --- | --- | --- |
| Norway | | |
| | | |
| --- | --- | --- |
| Palestine | | |
| | | |
| --- | --- | --- |
| Russia | | |
| | | |
| --- | --- | --- |
| Ukraine | | |


Jacob Kornbluh, Jewish Insider
After Trump campaign denies earlier report on planned Israel trip, presumptive GOP nominee confirms plan to visit Jerusalem after sealing nomination.
read more: http://www.haaretz.com/world-news/u-s-election-2016/1.719106
Republican U.S. presidential candidate Donald Trump speaks during a rally in Eugene, Oregon, U.S., May 6, 2016.Ted S. Warren, AP
This article was originally published on Jewish Insider.
U.S. presidential hopeful Donald Trump confirmed on Tuesday a report that he's planning to travel to Israel in the coming months after formally accepting the Republican U.S. presidential nomination at the party's national convention in July.
The Trump campaign on Monday denied a Friday report by Israel's Ma'ariv daily that the presumptive nominee is planning to visit Israel, Russia and Germany after the convention. The report cited a close adviser to Trump, who said that the expected trip is a central part of a large effort by Trump to improve his image and cultivate his understanding of foreign affairs.
"Not true," Trump's spokeswoman Hope Hicks told several news outlets after the report appeared in English in Jewish Insider's Daily Kickoff on Monday.
But in an interview with Israel Hayom, in honor of Israel's 68th Independence Day, Trump confirmed the report.
"I heard you are going to visit us soon, before the election," the paper's Boaz Bismuth asked to confirm. "Yes. I will be coming (to Israel) soon," Trump responded. …………


Future in which global concentration of C02 is permanently above 400 parts per million looms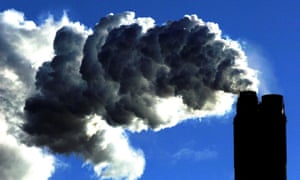 'We're going into very new territory': James Butler, of the US National Oceanographic and Atmospheric Administration, says the amount of carbon dioxide is locking in future warming. Photograph: John Giles/PA
The world is hurtling towards an era when global concentrations of carbon dioxide never again dip below the 400 parts per million (ppm) milestone, as two important measuring stations sit on the point of no return.
The news comes as one important atmospheric measuring station at Cape Grim in Australia is poised on the verge of 400ppm for the first time. Sitting in a region with stable CO2 concentrations, once that happens, it will never get a reading below 400ppm.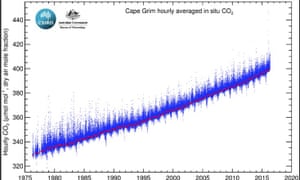 An atmospheric measuring station at Cape Grim in Australia is poised on the verge of 400ppm for the first time. Photograph: CSIRO
Meanwhile another station in the northern hemisphere may have gone above the 400ppm line for the last time, never to dip below it again.
"We're going into very new territory," James Butler, director of the global monitoring division at the US National Oceanographic and Atmospheric Administration, told the Guardian.
When enough CO2 is pumped into the atmosphere from burning fossil fuels, seasonal the cycles that drive the concentrations up and down throughout the year will eventually stop dipping the concentration below the 400ppm mark. The 400ppm figure is just symbolic, but it's psychologically powerful, says Butler……………..

Obama 'will not revisit the decision to use the atomic bomb' at the end of the second world war as he makes first visit to city by a sitting US president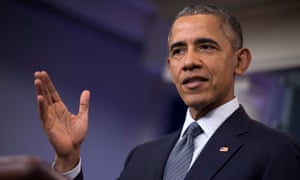 Survivors of the attack have encouraged Barack Obama to see for himself the scale of destruction at the peace museum. Photograph: Shawn Thew/EPA
Barack Obama's historic visit to Hiroshima should not be interpreted as an apology, his spokesman said on Tuesday in the wake of the announcement that Obama would become the first sitting president to visit the site where the US dropped an atomic bomb in 1945, killing an estimated 140,000 people in the final days of the second world war.
Asked if the trip might be seen as an apology, the White House press secretary, Josh Earnest, replied: "If people do interpret it that way, they'll be interpreting it wrongly."
Earnest declined to comment on the morality of America's decision to drop the atomic bomb, for which there have been calls for the country to apologise. He said: "The president intends to visit to send a much more forward-looking signal for his ambition of realising the goal of a planet without nuclear weapons."
Confirming Obama's visit in a statement earlier on Tuesday, the White House said it would "highlight [Obama's] continued commitment to pursuing peace and security in a world without nuclear weapons".
Earnest acknowledged that the US bore a "special responsibility" for the bombing of Hiroshima but was also quick to pay tribute to the "greatest generation" who fought in the second world war.
"There are a lot of people with a lot of opinions about this trip," he told reporters on Tuesday. "The president will have an opportunity to visit the peace park and offer up his own reflections about his visit to that city."………….

Plan to close the world's largest camp is illogical and illegal – but scores much-needed political points, argues the Daily Maverick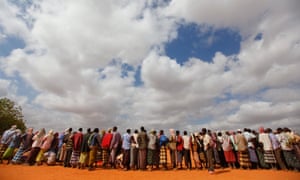 Newly arrived refugees at Dadaab, currently the biggest refugee complex in the world. Photograph: Dai Kurokawa/EPA
Simon Allison for the Daily Maverick, part of the Guardian Africa network
The Kenyan government has announced that it will attempt to close all of the country's refugee camps, a move that could displace an estimated 600,000 vulnerable people.
However, it's no coincidence that just a week before the statement the Kenyan president Uhuru Kenyatta officially began campaigning ahead of elections scheduled for next year.
The two events are closely related. Like leaders all the world over – just look at Donald Trump's fixation on Mexican immigrants, or how Europe's far right is capitalising on the migrant crisis – Kenyatta and his advisers know that scapegoating refugees is an easy way to score political points with voters.
It helps too that the refugee problem is inextricably linked with another of Kenyatta's favourite campaign themes: the ongoing war in Somalia, which has brought with it the threat of terrorist attacks on Kenyan soil.
"Under the circumstances, the government of the Republic of Kenya, having taken into consideration its national security interests, has decided that hosting of refugees has come to an end," the government said last week, making this link explicit.
It's clear that by threatening to shut down the refugee camps, Kenyatta wins twice: he can portray himself as tough on terror and tough on refugees. But threats are one thing. The reality of closing down these huge and well-established camps – now de facto cities – is something else entirely……………

The Queen has been caught on camera describing the 'extraordinary' behaviour of Chinese officials during President Xi Jinping's state visit to Britain last year. At a garden party at Buckingham Palace on Tuesday, she commiserated with Commander Lucy D'Orsio, who was in charge of security for the visit and told the Queen officials had walked out of a meeting with her and the British ambassador to China, Barbara Woodward.
Opinion
Republicans suddenly incensed by the prospect of bathroom predators are the same politicians who've done nothing to address an epidemic of sexual assault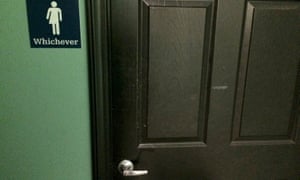 'The population who is at actual risk in public restrooms are transgender and gender nonconforming people themselves.' Photograph: Jonathan Drake/Reuters
T

here's a pro-choice saying about the Republican party: government so small it fits in your uterus. Over the years, that aphorism could be applied to any of the small spaces the GOP has shouldered its way into: doctor's offices, classrooms, bedrooms.
It seems appropriate, then, that the hill some Republicans want to die on resides in a toilet stall. The last gasp of their flailing culture war – HB2, North Carolina's law banning transgender people from deciding what bathroom is most appropriate and safe to use – stinks. And the justification for the law reeks of the insincere protectionism the GOP routinely uses as an excuse to discriminate.
Republicans insist that HB2 simply protects little girls from predators – just as they claim that laws limiting abortion access protect women from ourselves and our doctors, or that immigration policies protect women from "rapists".
It's amazing how much the GOP seems to care about women's wellbeing! Given the extraordinary concern Republicans claim to have over sexual violence, you'd think they would be working hard to end it across the board.
Rape in the military is so prevalent – 26,000 cases in 2012 – that it caught the attention of a United Nations human rights panel. Yet the party's presidential frontrunner believes this level of sexual assault is the predictable outcome of having women serving alongside men.
One in four undergraduate women have been sexually assaulted on their college campus, but the right dismisses these statistics as overblown hysterics. The University of North Carolina at Chapel Hill alone faces three federal investigations into alleged mishandlings of rape cases, and still Governor Pat McCrory believes his time is best spent keeping transgender people from using the bathroom.
In fact, McCrory doubled down on HB2 just this week, filing a lawsuit that claims the Department of Justice's call to abandon the discriminatory legislation is an overreach of federal power………….