13 May
For a change from the same old news stories from the same old news networks, here are links to English-edition online newspapers from other parts of the world. Nearly all of these are English-edition daily newspapers. These sites have interesting editorials and essays, and many have links to other good news sources. We try to limit this list to those sites which are regularly updated, reliable, with a high percentage of "up" time.
Some of the available newspapers:
| | | |
| --- | --- | --- |
| Asia & CIS | | |
| | | |
| --- | --- | --- |
| China | | |
| | | |
| --- | --- | --- |
| China & Hong Kong | | |
| | | |
| --- | --- | --- |
| France | | |
| | | |
| --- | --- | --- |
| Israel | | |
| | | |
| --- | --- | --- |
| Norway | | |
| | | |
| --- | --- | --- |
| Palestine | | |
| | | |
| --- | --- | --- |
| Russia | | |
| | | |
| --- | --- | --- |
| Ukraine | | |


Lobbying funds have gone towards opposing bills that would extend statutes of limitations for child sex abuse cases or grant temporary windows to take action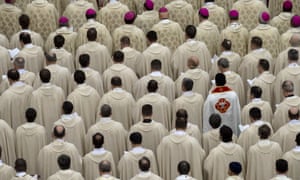 Since 2007, the New York bishops' lobbying arms have poured more than $1.1m into 'issues associated with timelines for commencing certain civil actions related to sex offenses'. Photograph: NurPhoto/Rex Shutterstock
The US Catholic church has poured millions of dollars over the past decade into opposing accountability measures for victims of clergy sex abuse, according to state lobbying disclosures.
The lobbying funds have gone toward opposing bills in New York, Pennsylvania, New Jersey and Maryland that would extend statutes of limitations for child sex abuse cases or grant temporary civil windows for victims whose opportunities for civil action have already passed.
In light of major child sex abuse scandals from Jerry Sandusky to Dennis Hastert, lawmakers nationwide are pushing to give victims other avenues to sue. In Pennsylvania, house representative Mark Rozzi, who was abused as a child by a Catholic priest, has led a campaign to extend the age before which child abuse victims can bring on cases. In New York, assemblywoman Margaret Markey is pushing to grant a temporary one-year window for those whose statute of limitations has already expired.
"Many child sex abuse cases are done gradually, under the guise of love or sex education, and so what happens is most victims don't even realize until literally decades later," said David Clohessy, a director with the Survivors Network of those Abused by Priests. "The overwhelming majority of us rationalize it. That's how we as survivors cope with this stunning betrayal. We cope with it by denying and minimizing it."
Since 2007, the New York bishops' lobbying arms have poured more than $1.1m into "issues associated with timelines for commencing certain civil actions related to sex offenses", nearly half of their total compensation for lobbyists in that period. Another nearly $700,000 also went towards lobbying for a package of church priorities, including but not limited to influencing the climate on "statute of limitations" legislation.
During this same time period, bishops' conferences spent millions on lobbyists in states where the church is actively opposing similar legislative proposals. Pennsylvania, Maryland and New Jersey spent more than $5.2m, $1.5m and $435,000 respectively on top lobbyists in the state capitols. Opposition efforts ultimately thwarted statute of limitations reform efforts in those states.
These states did not provide breakdowns of how much of that money was spent opposing these particular bills. The Pennsylvania Catholic Conference said in a statement: "The list of issues for which we advocate is long – services for the poor, education, access to healthcare especially for the poor, elderly and children, religious liberty, immigration, pro-life issues, death penalty, just to name a few."………..

Newly released files may show connections between low-level Saudi officials and a terrorist support network in southern California led to the 9/11 attacks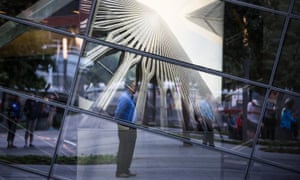 People are seen in a reflection of a photo of the twin towers during an anniversary ceremony commemorating the terrorist attacks on 11 September 2015 in New York City. Photograph: Andrew Burton/Getty Images
I

nvestigators for the 9/11 commission would later describe the scene in Saudi Arabia as chilling.
They took seats in front of a former Saudi diplomat who, many on the commission's staff believed, had been a ringleader of a Saudi government spy network inside the US that gave support to at least two of the 9/11 hijackers in California in the year before the 2001 attacks.
At first, the witness, 32-year-old Fahad al-Thumairy, dressed in traditional white robes and headdress, answered the questions calmly, his hands folded in front of him. But when the interrogation became confrontational, he began to squirm, literally, pushing himself back and forth in the chair, folding and unfolding his arms, as he was pressed about his ties to two Saudi hijackers who had lived in southern California before 9/11.
Even as he continued to deny any link to terrorists, Thumairy became angry and began to sputter when confronted with evidence of his 21 phone calls with another Saudi in the hijackers' support network – a man Thumairy had once claimed to be a stranger. "It was so clear Thumairy was lying," a commission staffer said later. "It was also so clear he was dangerous."
An interrogation report prepared after the questioning of the Saudi diplomat in February 2004 is among the most tantalizing of a sheaf of newly declassified documents from the files of the staff of the 9/11 commission. The files, which were quietly released by the National Archives over the last 18 months and have drawn little public scrutiny until now, offer a detailed chronology of how the commission's staff investigated allegations of Saudi government involvement in 9/11, including how the panel's investigators flew to Saudi Arabia to go face-to-face with some of the Saudis believed to have been part of the hijackers' support network on American soil………..

Administration will send decree saying all students must have access to facilities consistent with their gender identity, even if others object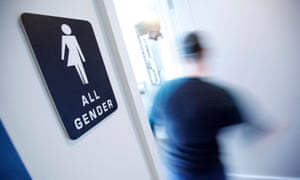 A bathroom sign at the Cacao Cinnamon coffee shop in Durham North Carolina, where a bill forcing transgender people to use restrooms according to the sex assigned at birth has sparked a national row. Photograph: Jonathan Drake/Reuters
The Obama administration will order all US public schools to allow transgender students to access restrooms that match their identities in a move that escalates the national fight over LGBT rights that has erupted in response to North Carolina's controversial "bathroom bill".
The Justice Department and department of education will send the decree, a copy of which was obtained by the Guardian, on Friday. It offers guidelines to school districts across the country on how to protect transgender students from discrimination.
The letter, which was first reported by the New York Times, "does not add requirements to applicable law", but provides extensive guidelines on how to ensure that trans students are treated fairly and have access to appropriate facilities………….

Prime minister casts doubt on whether United States can be part of 'coalition of the committed' against corruption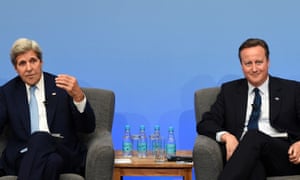 John Kerry and David Cameron at the anti-corruption summit in London. Photograph: Facundo Arrizabalaga/Pool/AFP/Getty Images
David Cameron has cast doubt on whether the United States could be truly considered part of a coalition committed to the fight against corruption, saying some US states fall far short on tax transparency and are less open than the UK's crown dependencies.
The prime minister made his remarks at the close of a corruption summit in London that brought together more than 40 countries, including the US, in an attempt to fight corruption, restore stolen assets and toughen laws to fight evasion.
Pressed on whether the US could be described as part of his new "coalition of the committed", Cameron said there were challenges in the USand that some UK crown dependencies were "now ahead of US states in terms of what they are prepared to do".
He added: "The state of Delaware, for instance, has a lot of companies registered and not much transparency. We have to work with all these countries to persuade them that if we all raise the bar it will be more effective. I am committed to doing that and the United States certainly should be as well."
Many of UK crown dependencies, including those making fresh concessions to Cameron, said larger countries such as the US were being hypocritical and guilty of double standards…………..

Opinion
Don't be fooled by the diplomatic words, because peace hasn't broken out. The Republican power-brokers still loathe Trump, and Ryan is their standard bearer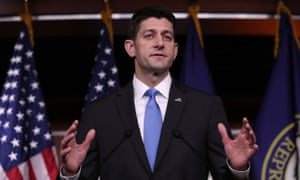 'Ryan's challenge is particularly exquisite.' Photograph: Win McNamee/Getty Images
W

hen Donald Trump met with Paul Ryan in Washington on Thursday, you could say it was a meeting between the current and possibly future nominee of the Republican party. Or you could say it was a battle for the soul of the party, between a conservative reformer and nativist rabble-rouser.
The latter is how Ryan himself portrayed the debate when he torpedoed the orange flagship on CNN last week. Saying he "just wasn't ready" to support Trump, the House speaker warned that Trump's platform was not inclusive, presidential or, well, conservative.
"We don't always nominate a Lincoln or a Reagan every four years, but we hope that our nominee aspires to be Lincoln- or Reagan-esque, that that person advances the principles of our party and appeals to a wide, vast majority of Americans," Ryan said.
Ryan insisted that the burden of unifying the party rested with Trump. "Saying we're unified doesn't in and of itself unify us," he explained, "but actually taking the principles that we all believe in, showing that there's a dedication to those, and running a principled campaign that Republicans can be proud about and that can actually appeal to a majority of Americans – that to me is what it takes to unify this party."
Trump responded in that most presidential of ways: by making it personal. "I'm not ready to support Speaker Ryan's agenda," he said in a statement. At least the slap wasn't on Twitter.
So when the two great leaders met on Thursday morning, somewhere behind a monster scrum of live-tweeting reporters, the language was a diplomatic veneer of unity.
In their joint communique, Trump and Ryan said: "While we were honest about our few differences, we recognize that there are also many important areas of common ground." The joint statement did not detail what that common ground looks like, other than defeating Hillary Clinton. Which sounds much like the statements of a Miss Universe contestant at one of Trump's beauty pageants: both contestants agree that they want to travel, help children and work for world peace.
Ryan later told reporters a little more about those "few differences", which sounded rather fundamental. "How do we keep adding and adding and adding voters while not subtracting any voters," he said. He didn't have to say: like Latinos or women, for instance…………