14 May
For a change from the same old news stories from the same old news networks, here are links to English-edition online newspapers from other parts of the world. Nearly all of these are English-edition daily newspapers. These sites have interesting editorials and essays, and many have links to other good news sources. We try to limit this list to those sites which are regularly updated, reliable, with a high percentage of "up" time.
Some of the available newspapers:
| | | |
| --- | --- | --- |
| Asia & CIS | | |
| | | |
| --- | --- | --- |
| China | | |
| | | |
| --- | --- | --- |
| China & Hong Kong | | |
| | | |
| --- | --- | --- |
| France | | |
| | | |
| --- | --- | --- |
| Israel | | |
| | | |
| --- | --- | --- |
| Norway | | |
| | | |
| --- | --- | --- |
| Palestine | | |
| | | |
| --- | --- | --- |
| Russia | | |
| | | |
| --- | --- | --- |
| Ukraine | | |

As Palestinian refugees and internally displaced persons (approximately 66% of Palestinian population worldwide) enter the 69th year of forced displacement from, and within, their ancestral homeland, Israel continues to create intolerable living conditions which further swell the number of displaced Palestinians. This ongoing Nakba ('catastrophe') is perpetuated through Israel's denial of the Palestinian refugees' Right of Return, the right to self-determination, and various other Israeli policies, which give rise to forced displacement of Palestinians, including forcible transfer and deportation, as grave breaches of international law. These policies are framed within the wider gamut of perpetual human rights violations being committed by Israel on both sides of the green line, across the entirety of the occupied Palestinian territory and Israel.
Inside occupied East Jerusalem and so-called 'Area C' (accounting for more than 60% of occupied West Bank land), Israel pursues with complete impunity a policy of forcible transfer of Palestinians by way of – inter alia – unlawful land appropriation, home demolitions, denial of residency, restrictions on land access, and extensive settlement expansion. Further, Palestinian residents of these areas are subject to systematic discrimination, harassment and violence perpetrated by Israeli settlers and security services alike, producing a highly coercive environment in which Palestinians are often left with little option but to leave their homes and communities………..

Nicolas Maduro says 'Washington is activating measures at the request of Venezuela's fascist right'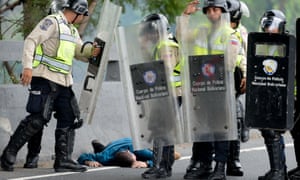 An injured man lies next to national guard members during a demonstration in Caracas, Venezuela on 11 May, 2016. A 60-day state of emergency has been declared. Photograph: Federico Parra/AFP/Getty Images
Reuters
Venezuelan President Nicolas Maduro declared a 60-day state of emergency on Friday due to what he called plots from within the OPEC country and from the US to topple his leftist government.
Maduro did not provide details of the measure. A previous state of emergency, implemented in states near the Colombian border last year, suspended constitutional guarantees in those areas, except for guarantees relating to human rights.
Earlier on Friday, US intelligence officials told reporters they were increasingly worried about the potential for an economic and political meltdown in Venezuela and predicted Maduro was not likely to complete his term.
Venezuela's opposition is seeking to recall the unpopular leader, 53, amid a worsening crisis that includes food and medicine shortages, frequent power cuts, sporadic looting and galloping inflation.
But the former union leader and bus driver has vowed to stick out his term, and accuses the US of fomenting an undercover coup against him. He pointed to this week's impeachment of fellow leftist Dilma Rousseff in Brazil as a sign that he is next.
"Washington is activating measures at the request of Venezuela's fascist right, who are emboldened by the coup in Brazil," Maduro said during a Friday night broadcast on state television……………

Move throws death penalty states into deeper disarray as they struggle to obtain drugs and carry out executions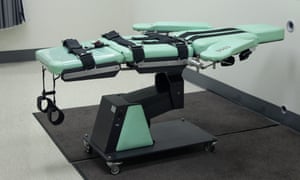 States have also begun altering their lethal injection protocols and experimenting with new drug cocktails, resulting in a rash of botched executions. Photograph: Eric Risberg/AP
Pfizer, the world's largest pharmaceutical company, has imposed a new set of controls on its products to ensure they are not used by US prisons to execute death row inmates, according to a New York Times report.
The move shuts off the last remaining legal source of the drugs used in lethal injections, throwing death penalty states into deeper disarray as they struggle to obtain drugs and carry out executions.
States have become increasingly secretive about the source of their lethal injection drugs as a way to subvert a European-led boycott that blocked trade of the supplies to US prison departments.
"Pfizer makes its products to enhance and save the lives of the patients we serve," the company said in a strongly worded statement on Friday. The company added that it "strongly objects to the use of its products as lethal injections for capital punishment".
In a statement on Friday, Maya Foa, a director at international human rights organization Reprieve, welcomed Pfizer's actions, which she said cements "the pharmaceutical industry's opposition to the misuse of medicines."
"Over 25 global pharmaceutical companies have taken action to prevent the misuse of their medicines in executions; with Pfizer's announcement, this will mean that all FDA-approved manufacturers of all execution drugs have spoken out against the misuse of medicines in lethal injections and taken steps to prevent it."…………….

An endangered seal, catfish and a rhino calf are among this week's pick of images from the natural world