17 May
For a change from the same old news stories from the same old news networks, here are links to English-edition online newspapers from other parts of the world. Nearly all of these are English-edition daily newspapers. These sites have interesting editorials and essays, and many have links to other good news sources. We try to limit this list to those sites which are regularly updated, reliable, with a high percentage of "up" time.
Some of the available newspapers:
| | | |
| --- | --- | --- |
| Asia & CIS | | |
| | | |
| --- | --- | --- |
| China | | |
| | | |
| --- | --- | --- |
| China & Hong Kong | | |
| | | |
| --- | --- | --- |
| France | | |
| | | |
| --- | --- | --- |
| Israel | | |
| | | |
| --- | --- | --- |
| Norway | | |
| | | |
| --- | --- | --- |
| Palestine | | |
| | | |
| --- | --- | --- |
| Russia | | |
| | | |
| --- | --- | --- |
| Ukraine | | |


Greenpeace slams 'insane' plan for dozens of power plants, with huge implications for air quality and climate change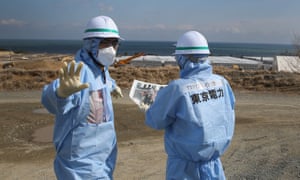 Workers oversee the decontamination process at Fukushima. The disaster five years ago has led to the closure of almost all Japan's nuclear plants. Photograph: Christopher Furlong/Getty Images
Plans by Japan to build dozens of coal-fired power stations will cause at least 10,000 premature deaths, according to a study, as the country struggles to fulfil its climate change obligations five years after the Fukushima disaster closed down almost all of its nuclear plants.
Greenpeace and the environmental group Kiko Network said in a joint report that Japan's determination to press ahead with a massive expansion in fossil fuel-based power production, with at least 43 plants to be built over the next 12 years, would come at a price to human health and "lock in carbon emissions for decades".
The warning comes after a meeting of the G7 environment ministers in Toyama at the weekend, at which Japan repeated its pledge to cut carbon emissions by 26% from 2013 levels by 2030 – a target campaigners have derided as woefully inadequate.
"Six large coal-fired power plants are planned within 100km of Tokyo. This massive expansion of coal power generation so close to huge urban areas like Tokyo is simply insane," said Lauri Myllyvirta, a senior coal campaigner at Greenpeace……………

Two-thirds of adults would be upset if child was gay, and only a quarter would find it acceptable if boy dressed as a girl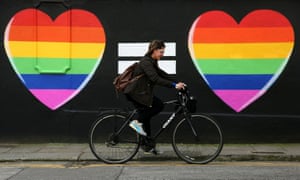 The survey was conducted by the International Lesbian, Gay, Bisexual, Trans and Intersex Association, which also looked at LGBT rights worldwide. Photograph: Brian Lawless/PA
Two-thirds of adults would be upset if their child told them that they were in love with someone of the same sex according to a survey of 96,000 people in 53 UN member states.
The survey (pdf), which was conducted by the International Lesbian, Gay, Bisexual, Trans and Intersex Association (ILGA) found that regional differences in opinion exist, but that overall the findings show "deeply entrenched heteronormative concepts of sexual orientation and gender identity". Only 28% of respondents globally said they would find it acceptable if a male child always dressed and expressed themselves as a girl.
A separate report also released by the ILGA on Tuesday looks at laws worldwide and finds that same-sex sexual acts can be punished with death penalty in 13 states, or parts of states (representing 6% of all UN states) while the threat of imprisonment exists in 75 countries and five entities.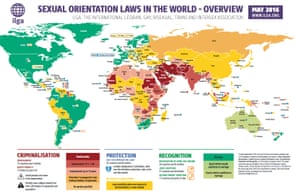 Many residents of those countries believe that being lesbian, gay, bisexual, trans and intersex (LGBTI) should be criminalized. ILGA found that 45% of respondents in Africa agreed "being LGBTI should be considered a crime" along with 34% of respondents in Asia, 17% in Europe, 15% in the Americas and 14% in Oceania…………….

From the horrors of war in Vietnam to extreme poverty closer to home, Don McCullin's camera has captured it all. Named master of photography at Photo London 2016, here are some of the greatest images of his career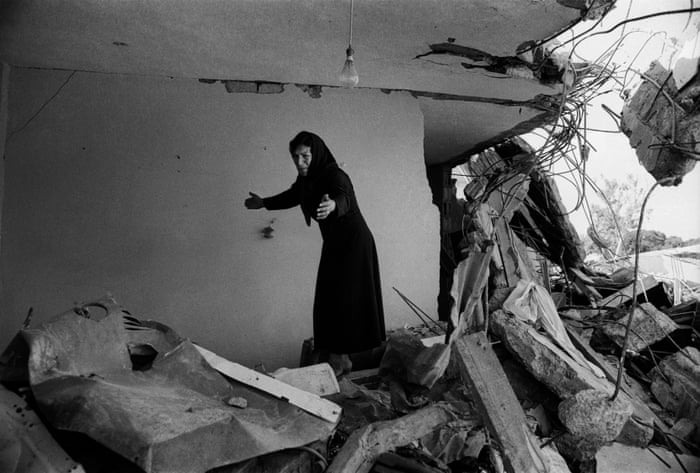 A Palestinian woman returning to the ruins of her house, Sabra, Beirut (1982)'There is beauty in war,' McCullin once said. 'It's never far away, even if it's the last thing you can imagine, you will see it. I've seen black and white men crying over each other's demises, men tenderly cradling the wounded, and caring. That's what beauty is all about. It's not about trees or sunsets, it's about human depth'

Jason Stockley, who was heard on in-car video saying he was 'going to kill this (expletive)', fired at Anthony Lamar Smith after police say he saw a drug deal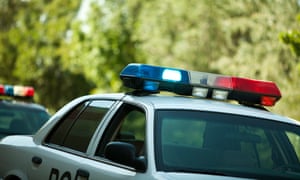 Lab tests showed that a gun found in Smith's vehicle had Jason Stockley's DNA on it, suggesting that Anthony Lamar Smith was unarmed. Photograph: Westend61/Getty Images/Westend61
Associated Press
A former St Louis police officer was ordered held without bond on Monday after being charged with first-degree murder in a 2011 shooting of a 24-year-old man after a chase.
St Louis circuit attorney Jennifer Joyce said in a statement that Jason Stockley was on duty when he first fired at Anthony Lamar Smith after police say Stockley witnessed a drug deal. Joyce alleges that during an ensuing pursuit of Smith's car, with speeds exceeding 80mph, Stockley can be heard on his in-car video telling his partner he was "going to kill this (expletive), don't you know it".
After Stockley and his partner in their police sport utility vehicle forced Smith's car to stop, prosecutors allege, Shockley approached Smith's car and fired five times into its driver's side, striking Smith with each round and killing him.
Lab tests showed that a gun found in Smith's vehicle had Stockley's DNA on it, Joyce said, suggesting that Smith was unarmed.
A judge on Monday ordered Stockley held without bond and he was in custody in the Houston area, where he now lives. Online court records don't show whether Stockley has an attorney. Joyce said he left the St Louis police force in 2013…………..
Related Content:
Opinion
The president has reached the dubious milestone of being at war longer than any of his predecessors. And the conflicts aren't ending anytime soon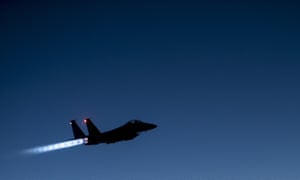 Drones may lessen direct US combat, but there's still plenty of collateral damage. Photograph: Senior Airman Matthew Bruch/AFP/Getty Images
B

arack Obama has now been at war longer than any president in United States history, as the New York Times pointed out on Sunday. Barring some sort of peace miracle in the next six months, he will be the only president who ever served two full terms in office while constantly being at war. And given how he has transformed how the US fights overseas, his wars will likely continue long after he leaves office.
Anytime the media writes about Obama and war, it's apparently a rule that the author must mention that Obama supposedly fights his wars more reluctantly than his predecessors. But in many contexts, this is misleading. Obama hasn't attempted to avoid war; he has merely redefined it. In some ways, he has fought them in a far more aggressively than any president before him, just with different tools.
Gone are the battalions of tens of thousands of soldiers, torching everything in their paths. Obama's wars are fought with special forces, drones and other high-tech weaponry that, he argues, lead to fewer American deaths. But they pose the same dangers to world peace that the wars in Vietnam and Iraq once did, while making them far easier to fight.
Obama's hallmark has been drone strikes, which he has used to bomb at least seven countries since becoming president. For all the talk of their precision and pin-pointedness, though, drones regularly kill additional people and have resulted in hundreds of civilian deaths. These strikes cause blowback and stoke anti-American hatred in virtually every country they fly in, and many former officials say the program does more harm than good.
But it's not just drones. Instead of being straightforward with the public, his administration hides behind secrecy and word gymnastics in all facets of its war policy, keeping the number of exact number of troops in the Middle East hidden from the public, and re-defining words like "combat" and "boots on the ground" and "civilians" to mask how much killing is really going on…………..