18 May
PNN/ Jerusalem/
The siblings Medhat, Samer and Shireen Al-Issawi, are all currecntly in Israeli prisons.
The Israeli municipality of West Jerusalem on Wednesday gave a demolition notice to the Issawi Family, located in the village of Issawiya, central Jerusalem, under the pretext of no building permit.
Family of the three Palestinian prisoners, Medhat, Samer, and their sister, lawyer Shireen Al-Issawi, considered the decision an illegal and malicious act by the Israeli intelligence and occupation authorities.
To her part, the mother of the prisoners, "Um Tariq" (65 years), said that the family has lived in that home since the 70's, emphasizing that the occupation is trying to undermine the will and steadfastness of the youth in Israeli prisons.

Studies and documentation unit at detainees and ex-detainees committee in Gaza Strip revealed that the Israeli Occupation Forces (IOF) arrested 5,677 Palestinians since October, 01,  2015 until the end of April this year.
Abdunnaser Farwana,  head of the unit, said that the Israeli arrests included males and females of different ages including 3,508 cases in the West Bank, 1,872 in Occupied Jerusalem, 169 in 1948 Occupied Palestine and 128 in Gaza Strip. Farwana called on the international community to provide international protection for the Palestinian captives and to put an end to the Israeli daily arrests and aggressive practices against detainees, which run contrary to the international law.


Case is being brought against Breaking the Silence, which publishes anonymous testimonies of Israeli soldiers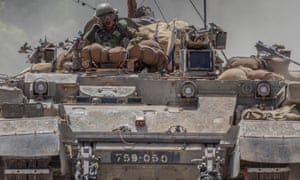 An Israeli armoured personnel carrier in southern Israel near the border with Gaza, during Operation Protective Edge in 2014. Photograph: Xinhua /Landov/Barcroft Media
A high-profile Israeli human rights group that publishes the anonymous testimonies of soldiers in the Palestinian territories is facing a court hearing that threatens to shut down its work in what is being viewed as a crucial test case for civil society.
The case, which will be heard in court next week, is being brought by the Israeli government, which is demanding that Breaking the Silence identify anonymous serving military personnel who have given it testimony relating to alleged crimes in the 2014 Gaza war. The group says this is likely to deter future potential testifiers coming forward.
The move follows months of attacks on the group by leading politicians as well as rightwing activists – including attempted infiltrations by figures posing as sympathisers and a public accusation of "treason" by the country's defence minister.
Breaking the Silence staff and its legal team say the legal moves not only pose a threat to the group but also threaten to "chill" both free speech and human rights activism in Israel.
Lawyer Michael Sfard said: "It is a judgment day for Breaking the Silence, and its continued ability to work. But I think it is also pivotal moment for Israeli civil society."………..

Former British general predicts that Russia will seize territory in eastern Ukraine and invade Baltic states, sparking war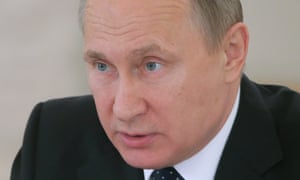 The Russian president, Vladimir Putin. Photograph: Mikhail Metzel/Tass
A startling claim that the west is on course for war with Russia has been delivered by the former deputy commander of Nato, the former British general Sir Alexander Richard Shirreff.
In a book published on Wednesday, 2017 War With Russia, Shirreff argues that the events in Crimea have destroyed the post-cold-war settlement and set the stage for conflict, in events that could begin to unfold next year.
In a chilling scenario, he predicts that Russia, in order to escape what it believes to be encirclement by Nato, will seize territory in eastern Ukraine, open up a land corridor to Crimea and invade the Baltic states.
Shirreff, who was deputy supreme allied commander Europe from 2011 to 2014, is risking his reputation by making such a bold prediction. But he claims his narrative is closely modelled on his Nato experience of war-gaming future conflicts…………….

Analysis by the AFL-CIO union found that chief executive officers of the top 500 companies took home $12.4m on average while they exported jobs overseas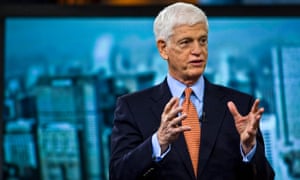 Because he's worth it: Mario Gabelli of Gamco Industries is one of the three highest-paid CEOs in America, who took home nearly $3bn between them. Photograph: Bloomberg via Getty Images
The US's top 500 chief executive officers earned 340 times the average worker's wage last year, taking home $12.4m on average, according to a new report.
The analysis by the AFL-CIO, the largest federation of US unions, found that the pay of executives leading the S&P 500 index of top companies actually dipped last year. In 2014 the same group earned 373 times more than their workers, earning on average $13.5m.
The marginal drop in pay comes despite some eye-watering payouts for the three highest-paid CEOs – Masimo Corporation's Joe Kiani, Timothy Walbert of Horizon Pharma and Gamco Investors' Mario Gabelli – who took home nearly $3bn between them, according to the AFL-CIO.
The average production worker, who does not hold a supervisory role, earned about $36,900 a year in 2015. That number, based on Bureau of Labor Statistics data, encompasses workers across the US economy, not just the S&P 500 companies. Adjusted for inflation, that wage has remained stagnant for about 50 years.
"The income inequality that exists in this country is a disgrace. We must stop Wall Street CEOs from continuing to profit on the backs of working people," the AFL-CIO president, Richard Trumka, said. The AFL-CIO represents about 12.5 million working Americans.
The survey comes as wage disparity and US manufacturing jobs have risen to the top of the political agenda. The Republican presidential candidate Donald Trump and Democratic rival Bernie Sanders have lambasted US industry and trade policy for outsourcing blue-collar jobs to cheaper manufacturing bases in Mexico and China………….

Investigation into impact of refugees in Europe finds rising public debt will be offset by a much greater rise in GDP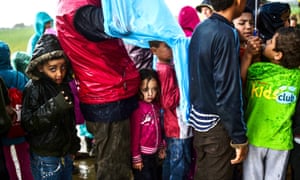 Migrants and refugees wait in line under the rain for food distribution at the makeshift camp in the northern border village of Idomeni, Greece. Photograph: Bulent Kilic/AFP/Getty Images
Refugees who arrived in Europe last year could repay spending on them almost twice over within just five years, according to one of the first in-depth investigations into the impact incomers have on host communities.
Refugees will create more jobs, increase demand for services and products, and fill gaps in European workforces – while their wages will help fund dwindling pensions pots and public finances, says Philippe Legrain, a former economic adviser to the president of the European commission.
Simultaneously refugees are unlikely to decrease wages or raise unemployment for native workers, Legrain says, citing past studies by labour economists.
Most significantly, Legrain calculates that while the absorption of so many refugees will increase public debt by almost €69bn (£54bn) between 2015 and 2020, during the same period refugees will help GDP grow by €126.6bn – a ratio of almost two to one.
"Investing one euro in welcoming refugees can yield nearly two euros in economic benefits within five years," concludes Refugees Work: A Humanitarian Investment That Yields Economic Dividends, a report released on Wednesday by the Tent Foundation, a non-government organisation that aims to help displaced people, and Open Political Economy Network, a new thinktank.
A fellow at the London School of Economics, Legrain says he hopes the report will dispel the myth that refugees will cause economic problems for western society.
"The main misconception is that refugees are a burden – and that's a misconception shared even by people who are in favour of letting them in, who think they're costly but it's still the right thing to do," said Legrain in an interview.
"But that's incorrect. While of course the primary motivation to let in refugees is that they're fleeing death, once they arrive they can contribute to the economy."…………..


For a change from the same old news stories from the same old news networks, here are links to English-edition online newspapers from other parts of the world. Nearly all of these are English-edition daily newspapers. These sites have interesting editorials and essays, and many have links to other good news sources. We try to limit this list to those sites which are regularly updated, reliable, with a high percentage of "up" time.
Some of the available newspapers:
| | | |
| --- | --- | --- |
| Asia & CIS | | |
| | | |
| --- | --- | --- |
| China | | |
| | | |
| --- | --- | --- |
| China & Hong Kong | | |
| | | |
| --- | --- | --- |
| France | | |
| | | |
| --- | --- | --- |
| Israel | | |
| | | |
| --- | --- | --- |
| Norway | | |
| | | |
| --- | --- | --- |
| Palestine | | |
| | | |
| --- | --- | --- |
| Russia | | |
| | | |
| --- | --- | --- |
| Ukraine | | |