19 May

For 12 years parishioners maintained a vigil inside St Frances Xavier Cabrini to prevent its sale to raise compensation funds for survivors of sexual abuse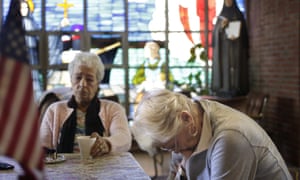 Mary Fernandes, left, and Nancy Shilts, right, parishioners at St Frances Xavier Cabrini church are emotional while talking about the closing of the church, in Scituate, Massachusetts on Monday. Photograph: Steven Senne/AP
For the past 12 years, the church of St Frances Xavier Cabrini in Scituate, near Boston, has not been empty for a single moment.
Children have slept in the sacristy, meals have been eaten beneath the stained glass windows, planning meetings have been held in the pews, prayers said and candles lit.
But not for much longer. After the supreme court this week declined to hear an appeal against an earlier court ruling, the parishioners must now vacate the premises, and will hold a final farewell service on 29 May.
Their long battle against the archdiocese of Boston is over. But, far from being exhausted and defeated, the core group of about 100 parishioners who have occupied the church since 2004 are gearing up to start afresh.
"We're going to stay together, reach out and re-energise thousands of disenfranchised Catholics who no longer trust the church," Jon Rogers, the group's spokesman, told the Guardian.
They were "incredibly disappointed" at the supreme court's decision, he said. "We thought the higher up the legal ladder we travelled, the closer to the truth we'd get. But it seems like the judicial system still has a healthy fear of the Catholic church."………..
The US, EU and Canada have all complained after 22 non-government organisations were excluded from the high-level UN meeting for no stated reason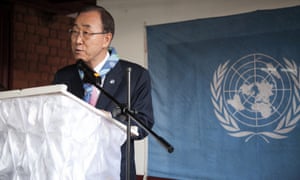 UN secretary-general Ban Ki-moon has pushed for LGBT rights but faced opposition from African, Arab and Islamic counties as well as Russia and China. Photograph: AFP/Getty Images
David Smith in Washington
The objectors have not given a reason for excluding 22 non-government organisations from the high-level meeting, exposing a stark global divide over the issue. The US, EU and Canada have all complained, along with civil society activists.
The groups told they cannot attend include Actwid, representing people in Cameroon with HIV, Colour Pink, working on behalf of gay men and transgender people in Jamaica, and Esvero, set up for users of injectable drugs in Russia.
Graeme Reid, director of the LGBT rights programme at Human Rights Watch, said: "LGBT groups and drug user groups are amongst those excluded from participation. These organisations are at the coalface of combatting HIV. This action flies in the face of everything we know about effectively combatting HIV internationally. Unfortunately this is part of a broader trend by some states to put prejudice above human rights, even at the UN."
Dr Kapya Kaoma, senior religion and sexuality researcher at the Political Research Associates think tank, and the author of Globalising the Culture Wars, and Colonising African Values, said: "It is unspeakable. To try and bring in politics when they dealing with another person's health and life is inhuman. This is not about politics. This is about the common good of the human race."
It is far from the first time there has been controversy over LGBT representation at the UN. Secretary-general Ban Ki-moon has pushed for LGBT rights but faced opposition from African, Arab and Islamic counties as well as Russia and China…………
Global poll finds 10% would take in refugee – rising to 29% in UK – with Australia fifth on Amnesty index despite hardline policies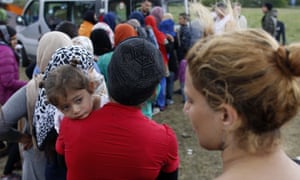 People wait for food in a makeshift refugee camp near the Hungarian border in Serbia. Photograph: Darko Vojinovic/AP
The people of China, Germany and the UK are the most welcoming to refugees in the world, according to an Amnesty International survey on attitudes towards those fleeing war and persecution.
In a global survey of 27,000 people across 27 countries, nearly 70% said their governments should being doing more to help refugees, while 80% said they would accept refugees living in their country, city, or neighbourhood.
One in 10 would welcome a refugee to live in their own home, with the figure rising to 46% in China and 29% in the UK.
China and the UK were first and third respectively on Amnesty's Refugees Welcome Index, with Germany in second place.
Refugees Welcome Index
The Refugees Welcome Index ranks countries on a scale of 0 to 100, where 0 = all respondents would refuse refugees entry to the country and 100 = all respondents would accept refugees into their neighbourhood or home……………….
Opinion
Those of us who are elected to office as representatives often spend more time dialing for dollars than doing work. This political scandal has to stop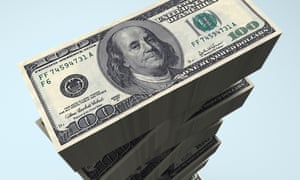 'A retiring member of Congress recently estimated he spent 4,200 hours during his time representing the people, dialing for dollars.' Photograph: Alamy
T

here is a historic scandal going on in Washington DC and the American people are its victims. Members of Congress undertaking oppressive telemarketing fundraising when they should be on the clock solving our nation's most pressing problems. This is depriving the country of leadership through their elected representatives, and it's cheating taxpayers.
It's the unfortunate byproduct of a broken system that can easily be fixed if we simply remove members from the direct solicitation of cash. That's why I've introduced legislation called the Stop Act, a four-page bill that would ban members from personally asking for money.
The public assumes US Representatives spend their days in DC in committee meetings, on the House floor debating issues, attending briefings or discussing critical issues with other elected officials and experts. Sadly, the reality is that they are, in some cases, spending 15, 20, 30 hours a week in call suites on the phone dialing for dollars, shaking down the American people.
The Democratic Congressional Campaign Committee recently greeted an incoming crop of freshmen with a prescribed schedule that highlighted fundraising "Call Time" of four hours a day as the chief priority for any new member of Congress. The actual time they suggested working in Congress each day was 2 hours!
A retiring member of Congress recently estimated he spent 4,200 hours during his time representing the people, dialing for dollars. All while members are being paid $174,000 a year by you, taxpayers.
It is a sad, heartbreaking truth, that members of Congress are expected to spend more time raising money than they are solving the problems you elected them to fix.
Think about it. Instead of focusing the entirety of their attention on solutions to improve your economic security or our country's national security, too many of our elected officials are prioritizing a whole different kind of security – their personal job security.
Advertisement
We can't have a part-time Congress in a full-time world. Which is why we need to pass the Stop Act. Similar prohibitions are applied to many state legislatures and to judges in 30 states who are elected on the ballot. Let's apply these same restrictions to members of Congress.
Now if the Stop Act is passed, this does not mean that you as a citizen cannot choose to contribute to a candidate. It is your constitutional right of political speech to do so. But let's close the integrity gap and the performance gap of our elected officials by eliminating their fundraising solicitations and put them back to work doing the people's business – protecting our homeland, creating jobs, reducing the debt, standing up for law enforcement and doing real constituent service work that benefits you……..


For a change from the same old news stories from the same old news networks, here are links to English-edition online newspapers from other parts of the world. Nearly all of these are English-edition daily newspapers. These sites have interesting editorials and essays, and many have links to other good news sources. We try to limit this list to those sites which are regularly updated, reliable, with a high percentage of "up" time.
Some of the available newspapers:
| | | |
| --- | --- | --- |
| Asia & CIS | | |
| | | |
| --- | --- | --- |
| China | | |
| | | |
| --- | --- | --- |
| China & Hong Kong | | |
| | | |
| --- | --- | --- |
| France | | |
| | | |
| --- | --- | --- |
| Israel | | |
| | | |
| --- | --- | --- |
| Norway | | |
| | | |
| --- | --- | --- |
| Palestine | | |
| | | |
| --- | --- | --- |
| Russia | | |
| | | |
| --- | --- | --- |
| Ukraine | | |