21 May

Decision by Greek independent asylum service to overturn deportation order throws EU-Turkey migration deal into chaos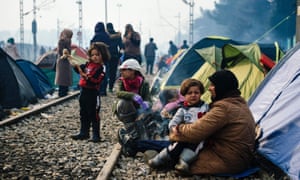 A makeshift refugee camp near the Greek village of Idomeni. Photograph: Dimitar Dilkoff/AFP/Getty Images
The EU-Turkey migration deal has been thrown further into chaos after an independent authority examining appeals claims in Greece ruled against sending a Syrian refugee back to Turkey, potentially creating a precedent for thousands of other similar cases.
In a landmark case, the appeals committee upheld the appeal of an asylum seeker who had been one of the first Syrians listed for deportation under the terms of the EU-Turkey deal.
In a document seen by the Guardian, a three-person appeals tribunal in Lesbos said Turkey would not give Syrian refugees the rights they were owed under international treaties and therefore overturned the applicant's deportation order by a verdict of two to one. The case will now be re-assessed from scratch.
The committee's conclusion stated: "The committee has judged that the temporary protection which could be offered by Turkey to the applicant, as a Syrian citizen, does not offer him rights equivalent to those required by the Geneva convention."
The decision undermines the legal and practical basis for the EU-Turkey deal, which European leaders had hoped would deter refugees from sailing to Europe by ensuring the swift deportation of most people landing on the Greek islands.

Hospitals struggle to cope as patient numbers soar and cold water in short supply after hottest day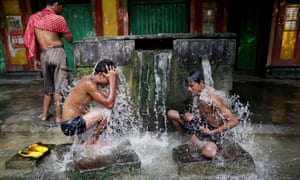 Youths cool off in Kolkata. Temperatures are expected to stay high in June. Photograph: Piyal Adhikary/EPA
Phalodi, in the desert state of Rajasthan, is suffering an unprecedented medical crisis as a result of the record temperatures, which are high even by local summer standards and which smashed the previous record, set in 1956, of 50.6C.
"[Thursday] was the hottest temperature ever recorded in the country: 51C in Phalodi," BP Yadav, a director of India's meteorological department, said on Friday.
In Phalodi, where the temperature can fall below zero in winter and reach extreme peaks in the summer, the local government hospital has seen patient numbers double in the last few days as people report more heat-related illnesses.
Shiv Prakash Chanda, who works as a nursing officer in the hospital, said: "It is incredibly hot. None of the air-conditioners or coolers are working. We have running water, but the water is stored in tanks on top the buildings, and when it comes out of the tap the water is so hot that you can't even wash your hands with it. You can't even go to the toilet."
Ranjeet Singh, a local police constable, said: "The ground is so hot, you could cook chapatis on it."……….

When countries competing for a temporary seat on the security council set out their stalls in New York this week, greater transparency will move a step closer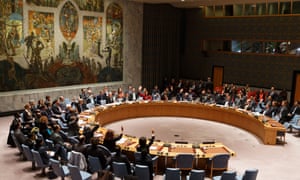 The UN security council meets in New York last November. Italy, the Netherlands and Sweden will compete for one of the non-permanent seats in the 15-member council. Photograph: Li Muzi/Xinhua/Alamy
Bonian Golmohammadi
The author is secretary general of the World Federation of UN Associations, a civil society network
For the first time in the history of the UN, countries competing for a non-permanent seat on the security council will participate in an open debate to present their candidacies to the world.
The security council, the body within the UN charged with maintaining global peace and security, is something everyone wants to see work more effectively and efficiently. The World Federation of UN Associations has a mandate focused on strengthening and improving the UN, and has worked hard to make election debates – which will take place in New York from Monday – a reality.
Through the debates, the UN ambassador representing each candidate country will present the platform and policies they will be pursuing at the security council. There will be none of the antics seen during the US presidential election debates; discussion will instead focus on policy issues that matter. For a slow-moving, reform-phobic institution, this will be a huge step forward towards a new era……………

Bill would have made procedure a felony punishable by three years in prison
Mary Fallin: proposal was vague and likely to be struck down in court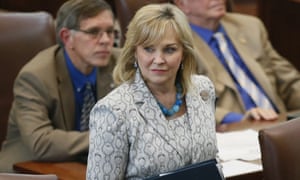 For a governor widely considered to be under consideration as Donald Trump's vice-presidential pick, the veto represents a rare break from her state party. Photograph: Sue Ogrocki/AP
Governor Mary Fallin of Oklahoma on Friday vetoed a highly contentious proposal to all but ban abortion in the state. The vetoed bill would have made it a criminal felony punishable by three years in prison for any doctor to perform an abortion.
Fallin, a Republican who has signed 18 anti-abortion measures, cited the fact that the bill was vague and likely to be struck down in court.
For a governor widely considered to be under consideration as Donald Trump's vice-presidential pick, the veto represents a rare break from her state party. The measure passed the statehouse on Thursday with broad support from Fallin's party, but several Republicans nevertheless voted against the bill or abstained.
Reproductive rights groups decried the bill as unprecedented and dangerous, and even local, neutral groups, such as the Oklahoma state medical association, aired deep concerns. The bill made an exception only when the mother's life was in danger, but as Fallin noted on Friday, its language was vague on what constituted a life-threatening situation.
Fallin had until five days after the bill's passage to sign or veto it, or it would have automatically become law………….

Princeton University and Boston University have taken down postings for scholarship programs in South Korea that require HIV testing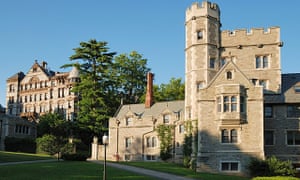 A Princeton professor and a US human rights lawyer expressed their concerns to college authorities. Photograph: Alamy
John Powe
Two prominent American colleges have removed advertisements for South Korean government scholarships that bar people with HIV, following the intervention of human rights activists.
Princeton University on Thursday took down a posting on its website that advertised the Korean Government Scholarship Program, which funds study at universities in South Korea, over concerns that it was discriminatory. The move came less than a fortnight after the Frederick S Pardee School of Global Studies at Boston University quietly removed references to the scholarship in similar circumstances.
UCLA, Stanford University and the University of Portland continue to host details of the scholarship on their websites, while Ohio State University directs students to another scholarship, Teach and Learn in Korea, that also bans HIV-positive applicants.
"Based on a review conducted by the Office of International Programs and the Office of Institutional Equity and Diversity, a scholarship posting stating that HIV positive individuals are ineligible (without any reference to specific health-related reasons for such a restriction) contradicts our policies and commitment to non-discrimination," the college said in a statement given to the Daily Princetonian student newspaper ahead of its anticipated public release……….

A fleeing giraffe, a sleeping racoon and a close encounter with a great white shark are among this week's pick of images from the natural world

Opinion
Every year at the shareholders' annual meeting, there is an attempt to push the company on reducing emissions. It's time to stop trying and divest instead
'There's a certain point at which noble failure turns into moral cover.' Photograph: Bloomberg/Getty Images
I

n 1990, a small group of investors offered a resolution at Exxon's annual shareholder's meeting asking that it "develop a company-wide plan to reduce carbon dioxide emissions." The company opposed the motion, which won 6% of the vote, on the grounds that "the facts today and the projection of future effects are very unclear."
Here's what happened since 1990: we've had all 25 of the hottest years ever measured on our planet. We've lost half of Arctic sea ice. The ocean has become markedly more acidic.
In 1997, Father Michael Crosby, a Catholic shareholder activist from Milwaukee, offered a less taxing resolution: perhaps Exxon could merely report on the impact that climate change would have on the company's business? Exxon refused, arguing that there was "great uncertainty" about climate change. The resolution eventually took 4.5% of the vote.
Here's what's happened since 1997: we've seen droughts without parallel in California and the Fertile Crescent, the latter helping trigger the war and refugee crisis in Syria. We've seen floods worse than anything since Noah – so severe that in Pakistan 20 million were forced from their homes.
Here's what's happened since that meeting: we've had 12 straight months of record-busting temperatures; this February and March were the hottest months ever recorded on our earth. We've seen the highest wind speeds ever recorded in the western and southern hemispheres. We've watched the rapid death of vast swaths of coral, as hot oceans triggered by far the largest "bleaching" event ever recorded.
With that as the backdrop, we approach the next Exxon annual meeting at the end of the month. Once again environmentalists are presenting the same resolutions, in a kind of rite of spring that's likely to have the usual outcome…………..


For a change from the same old news stories from the same old news networks, here are links to English-edition online newspapers from other parts of the world. Nearly all of these are English-edition daily newspapers. These sites have interesting editorials and essays, and many have links to other good news sources. We try to limit this list to those sites which are regularly updated, reliable, with a high percentage of "up" time.
Some of the available newspapers:
| | | |
| --- | --- | --- |
| Asia & CIS | | |
| | | |
| --- | --- | --- |
| China | | |
| | | |
| --- | --- | --- |
| China & Hong Kong | | |
| | | |
| --- | --- | --- |
| France | | |
| | | |
| --- | --- | --- |
| Israel | | |
| | | |
| --- | --- | --- |
| Norway | | |
| | | |
| --- | --- | --- |
| Palestine | | |
| | | |
| --- | --- | --- |
| Russia | | |
| | | |
| --- | --- | --- |
| Ukraine | | |