22 May

Girl's father told investigators his daughter was playing with the gun when she shot herself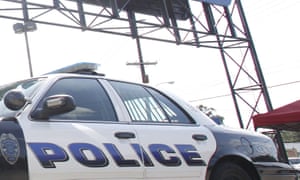 Louisiana police say a 5-year-old girl shot and killed herself with a handgun. Photograph: Yuri Gripas/AFP/Getty Images
Associated Press
Authorities say a five-year-old girl shot and killed herself with a handgun at a Louisiana home.
The Saint John the Baptist parish sheriff's office said in a statement the girl's father told investigators his daughter was playing with the gun when she shot herself inside a LaPlace home on Saturday morning.
Paramedics took the girl to a hospital, where she later died.
Detectives said the gun had not been securely stored in the home before the shooting occurred, about 9.45am.
The sheriff's office said the shooting remained under investigation and additional information would be released "when warranted".
Courtney Wilson and Taylor Guerrero say they were harassed and arrested because a police officer didn't like their public displays of affection in a store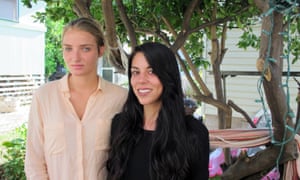 Courtney Wilson and Taylor Guerrero were visiting Hawaii from Los Angeles last year. Photograph: Jennifer Sinco Kelleher/AP
Associated Press in Honolulu
Honolulu has agreed to pay $80,000 to settle a lawsuit from two gay women who allege a police officer wrongfully arrested them after seeing them kissing in a grocery store.
Details of the settlement were announced Friday in federal court in Honolulu. It is still subject to city council approval. The council is expected to consider the settlement at a 6 July meeting, said Nicolette Winter, a Honolulu deputy corporation counsel.
"The Department of the Corporation Counsel believes that the tentative settlement is in the best interests of the city," the corporation counsel, Donna Leong, said in a statement.
Courtney Wilson and Taylor Guerrero were visiting Hawaii from Los Angeles last year when, according to the their lawsuit, they were harassed and arrested because the officer didn't like their public displays of affection in a Foodland store on Oahu's North Shore.
They were walking through the aisles holding hands and at one point hugged and kissed, the lawsuit said. Officer Bobby Harrison, who was shopping in uniform, "observed their consensual romantic contact and, in a loud voice, ordered plaintiffs to stop and 'take it somewhere else'."……….

Campaign to allow Al Elfis to stay succeeds after decision to expel them overturned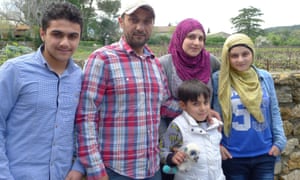 The Al Efi family (left to right): Hisham, Malek, Houman, Khaldieh and Fata. Photograph: Kim Willsher for the Observer
Eight-year-old Houmam Al Elfi knew nothing of the politics of war, refugees and migration. He was too young to be sure why his family fled from their home in Homs, Syria, four years ago as the city was pounded to rubble, or what they were doing living in hiding in France. All he knew was he wanted to go to school.
Today Houmam is attending lessons near Béziers after a decision to expel the Al Elfi family was overturned when the plight of Malek, 41, Khaldieh, 32, and their children Hisham, 15, Fata, 12, and Houmam was highlighted by the Observer.
Local campaigners who supported the family and raised a petition to halt their being thrown out of France were celebrating after the prefecture authorised the family to claim asylum in France………..
From Angola to Zimbabwe, food prices are soaring and malnutrition is on the rise as the latest El Niño weather event takes a brutal toll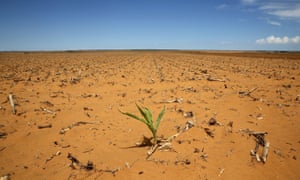 A field in Hoopstad, a maize-producing district in the Free State province, South Africa, January 2016. Maize production in the country is down 40%. Photograph: Siphiwe Sibeko/Reuters
Angola
Drought is affecting 1.4 million people across seven of Angola's 18 provinces. Food prices have rocketed and acute malnutrition rates have doubled, with more than 95,000 children affected. Food insecurity is expected to worsen from July to the end of the year.
Botswana
Three years of drought have hit the country's livestock and arable farming sectors hard. At least 50,000 people are in danger of severe malnutrition.
Mozambique
Malawi
Up to 8 million people, or half the country, will need food aid after a second year of drought and disastrous floods in 2015. More than 1m tonnes of food are needed. The situation is worst in the south and central regions…………….

City attorneys say they are prepared to admit to code of silence in court to keep Rahm Emanuel off the witness stand in case of whistleblower officers' lawsuit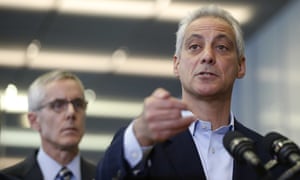 Rahm Emanuel brought up the code of silence problem in December, in a speech to the city council in the midst of protests and calls for his resignation over the death of Laquan McDonald. Photograph: Charles Rex Arbogast/AP
Associated Press in Chicago
Attorneys for the city of Chicago have told a federal judge that in an attempt to keep the mayor, Rahm Emanuel, off the witness stand, they are prepared to admit to a jury that a code of silence exists within the Chicago police department.
But US district judge Gary Feinerman said on Friday he would still ask Emanuel to testify in the case of two whistleblower police officers suing the city, explaining that the mayor's testimony could offer "much more texture" on the issue.
The lawsuit was brought by two officers who say the department retaliated against them for cooperating with the FBI in an investigation into a narcotics team that was demanding protection money from drug dealers.
Legal experts said it was likely the city would settle rather than allow Emanuel to take the stand in the case, which is set to go to trial on 31 May. But they said the city's willingness to have lawyers formally acknowledge a code of silence in court was a significant step after years of denials.
Emanuel brought up the code of silence problem in December, in a speech to the city council in the midst of protests and calls for his resignation over the death of Laquan McDonald, a black teenager who was killed by a white officer in a shooting caught on police dashcam video.
Emanuel spokesman Adam Collins referred to that speech in a statement and said the mayor would not have anything more to offer in court testimony on the issue of officers keeping quiet to protect fellow officers accused of misconduct…………
Senator says he would not re-appoint Debbie Wasserman Schultz as DNC chair if he were president, noting that her primary opponent's views are closer to his own
Bernie Sanders has said he will not support the chair of the Democratic National Committee (DNC) in her primary campaign this year, and would not re-appoint her if he were president and she were re-elected to the House.
Debbie Wasserman Schultz, a Florida representative, is in charge of the Democratic presidential primary, in which Sanders trails Hillary Clinton by an all-but insurmountable delegate margin.
"Well, clearly, I favour her opponent," Sanders told CNN in an interview to be broadcast on State of the Union on Sunday. "His views are much closer to mine than as to Wasserman Shultz's."
Under Wasserman Schultz, the DNC has faced criticism for allegedly tailoring its debate schedule to Clinton's advantage, for holding primaries in key states such as New York that were closed to independent voters, and for the "superdelegate" system…………..


For a change from the same old news stories from the same old news networks, here are links to English-edition online newspapers from other parts of the world. Nearly all of these are English-edition daily newspapers. These sites have interesting editorials and essays, and many have links to other good news sources. We try to limit this list to those sites which are regularly updated, reliable, with a high percentage of "up" time.
Some of the available newspapers:
| | | |
| --- | --- | --- |
| Asia & CIS | | |
| | | |
| --- | --- | --- |
| China | | |
| | | |
| --- | --- | --- |
| China & Hong Kong | | |
| | | |
| --- | --- | --- |
| France | | |
| | | |
| --- | --- | --- |
| Israel | | |
| | | |
| --- | --- | --- |
| Norway | | |
| | | |
| --- | --- | --- |
| Palestine | | |
| | | |
| --- | --- | --- |
| Russia | | |
| | | |
| --- | --- | --- |
| Ukraine | | |