23 May

Baltimore police officer, the first of six officers to receive a verdict in the case, found not guilty of assault, reckless endangerment and misconduct in office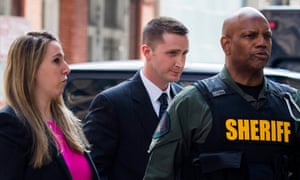 Baltimore police officer Edward Nero was cleared of assault and misconduct charges for his role in the death of Freddie Gray in April 2015. Photograph: Jim Lo Scalzo/EPA
A judge found a Baltimore police officer not guilty on all of the charges against him for his involvement in the death of Freddie Gray. Officer Edward Nero is the first of six officers charged to receive a verdict since Gray's death sparked uprising in the city more than a year ago.
Gray, a 25-year-old African American man, died a week after his arrest from injuries he sustained in police custody, setting off weeks of protest, followed by a riot, a state of emergency and a curfew.
Judge Barry Williams ruled on Monday that Nero was not guilty of assault, reckless endangerment and misconduct in office, all misdemeanors.
Although Nero's case produced the first verdict, it is prosecutors' second attempt to hold officers criminally responsible for Gray's death. The first trial of officer William Porter ended in a mistrial after the jury couldn't reach a decision. He is slated to be tried again later this year.
Nero was one of the two officers who arrested Gray. A video recording of the initial encounter with Nero and fellow officer Garrett Miller that went viral after Gray's death shows Gray screaming with his legs twisted up as he is dragged to the police van………….

As a former Pentagon official condemns whistleblowing system, experts hope justice department effort does more than 'rearrange deck chairs on the Titanic'
A former Pentagon investigator has spoken on record to the Guardian about major privacy and security lapses within the government's whistleblower program. John Crane, who for 25 years worked for the Department of Defense inspector general's office, which helps federal employees expose abuse and corruption, says whistleblowers like Edward Snowden had little choice but to go outside the system. His revelations can now be made public for the first time
Former head of the CIA David Petraeus, in an interview published in the Financial Times on 6 May, was asked if Edward Snowden should be prosecuted. "Unquestionably," said Petraeus.
Leave aside the issue of hypocrisy – Petraeus shared classified information with his lover and was not charged with a felony – and instead think about what he says next. "If Snowden had wanted to help that debate, he could have very easily been a whistleblower who could have gone to the appropriate organization and offered his views. He didn't."
It is a line that has been repeated by Barack Obama, Hillary Clinton and just about every other establishment figure asked about Snowden. Rather than a leak to the media, they argue, there were alternative routes: he could have taken his concerns to Congress or pursued the official internal route, through the inspector general's office.
But a powerful new insider account undermines the idea that the inspector general's office offers whistleblowers a safe route. John Crane supervised the whistleblower-protection unit of the Pentagon inspector general, which has oversight responsibility for defense department components such as the National Security Agency. His story, told at length in Mark Hertsgaard's powerful new book Bravehearts: Whistle-Blowing in the Age of Snowden, suggests that an office meant to aid whistleblowing can put whistleblowers in danger……………

Justices rule 7-1 in favor of Timothy Tyrone Foster and find prosecutors kept African Americans off jury that convicted him of killing a white woman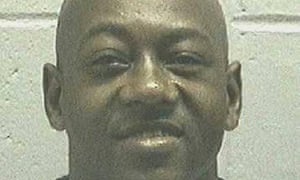 Timothy Tyrone Foster was convicted for the 1986 murder of a white woman in Atlanta. Photograph: Police handout
Associated Press in Washington
The US supreme court has thrown out a death sentence handed to a black man in Georgia because prosecutors improperly kept African Americans off the jury that convicted him of killing a white woman.
The justices ruled 7-1 on Monday in favor of death row inmate Timothy Tyrone Foster in underscoring the importance of rules they laid out in 1986 to prevent racial discrimination in the selection of juries.
Chief Justice John Roberts wrote for the court that Georgia "prosecutors were motivated in substantial part by race" when they struck African Americans from the jury pool.
But the court did nothing to limit lawyers' discretionary decisions to reject potential jurors, a practice that the late Thurgood Marshall once said would allow racial discrimination to persist in jury selection,
The outcome probably will enable Foster to win a new trial, 29 years after he was sentenced to death.
Justice Clarence Thomas dissented, saying he would have respected the decisions of state judges who sided with prosecutors and rejected Foster's claims.
When the case was argued in November, the justices did little to hide their distaste for the tactics employed by prosecutors in north Georgia. Justice Elena Kagan said the case seemed as clear a violation "as a court is ever going to see"………

In an article for the Guardian, Turkish president says Europe not doing enough to redistribute the 3 million Syrians living in Turkey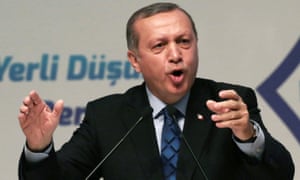 Erdogan said he expected western countries to help resettle Syrians on Turkish soil, especially after Turkey agreed to readmit all asylum- seekers arriving in Greece. Photograph: Burhan Ozbilici/AP
The Turkish president has asked Europe to welcome more of the 3 million refugees currently living in Turkey, as the main group campaigning to take Britain out of the EU suggested that higher levels of immigration from Turkey could pose a security risk if the country is admitted to the EU.
Recep Tayyip Erdogan said on Sunday that Europe was not doing enough to shoulder the refugee burden in Turkey, which now holds more refugees than any other country in the world, after the Syrian civil war forced 2.7 million Syrians to flee northwards across the Turkish border.
The president made his comments as he confirmed Binali Y?ld?r?m as the new prime minister, following the ousting of his predecessot Ahmet Davuto?lu earlier in the month for allegedly blocking Erdogan's path to power. Y?ld?r?m, a long-time ally, vowed to give greater authority to the president's office while eroding the powers of the prime minister.
Erdo?an's remarks on migration may unknowingly fan the flames of an ongoing debate in Britain, where one of the campaigns calling for Brexit claimed the UK faced a huge influx of Turkish immigrants if Britain continued its membership of the union and Turkey was allowed to join it.
Writing in the Guardian, Erdo?an drew British readers' attention to a different kind of migration flow from Turkey – that of Syrian refugees. Turkey expects western countries such as Britain to step up the formal resettlement of Syrians on Turkish soil, particularly after Turkey agreed in March to readmit all asylum seekers arriving by sea to Greek shores……………
Refugees at a camp in Osmaniye, Turkey. Photograph: Umit Bektas/Reuters

President Barack Obama announces the lifting of a decades-old embargo on the sale of military equipment to Vietnam. He is speaking at a press conference in Hanoi on Monday alongside the Vietnamese president, Tran Dai Quan. He says the move is a step toward normalising relations with America's former adversary. Photograph: Reuters/Carlos Barria
As a whole, women support Clinton over Trump and Sanders, but 49% of younger women from across the political spectrum give her an unfavorable rating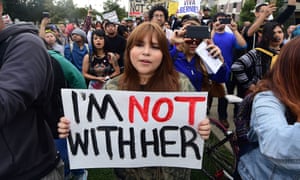 Protesters from Latino groups rally in Monterey Park, California, against the US Democratic presidential candidate Hillary Clinton. Photograph: Frederic J Brown/AFP/Getty Images
A

noa Changa is a feminist who isn't going to vote for Hillary Clinton. Last June, when the 34-year-old Atlanta-based attorney began volunteering with the grassroots organization Women for Bernie Sanders, she received immediate pushback from other women. Over social media, they accused her and other Sanders volunteers of betraying their gender, and of being fake feminists. Even former professors and friends questioned how she could support the Vermont senator over the secretary of state.
"Some women I encounter act as if I've betrayed some kind of secret society," says Changa. "I reject this brand of feminism. I'm not only voting for my gender, I'm voting for other issues."
For the first time in its history, America is close to electing a female president, yet many women from across the political spectrum don't like Clinton.
It's true that, as a whole, women support her more than both Donald Trump and Bernie Sanders, but that support is not nearly as overwhelming as black voter support was for Barack Obama in 2008 and 2012. Millennial women, for example, prefer Sanders to Clinton and 49% of American women give the secretary of state an unfavorable rating……………
A Bernie Sanders supporter holds an anti-Hillary Clinton sign during a campaign rally. Photograph: Justin Sullivan/Getty Images
Opinion
Times were good in the last years of Bill Clinton's presidency. But to put the arch-deregulator in charge of an economy wrecked by financial bubbles is sheer folly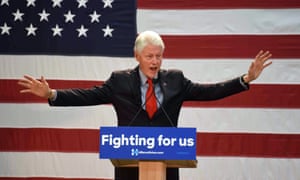 'I had never heard someone denounce deregulation and hail the economic achievements of Bill Clinton in the same speech. That kind of mental combination, I've always assumed, puts you in danger of spontaneous combustion.' Photograph: Chris Pedota/AP
D

onald Trump's campaign to "Make America Great Again" is one big, flatulent exercise in delusional nostalgia, as so many have noted. Given the likely outcome of the American presidential contest, however, it is Hillary Clinton's delusional nostalgia that may ultimately prove more harmful for the country.
Campaigning in Kentucky recently, she promised that, should she be elected, she would task former president Bill Clinton with "revitalizing the economy, because he knows how to do it". A few minutes before, she had recited her husband's qualifications for this job: "In the 90s, everybody's income went up, not just people at the top. We lifted more people out of poverty than at any time in our recent history." And so on.
Bill Clinton took some time out to dynamite the federal welfare system, then he came back and deregulated the banks
Ah, the 90s. It seems that Hillary, too, longs to make America great again, and she reminded the audience in Kentucky of the specific elements of our lost golden age. First among those gauzy memories: "A budget that is balanced and in surplus" – like the budget Bill Clinton built in the good old days before the spendthrift George W Bush administration came in. There were other ways in which the GOP had diverged from Clinton orthodoxy as well, like their desire to "Cut taxes on the wealthy [and] get out of the way of regulation of all kinds," sins that, Hillary said, contributed directly to the financial crisis of 2008.
American columnists have already expressed their annoyance with Hillary for offloading her duties-to-come onto her husband and thus compromising the first female presidency before it's even started. But what really lends distinction to her announcement is the perversity, the sheer incoherence of the kind of policies she seems to hope her husband will recommend.
Take her apparent belief that balancing the federal budget is a good way to "revitalize" an economy stuck in persistent hard times. Nostalgia might indeed suggest such a course, because that's what Bill Clinton did in the golden 90s, and those were happy days. But more recent events have taught us a different lesson. Europe's turn toward budget-balancing austerity after the financial crisis is what made their recession so much worse than ours. President Obama's own quest for a budget-balancing "grand bargain" is what destroyed his presidency's transformative potential. There is no plainer lesson from the events of recent years than the folly of austerity and the non-urgency of budget-balancing.
And deregulation! Before I watched the video of that Hillary Clinton campaign event, I had never heard someone denounce deregulation and hail the economic achievements of Bill Clinton in the same speech. That kind of mental combination, I've always assumed, puts you in danger of spontaneous combustion or something. After all, Bill Clinton is America's all-time champion deregulator. He deregulated banks. He deregulated telecoms. He appointed arch deregulators Robert Rubin and Larry Summers to high office, and he re-upped Ronald Reagan's pet Fed chairman, Alan Greenspan. He took some time out to dynamite the federal welfare system, then he came back and deregulated banks some more. And derivative securities, too…………..


For a change from the same old news stories from the same old news networks, here are links to English-edition online newspapers from other parts of the world. Nearly all of these are English-edition daily newspapers. These sites have interesting editorials and essays, and many have links to other good news sources. We try to limit this list to those sites which are regularly updated, reliable, with a high percentage of "up" time.
Some of the available newspapers:
| | | |
| --- | --- | --- |
| Asia & CIS | | |
| | | |
| --- | --- | --- |
| China | | |
| | | |
| --- | --- | --- |
| China & Hong Kong | | |
| | | |
| --- | --- | --- |
| France | | |
| | | |
| --- | --- | --- |
| Israel | | |
| | | |
| --- | --- | --- |
| Norway | | |
| | | |
| --- | --- | --- |
| Palestine | | |
| | | |
| --- | --- | --- |
| Russia | | |
| | | |
| --- | --- | --- |
| Ukraine | | |