24 May

Board has become a battleground as members seek to stamp their values on textbooks, and now an extreme conservative is on the brink of a key position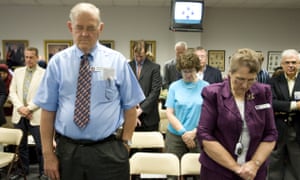 Anthony Bruner and Mary Lou Bruner pray at the start of a meeting of the Texas state board of education to discuss Islam and Christianity in textbooks in Austin, Texas on 24 September 2010. Photograph: Jay Janner/AP
The question of how extreme is too extreme for Texas Republican voters may be answered on Tuesday evening, when voters are expected to favor a woman who believes that Barack Obama was a drug-addicted male prostitute, in an election that could put her on the brink of one of the most influential positions in the state's education system.
Even amid the roiling rhetoric and outrageous claims that have infected American politics in recent months, Mary Lou Bruner has provided some standout soundbites that have surfaced during her bid to win her district's Republican nomination for a place on the Texas state board of education.
She wrote last October: "Obama has a soft spot for homosexuals because of the years he spent as a male prostitute in his twenties. That is how he paid for his drugs. "
Federal pre-kindergarten programmes, she has argued, are a plot to make children confused about their sexuality: "The federal government wants to indoctrinate the little children, teaching them a homosexual marriage is just as good as a marriage with a father and a mother."
Bruner has also suggested on social media that John F Kennedy was killed by the Democratic party "because the socialists and Communists in the party did not want a conservative president", that climate change is a hoax invented by Karl Marx, the "USA should ban Islam", and that humans and dinosaurs walked Earth simultaneously, and dinosaurs died out because only babies were carried on the……………

Speaking weeks before release of Chilcot report, former PM says his understanding of Middle East now better than during war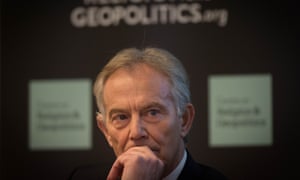 Tony Blair said the lessons learned from Iraq led him to support political evolution after the Arab spring. Photograph: Stefan Rousseau/PA
Tony Blair has admitted he profoundly underestimated the forces that were going to be unleashed in Iraq after the war, and says his understanding of the Middle East is much deeper now than at the time of the invasion in 2003.
He also revealed the extent to which the mistakes in Iraq had led him to call for a much more evolutionary solution to regime change in the wake of the Arab spring.
Blair has made similar admissions of culpability before but these remarks, weeks before the July publication of the Chilcot report into the war, are likely to be seen as his chief line of defence.
Speaking at an event sponsored by Prospect magazine in Westminster, he said: "For sure we underestimated profoundly the forces that were at work in the region and would take advantage of change once you topple the regime. That is the lesson. The lesson is not complicated. The lesson is simple. It is that when you remove a dictatorship out come these forces of destabilisation whether it is al-Qaida on the Sunni side or Iran on the Shia side."
He added: "To be honest my understanding of the Middle East is a lot deeper today than it was when I was prime minister, quite frankly."
He said that when the the Arab spring began "I was one of these that said 'Let us be careful'. What did we learn from Iraq? We learned that once you get rid of the dictatorship, that is the beginning of a new chapter where all these poisonous forces and influences come out and start to disrupt the situation."…………

Housing activist-turned-mayor Ada Colau faces ire of natural constituents as she refuses to engage in private dispute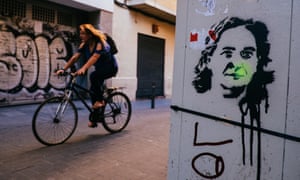 A cyclist passes graffiti depicting mayor Ada Colau in the Gràcia neighbourhood of Barcelona. Photograph: Dave Stelfox for the Guardian
Barcelona's radical mayor, Ada Colau, faces her first popular revolt after rioting broke out on Monday night in the fashionable Gràcia district of the city following the eviction of squatters from a former bank. Protesters have promised five more nights of confrontations.
Police baton-charged demonstrators and fired foam-tipped rubber bullets while protesters set bins alight, overturned cars and smashed the windows of shops and banks.
The trouble began around 10pm when a large crowd of sympathisers gathered in Plaça de la Revolució and some of them tried to reopen the bank that had been sealed up following the eviction.
The bank was squatted in 2011 and since then has served as an ad hoc community centre known locally as "the expropriated bank". The owners ignored the squatters for several years. Last year Barcelona's then mayor, Xavier Trias, agreed that the city would pay the owners €65,500 (£50,000) rent if they let the squatters be, although the squatters were unaware of this deal.
Trias was facing re-election and, having been severely criticised over the demolition of Can Vies, a similar centre in the Sants area of the city, which led to five nights of rioting, he was prepared to pay for peace.
However, Colau was elected mayor and in January this year she announced that it was inappropriate for the taxpayer to pay rent "in order to buy peace during an election campaign"………

Political scientists and law experts flee to America as Beijing's grip on freedoms in China intensifies under President Xi Jinping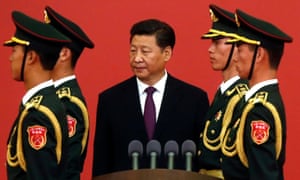 Many academics feel there is no longer a place for them in president Xi Jinping's increasingly repressive China. Photograph: Rolex Dela Pena/EPA
A

s Chinese activist and scholar Teng Biao sat at home on the east coast of America, more than 13,000km (8,000 miles) away his wife and nine-year-old daughter were preparing to embark on the most dangerous journey of their lives.
"My wife didn't tell my daughter what was going on," said Teng, who had himself fled China seven months earlier to escape the most severe period of political repression since the days following the Tiananmen massacre in 1989.
"She said it was going to be a special holiday. She told her they were going on an adventure."
One year after their dramatic escape through southeast Asia, Teng's family has been reunited in New Jersey and is part of a fast-growing community of exiled activists and academics who feel there is no longer a place for them in Xi Jinping's increasingly repressive China.
Jerry Cohen, a veteran China expert who has offered help to many of the new arrivals, said he had seen a significant spike in the number of Chinese scholars such as Teng seeking refuge in the US last year.
Until about 12 months ago China's top universities "remained islands of relative freedom", said Cohen, who has studied the Asian country for nearly six decades……….

Baltimore residents express a resigned sense of defeat after a judge's decision to clear police officer Edward Nero of all charges related to Gray's death
A Baltimore judge on Monday acquitted police officer Edward Nero in connection with the death of Freddie Gray. Nero had been charged with arresting Gray without justification in April 2015 and failing to secure him in a police van, where he suffered a fatal spinal injury. Baltimore residents share their views on the case
"Did they find him guilty?" asked a woman walking through what has been described as an open-air drug market by the subway stop across the street from the CVS that burned after Freddie Gray's funeral in Baltimore last year.
"Where's she been?" one man standing on the corner said of the woman. "She is late as hell?" Besides the passing woman, everyone else seemed to know what had happened in the big courtroom downtown. Even on a normal day, news travels quickly here but the extra police presence and the return of the TV news camera crews all seeming to wait for a riot accelerated the pace.
Still, only a small handful of mostly white activists stood with yellow signs demanding justice beside the elevator to the subway on the afternoon that a judge handed down the first verdict in the charges over the death of Freddie Gray.
Most everyone else was simply going about their days because no one really expected anything different……………



For a change from the same old news stories from the same old news networks, here are links to English-edition online newspapers from other parts of the world. Nearly all of these are English-edition daily newspapers. These sites have interesting editorials and essays, and many have links to other good news sources. We try to limit this list to those sites which are regularly updated, reliable, with a high percentage of "up" time.
Some of the available newspapers:
| | | |
| --- | --- | --- |
| Asia & CIS | | |
| | | |
| --- | --- | --- |
| China | | |
| | | |
| --- | --- | --- |
| China & Hong Kong | | |
| | | |
| --- | --- | --- |
| France | | |
| | | |
| --- | --- | --- |
| Israel | | |
| | | |
| --- | --- | --- |
| Norway | | |
| | | |
| --- | --- | --- |
| Palestine | | |
| | | |
| --- | --- | --- |
| Russia | | |
| | | |
| --- | --- | --- |
| Ukraine | | |