25 May

Exclusive: 2001 intervention adds to evidence that oil company was aware of the science and its implications for government policy and the energy industry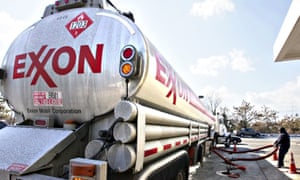 ExxonMobil moved to squash the well-established series just nine days after the presidential inauguration of George W Bush, a former oil executive. Photograph: J. Scott Applewhite/AP
ExxonMobil moved to squash a well-established congressional lecture series on climate science just nine days after the presidential inauguration of George W Bush, a former oil executive, the Guardian has learned.
Exxon's intervention on the briefings, revealed here for the first time, adds to evidence the oil company was acutely aware of the state of climate science and its implications for government policy and the energy industry – despite Exxon's public protestations for decades about the uncertainties of global warming science.
Indeed, the company moved swiftly during the earliest days of the Bush administration to block public debate on global warming and delay domestic and international regulations to cut greenhouse gas emissions, according to former officials of the US Global Change Research Program, or USGCRP.
The Bush White House is now notorious for censoring climate scientists and blocking international action on climate change by pulling the US out of the Kyoto agreement.
The oil company is under investigation by 17 attorney generals for misleading the public about climate change, and is facing a shareholder revolt at its annual general meeting on Wednesday by investors pressing Exxon for greater disclosure about the effect of climate change on its profits.
In early 2001, however, after Al Gore lost the White House to George Bush, Exxon officials apparently saw a chance to influence the incoming administration, according to former officials of the research program…………
Ultranationalist Avigdor Lieberman becomes defence minister as PM Binyamin Netanyahu moves to expand majority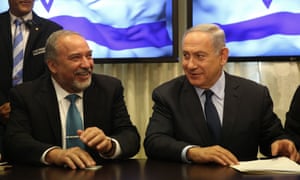 Avigdor Lieberman and Binyamin Netanyahu sign a coalition agreement. Photograph: Menahem Kahana/AFP/Getty Images
Israel's prime minister, Binyamin Netanyahu, has cemented a coalition deal that will usher in the most rightwing nationalist government in the country's history.
The deal sees the ultranationalist politician Avigdor Lieberman – a former nightclub bouncer – become defence minister, the second most important cabinet post behind the prime minister, joining a series of other hard-right figures now dominating key Israeli ministries.
Moshe Leon, a representative for Lieberman, and a government official said the deal would be signed on Wednesday.
Lieberman, a controversial and deeply divisive figure, replaces the popular former chief of staff Moshe Yaalon, who was pushed out last week as Netanyahu moved to expand his wafer-thin majority.
Lieberman's invitation last week to join the government surprised political analysts as it came amid protracted negotiations with Israel's opposition leader, Isaac Herzog………….
Striking workers cleared by authorities as CGT trade union calls for nuclear plant shutdown in protest over labour reform bill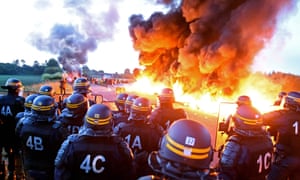 French police dislodge protesters blocking a fuel depot in Douchy-les-Mines, northern France. Photograph: Francois Lo Presti/AFP/Getty Images
Riot police have used water cannon to break up a fuel depot blockade in northern France as the hardline CGT trade union called for strikes at nuclear plants amid a worsening standoff over the government's proposed labour reforms.
Trade unionists are leading the strikes at fuel depots and refineries in an attempt to choke off fuel supply to force the government to abandon a reform bill that aims to make it easier to hire and fire workers.
Faced with shortages at filling stations, long traffic jams and panic buying of petrol, the French government has mobilised its reserve oil stocks for the first time in more than five years. Ministers said France had enough fuel to last more than three months.
Despite increasing pressure, the government said it would not withdraw the labour reforms, which it has claimed are crucial for businesses and to address France's mass unemployment, which is above 10% of the workforce. The reforms were forced through by decree this month without a parliamentary debate…………….
The far right is gaining support in some corners of Europe, but more marked is the rejection by voters of the political establishment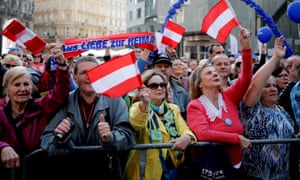 Austrian far-right Freedom party supporters during the final election rally in Vienna in April. Photograph: Leonhard Foeger/Reuters
The narrow defeat – by just 0.6 percentage points – of the nationalist Freedom party's Norbert Hofer in this week's Austrian presidential elections has focused attention once more on the rise of far-right parties in Europe.
But despite what some headlines might claim, it is oversimplifying things to say the far right is suddenly on the march across an entire continent. In some countries, the hard right's share of the vote in national elections has been stable or declined.
In others – particularly the nations of southern Europe, which, with memories of fascism and dictatorship still very much alive, have proved reluctant to flirt with rightwing extremism – it is the far left that is advancing.
Some rightwing populist parties are relatively new, but others have been a force to be reckoned with for many years now, sometimes – as in France – enjoying a large share of the vote but being unable, as yet, to break through nationally.
The concerns of many may be broadly the same: immigration, integration, jobs, incomes, the EU, political and business elites. The euro crisis, followed by Europe's migrant crisis and the Paris and Brussels terror attacks have fuelled their rise………….
Deputy president William Ruto affirms decision to close Kenya's camps and says western countries should take their share of refugees from east Africa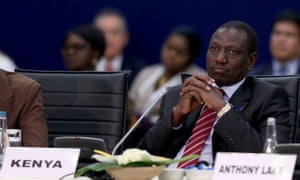 William Ruto says Kenya intends to close Dadaab and other refugee camps within six months. Photograph: Berk Ozkan/UN
Kenya says it plans to expel hundreds of thousands of refugees within six months, and argues the international community is partly to blame for leaving it to deal with so many refugees for so long.
The deputy president, William Ruto, said it is now up to the developed world to mitigate the fallout, suggesting that other countries including the UK should resettle the refugees who could soon be kicked out of Kenya.
Mary Lou Bruner loses runoff for seat in Texas that would have given her a say in what more than five million children learn in classrooms and read in textbooks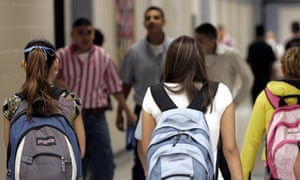 Curriculum battles on the Texas education board are often closely watched over worries that the state's textbook buying power influences what winds up in classrooms across the US. Photograph: Eric Gay/AP
Associated Press in Austin, Texas
When Texas takes up always-contentions revisions of science and social studies coursework in 2017, a former schoolteacher who believes dinosaurs were on Noah's Ark and Democrats killed John F Kennedy won't have a vote.
Mary Lou Bruner lost her Republican primary runoff for a seat on the powerful Texas state board of education on Tuesday night, just two months after a near-outright victory that would have put her on the brink of having a say in what more than five million schoolchildren learn in classrooms and read in textbooks.
The 69-year-old Bruner has posted on Facebook claims that Barack Obama is a gay prostitute, climate change is a hoax concocted by Karl Marx and that Obama's healthcare overhaul was an orchestrated plot to wipe 200 million people from the US population. She also wrote that the flood from the biblical story of Noah's Ark is what destroyed the dinosaurs, not a meteor as "concocted" by atheists.
In March, Bruner came within two percentage points of avoiding a runoff altogether. But Republican voters flocked this time to Keven Ellis, a local school board president in Lufkin who ran a mainstream campaign…………..



For a change from the same old news stories from the same old news networks, here are links to English-edition online newspapers from other parts of the world. Nearly all of these are English-edition daily newspapers. These sites have interesting editorials and essays, and many have links to other good news sources. We try to limit this list to those sites which are regularly updated, reliable, with a high percentage of "up" time.
Some of the available newspapers:
| | | |
| --- | --- | --- |
| Asia & CIS | | |
| | | |
| --- | --- | --- |
| China | | |
| | | |
| --- | --- | --- |
| China & Hong Kong | | |
| | | |
| --- | --- | --- |
| France | | |
| | | |
| --- | --- | --- |
| Israel | | |
| | | |
| --- | --- | --- |
| Norway | | |
| | | |
| --- | --- | --- |
| Palestine | | |
| | | |
| --- | --- | --- |
| Russia | | |
| | | |
| --- | --- | --- |
| Ukraine | | |