27 May

President lays wreath at memorial and embraces a survivor of the US atomic bombing that killed 140,000 people
President Barack Obama reflects on the horrors of war as he gives a speech at a memorial in Hiroshima on Friday. Obama is the first sitting US president to visit Hiroshima, 71 years after the Japanese city became the target of the world's first atomic bombing, and calls on people to 'force themselves to imagine the moment the bomb fell'
Barack Obama called on the world to choose a future where Hiroshima was considered "the start of our own moral awakening", as he became the first sitting US president to visit the Japanese city, 71 years after its bombing ushered in the nuclear age he vowed to bring to an end.
In a scene many survivors of the US bombing believed they would never live to see, Obama laid a floral wreath at a memorial to the dead of the world's first atomic bombing, pausing in a moment of contemplation, his head slightly bowed.
He then paid tribute to the people of Hiroshima, calling on humanity to learn the lessons of the past to make war less likely.
"On a bright, cloudless morning, death fell from the sky and the world was changed," he said, adding that humankind had shown that day it had the means to destroy itself.
"Why did we come to this place, to Hiroshima? We come to ponder a terrible force unleashed in the not so distant past. We come to mourn the dead," he said.
"Their souls speak to us, they ask us to look inward, take stock of who we are."
In a touching moment, Obama embraced Shigeaki Mori, a 79-year-old survivor who appeared overcome with emotion…………….
Abdirahman Bashir once pledged allegiance to Isis, but now faces his alleged co-conspirators in a Minneapolis court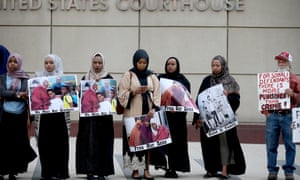 Supporters and family members of the Somali- American men accused of trying to join Isis protest outside the federal courthouse in Minneapolis. Photograph: Elizabeth Flores/AP
A

bdirahman Bashir sat alone on the stand and began to cry. His head slumped in his hands, his eyes darting between the floor and the ceiling, he avoided the gaze of the three defendants in court. Young men he had allegedly planned to die with. Men whom he ultimately betrayed.
Bashir, a 20-year-old Somali American, had once pledged allegiance to the Islamic State militant group after consuming hours of violent propaganda videos. He listened to lectures delivered by radical cleric Anwar al-Awlaki and saw his four cousins depart for the frontlines in Syria. He had planned to follow.
But in December 2014, as the net began to close around him and his alleged co-conspirators, after a reported first attempt to leave the United States failed and news arrived of his cousins' death following an airstrike, Bashir was looking for a way out.
He agreed to become an informant for the FBI.
Bashir spent the following months recording his friends with a hidden microphone as they plotted to leave Minneapolis for Syria. He taped them at their homes, inside mosques, at shopping malls and during car rides, as they articulated their radicalized views and plans to exit the US……….
Former university president 'agreed in principle' with demotion to chancellor but maintains investigation on football players right after he learned allegations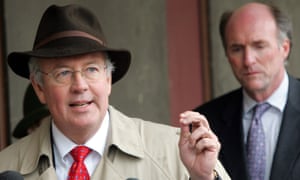 Kenneth Star, left, was demoted from president to chancellor of Baylor University on Thursday amid allegations of mishandling sexual assault accusations against football players. Photograph: Jeff Chiu/AP
Kenneth Starr, the Baylor University president demoted on Thursday for mishandling reports of sexual assaults by football players, has claimed he knew of no such allegations until last fall, even though at least one case reached court as long ago as 2014.
Starr – best known for his years investigating Bill and Hillary Clinton in the 1990s – said in a statement released on Thursday that he "agreed in principle" with the university board's decision to transfer him to the position of chancellor.
"I applaud the board for its transparency," he said. "It must be known, however, that I was not privy to any of the allegations regarding interpersonal violence until the fall of 2015, at which time I immediately launched an internal investigation."
An investigation by an independent law firm found that leaders of the Baptist university in Waco, Texas, had "created a cultural perception that football was above the rules".
The board released a summary of the report, which said football staff ran "untrained" investigations and "improperly discredited" claims. Overall, the report said, administrators showed a "fundamental failure" to investigate claims, and at least once actively discouraged an accuser from making claims.
"We were horrified by the extent of these acts of sexual violence on our campus," Richard Willis, chairman of Baylor's Board of Regents, said in a statement………………
Two senators say it could expand nonjudicial subpoena to acquire email records, chat accounts, account login records, browser histories and social media usage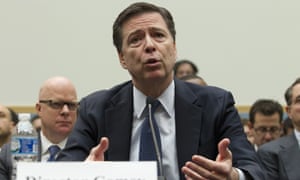 In Senate testimony earlier this year, FBI Director James Comey said that a 'typo' in a 1993 statute concerning electronic communications transaction records was leading 'some companies' to resist providing the FBI with 'ordinary transaction records that we can get in most contexts with a non-court order'. Photograph: Jose Luis Magana/AP
Two US senators have warned that a new bill would vastly expand the FBI's warrantless access to Americans' online records.
Although the text of the 2017 intelligence authorization bill is not yet available to the public, two members of the Senate intelligence committee have said the bill could expand the remit of a nonjudicial subpoena called a National Security Letter (NSLs) to acquire Americans' email records, chat or messaging accounts, account login records, browser histories and social-media service usage.
While NSLs typically apply to phone or banking records and email addresses, the bill, which cleared the Senate intelligence panel on Tuesday by a 14-1 vote, appears to change the scope of the longstanding term "electronic communications transaction records".
Senator Ron Wyden criticized the change as a sweeping expansion of warrantless surveillance.
"While this bill does not clearly define 'electronic communication transaction records', this term could easily be read to encompass records of whom individuals exchange emails with and when, as well as their login history, IP addresses, and internet browsing history," Wyden, a Democrat from Oregon who voted against the bill, told the Guardian…………….
Repurposed fishing boat thought to have had Syrians on board sinks off coast of Libya
Refugees aboard sinking vessels in the Mediterranean are rescued on Thursday. Video showing the latest migrant boat tragedy was released by the European Union's naval force in the Mediterranean. The footage filmed from an aircraft showed migrants on the deck of a partly-submerged boat at sea and life boats and jackets being dropped for them. Rescuers could later been seeing approaching the migrants on rescue dinghies
Dozens of people are feared to have drowned in the second shipwreck in as many days in the southern Mediterranean, amid tentative signs that some Syrians may be trying once again to make for Europe from Libya.
At least 20 people drowned in a wreck 35 nautical miles north of the Libyan smuggling hub of Zuwara when a repurposed fishing boat sank on Thursday morning, the EU's anti-smuggling operation said. Photographs taken from an EU reconnaissance plane showed groups of men desperately waving at the aircraft from a half-submerged blue trawler.
It followed another tragedy on Wednesday, when a boat of about 600 sank in nearby waters, drowning at least five.
Thursday's death toll may be far higher, said a spokesman for the EU's Operation Sophia, whose ships and planes were involved in the second rescue. "We can estimate that at least 20 or 30 have died, but we don't know the final numbers," said Captain Antonello de Renzis Sonnino. "The operation is still ongoing."…………..
 Opinion
By becoming the first US president to visit Hiroshima, he lends credibility to his intentions and to those of the United States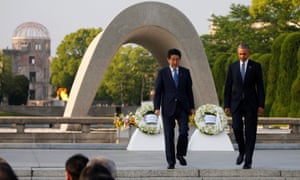 'Mr Obama is not the first US president to advocate nuclear disarmament.' Photograph: Carlos Barria/Reuters
V

isits to war memorials can be risky endeavors for heads of state, requiring careful choreography to avoid negative messages. In Asia, where resentment in neighboring countries over Japan's wartime behavior still runs high, they can be especially risky. And yet these visits can be powerful opportunities to cement alliances and to remind leaders and their publics of common goals and values.
This is what Barack Obama and Japanese prime minister Shinzo Abe are hoping for with Obama's first ever visit to Hiroshima by a sitting US president. President Obama laid flowers at a memorial cenotaph in the Hiroshima Peace Memorial Park on 27 May, accompanied by Prime Minister Abe.
Hiroshima has become synonymous with the horrors of nuclear war, as the first of two targets upon which US nuclear weapons were dropped in August 1945. The iconic, skeletal Genbaku Dome (A-bomb Dome), the only building left standing at the hypocenter of the blast, is a grim reminder of the overwhelmingly destructive power of the 20th century weapon that has cast an uneasy shadow over the lives of millions across the globe for more than 70 years.
Why has this taken so long? Until now, simply put, the risks may not have been perceived as worth the rewards. In 1974, President Ford, the first US president to visit Japan, contemplated a Hiroshima visit but decided it would add too much negative weight to a trip designed to support the Japanese. (President Eisenhower's entire trip to Japan in 1960 was called off at the last minute because of political protests.)
Some reports suggest that Japanese officials in 2009 sought to discourage an Obama trip to Hiroshima out of fear that expectations in Japan could not be managed adequately. Among those expectations was that Obama would apologize for the US bombing of Hiroshima and Nagasaki. Officials on both sides have announced that no apologies would be issued during the Obama visit.
Although many Americans may not find the US decision to use nuclear weapons to bomb Hiroshima and Nagasaki controversial, the catastrophic consequences of nuclear weapons use are widely condemned. No country since has used a nuclear weapon in a military campaign, despite the proliferation (mostly by the United States and Russia) of tens of thousands of weapons…………..
For a change from the same old news stories from the same old news networks, here are links to English-edition online newspapers from other parts of the world. Nearly all of these are English-edition daily newspapers. These sites have interesting editorials and essays, and many have links to other good news sources. We try to limit this list to those sites which are regularly updated, reliable, with a high percentage of "up" time.
Some of the available newspapers:
| | | |
| --- | --- | --- |
| Asia & CIS | | |
| | | |
| --- | --- | --- |
| China | | |
| | | |
| --- | --- | --- |
| China & Hong Kong | | |
| | | |
| --- | --- | --- |
| France | | |
| | | |
| --- | --- | --- |
| Israel | | |
| | | |
| --- | --- | --- |
| Norway | | |
| | | |
| --- | --- | --- |
| Palestine | | |
| | | |
| --- | --- | --- |
| Russia | | |
| | | |
| --- | --- | --- |
| Ukraine | | |